Enter the enchanting realm of Anna Rudzit, an "avant-garde" makeup artist, based out of Moscow, Russia. By the help of Anna's hand, the human face becomes a living canvas for unparalleled creativity. But she doesn't only apply makeup; she orchestrates a symphony of colors and textures, transforming each face into a breathtaking masterpiece. With a unique approach that blurs the lines between makeup and art, Anna utilizes the face as a dynamic medium, crafting wearable art that is both daring and captivating, bridging the gaps between art and fashion. Brace yourself for an exploration of beauty redefined, where the boundaries of conventional makeup are pushed aside, and the human visage becomes a captivating work of art.
It's also important to note that Anna also runs Messy Make-up Community, a blog / community that supports makeup artists around the world.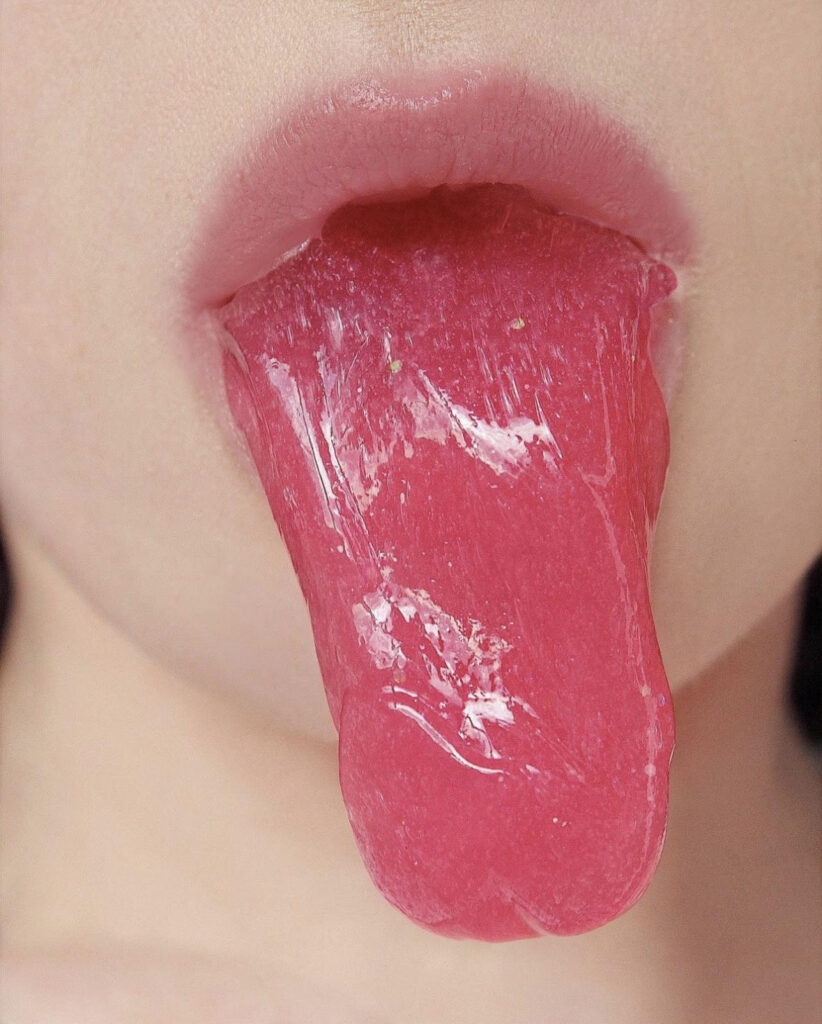 Hi Anna! Thank you for sitting down with me! First question that I always ask. How does a regular day look like for you in Russia?
Hi! Thank you for interviewing me. I live in Moscow, and I'm not an early bird, the most productive part of my day starts in the afternoon. I take care of my cats, plants, work, shoot, communicate with people, often visit exhibitions or other inspiring places, read and do boring ordinary things. I appreciate the days when there is no need to chase time.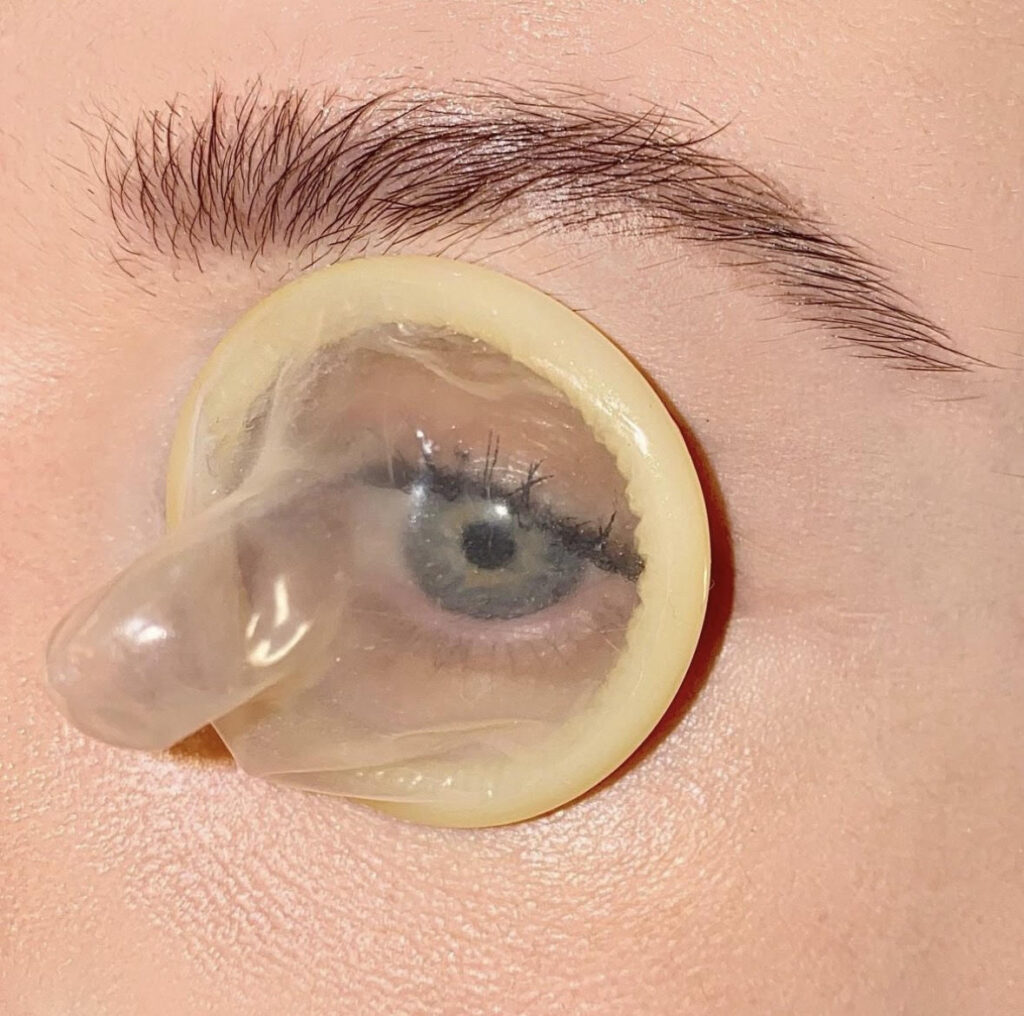 I'm curious. Growing up, what kind of kid were you? What did you enjoy doing, and how did you spend your time?
I think I was sensitive, hyperactive, curious, empathetic, a little shy, with a heightened sense of justice, a creative child with a drop of nonconformity. I was engaged in all kinds of sports, such as swimming, gymnastics, basketball, running. And, of course, drawing (on canvas and face), clay modeling, papier-mache and even knitting :))
I grew up in post-Soviet Russia, these were difficult unstable times for many people, including my parents. That's why my generation is often called "lost". I spent the summer at my grandparents' houses with my brothers and sisters, and, of course we made troubles and had fun.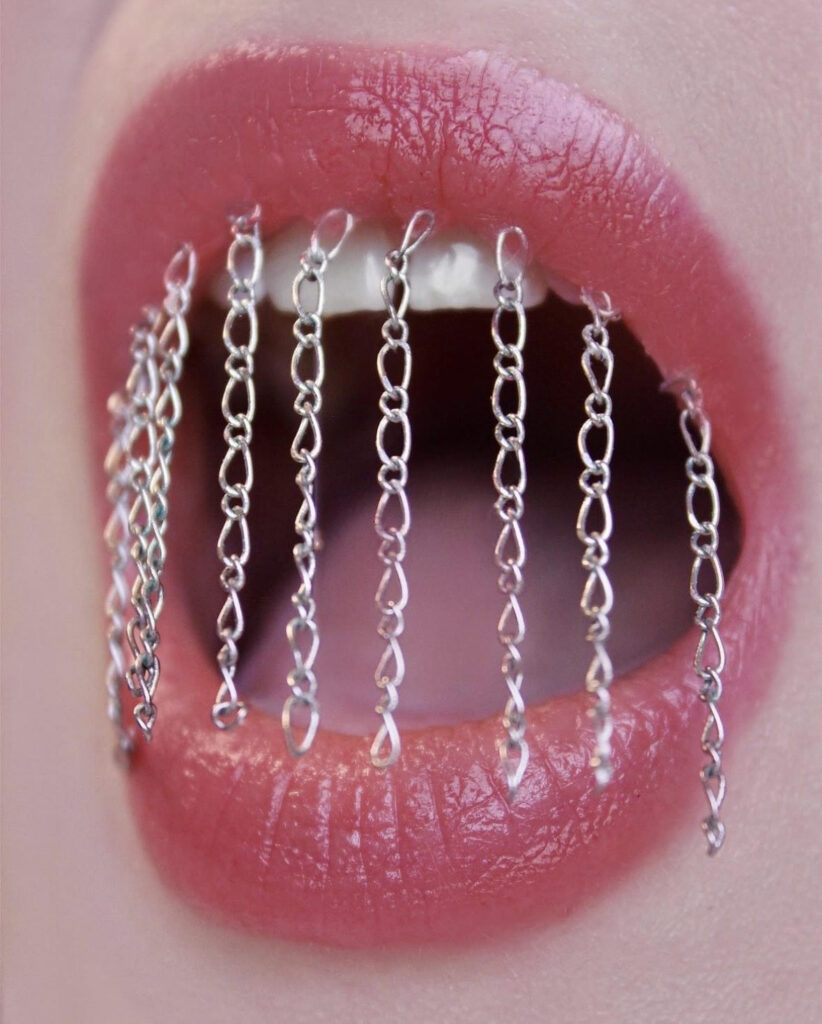 Can you tell me a little bit about what your background is, and what you did before you become a pro makeup-artist?
Before that, I had a master's degree in sociology. I worked for a research agency for several years, at the same time I completed basic courses for makeup artists, practiced photography and completed photo editor courses. But sociology didn't suit me, and I instinctively combined my skills in creativity.
So what is "avant-garde" makeup? Can you explain that to me please?
Avant-garde makeup is everything that doesn't fit into the usual ideas about beauty. I see this as an interdisciplinary field. For example – makeup, photography and experiment.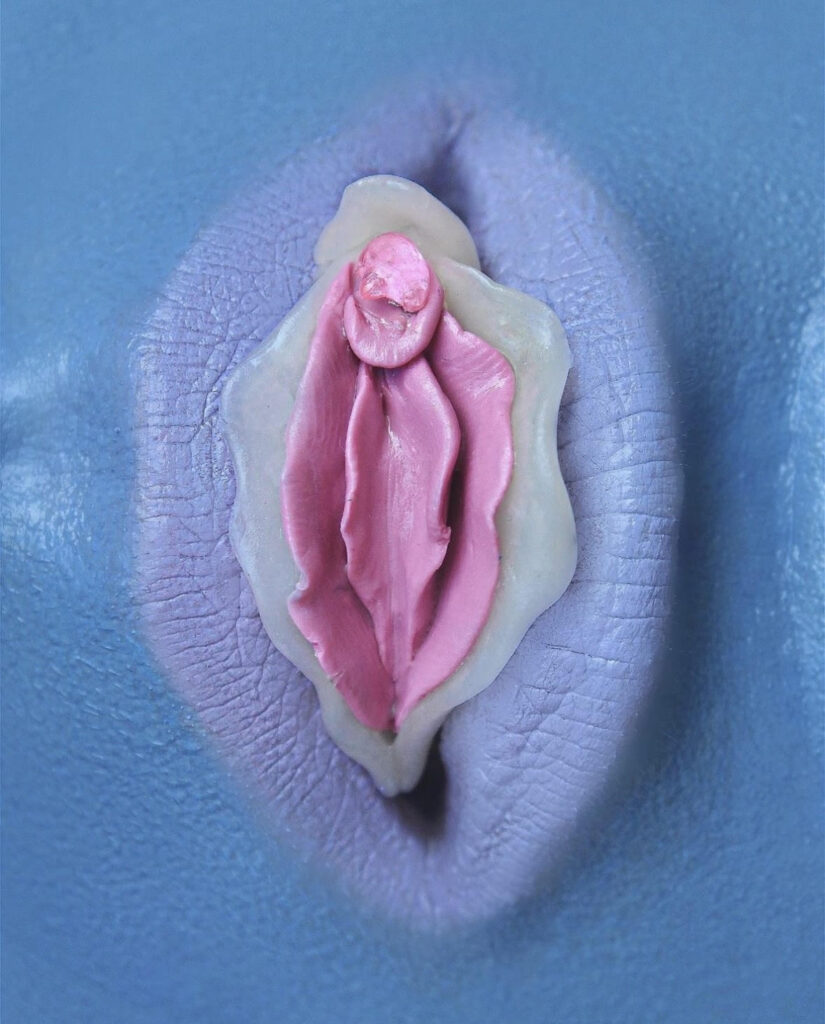 When did you start showing an interest in makeup, and when did you start taking it serious?
When I was teenager, I used my mother's makeup bag: blue eye shadow, red lipstick, tons of mascara. My parents didn't forbid me to experiment, but the teachers at school sent me home to wash my face.
I took it seriously when I decided to start my own blog. The ugly makeup revolution helped me join the community of creative people. At first I didn't know what to call what I wanted to do. But I knew that for my experiment I didn't need a team with a photographer, stylist, model, makeup artist, creative director. I realized that I could do it all by myself.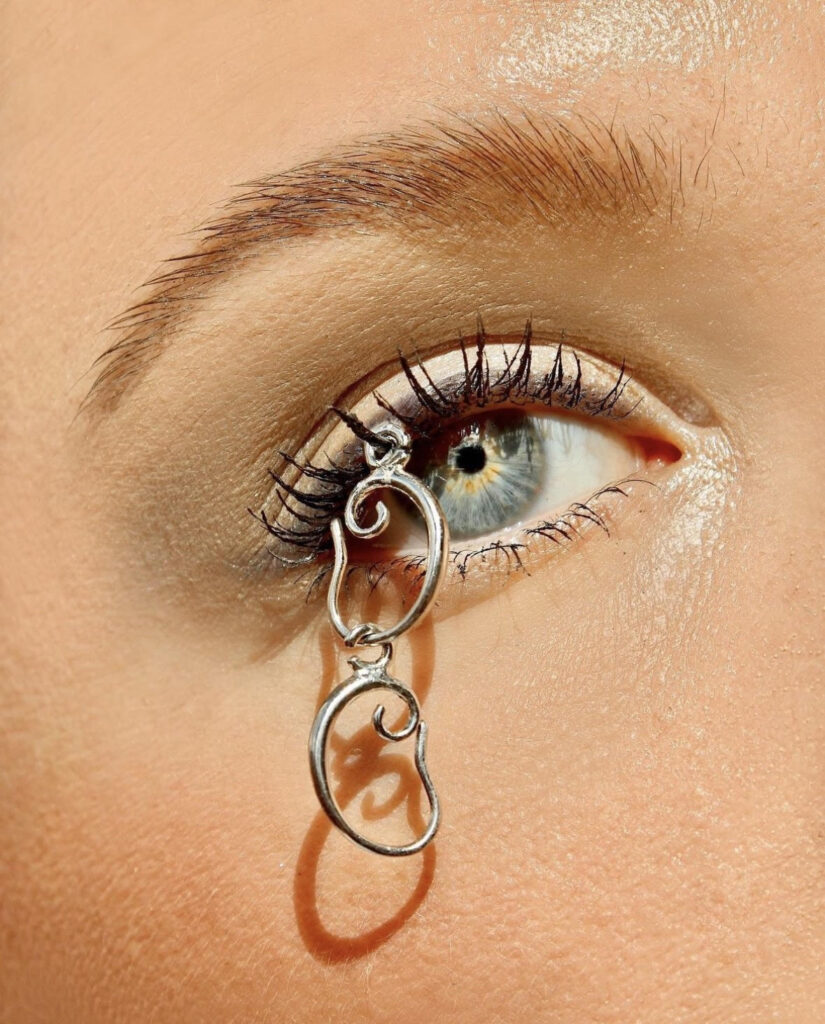 So how long has it taken you to become as good as you are now?
I started my blog almost 4 years ago and you can literally watch my process through my instagram. 
With that in mind. What do you think it is about makeup that resonates so well with you?
I wanted to find a channel through which I could realize my creative side. Cosmetics are just a convenient tool. I like to show a certain part of the face, controlling my boundaries, and tell a story.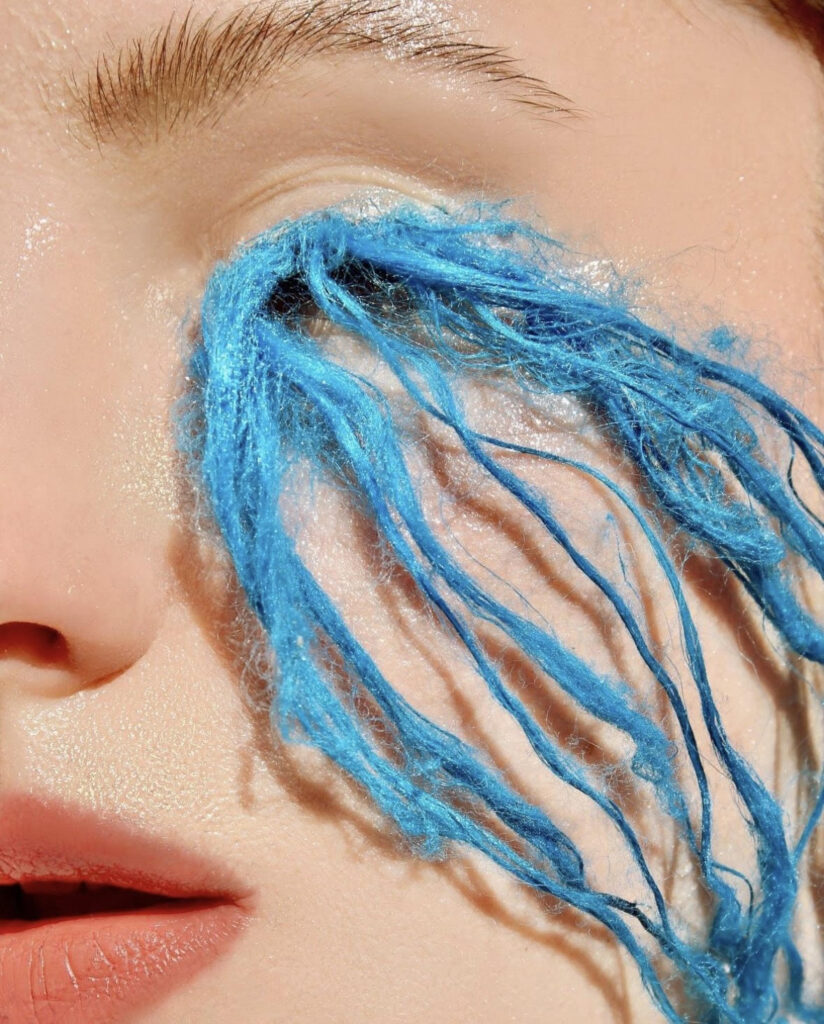 It feels like every celebrity and influencer are starting their own, or endorsing makeup brands. How do you feel about the rise in different makeup brands? And does it effect the quality of the products?
Although I'm in this information field and I know about all these brands, I only bought such cosmetics a couple of times and then if it was at a discount. I think that the market is oversaturated with all these products, which are often of average quality. Just business, just capitalism.
You and your work have been featured in some big name magazines, such as Vogue, Elle, Dazed, Cosmopolitan, The Perfect Magazine, Tush Magazine, The Blueprint, and more… What is that experience like? Seeing yourself and your work in such renowned publications?
I started publishing in all these magazines a few months after I created my blog. It was great because I felt the evidence that my work resonates in people's minds. One of my dreams came true when I published in Vogue several times as a model and photographer in one. For a moment, I allowed myself to be proud of it.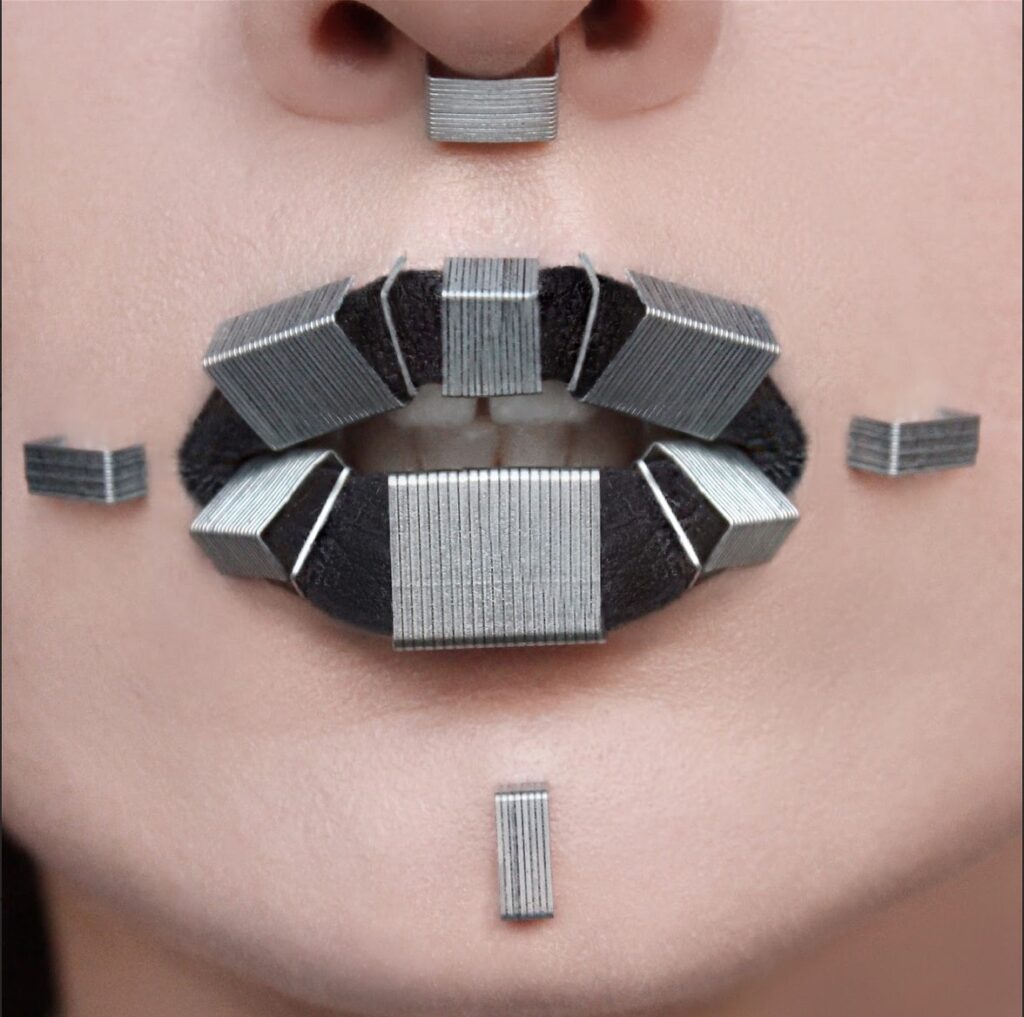 I'm curious. How has your attitude towards your own creativity changed over time? And how has others influenced it?
At the beginning of the journey, I couldn't decide how to define my work, because I'm not an artist in the classical sense of the word. I even thought that word was too cool for me. That's why I gave people the opportunity to name it themselves. And in the end I accepted myself as an artist, thanks to them, because I capture ideas, embody them, and in the end, it awakens different emotions in people.
I also went through a cycle of depreciation by other people. Of course, it's all about money. As I said at the beginning, people around, including some friends, didn't understand my creativity. After numerous interviews and publications in the media around the world, the focus shifted from misunderstanding to the question "if you don't make money from it, then what's the point?". When I started receiving money, they began to tell me that it wasn't serious, it wasn't enough. In a world where everything is measured by money, I want to show the middle finger.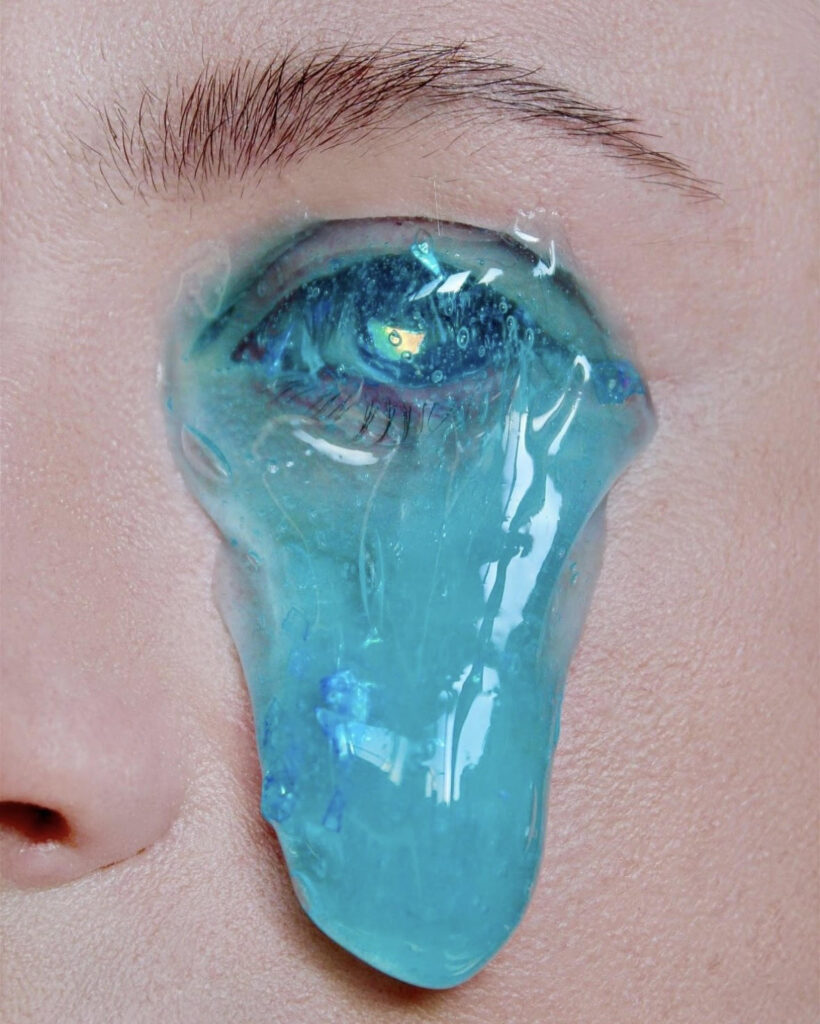 While we're on the topic. Looking at pictures of your makeup, is like looking at a painting. A piece of art. Where do you get your inspiration from, to create those various looks and styles?
Thank you so much. I like David Lynch's message that there are millions of ideas around us, we just need to set up a fishing rod and catch them.
I'm inspired by ordinary things, such as personal experience, cinema, architecture, art, dreams, nature. I think the important point is how to pass it through your imagination.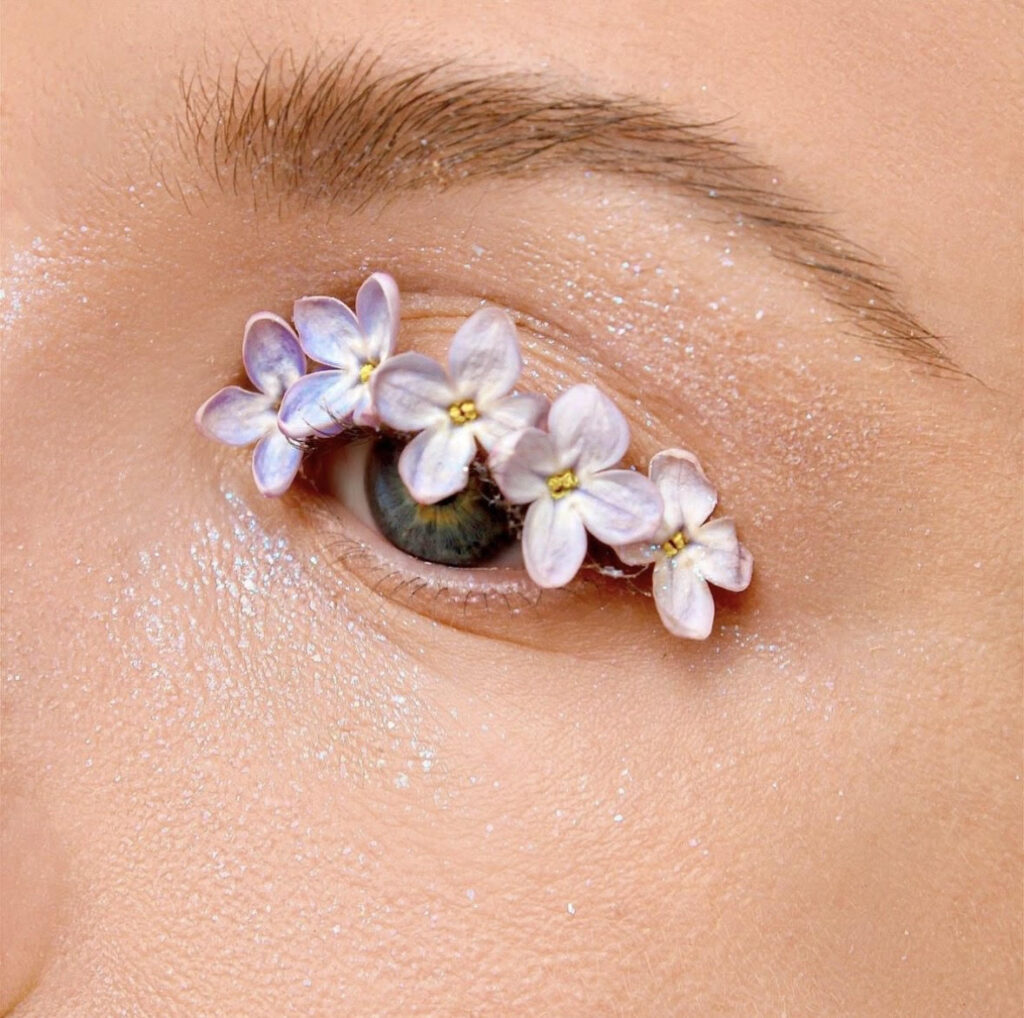 I know you've mentioned this earlier, can you elaborate on it a little bit more. You also run "Messy Makeup Community"(link). Tell me about that please. What's it about and what made you start it?
Together with Anna Meder, we created this community to support emerging artists and those who have already proved themselves. When we started our work as artists, support from others meant a lot, it gave us the opportunity to be seen. Now we are successfully doing the same for others.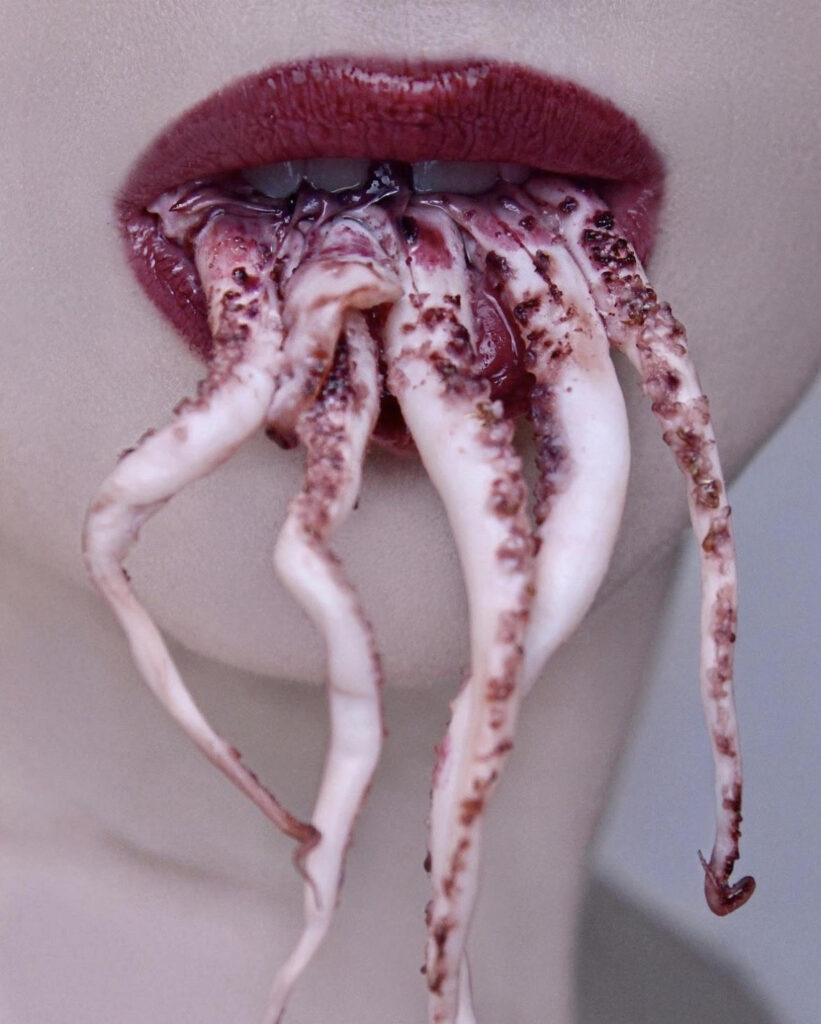 Can you walk me through your creative process. From beginning, to end result?
I find an idea, turn it upside down, and experiment in the process of photographing. I use a camera with a rotating screen and change the angles and light. At the same time, I'm trying to come up with a title that will help the viewer understand the work more accurately. The next and final stage is the selection of photos and retouching. The whole process takes 2-3 hours.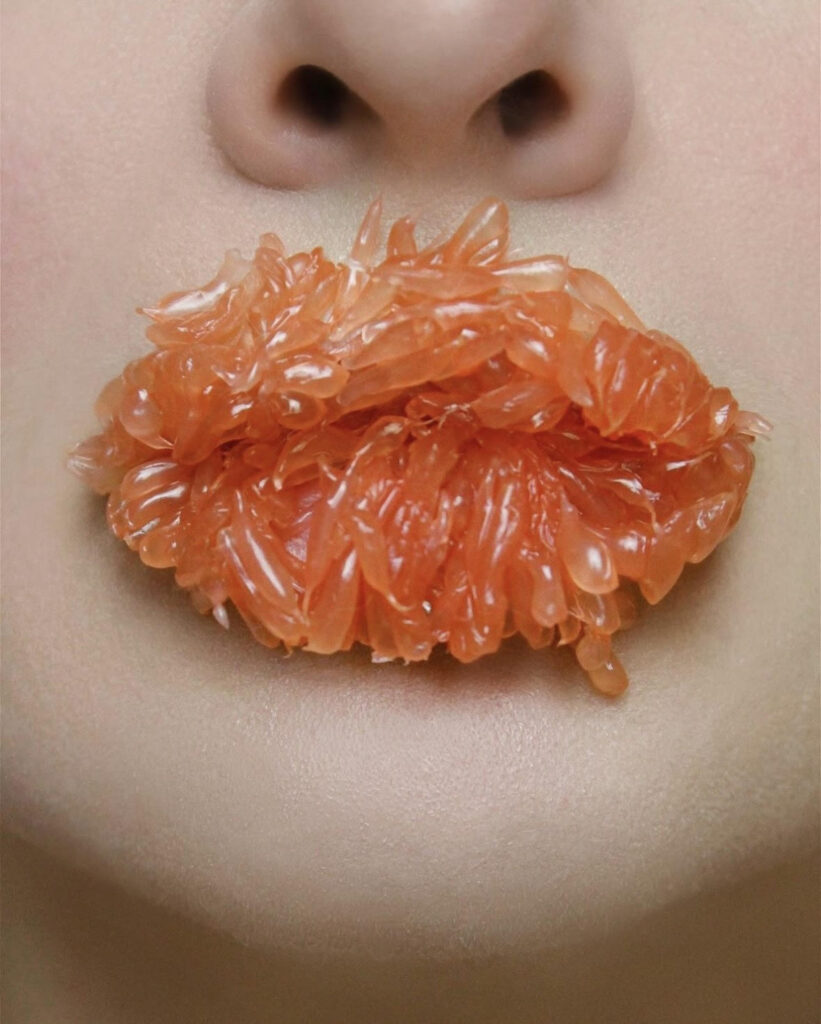 How would you describe a perfect day?
The events of recent years have literally rolled over the psyche of many people, including mine. At the moment, the ideal day for me is a day in which nothing happens. I really want to live in a world that doesn't look like a roller coaster and you don't sit in the first wagon without a seat belt.
What's your favorite make-up brand?
I don't choose favorites, rather I filter out the excess and try to be more reasonable about this kind of consumption. In my creative work, I often use items that I found on the street or in a craft store, I use greasepaint and glue for false eyelashes.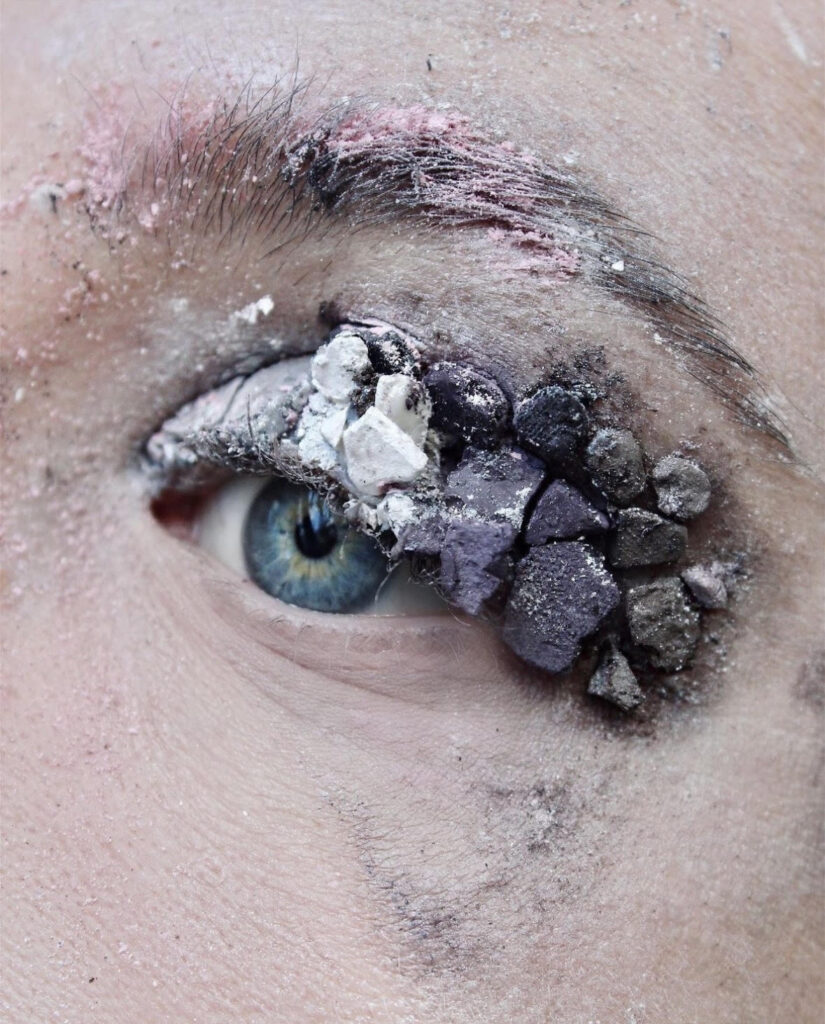 Alright Anna. I always ask these two questions at the end of an interview. The first is. What's your favorite movie(s) and why?
This is the most difficult question of all, because I'm a movie fan. For me, these are directors rather than films. David Lynch is my personal Jesus, also I love the films of Almodovar, Tarantino, Jarmusch, Kubrick.
The second is. What song(s) are you currently listening to the most right now?
King Sporty & the Ex Tras – Do you wanna dance