Brittany Fanning spent her childhood in Florida, fighting off mosquitoes, alligators, and an interest in racing. She later moved to a small north Georgian town, Dahlonega. Set in the foothills of the Blue Ridge Mountains, Brittany studied painting at the University of North Georgia. She was heavily inspired by Appalachian outsider artists and their painterly techniques and humor. 
After graduating, Brittany moved to South Korea. She quickly became enamored with the architectural elements found in Seoul neighborhoods. Many of them combined the traditional Korean houses, or hanoks, with new geometric contemporary structure-things. She gained notoriety for painting these neighborhoods and then completely stopped to continue painting what interested her; violence, wine, food, luxury fashion and natural disasters. Recalling her childhood fear of alligators, she began adding them as a motif in her work in 2020. While they represented danger in the beginning, she slowly became fond of the creatures, and now they act as more of a companion to the figures in her paintings.
After seven years in Korea, Brittany moved back to the states. Now she resides in Los Angeles, California where she continues to be inspired by the unnatural disaster that is America.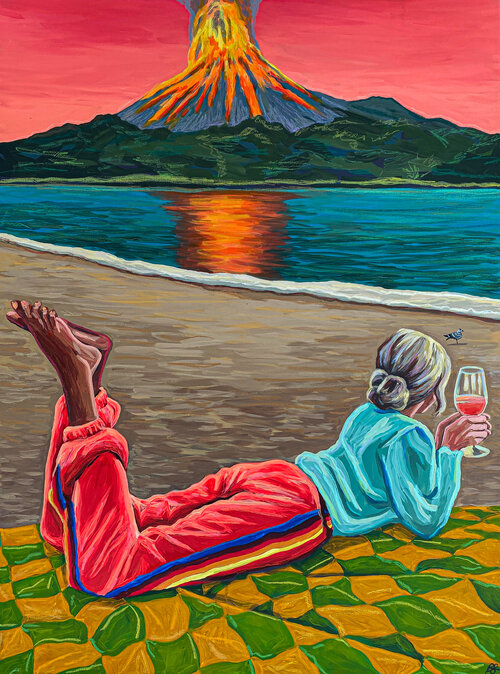 Hi Brittany, thank you for sitting down with me. First question. What was it like growing up in Florida? And What was your favorite thing to do?
I recall a lot of Nascar, reptiles, and pink flamingo yard ornaments. My family and I evacuated several hurricanes during my childhood. I always loved the excitement around bad weather. My favorite thing about growing up in Florida was swimming. My sisters and I spent every summer in a lake, river, or above ground pool. We moved to Georgia when I was 15. Oddly enough, I feel more tied to appalachia- perhaps because those were my more formative years. A little Florida woman still lives within me, though.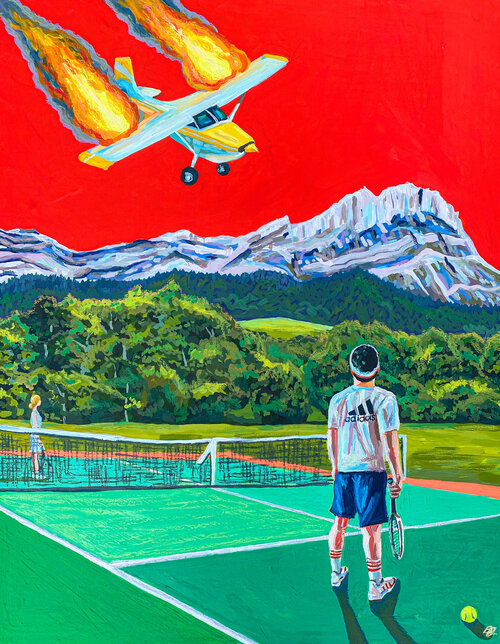 Is there a specific reason as to why you moved to South Korea?
I graduated from the University of North Georgia in 2014. At the time, jobs for recent graduates were rare- especially with a bachelor's degree in painting. I applied to teach English in Daejeon, South Korea. While teaching, I was able to travel and keep making art. 
How did a regular day look like for you in Seoul?
I moved to Los Angeles about two months ago, and I'm still working out a routine. I'm a very regimented artist. I need a strict routine or I can't get into a good work flow. In Seoul, I would wake up early, hit the gym, have coffee and make lists for the day. I'd usually start painting around 9am and stop before dinner. I like to paint for long hours during the day and weeks at a time. Weekends in Seoul consisted of eating everything, hiking, and exploring different neighborhoods.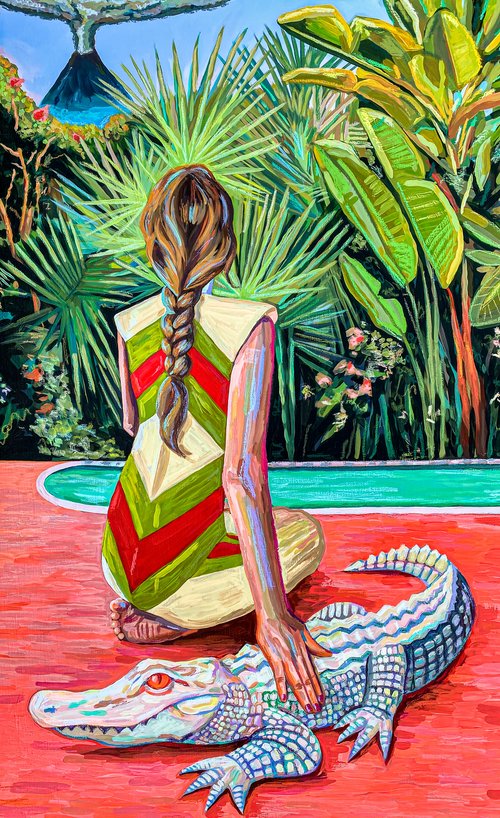 Florida is heavily represented in some of your pieces, in terms of the alligators. What does the Florida gator mean to you?
Doug Stanhope opened up his last comedy special with a joke about a child that was eaten alive by an alligator at Disney World, Orlando. While funny, the joke also gave me fearful flashbacks to my childhood when we would frivolously go swimming in places that warned about alligators. I wonder if my parents hated us. It seemed like alligators were always nearby, but we didn't fear them. As an adult, who is very far removed from the Floridian lifestyle, that seems absolutely wild to me. I enjoy painting things that I fear, find exciting, and also a little funny at the same time.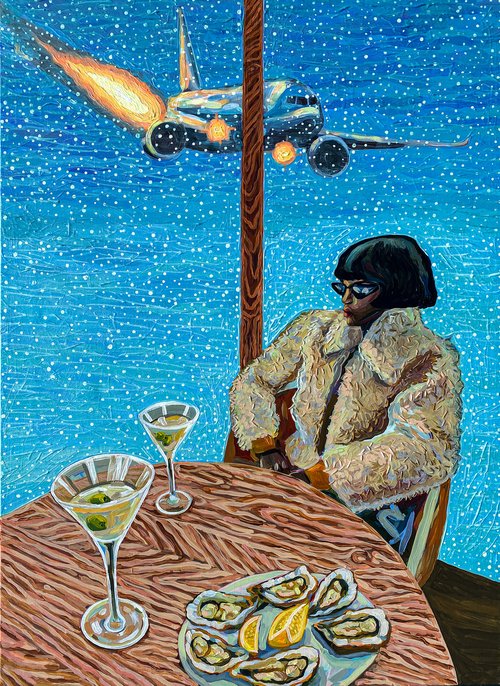 Your paintings often describe some kind of scene, where something is happening. Do you have that scene already thought out, when starting on a new canvas?
Absolutely. I plan them all in advance with sketches and a little writing about the story. I'll very rarely add a new element to the painting after I've started it. Maybe I could try. It could lead to something interesting.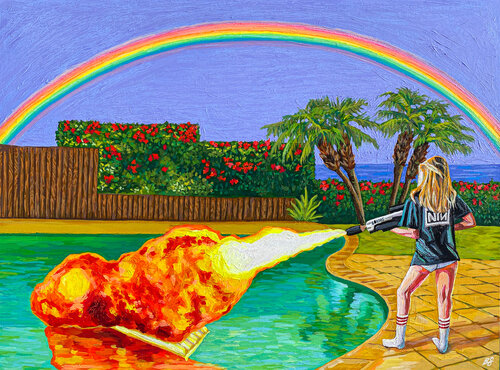 Your pieces often feature women in luxury settings, with something chaotic or alarming happening. Talk to me a little bit about that. Who are the women and does the alarming scene symbolize anything?
The women are anonymous. Their figures are typically relaxed during these chaotic scenes. The imagery came to me during the pandemic. There's always something horrific happening, especially in America right now, and I think the best way to deal with it is with composure and ease… and occasionally ignoring it and focusing on your own wellbeing. 
When looking at your paintings I get a sense of humor, irony and idgaf vibes. How do you feel about that statement?
 That's perfect. Putting humor into artwork is a bit of a puzzle for me. I want it there, so I'm glad you see it. As for the "idgaf" sentiments- yeah, admittedly that's my mood at times. While painting, I listen to a lot of comedy podcasts; Your Mom's House, Two Bears One Cave, Bad Friends, Tim Dillon. I also listen to a lot of true crime. Both have been melding their way into my work.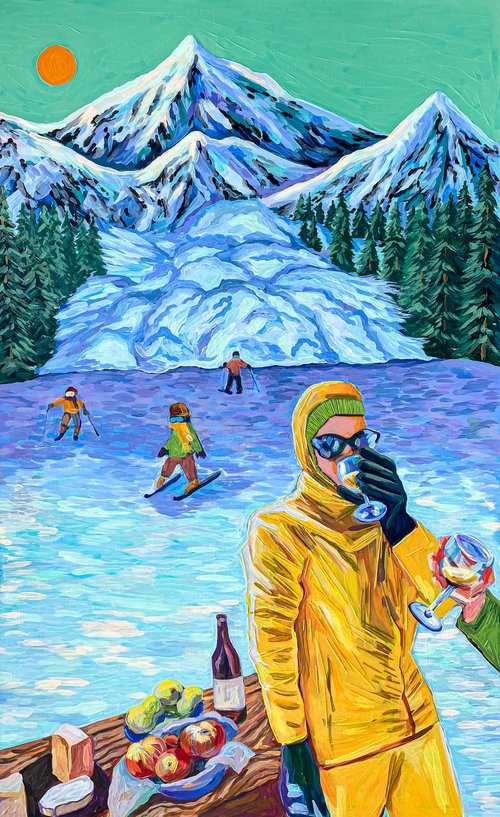 What do you hope the observer gets out of your paintings?
I like it when someone's inner psycho comes out a bit and we can laugh about that.
What's with the serial killers? 😀
 Like alligators, I am terrified of those "classic" serial killers from the 70's and 80's; the ones that we know so much about, but that also came close to getting away with it because of the lack of forensic evidence and technology. Whenever I'm afraid of something, I also become deeply interested in it. Maybe that's why so many women are obsessed with true crime podcasts and documentaries. They're cautionary tales?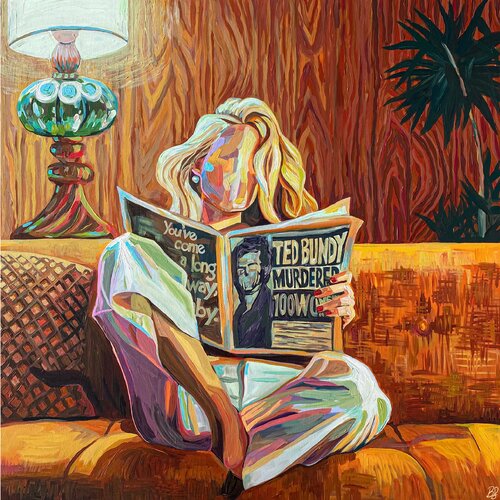 What's your favorite movie?
I really love anything Quentin Taratino makes, but Once Upon a Time in Hollywood is my current favorite. I appreciate the fact that he has strong female characters (well maybe not so much in Once Upon a Time….), but it's not shoved down your throat. It doesn't need to be said or celebrated, they're just absolutely great. Almost all of his scenes could be successfully composed paintings. The attention to detail, the music, the language. Chef's Kiss*. I'm also a big fan of violence that is so brutal it makes you laugh. Imagine coming up with that concept.
What's your biggest vice?
I started smoking cigarettes again in Spain last November. It just went so perfectly well with the vermouth. I've been quitting on and off. I hate it, but it's also the greatest.
For more information about Brittany, check out her Instagram and website.