William Fice (b. 1999) graduated in 2020 from Leeds Arts University with BA (Hons). After a series of group exhibitions, he had his first solo exhibition with Patrick Davies Contemporary Art in 2021 and has since been recognised as an emerging artist to watch, featuring on Artsy's 'In demand works' and The Guardian. Originally from Redhill, Surrey, he descends from a non-creative background and now lives and works in Leeds where he continues to develop his practice.
William's work explores the liminal space between adolescence and adulthood. Young men are captured and rendered in paint through direct; intensely saturated washes of colour, opening the door to an altered world in which his figures inhabit with richness and purpose. Gathering source material from Instagram, group chats between friends where photos have been exchanged, as well as his own experiences and observations; Will's representation eventually finds itself between the peripherals of the real and the imaginary. A sense of ambiguity fuels his images. Imagined elements are carefully placed, duplicated and moulded into compositions; establishing and framing a narrative that brings to question the viewers perception.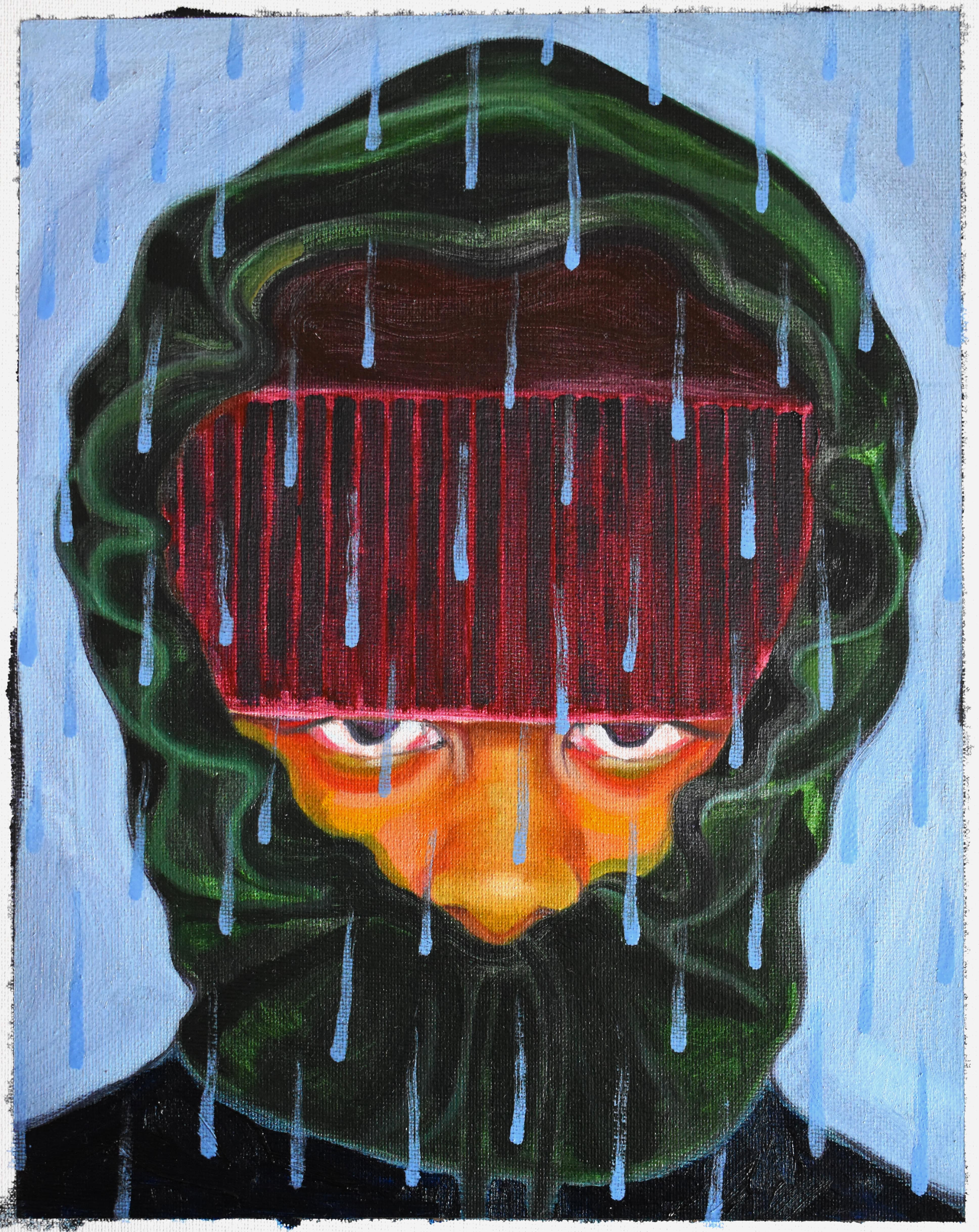 Hi William. It's a pleasure to sit down with you. First question. You live in Leeds, England, how does a regular day for you look like?
I actually recently left Leeds after living there for 5 years and now moved back home to Redhill, Surrey where I'm sharing a studio space with a friend who runs a clothing business. I'm starting to feel settled but still figuring out what a regular day looks like. I usually take it easy in the morning and try get to the studio for around 10 or 11am and paint through the day till about 7pm. Painting all day can be quite isolating so it's good to see friends after. I'm trying my hardest to be more productive with my time in the evenings but I usually just end up scrolling Instagram.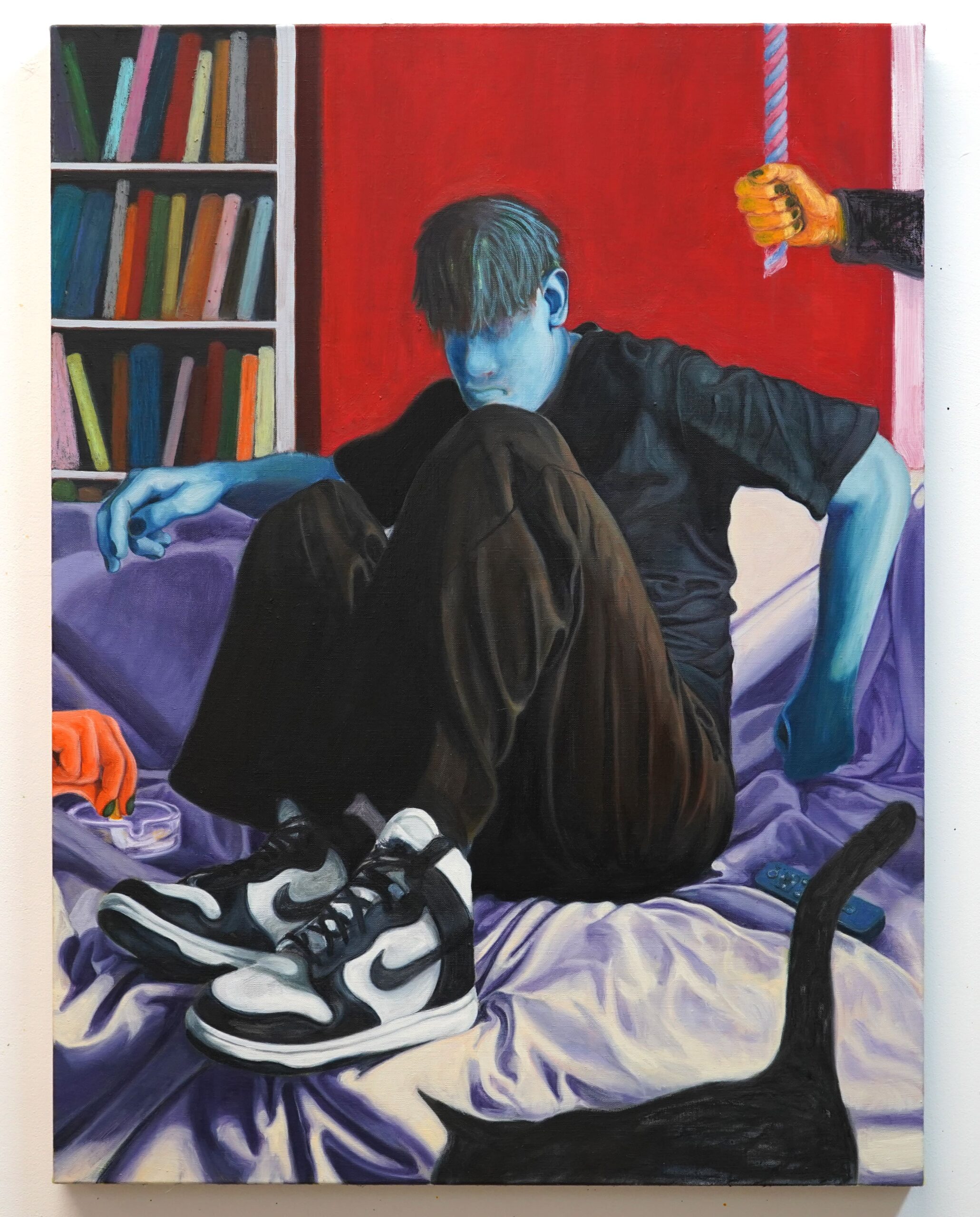 Being from a non-creative background, where do you think your creativity comes from? And what's the earliest memory you have of making something?
I used to write stories with illustrations but also keep little notebooks and draw stupid characters in them that probably didn't resemble anything. I think it always starts with drawing for a lot of people. My parents still have one drawing stuck on the fridge at home of a spaceman character, I copied from an artist when I was about 9 or 10 years old. I think that was the first signifier of what was to come.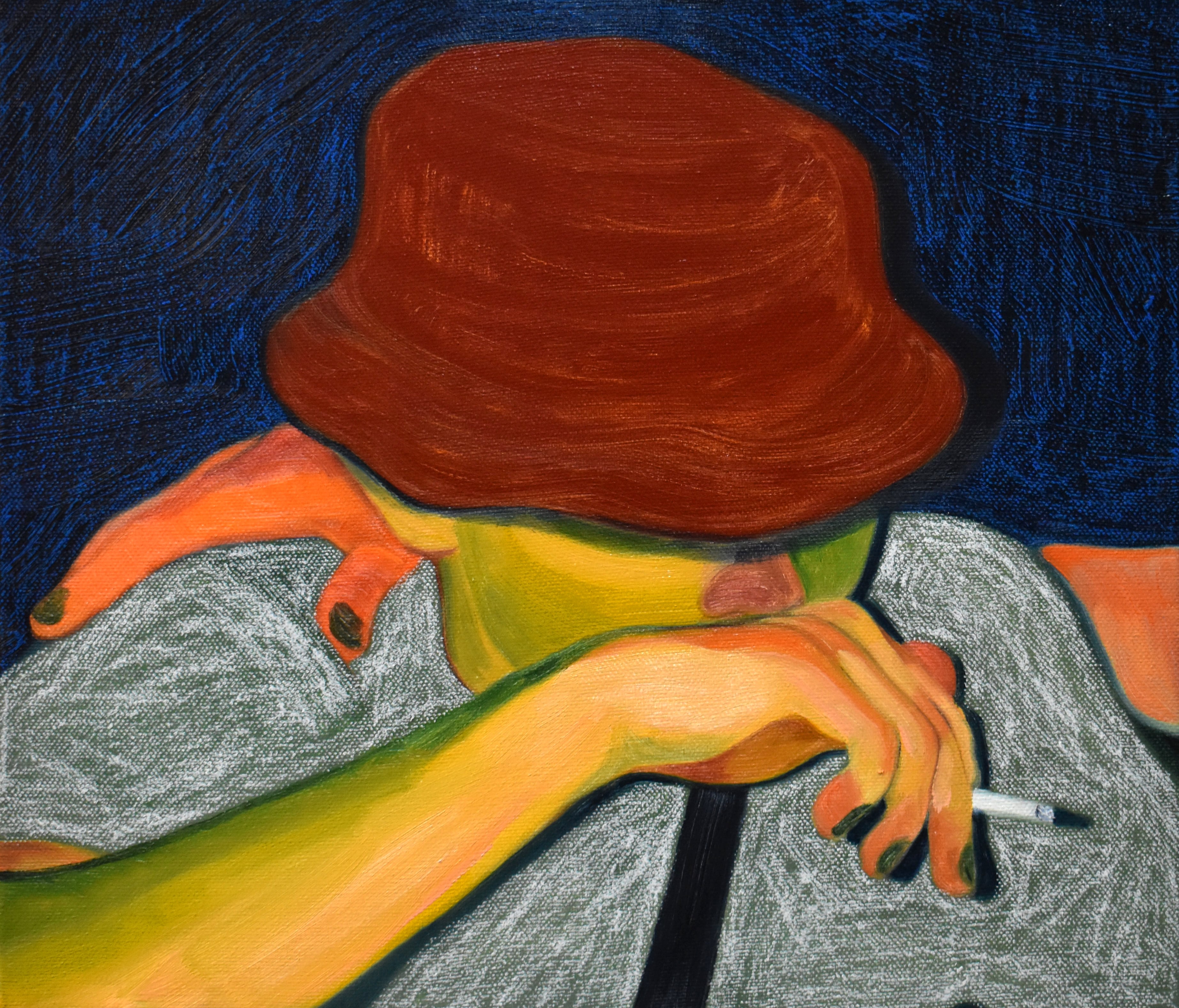 You're only 23 and had your first exhibition last year (2021). When did you know that you wanted to become an artist?
Like a lot of people have said before; you never think it's a possibility. I wasn't really thinking much about the future when I applied to art schools. I didn't even know anything about the course but I thought the tiny bit of skill I had was worth exploring. I was honestly just curious. You start to realise the idea of becoming an artist when you begin to make work truly for yourself about something you can feel engaged with. It then builds to the point where it begins to feel as if things aren't as far away as they seem.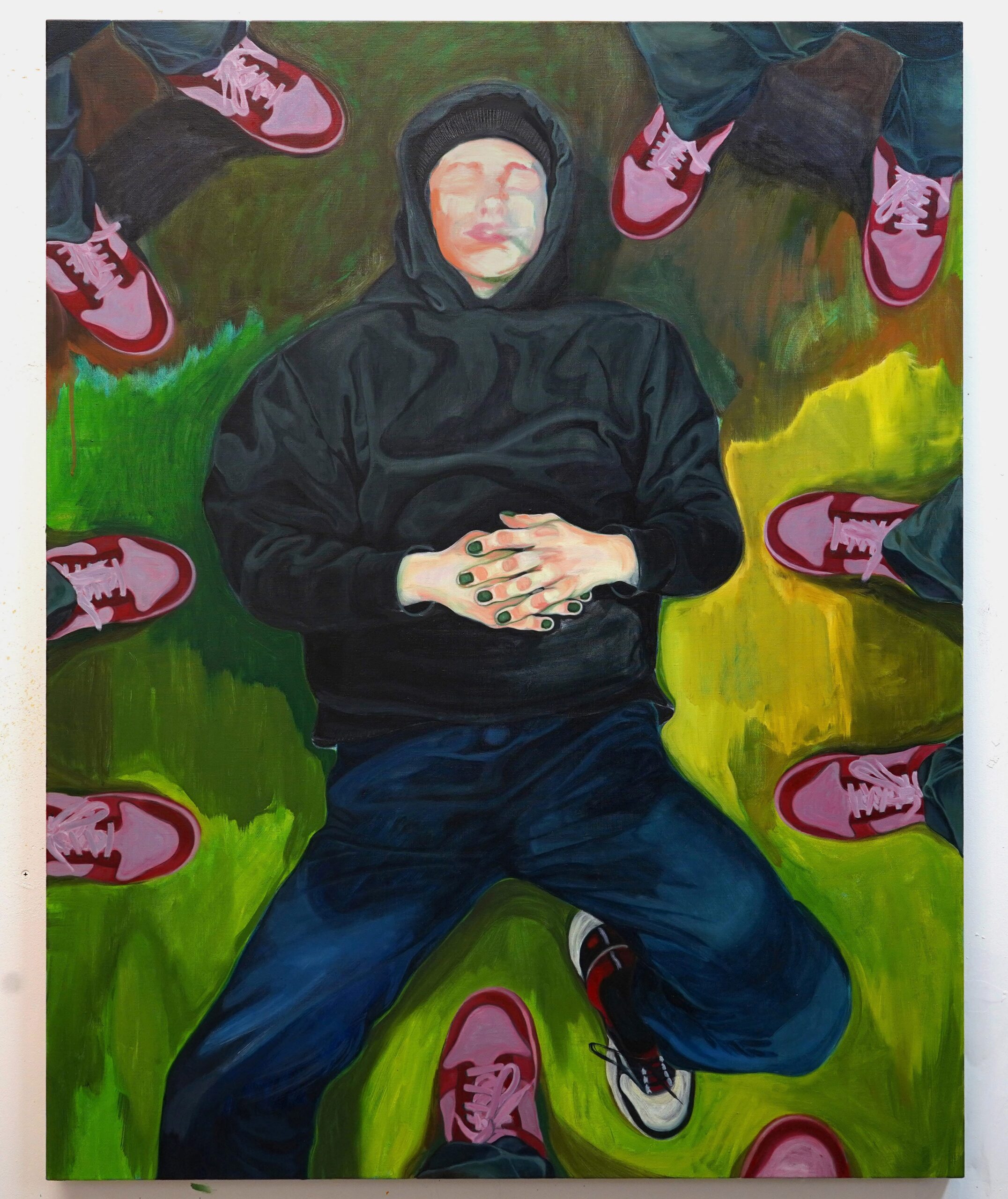 The saturated washed colour paint you use on your paintings, together with the matte look and soft lines you apply, to get the look you want. How long has it taken you to perfect that?
It's been a long process of trial and error but there was definitely a turning point in my last year of university, when I started looking at a lot of Peter Doig's work and also Nicole Eisenman. I became kind of obsessed with the way they used paint and I began to work with a kind of quick, almost smooth line. I wouldn't say I'm satisfied or that I've completely perfected what I'm after. As you're working, you're always asking yourself what it is about paint that you like and that changes over time. Colour has always been consistent but I think my work is beginning to be characterized by movement, form and placement.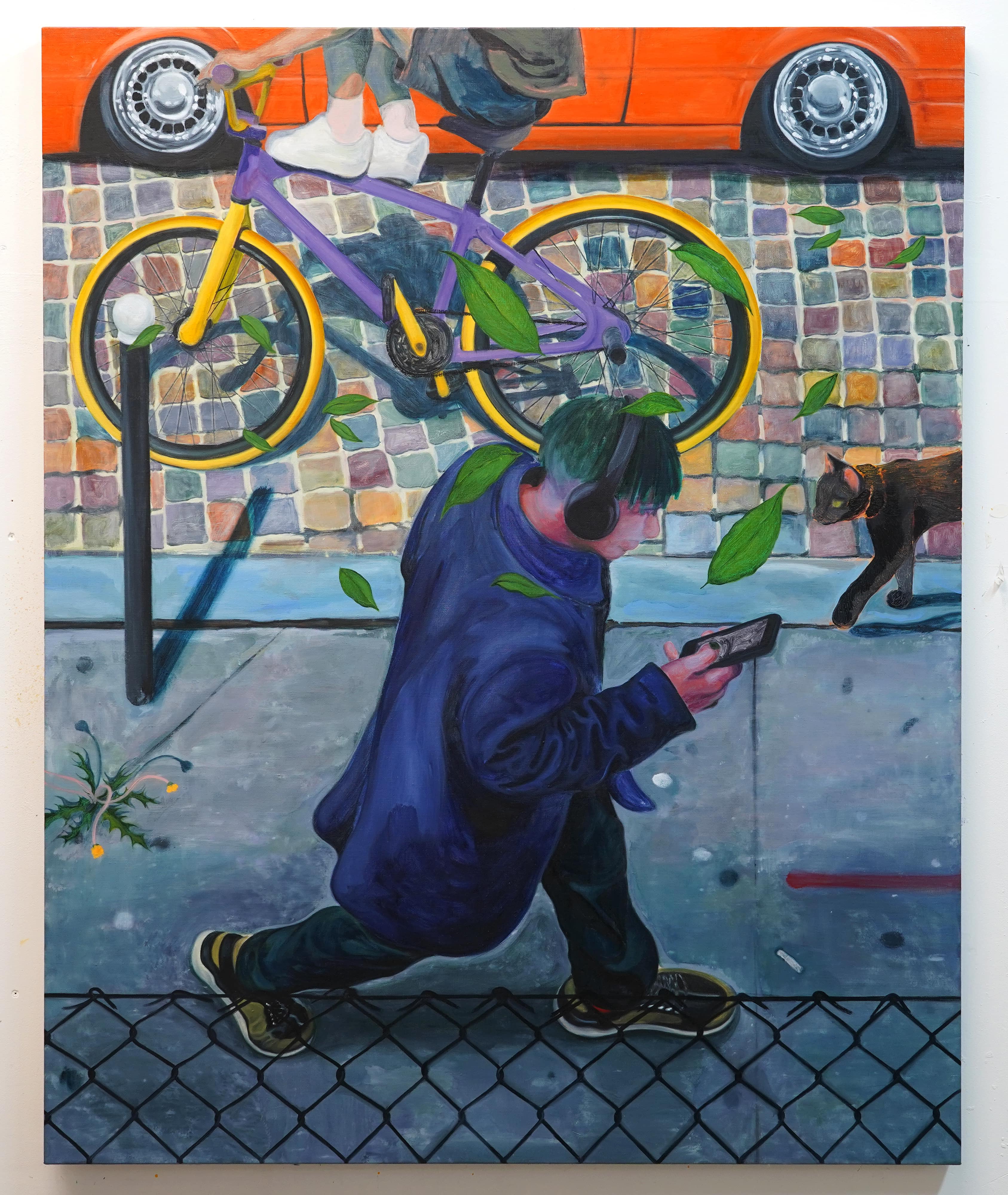 Your paintings depict people or scenes you have seen on Instagram, pictures in group chats, or your own experiences and observations. What makes something worthy of covering one of your canvases?
Usually something that has an unconventional shape or angle, but always a figure. It could a specific setting and their behaviour and whether or not I think I can create a narrative from it. My process for how I construct an image is changing now I'm painting bigger. Before I would directly reference an image or maybe put two images together but now, I'm trying to compose or design a scene from a variety of different references and images.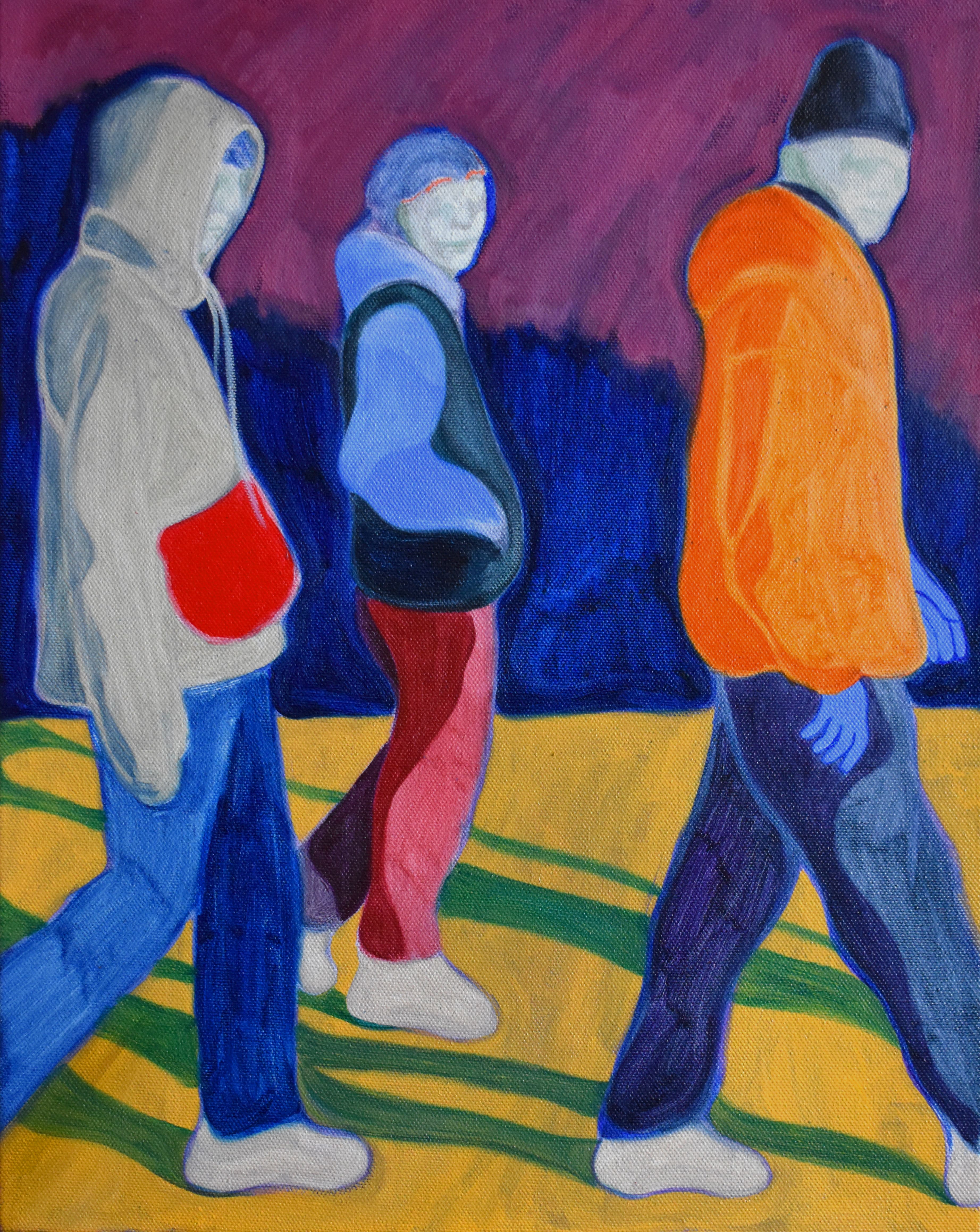 What do you hope that we, the observers, get out of your pieces?
Nothing in particular, but there has to be a certain level of ambiguity so there's space for the audience to figure out or assume something about the image. I want to invite the viewer to have their own interpretation or project themselves and their own personal stories into the painting. I don't want the figures to be too recognizable to the point where they become a real representation or capture complete likeness of the subject. I want them to almost be like characters.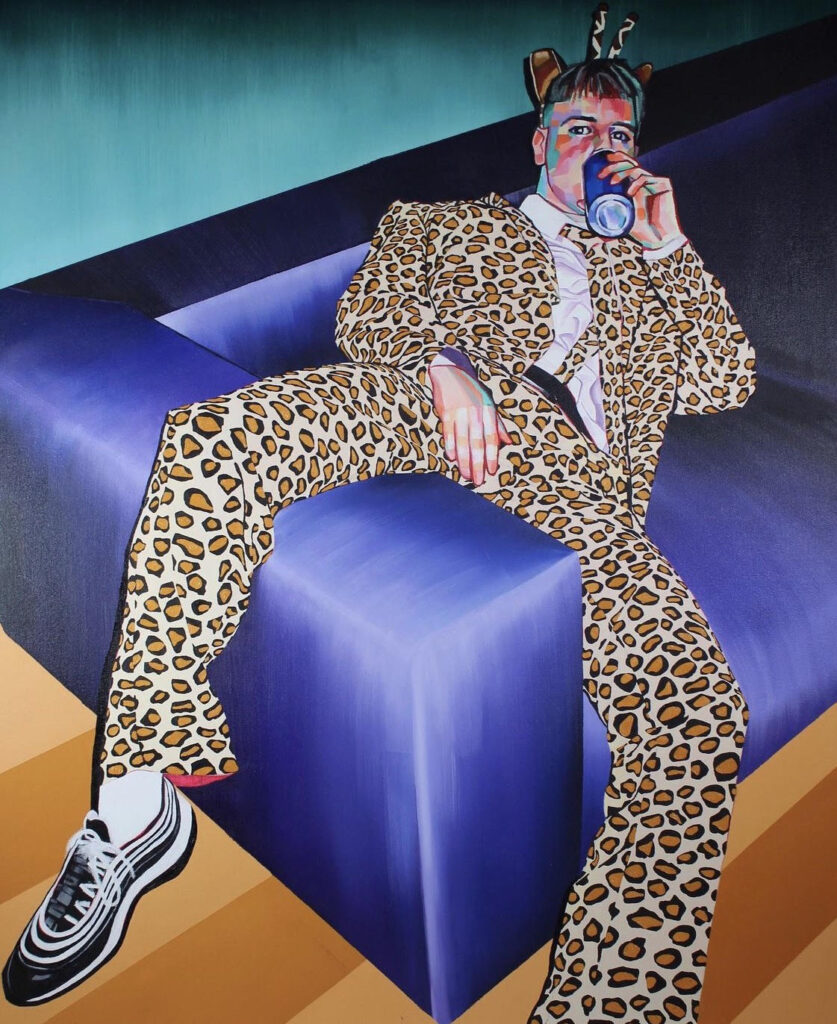 Your pieces are currently being exhibited at Monti 8 gallery in Latina, Italy. How did that connection come about?
Through a collector. He sent a painting I had recently completed at the time to Monti 8 as a recommendation, which led to the gallery contacting me on Instagram. As an emerging artist, it feels really good that someone can see something in your work and want to help you, and also put their trust in you.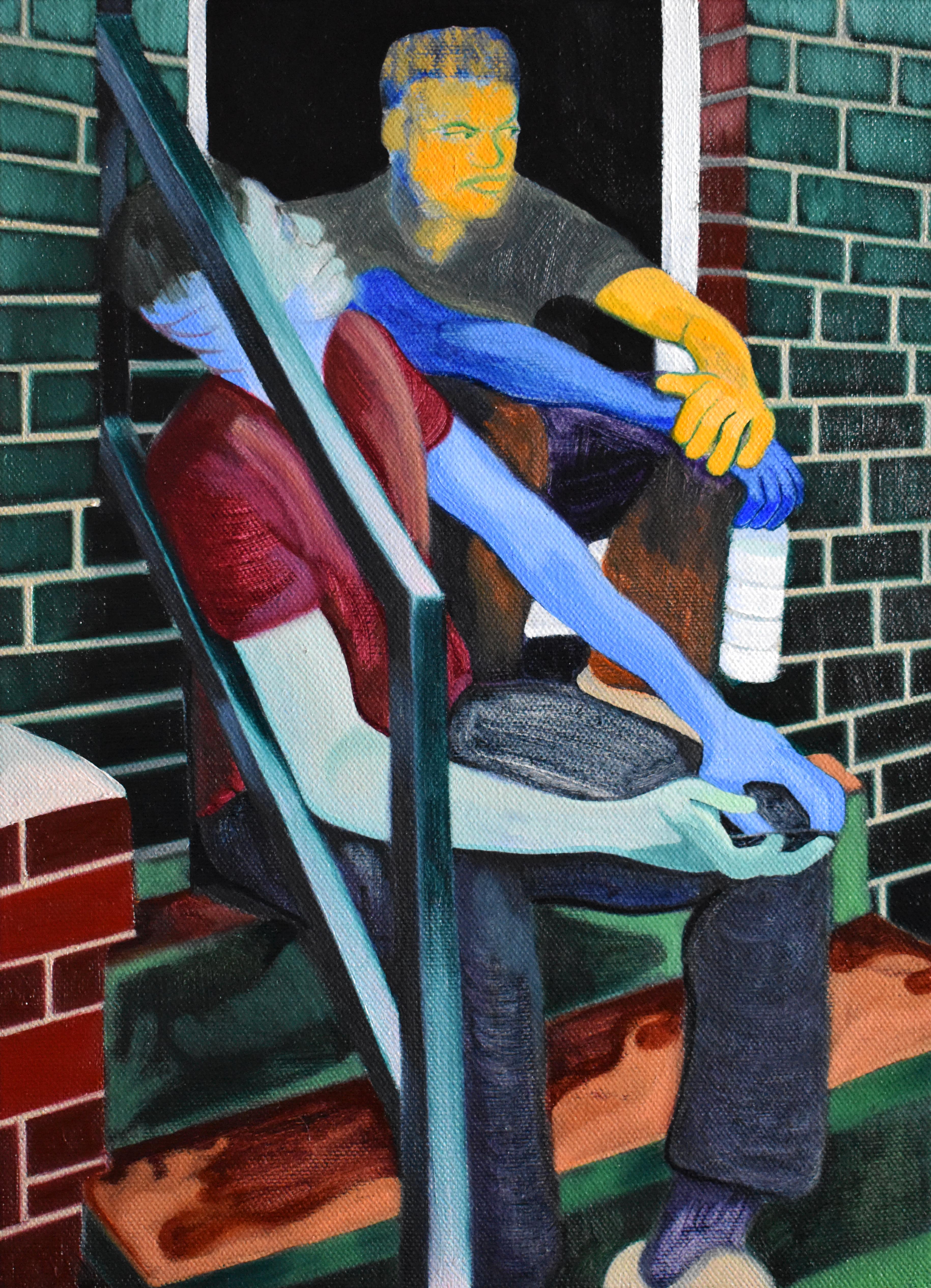 What song do you listen to the most right now?
I'm currently spamming the new Steve Lacy album but also recently discovered 'To Binge' by Gorillaz.
What's your favourite movie?
Scott Pilgrim vs the World.
For more information about William, check out his Instagram and website.