Franco Fasoli (b.1981, Buenos Aires, Argentina), is a visual artist and set designer currently residing in Barcelona and Buenos Aires. His artistic journey has been shaped by his training at the School of Ceramics and his experience working on projects in the public space. His work is deeply influenced by the intense social circumstances of Latin America, and he seeks to create an expansive portrayal of the region's rituals, customs, and the complex relationships between beliefs, politics, and daily life.
In formal terms, breaking down the borders between artistic disciplines is central to his approach. He skillfully integrates painting into sculpture, sculpture into raw material, and raw material into photography, among other combinations, exemplifying his diverse range of work. Franco studied at the National School of Ceramics and Scenography at IUNA and the Colon Theater. He attended clinics with Diana Aisenberg and participated in workshops with Nahuel Vecino and José Marchi.
With eight solo shows, numerous group exhibitions, and a significant presence in public art projects, his work has been showcased in various countries, including Germany, Australia, Brazil, Canada, the United States, Spain, France, South Africa, Turkey, among others. He has received several accolades for his contributions to the art world, including the Second Prize of the Itau Award in 2017, Mention in Painting at the National Salon in 2021, and the Diploma of Merit in Visual Arts from the Fundacion Konex in 2022. Additionally, he was selected for the Fortabat Award in 2019 and the Salin Nacional in 2017 and 2019.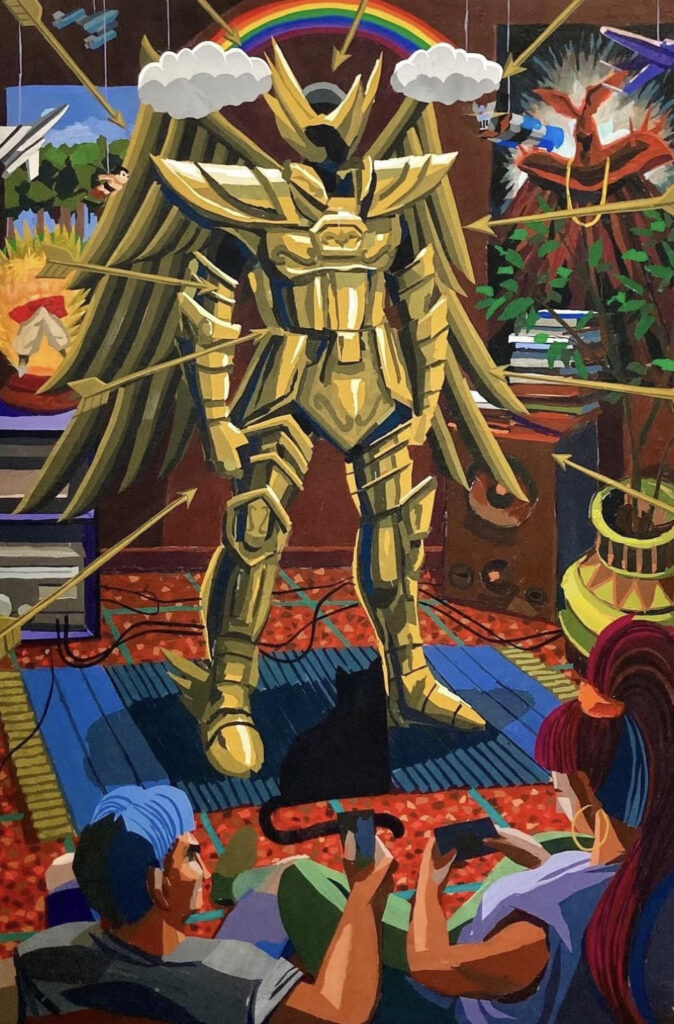 Hi Franco! It's a pleasure sit down with you. First question that I always ask. How does a regular day look like for you in Buenos Aires or Barcelona?
No matter where i am, i always start the day by drinking Mate. It's something that started when i moved to Barcelona. Before that i never drank Mate. That drink, along with some old Argentinian rock bands become a kind of melancholic helper since i live overseas.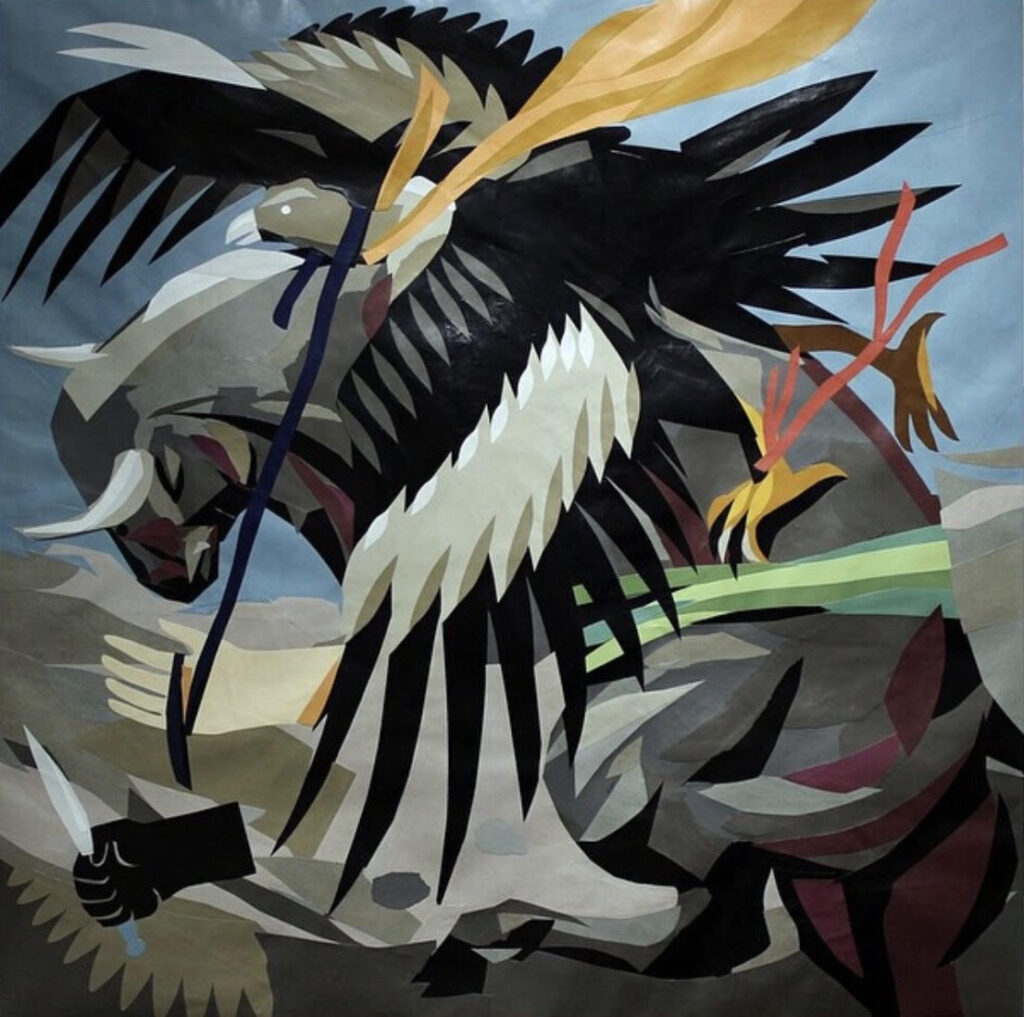 How does that work? Living in both Argentina and Spain. What's the reason for living in both countries? And how do you juggle going back and forth between the two?
Since the pandemic started, I made the decision to split my time between two countries, spending six months in each. It's been a bit challenging to figure out the logistics, aside from the idealistic notion of enjoying an endless summer. However, what I appreciate about this arrangement is that I can experience the best of both worlds in each city.
Buenos Aires, the city where I grew up, holds a special place in my heart, and I know it very well. It boasts one of the most dynamic and intense art scenes I've come across. On the other hand, Barcelona offers an incredible quality of life and serves as a convenient hub for traveling throughout Europe. Moreover, both cities share a similar weather pattern.
Being in Spain makes it easier for me to handle shipping and relocations. However, Argentina, despite being distant from the main markets, allows me to recharge my energy and immerse myself in the vibrant vibes it offers. Additionally, it's an ideal place for studying, with countless opportunities available in both public and private education.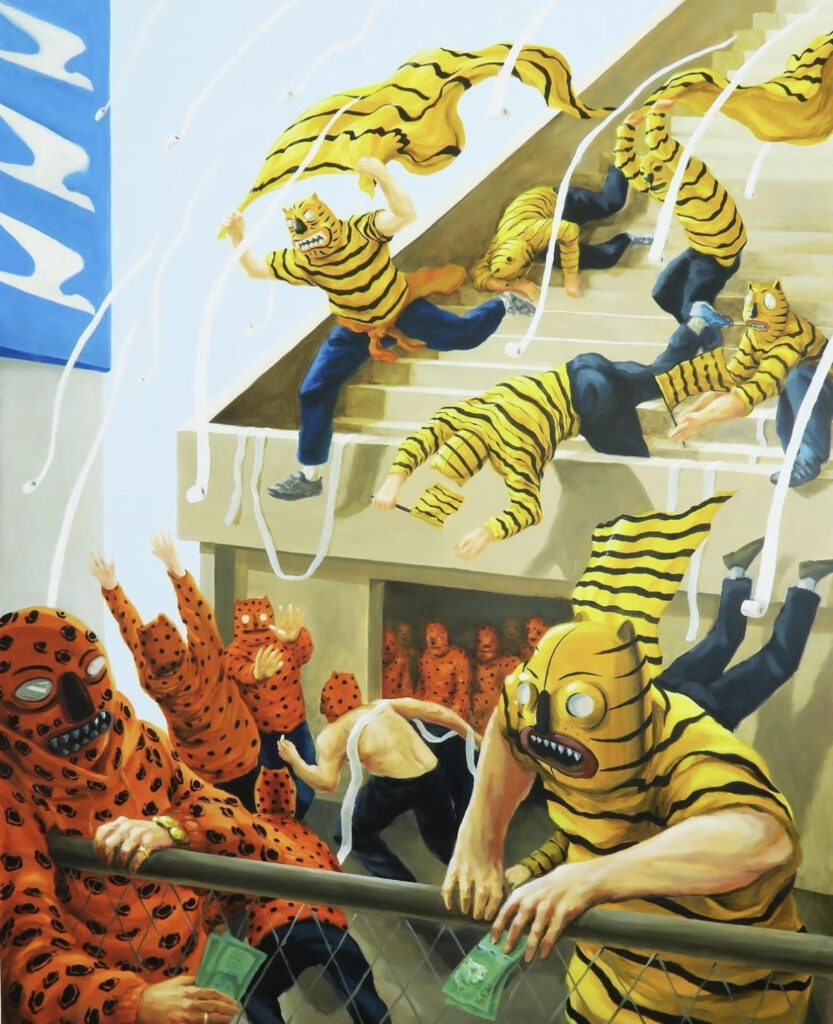 And how is the South American and European culture and art scene, compared to each other? Any noticable differences?
Yes, there are significant differences between Argentina and Barcelona. Argentina boasts a rich and historic cultural heritage encompassing music, literature, and visual arts. However, in terms of the market, it is relatively limited. Nonetheless, this limitation has fostered a sense of individuality among artists. They aren't solely focused on selling their work but are more inclined towards learning, engaging in discussions, and exploring alternative approaches. Buenos Aires offers numerous independent spaces and underground projects that blend hype and intellectuality. Additionally, the country's strong influence in psychoanalysis has contributed to alternative methods of learning and art criticism within the local art scene. Despite the small market, it doesn't hinder the development of projects and new ideas at all. Artists are scattered throughout Buenos Aires, and the city hosts around 15 different art openings every week, spanning various locations. This vibrant art scene is something I truly cherish.
On the other hand, Barcelona's art scene is relatively smaller and more static in comparison.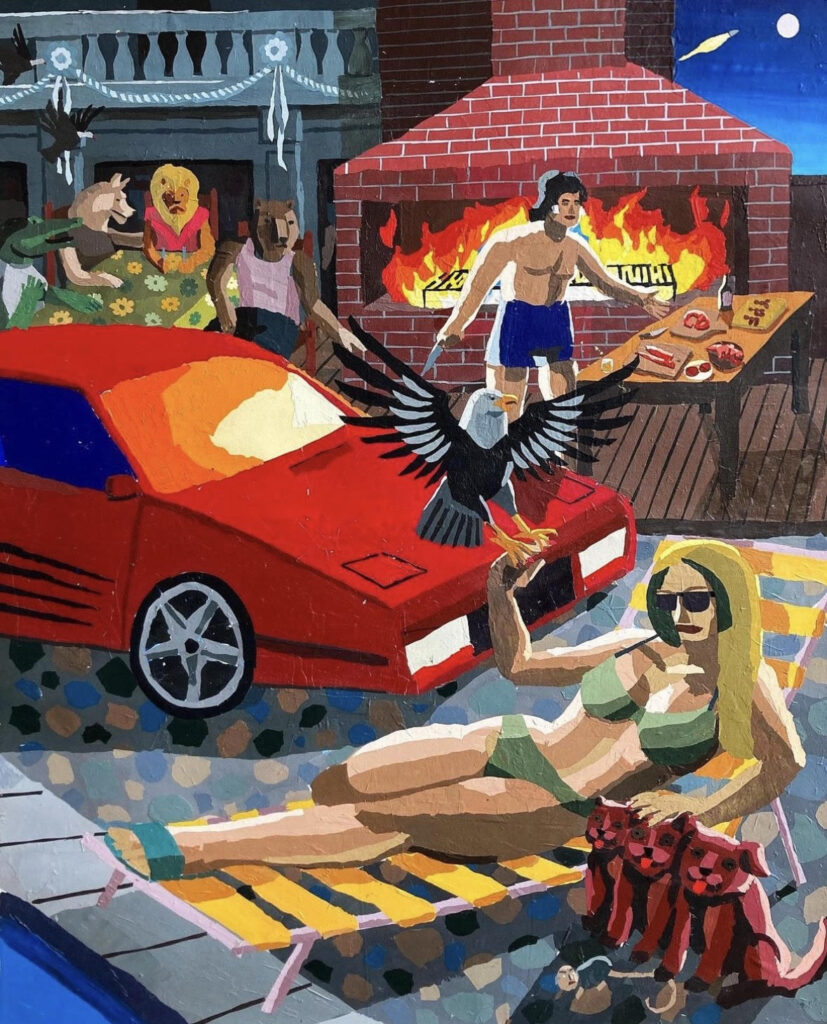 I'm curious. Growing up in Buenos Aires, what kind of kid were you? What did you enjoy doing and how did you spend your time?
My childhood was diverse because I spent the first 6 years of my life in Buenos Aires. Afterward, for the next 8 years, I lived in various small towns in the northernmost regions of the country, located on the periphery of Buenos Aires.
When my family returned to the city, I was already 15 years old. It was around that time that I started doing graffiti and attended the Ceramic school. Additionally, I was deeply involved in the Comic and Manga scene, so my teenage years were spent navigating between these two worlds.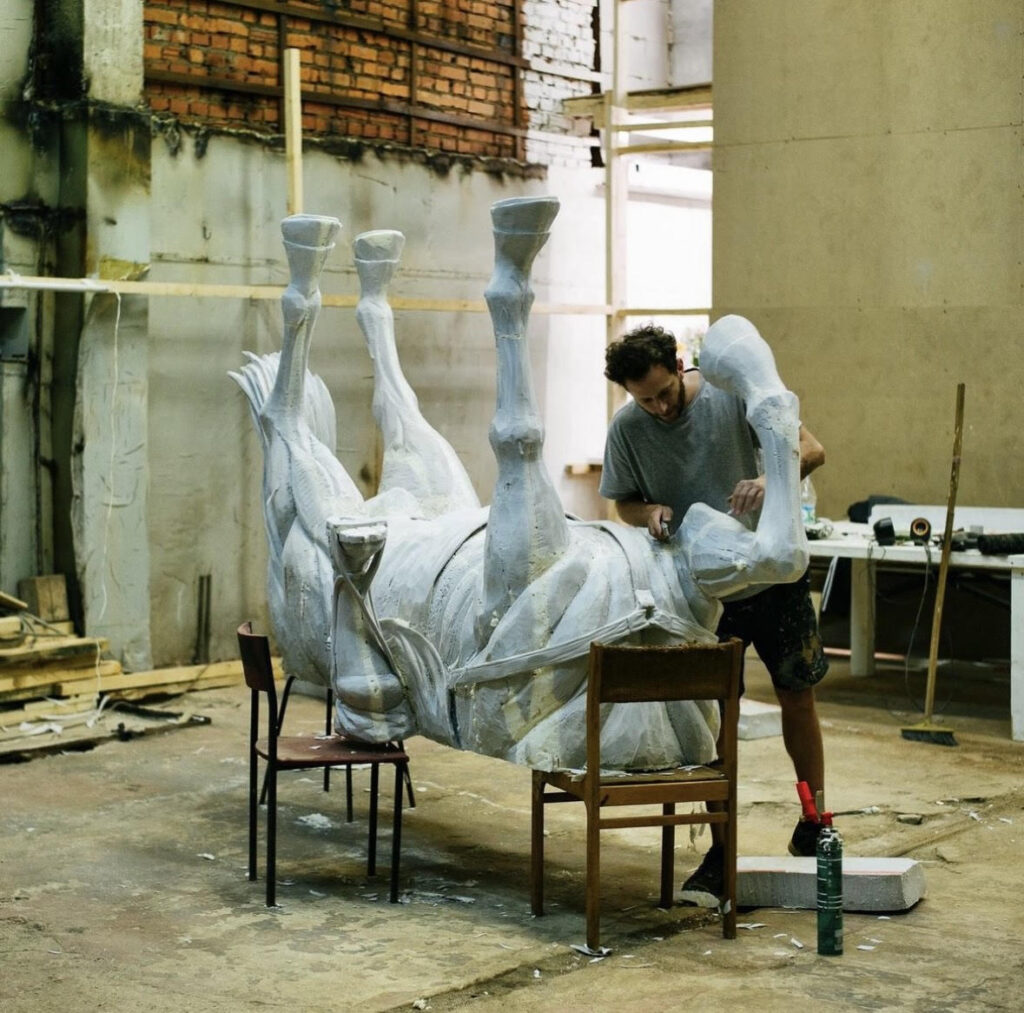 You've mentioned that you started out painting graffiti as a kid. How has graffiti influenced the way you approach your current work and what is your fondest and worst memory from that time?
Graffiti became a significant part of my life and emerged in the city at an early stage. The first graffiti pieces began appearing just a few years before, especially from Brazilian writers who came to the city. For me, it marked a time of immense exploration, coinciding with the early days of the internet. These initial experiences of venturing out to paint on the streets created an entire world of friends and adventures, gradually shaping my artistic work. It was particularly special because Buenos Aires, during that time, was a relatively open city for graffiti, and people were very tolerant of it. This allowed me the freedom to work in public spaces and become a part of the urban environment, engaging with and interacting within it.
However, not all graffiti experiences were pleasant, especially during a trip to Paris for the first Graffiti Jam I attended. A local crew approached us, leading to a massive altercation and confusion. The incident escalated, and I found myself waking up in a hospital afterward. It became a sort of baptism of fire in the world of graffiti for me.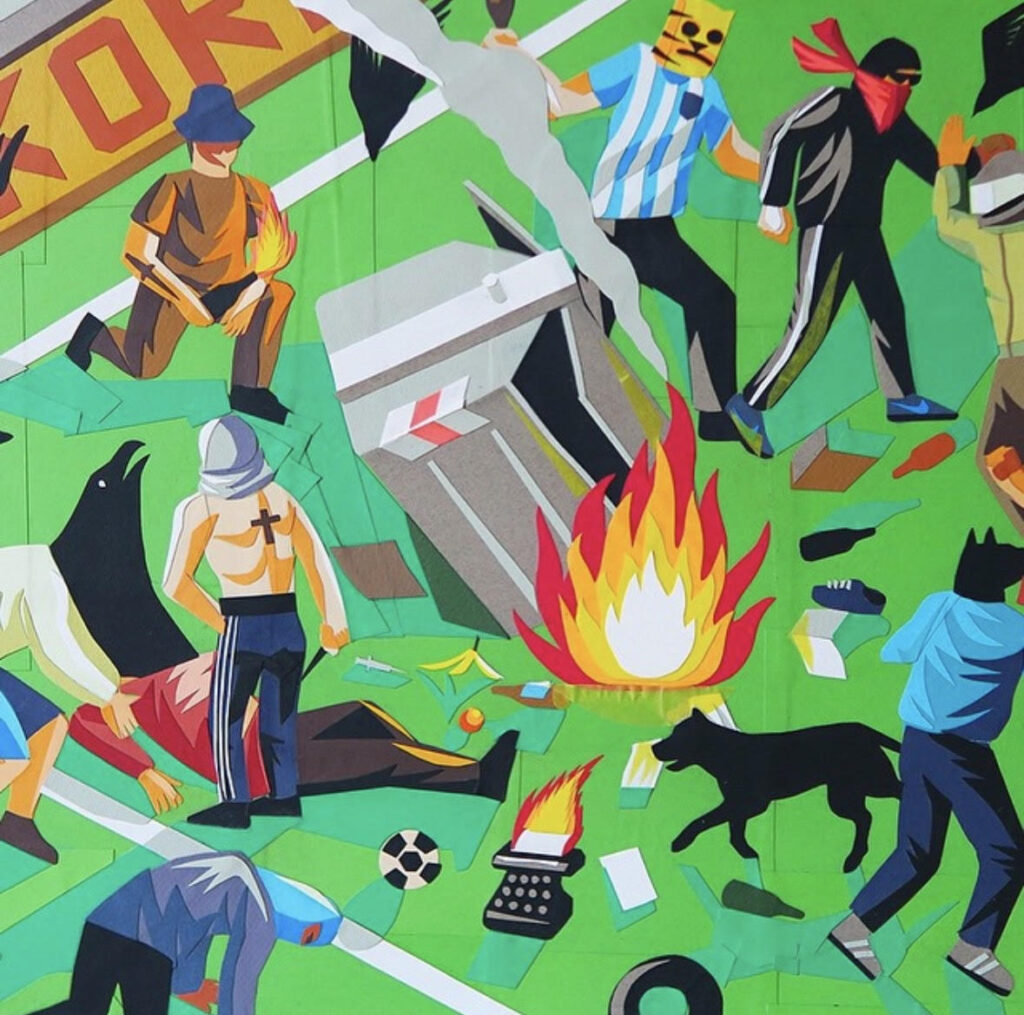 What's the earliest memory you have, of you creating something? And when did you realize that you wanted to become an artist?
I have very, very early memories of creating because I have been a relentless drawer since I was very young. One of my most vivid memories is when my dad taught me to craft things using paper and tape, and I made a kind of helicopter. That memory remains fixed in my mind.
The moment I realized that I wanted to become an artist, however, came much later. In the beginning, even though I spent all day drawing, my aspiration wasn't to become an artist; instead, I had ambitions of being a stage designer or a prop-builder. But over time, the little voice in my head grew louder, and it was when I turned 20 years old that I truly embraced the idea of becoming an artist. From that point on, I dedicated myself to attending every art show, learning from different painters, and critically questioning my own artistic practice.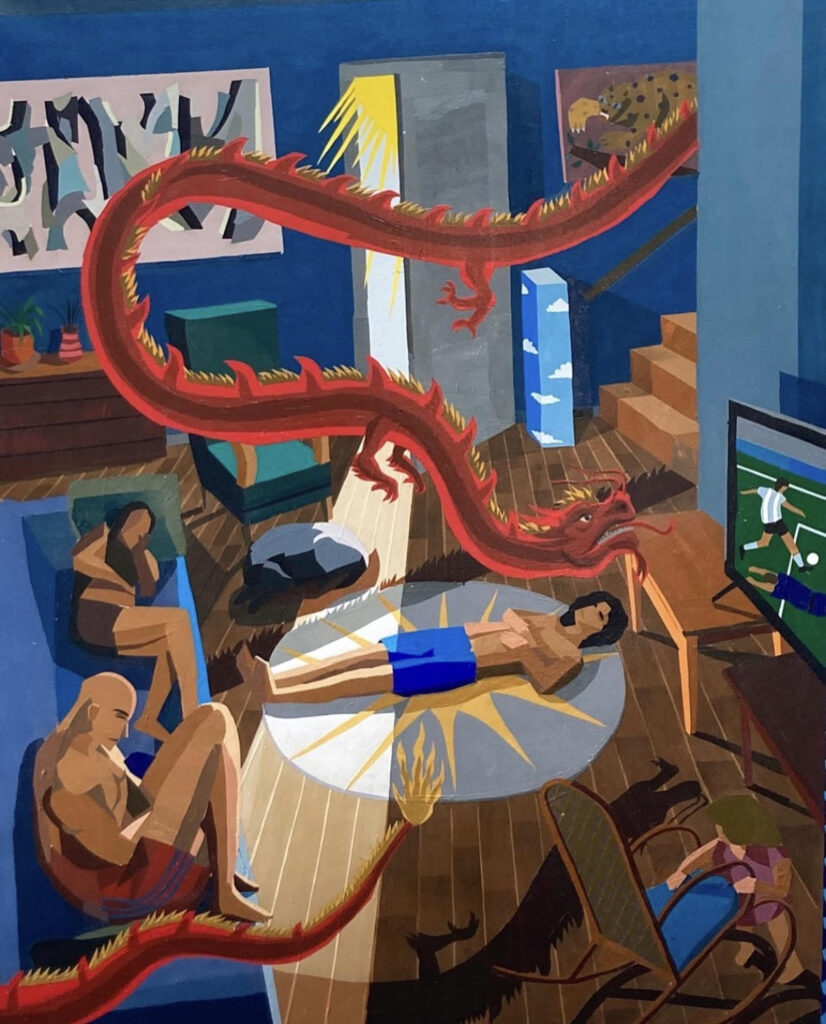 I know you touched on this a little bit before, but can you elaborate a little bit. When did you start taking being an artist seriously?
As I mentioned earlier, there was a momentous click in my mind when I was around 20 years old. From that point, I embarked on a long process of learning what it truly means to be an artist, beyond the natural impulse to paint and draw. I started reading extensively and engaging with other artists, gradually finding my path to live as an artist. However, this journey took many years to unfold.
During the period between the ages of 20 and around 28-29, I made a living as a stage designer and builder. Now, I have the opportunity to focus on my own artistic work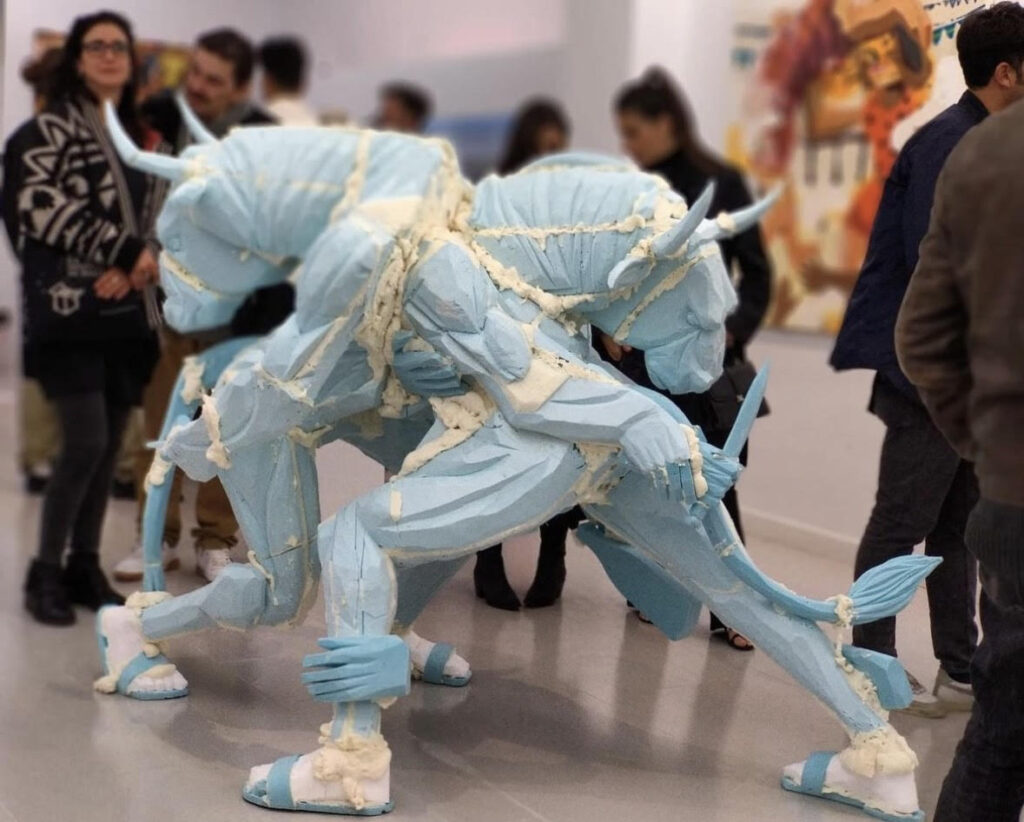 Alright, so, your body of work is influenced by the School of Ceramics where you were trained, and by your experience developing projects in the public space. Can you tell me about that. Why have those two sectors had such a big impact on you?
The Ceramic school marked a significant first step in my art career, as it provided my initial formal learning experience. It introduced me to art history and allowed me to practice and hone my skills. However, at some point, I decided to temporarily set aside my ceramic teachings and instead focus on graffiti and murals. This shift opened up a whole new universe for my painting practice, encompassing different materials and dialogues with public spaces.
Working on murals had a profound impact on my art because it raised essential questions and provided an opportunity for the public to interact with my work. This experience, combined with my innate curiosity about materials and diverse mediums, became the central focus of my body of work. Eventually, I revisited ceramic teachings and modeling, but only after having acquired valuable experience in the public space.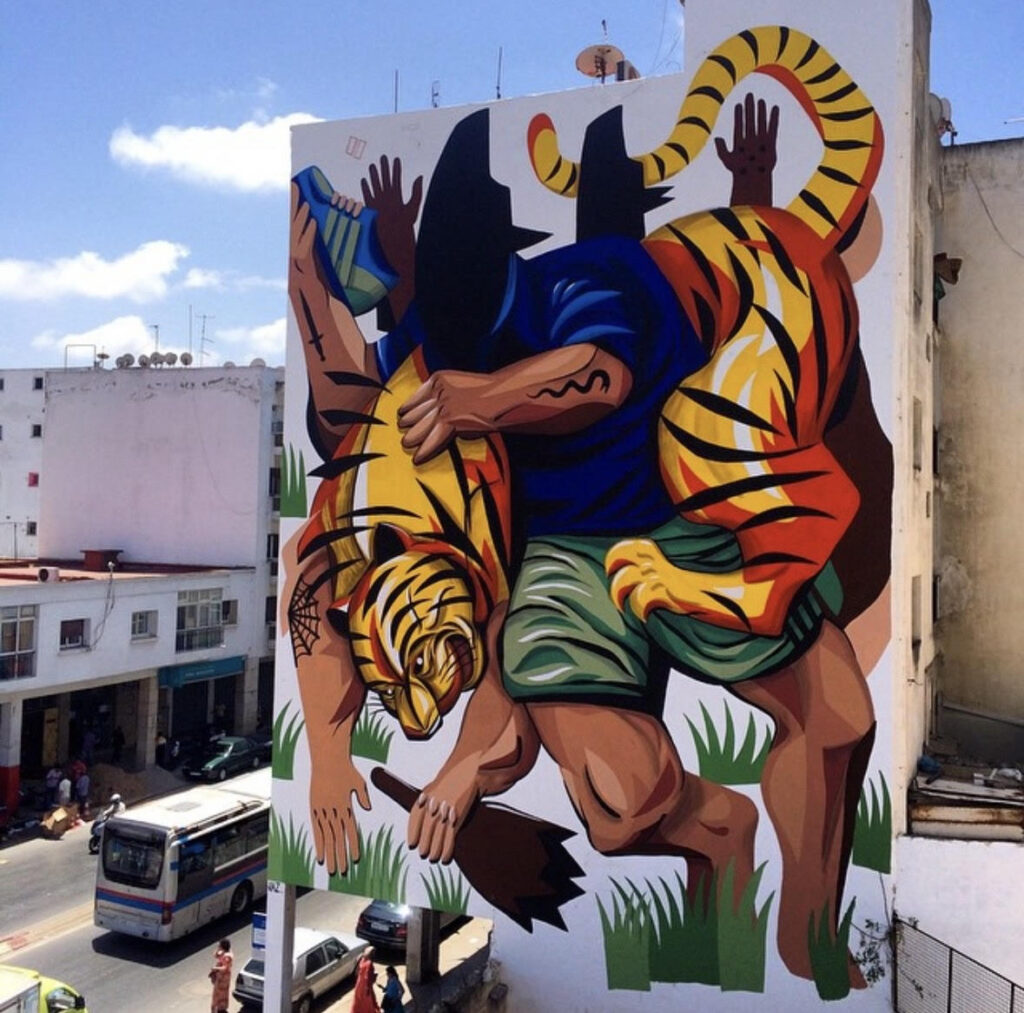 With that in mind. Rituals, customs and systems of relationships between beliefs, politics and daily life. Why are those topics important for you to document through your work?
After the significant steps I mentioned in the previous question, I began exploring different subjects and interests. One of the first areas that captivated me was my passion for sub and underground cultures, particularly those revolving around football in Argentina. I found fascination in the rituals surrounding this sport in my country, where colors, songs, and neighborhoods play a vital role. However, I also acknowledged the presence of confrontations, gray areas, power dynamics, and diverse identities within this context.
This led me to delve into various rituals present in Latin America, such as the Tigrada in Mexico and Tinku in Bolivia, where dancing, history, and violence intertwine significantly. Additionally, local mythologies became a subject of interest for me.
I found great interest in studying Latin American and Argentinian history. The vast territory's shared colonial history, the implications of migrations and slavery intertwined with local communities, and the stories that have been marginalized from mainstream history drew my attention. I recognized the imposition of the same language and the lasting impact of historical traumas on contemporary societies. Yet, amidst these complexities, I marveled at the richness and intricacies that shape the reality of this vast landmass.
For me, it is imperative to engage in learning and conversations about these topics, carrying the responsibility that comes with it.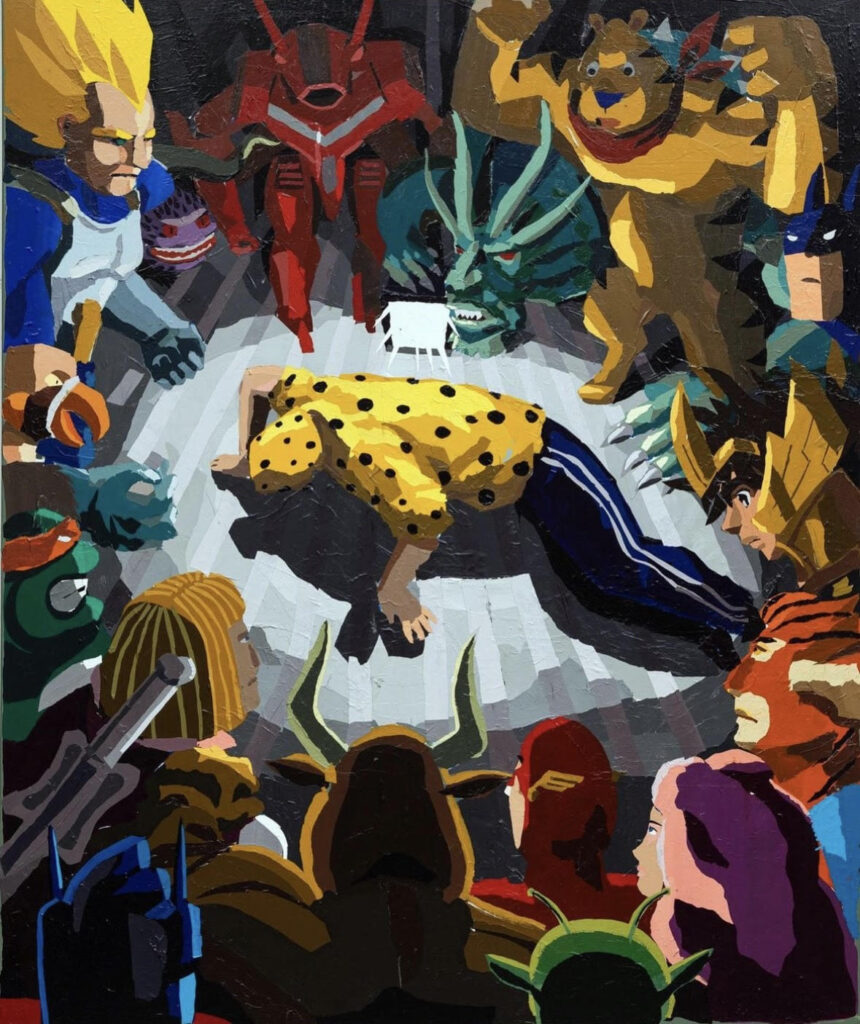 You paint, as well as create sculptures and collages. My question is. Which of the 3 outlets, do you prefer doing the most and why?
I would say sculpting is my primary artistic inclination. Even though it may not be the most dominant aspect of my work, I naturally connect with the three-dimensional volumes, and I feel very comfortable working in that space. Painting and drawing come afterwards and present more challenges for my practice. Collages emerged later, representing a new territory for me to explore in creating images with an entirely different language.
The idea of working with various materials and colors, along with the juxtaposition of these elements, feels like an ongoing quest for me, as I constantly seek new methods and ways to express myself.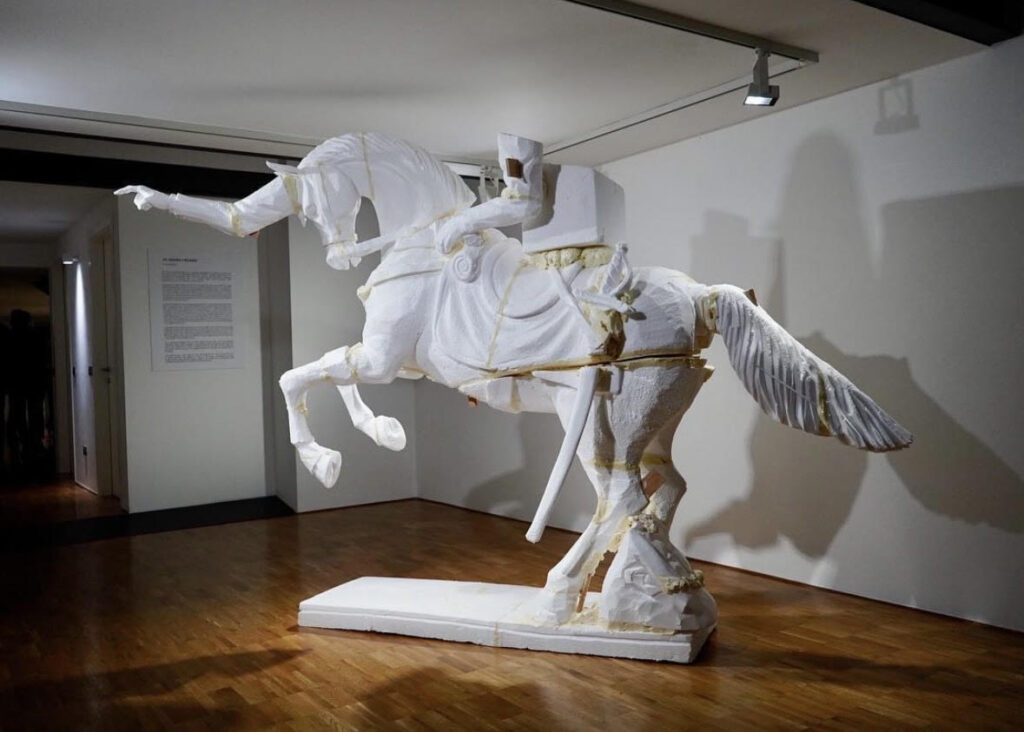 You're renowned for your big beautiful murals all over the world. Can you talk to me a little bit about how you got introduced to making murals?
I approached murals in a similar manner to how I approached graffiti. From the beginning of my journey in graffiti, I held a stronger interest in creating murals on large walls. As I continued to work with murals over time, I began experimenting with different materials.
The influence of foreign artists, particularly BLU, from Italy, who was creating his first mural animations in Buenos Aires during that period, played a significant role in shaping my approach. It inspired me to explore mural concepts that went beyond the familiar language of graffiti and lettering. These were my initial steps in delving further into mural art, employing brushes, asphaltic paint, and long poles to reach larger surfaces.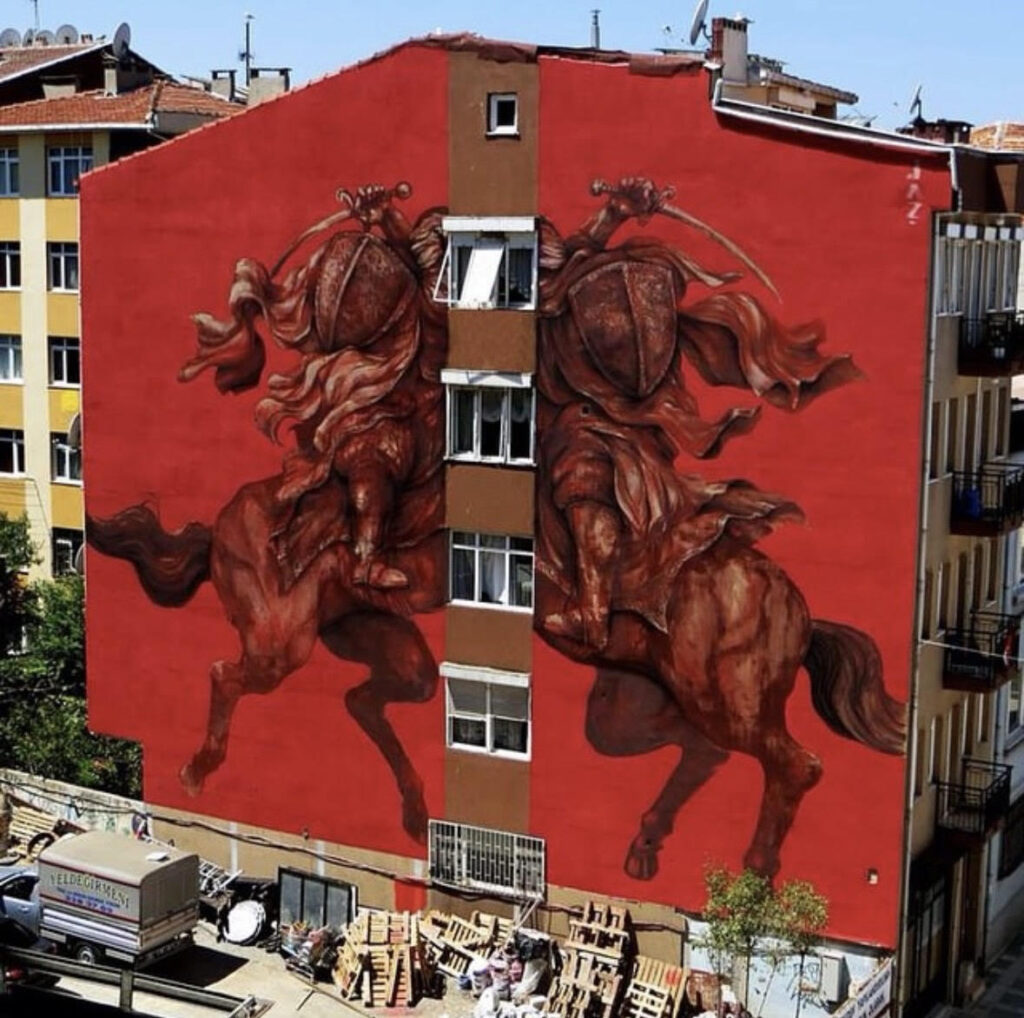 You have a very distinctive vibrant and recognizable cartoony style. My question is: When did you start to develop it, and what is it about that look that appeals to you?
It all began when my work became more centered around collages rather than painting. Through the overlapping process and sharp edges, a more graphic and cartoony style of images started to emerge. This marked a departure from my classical approach to various forms, and it allowed me to subvert and experiment with new methods. As a result, I gained valuable experience in transforming the images throughout the creative process.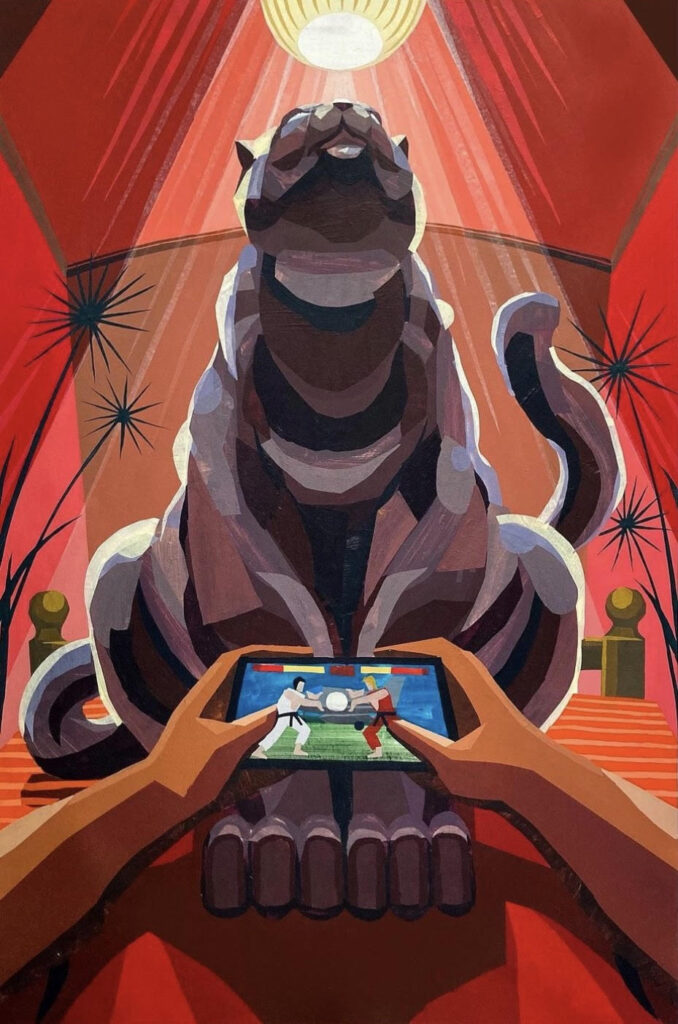 What is it about cartoons that resonates with you?
It was something that emerged as a result of the process rather than a deliberate intention. However, once it appeared, I made an effort to be coherent with this style and delved deep into the world of cartoons. This exploration provided me with an opportunity to revisit my own history with cartoons, given my passion for comics and anime. Cartoon animation has always been present in my life, but I don't try to confine myself solely to that style. Instead, I visit it from time to time, using it to communicate specific ideas or to capture certain subjects in my work.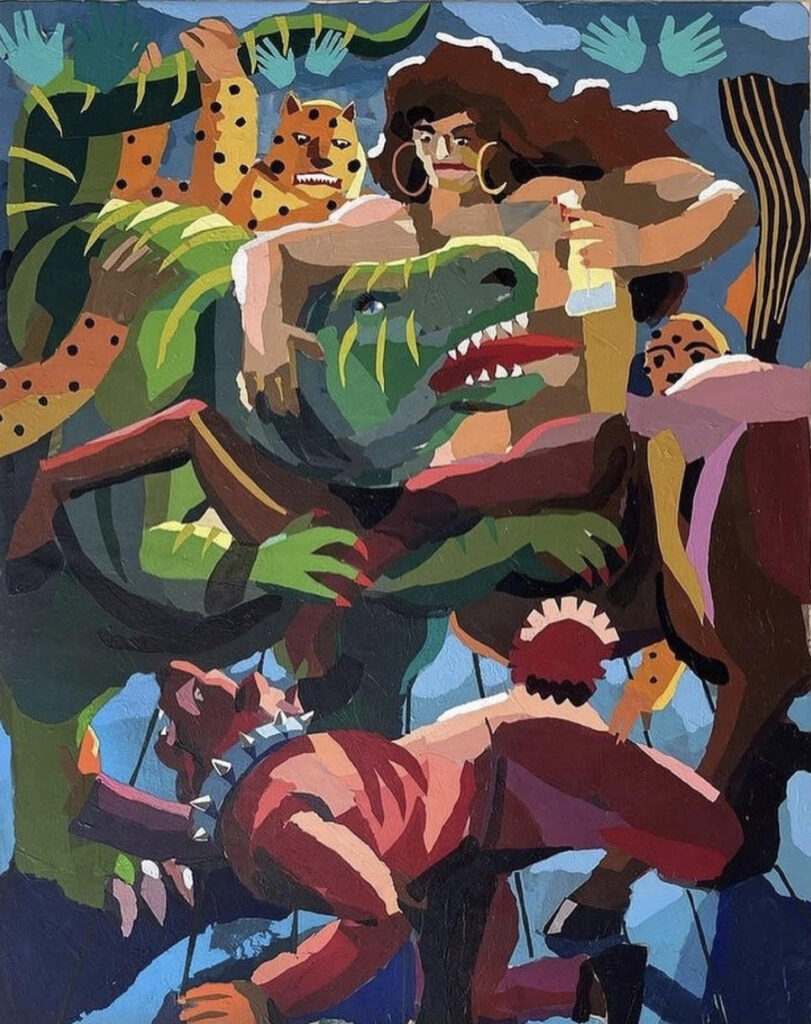 Animals like horses, bulls, tigers and birds, are recurring protagonists throughout all of your work. What's the backstory? And what do they symbolize?
They first started to appear in my murals when I became deeply intrigued by confrontation rituals and explicit violence. Incorporating these elements allowed me to explore such subjects in a metaphorical manner. These characters can symbolize various situations. For instance, in the case of La Tigrada, the tiger-masked figures represent colonial oppression, while the Minotaurs symbolize gatekeepers. Through the use of colors and distinctive marks, these characters become symbols of identity.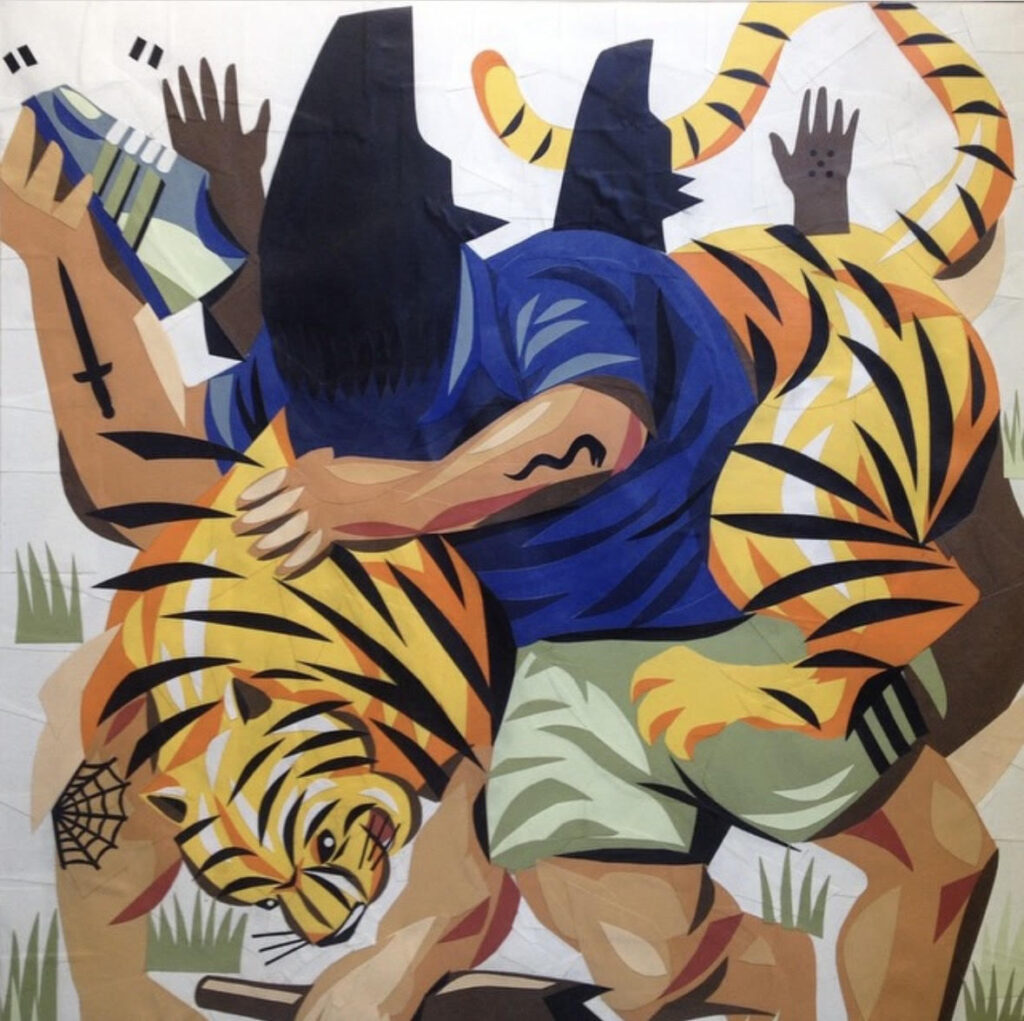 Can you walk me through your creative process, from one or more of your art-forms? From beginning, to end result?
My creative process always begins with an exploration of different materials. I focus on the form and seek various ways to explore and subvert different techniques. Working in parallel, I engage with different series, some of which are more related to rituals or history, while others delve into the theme of intimacy, a subject I've been exploring in recent years.
In my recent works, I have been combining collage and painting. Initially, I prepare all the necessary colors using acrylic paint. With the help of my assistant, we apply multiple layers of these colors onto a plastic surface and allow them to dry for a day. Afterward, we carefully peel them off, creating various painting skins. These painting skins become the foundation for my collage process, where I draw on the canvas and adhere the skins using medium gel. Currently, this is the primary process I am following. However, I must mention that I have an eclectic approach, and I often experiment with different techniques. For example, at times, I solely use colored papers, or I paint on top of them and then scratch the surface. Additionally, I also explore working with paper pulp on occasion.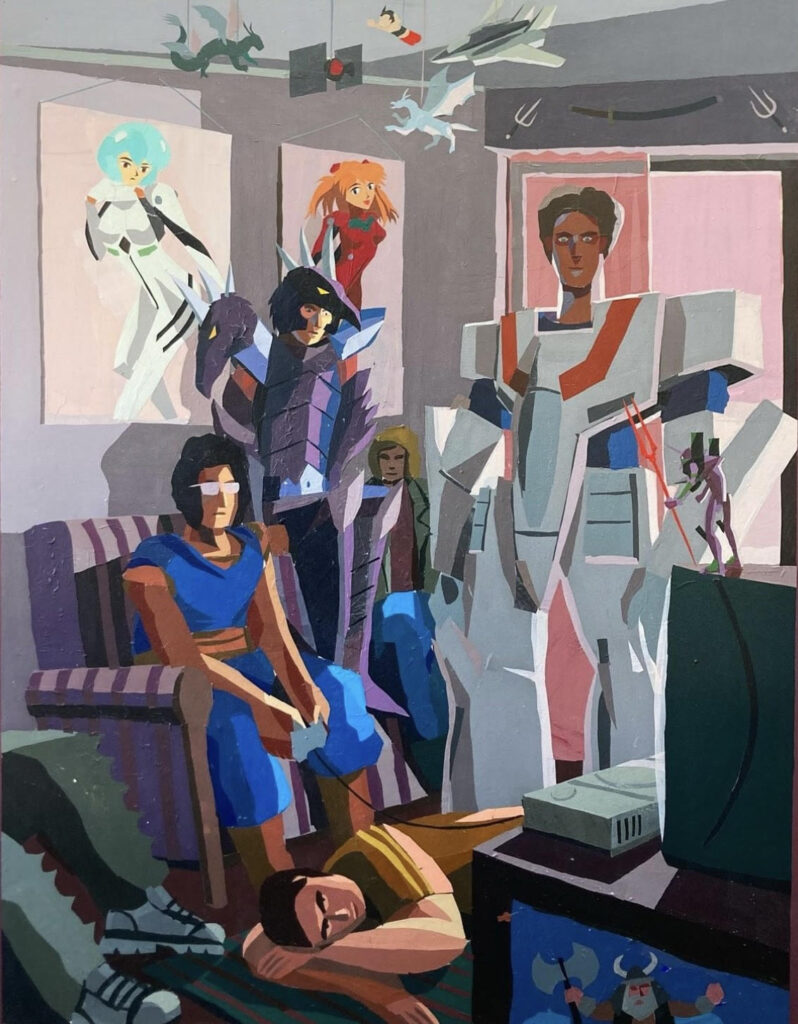 Can you also tell me about your approach to color?
Color has always been a challenge for me as a ceramist and a drawer. I had grown accustomed to working with a very limited range of colors, but my exploration of them began in earnest with collage. Working with colored papers initially provided me with the opportunity to engage with colors more extensively, expanding my palette in the process.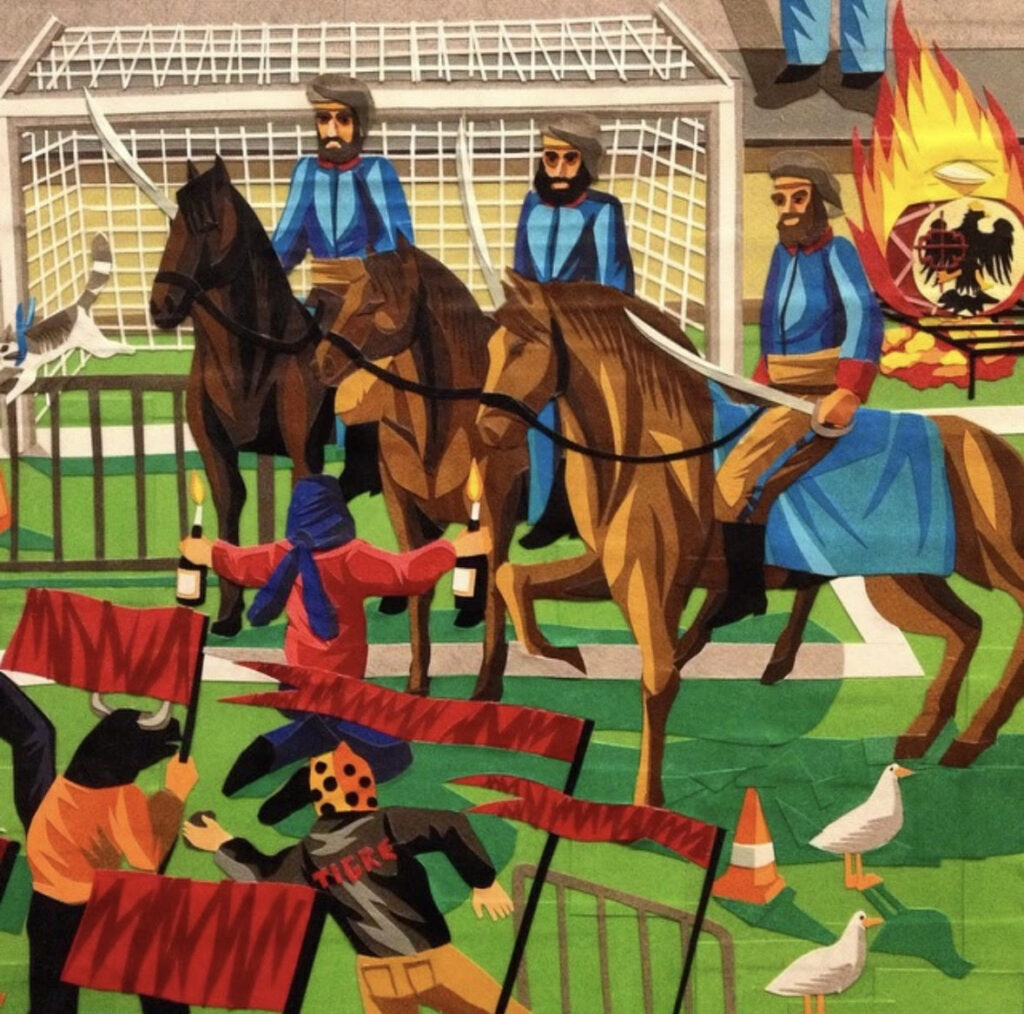 You have an exhibition coming up at Vins Gallery. After that you will be staying at a residency in Malaysia. And after that, you have another project in Singapore. Can you tell me some details about those occasions? Like how did it come about? And what are you going to be exhibiting and doing?
Yes, I am currently preparing for my first solo show in Asia, which will also be my first time visiting the region. The gallery in Taiwan reached out to me, and the residency in Malaysia is organized by a college where I have previously worked in Los Angeles. I am incredibly excited about the entire trip, and I'm especially thrilled about the opportunity for the residency, as it always encourages me to experiment with different artistic languages and explore new materials.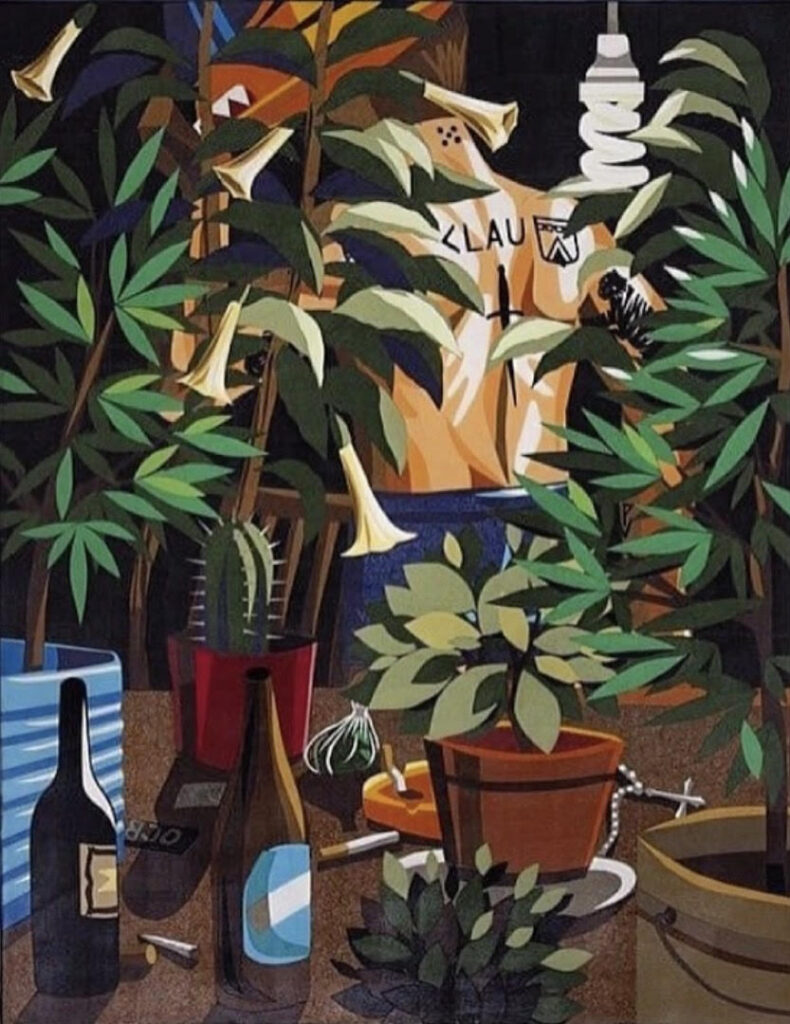 How did you get the nickname "Jaz"?
I was given the nickname 'JAZZ' when I first met graffiti writers in Buenos Aires. In my initial year of painting, I was unaware of the need for a nickname, so I simply used 'FRANCO.' However, upon meeting those experienced graffiti writers, they explained to me the importance of hiding my identity. As a result, one of them named me 'JAZZ,' originally spelled with a double Z, reminiscent of music. Later, in 2009, I began using the shortened version 'JAZ'.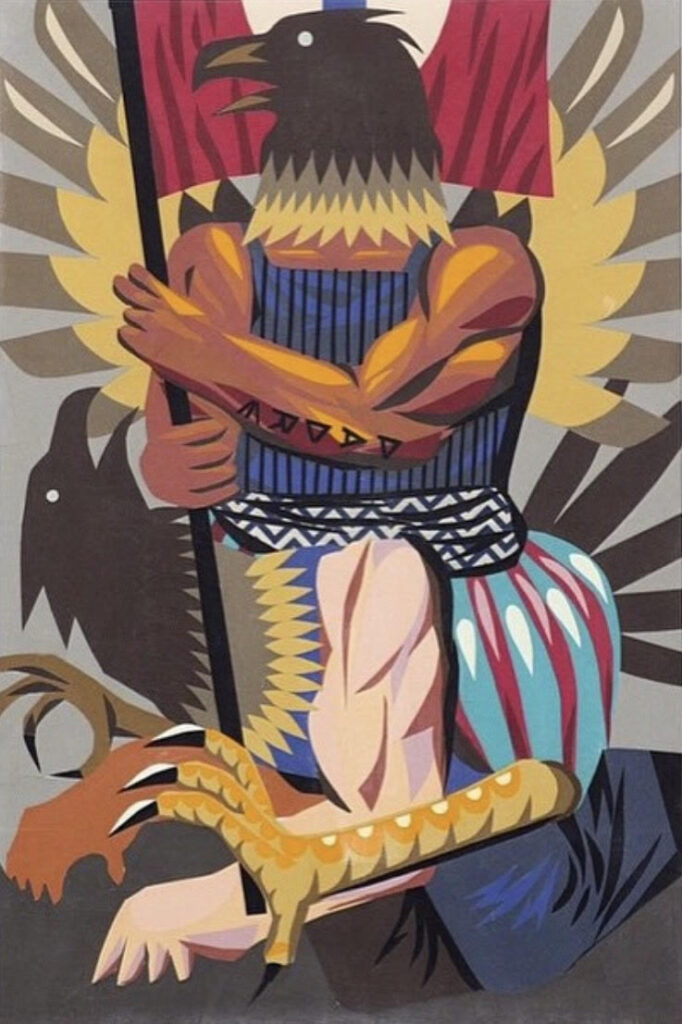 What motivates you?
That painting that I still can't make.
Traveling and discovering places.
Other artists.
AGUSTINA.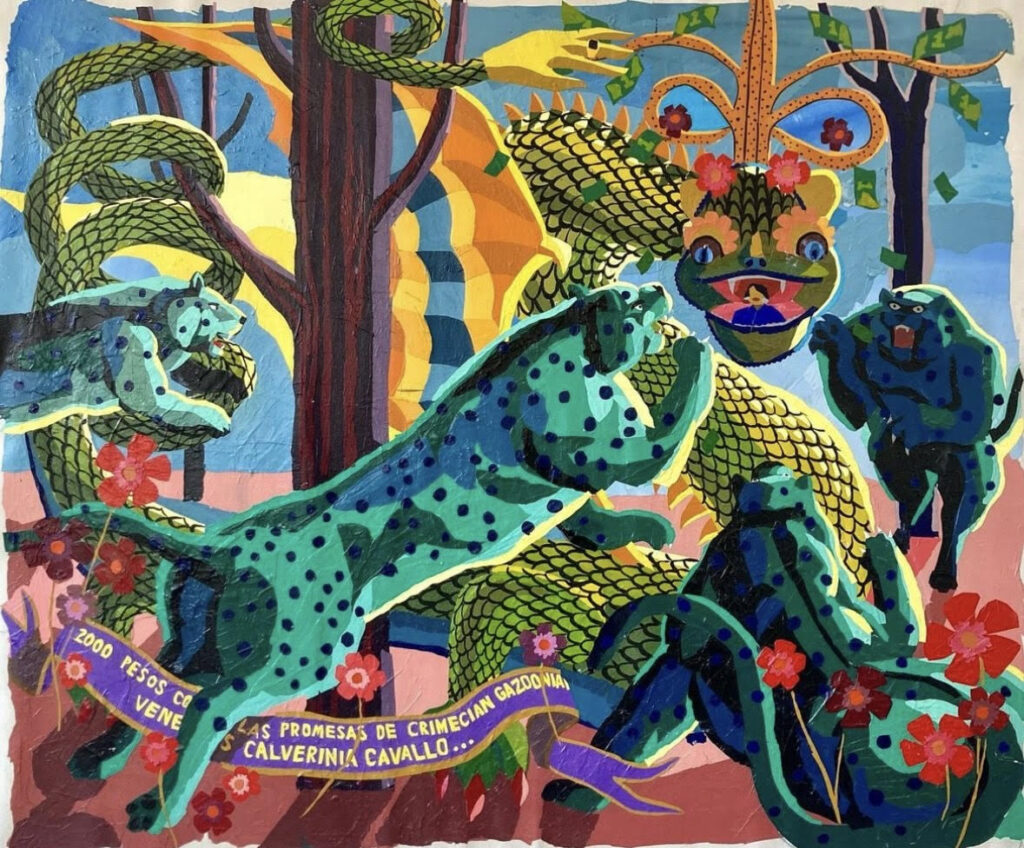 How would you describe a perfect day?
First of all, I wake up after having slept peacefully throughout the entire night without any interruptions. Then, I enjoy some Mate, of course. The most perfect days for me are the ones when I can paint without any kind of restriction. Those are the days when I know I don't have any appointments or commitments, allowing me to fully immerse myself in the creative process and let my creativity flow freely.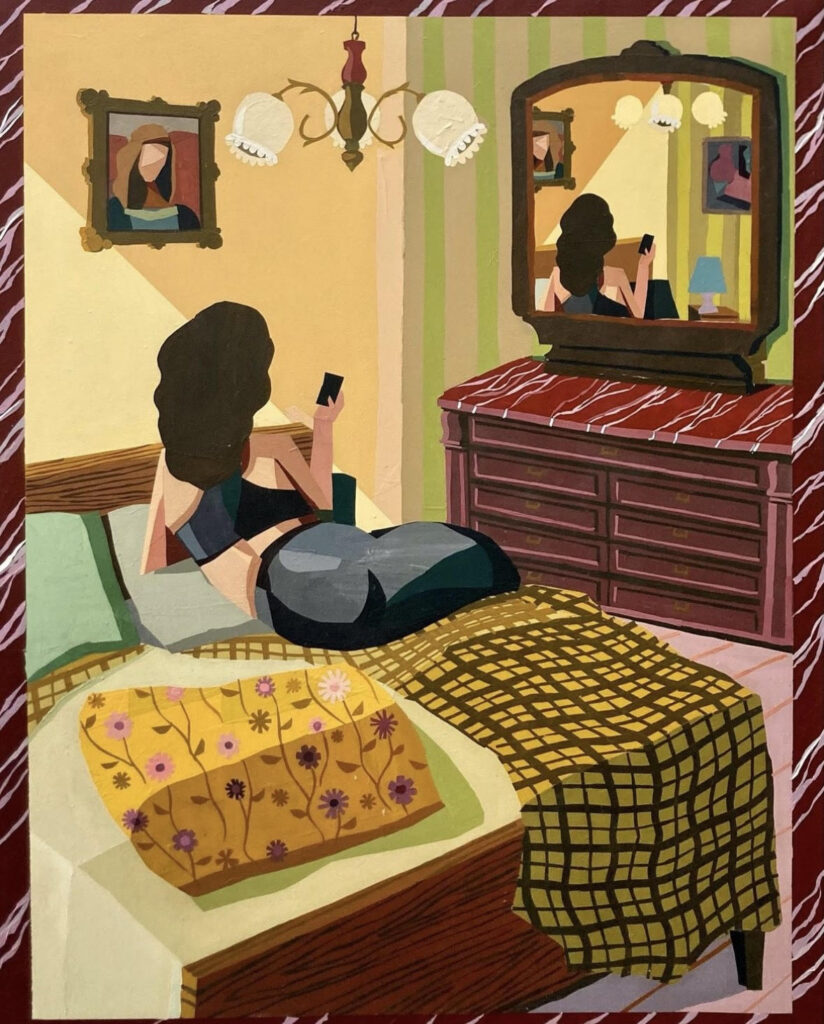 Alright Franco. I always ask these two questions at the end of an interview. The first is. What's your favorite movie(s) and why?
MMHHH, this one is the hardest. I must admit that I have several favorite movies. 'Labyrinth' with David Bowie is undoubtedly one of them. Additionally, 'Rad' (titled 'Los Bicivoladores' in Spanish) blew my mind and introduced me to the world of BMX, which, in turn, led me to discover graffiti. It's a movie that kick-started a significant influence in my life.
The second is. What song(s) are you currently listening to the most right now?
I have been listening to 'Forerunner Foray' by Shabazz Palaces very frequently these days."