Jill Winnie Moser is a Swiss artist currently living and working in Berlin. 
Her work deals with commodity fetishism and its visual manifestations in new media. Drawing inspiration from advertising photography, sciencefiction literature, mass-cultural social media content and her musical upbringing, her work depicts a celebratory mystification of the seemingly banal, popular and commercial. By partially using images generated by AI Software as reference material she questions authorship and explores the possibility to fully instrumentalize these algorithm's aesthetics. Artificially generated objects of desire and common symbols of status are thrown into a metaphorical bubbling cauldron and emerge as a dark fog of shapes that lure us into their mystical world. A world of smoke and mirrors that can disappear as quickly as it came about.
For more information about Jill Winnie Moser, check out her Instagram.
Without further ado. Here are Jill Winnie Moser's favorite things.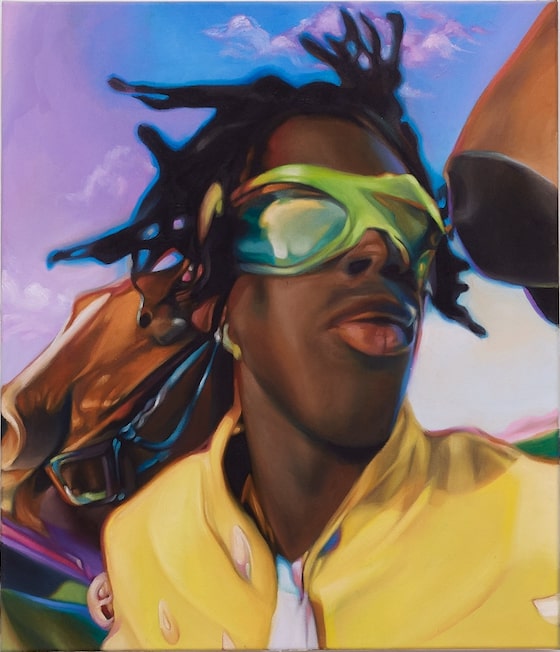 Favorite movie(s) and why?
I really liked Hausu (1977) by Nobuhiko Ōbayashi. It is the perfect stretch between bizarre, kitschy and spooky. I also vividly remember "Inauguration of the Pleasure Dome" by Kenneth Anger. I watched it whilst having a high fever and felt understood in my delirium.
Favourite singer(s)?
I love LL Cool J, Queen Pen, The Frightnrs, Mike Classic and Soul for Real just to name a few. Goapele's first two albums are also often on repeat.
Favorite type of weather?
Morning sun in spring.
Favorite website?
"eBay Kleinanzeige". It is so much fun to get a glimpse into another life by purchasing used objects and incorporate them into ones own space. I sometimes scroll on eBay for hours and go pick up free stuff to find inspiration and a reason to get out of the house.
Favorite app?
Definitely Spotify. If I am not listening to audio books I most definitely am putting on music. Something is always playing. Also, the app's algorithm is so fascinating. Spotify's suggestions are almost always on point.
Favorite superhero?
Jean Grey!
Favorite brand?
I am not sure if I am capable to rank brands in general. All I can say is that if I need a good laugh I watch Rolls-Royce commercials. They're just as unapproachable as the cars themselves.
Favorite scent?
Le Labo's scented candles. It hurts my heart how expensive they are but i have never smelt anything even remotely as delightful as Laurier 62.
Favorite time period?
2-5 am. I find myself the most productive and at peace when I purposefully cancel out the possibility to go grocery shopping, call five friends or vacuum my apartment.
Favorite sparetime activity?
Crafting little gifts for loved ones.
Favorite TV show?
Captain Future.
Favorite song?
There are hundreds, but to name one classic I never stopped going back to: "Tell It to My Heart" by Taylor Dayne.
Favorite book and why?
It's hard to find a favourite, but I can say that "Playing to the Gallery" by Grayson Perry stayed with me the longest. His humorous ways were a big relief while starting off as an artist. Also, I simply adore how he pronounces "pottery" and will forever hear his voice when i see the word somewhere.
Favorite food?
Home-cooked meals with friends. Quality time spent in unity makes shared food the best there is.
Favorite memory?
Not having to pay rent when I was like 10. That was quite nice.
Favorite music?
Anything that makes me want to dance, which changes super swiftly and is hard to define. I mostly listen to Neo-Soul and R&B but they aren't necessarily my all-time favourite genres.
Favorite designer?
Hed Mayner, Miguel Adrover and Per Götesson.
Favorite car?
Mercedes W123 Coupé.
Favorite artist(s) and why?
Jamian Juliano-Villani is definitely on top of my list. I admire her work and way of processing visual material. I would pay a good amount of money to get her to be my Siri voice, including all the swearing of course. I also adore Camille Henrot's installations, Frank Dorrey, Emma Stern, Nick Knight, Shana Moulton and many more.
Favorite sport?
Women's olympic weightlifting.
Favorite work of art and why?
I geek out over "Portrait of A. with My Left Ear" by Victor Man, but I can't really put in words why. It feels like magic. The colours of the girls skin and pearls are just mesmerising, especially in real life.
Favorite magazine and why?
I am easily persuaded by glossy, kitschy print copies. I can get just as excited about flashy gossip magazines at the dentist as i do when my frieze arrives.
Favorite comic book character?
Calvin and Hobbes, MoMo and of course Dagobert Duck. 
Favorite drink?
Pineapple juice on ice.
Favorite color?
If we are talking pigments then definitely Egyptian or lapis lazuli blue.
Favorite person?
The person I aspire to be when im 78.
Favorite country?
If it's a costal area and serves spicy seafood after 7pm it already won my heart.
Favorite sports team?
I never was really interested in team sports but If i had to choose one I would say I am rooting for whatever basketball team J.Cole started playing for. He for sure deserves it all after releasing so many hits.
Favorite animal and why?
I heard so many horrific stories of people burning, cooking, loosing or even crushing their pet hamster when they were kids. I feel deeply sorry and will rank them first without a doubt.