Katharina Arndt (b.1981), is a contemporary painter from Germany who lives and works between Berlin and Barcelona. She studied Fine Arts at Braunschweig School of Art and later obtained her Master of Fine Arts from John Armleder.
In a fast and seemingly childish way of painting, Katharina observes Western life focused on consumerism, hedonism, and cheap thrills from the perspective of a critically engaged participant, embracing the joy they can bring to an often-bleak world while gently tugging at the tangled knots of desires, contradictions, and tensions that underlie these endeavors. The contrast between reality and fantasy in her artworks reflects the artist's livelihood at her young age in the East side of Germany when there wasn't much evidence of prosperity.
Her work has been exhibited worldwide.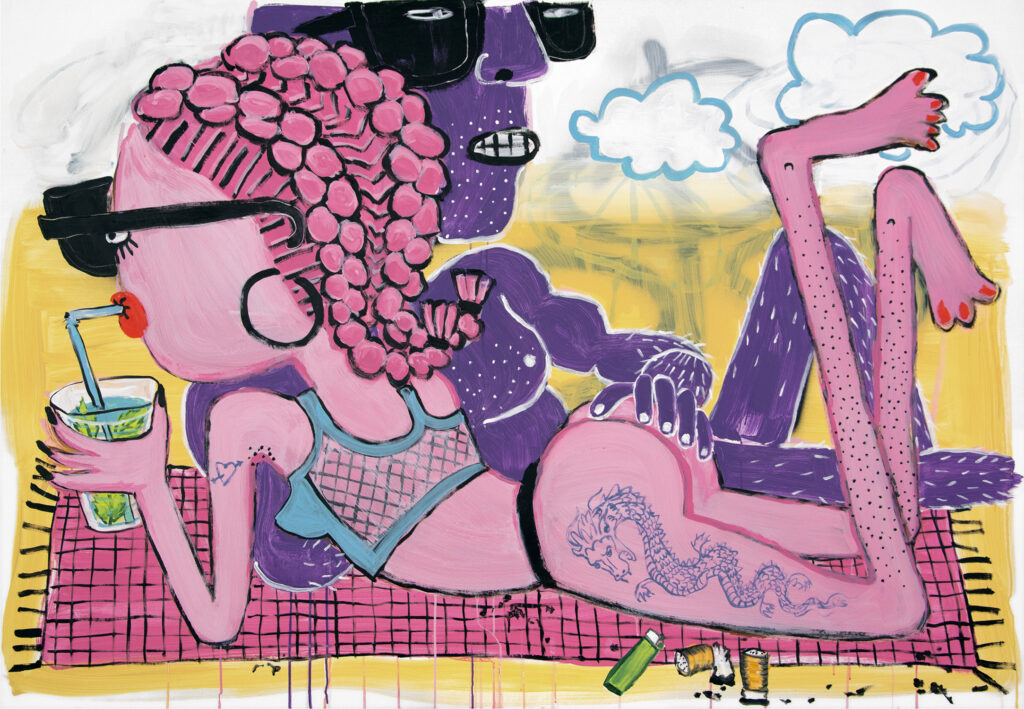 Katharina! Thank you for taking the time to speak to me. Could you describe yourself to those who do not know you?
Hi Theodosia, thank you for inviting me to this interview. I am a German painter based in Berlin and Barcelona, loving profane culture and pleasures, transforming this into ironic and naive paintings.
What is a regular day like?
During the week, I am in the studio, where I usually bicycle for around 40min. Already on my way through Berlin, I see so many motifs, like two guys drinking coffee and looking like they play in a rock band with long blond hair, tons of tattoos, sunglasses, and boots. Or a kissing couple wearing earplugs and Doc Martens at a crossroad in their hoodies. I get the inspiration for my paintings from my daily life and what I see on the street, at the beach, and underground. From 11am to 6 or 7 pm, I paint. My assistant Juan helps me in the studio twice a week, preparing canvases, photoshopping, and taking care of my database so I have more time to paint. In the evening, I meet friends, go to vernissages having an after-work cigarette and a glass of wine.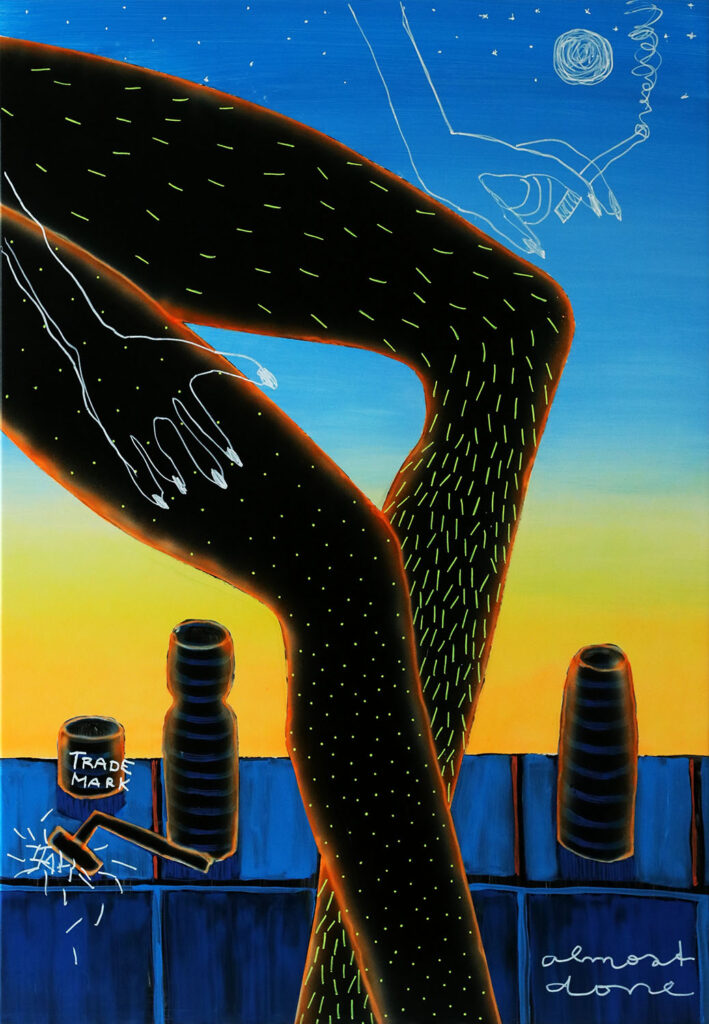 Can you describe your artistic journey and what drove you to choose this career path?
Actually, I obtained my master's in photography and sculpture. I just recently started to paint in 2019. Some weeks ago, a curator interviewed me, and she said, yeah, then you are a self-taught painter. And I said, yes, somehow this is right. But my love for art started early. It is my mom's fault, she always painted with me, or we did something creative with our hands. I thought, If I want to be happy, I must study art.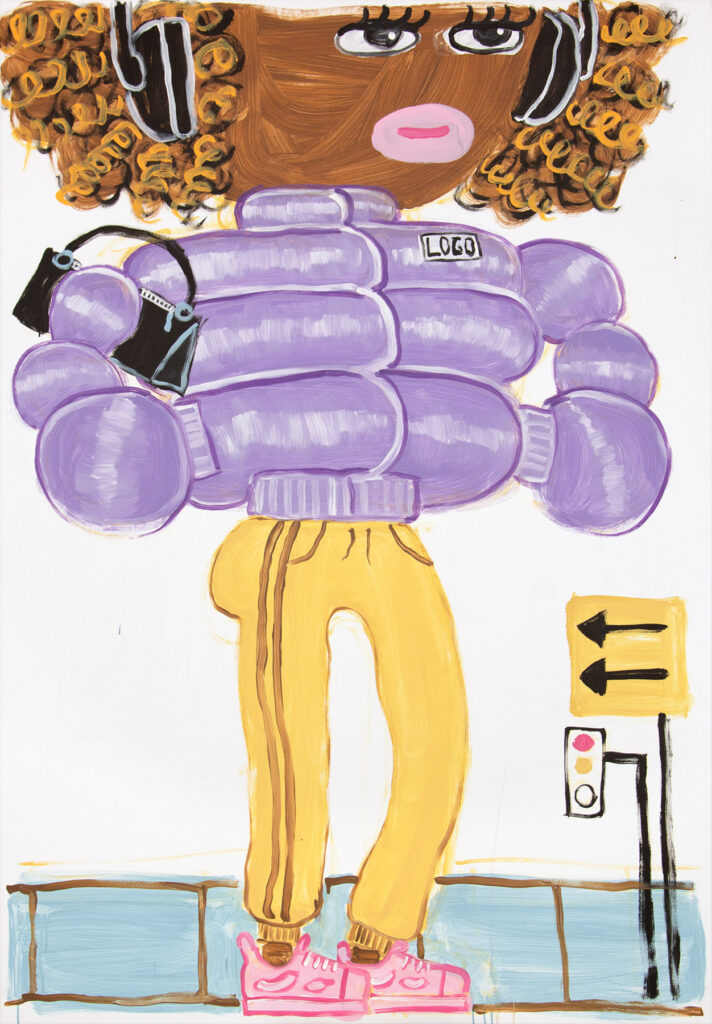 What does your creative process look like, and do you see the value in showing your process?
I always do sketches and drafts on paper before working on the canvases. I like fast sketches to capture my memories and all the stuff that might be interesting. Memories are not clearly drawn; they are mixed a lot with emotions. Sometimes I need several tries to bring this mixture to life. So, I select my fav sketches and paint them big. I value talking about my process because I know from my artist colleagues that they work differently. They get their inspiration from different influences; they start directly at the canvas. There is no one way to do art. Each artist has its own process.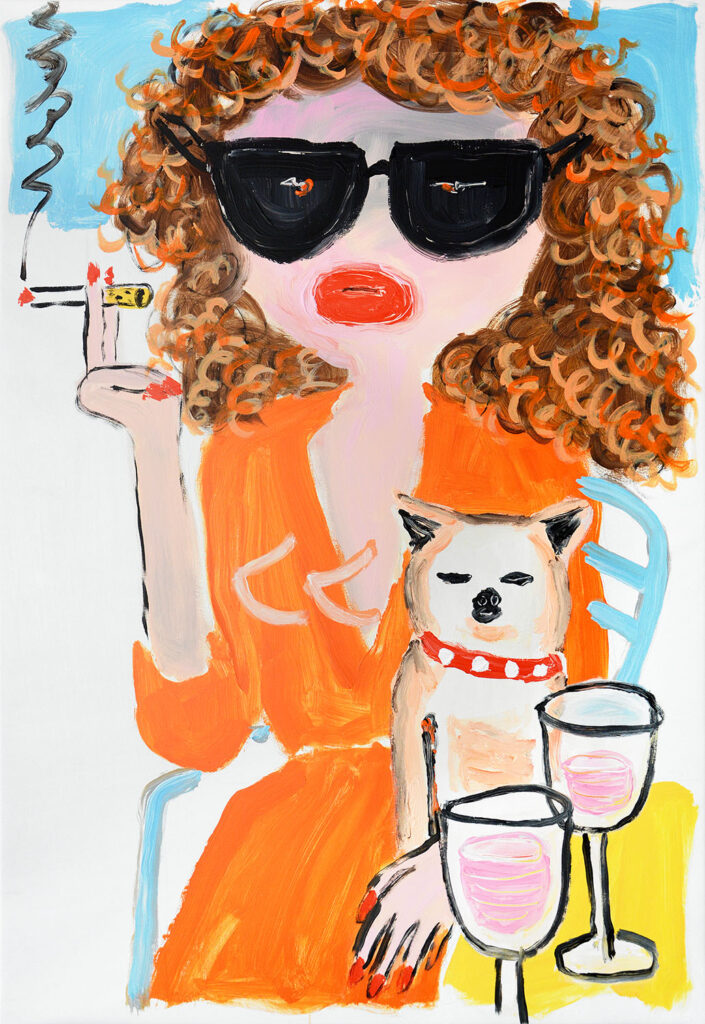 Can we dig deeper into your unique painting style, inspiration, and message?
In a fast and naive way of painting, I observed my Western life focused on consumerism, hedonism, and cheap thrills from the perspective of a critically engaged participant, embracing the joy they can bring to an often-bleak world while gently tugging at the tangled knots of desires, contradictions, and tensions that underlie these endeavors.
What keeps you motivated and interested in your work?
Painting is like thinking, a way to try to understand the world and communicate. This will never stop. In search of sense, I watch the world, the people joyfully and think about them/paint them.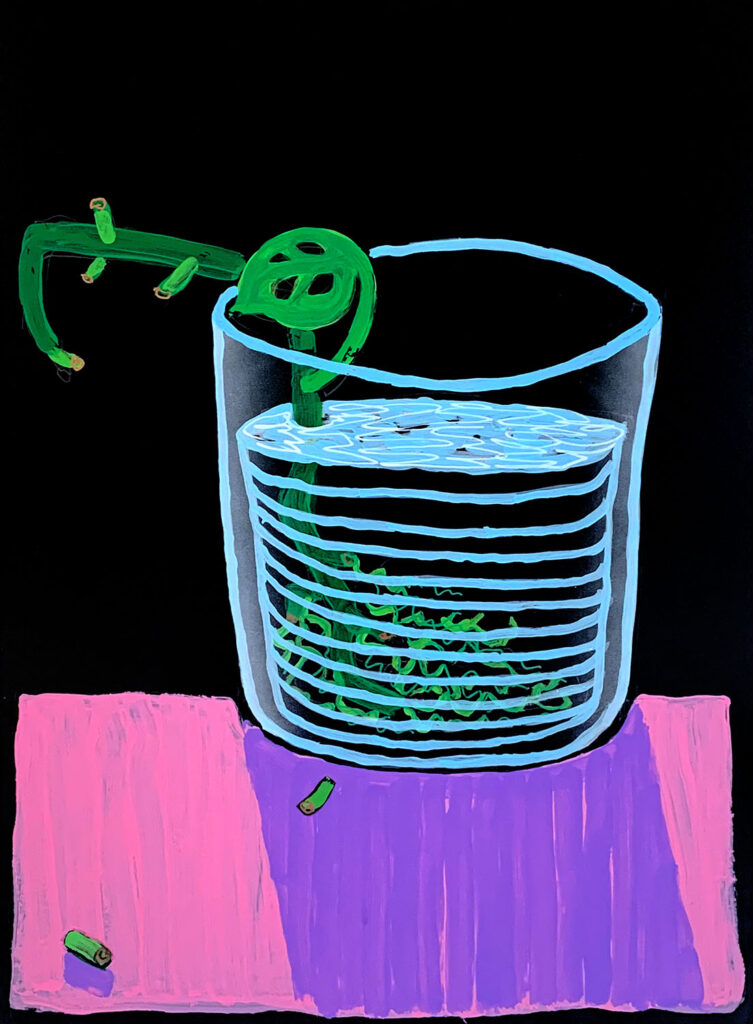 Which of all places where your art was exhibited is the most memorable, and why?
Last year I had a residency and solo show in London. It was the first time I painted these 5 metres large-scale paintings. One with a clubbing scene and one with people in the Overground. It was so very exciting for me to explore this new practice, and it was exciting as well to present these paintings to the public. I love those huge paintings because, as a viewer, I can get totally lost in the scenery.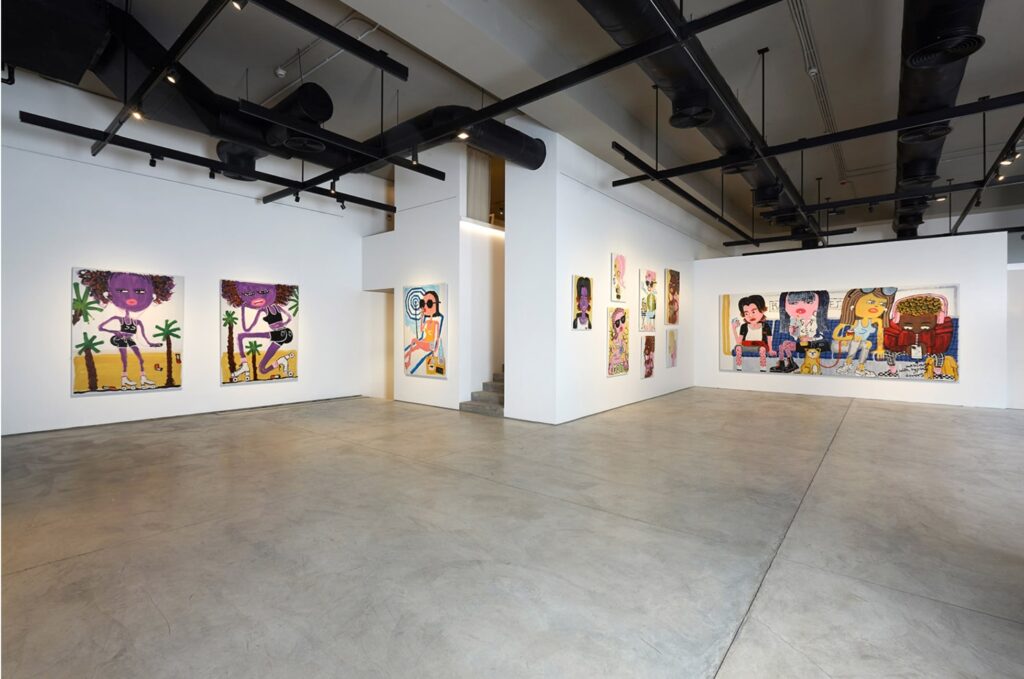 How do you see your work affecting societal issues and contributing to a dialogue?
As I ironically depict our consumerism-driven, superficial, Instagram-able life, I hope that, through my work, others can find their own balance within the tension. To see both the joy and the irony woven into the little moments of silliness, kitsch, and levity that act as islands of respite in our often-tempestuous lives and to find a way to embrace it all in its dissonant fullness.
Name one of the most memorable reactions regarding your work?
Haha, the first painting I sold for more than 10.000€. I took it as a big compliment and thought, now it is serious. ☺
What simple pleasures bring you alive?
Love, sex, food, jogging, sunbathing.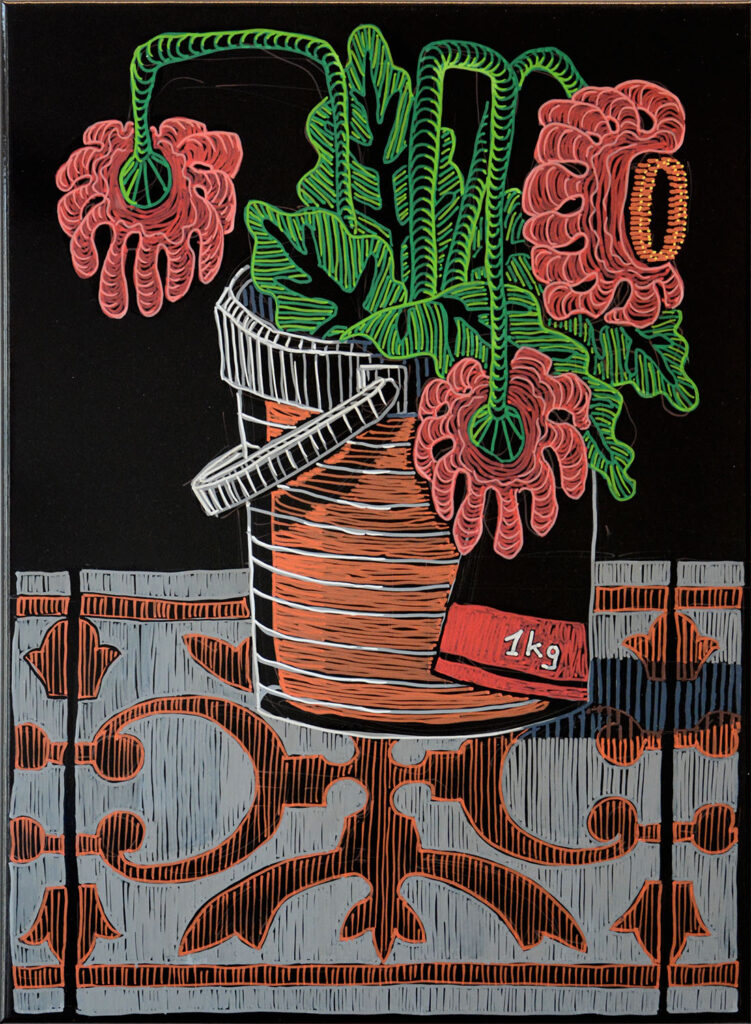 What advice would you give to artists just starting, and is there one thing you wish you would have done differently in the first years of your art career?
Besides working your ass off on focusing on the quality of your work, there are 3 points I could mention here.
Don't be afraid of money or selling your work. It might negatively influence the quality of my work and its independence. But selling your work means being part of the art market, meeting awesome people, and evolving projects.
Be open to criticism. Learn to listen; it makes your work better. Nobody is perfect. Fail fast, fail often.
And 3rd thing: When I started, there was no social media. As an artist, you depend on your local galleries, and that was it. But besides all the superficial impacts, the online world, and especially social media, open the door to the whole world. Use this visibility. Nowadays, it is no longer important where you are, who you know, how old you are, or if you are a woman or a man through the global reach of social media. I am so happy about it. Twenty years ago, my career would have been so different.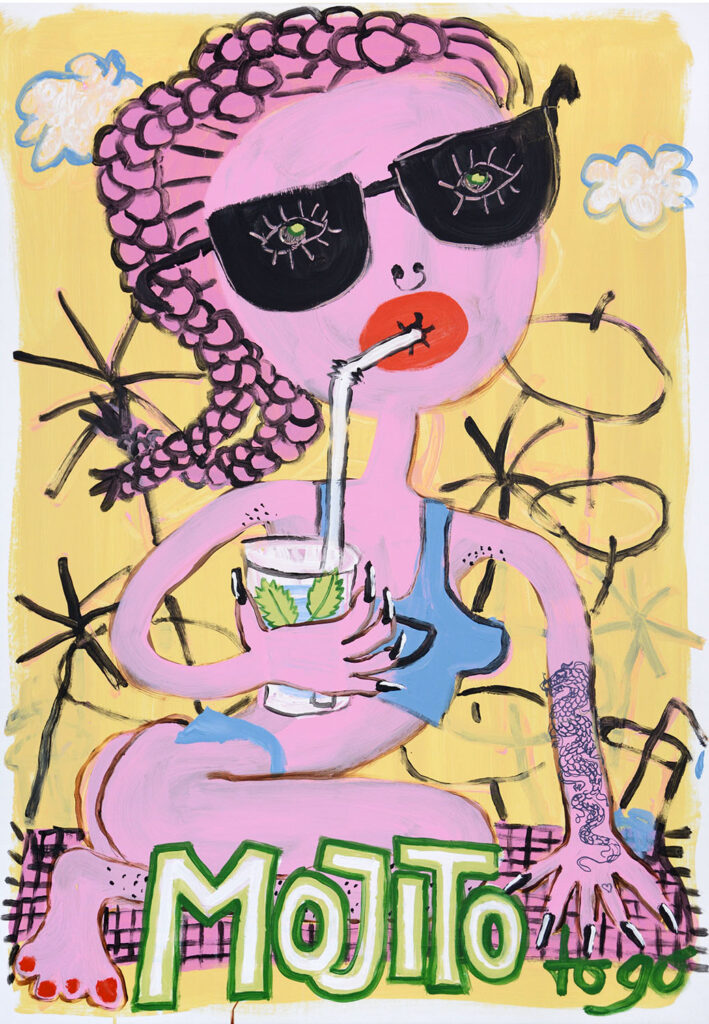 What is the best advice you were given regarding your art career as an artist?
Have goals and think big! The world is yours!
Do you have a network of artists supporting each other?
I am part of a female painter network called "MNW – Malerinnennetzwerk". We are around 30 members and arrange shows and exhibits together. This is really powerful. But besides this, of course, I have a close artist friend, and we support and recommend each other.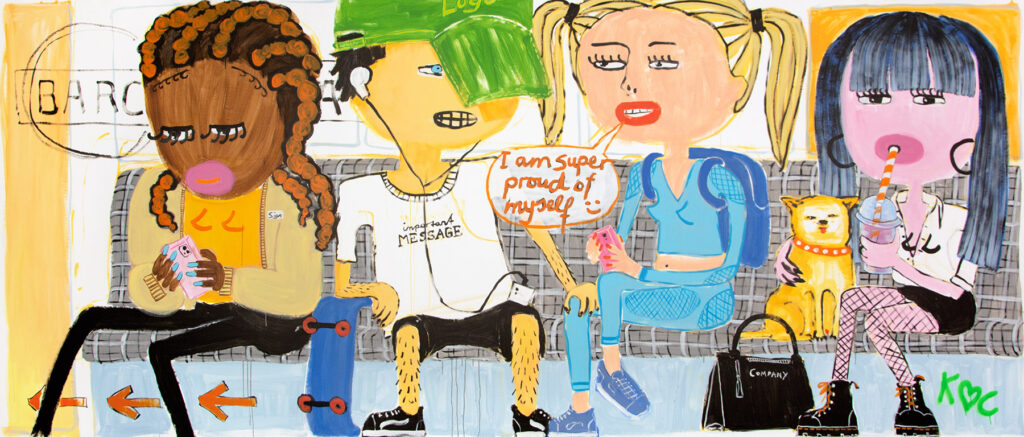 What does success mean to you?
Two years ago, I was able to give up my side job as a web designer. Having the possibility to be a full-time artist and do what I always wanted to do, is the best. With success and financial freedom, you have time and space to decide what's important for you and go for it.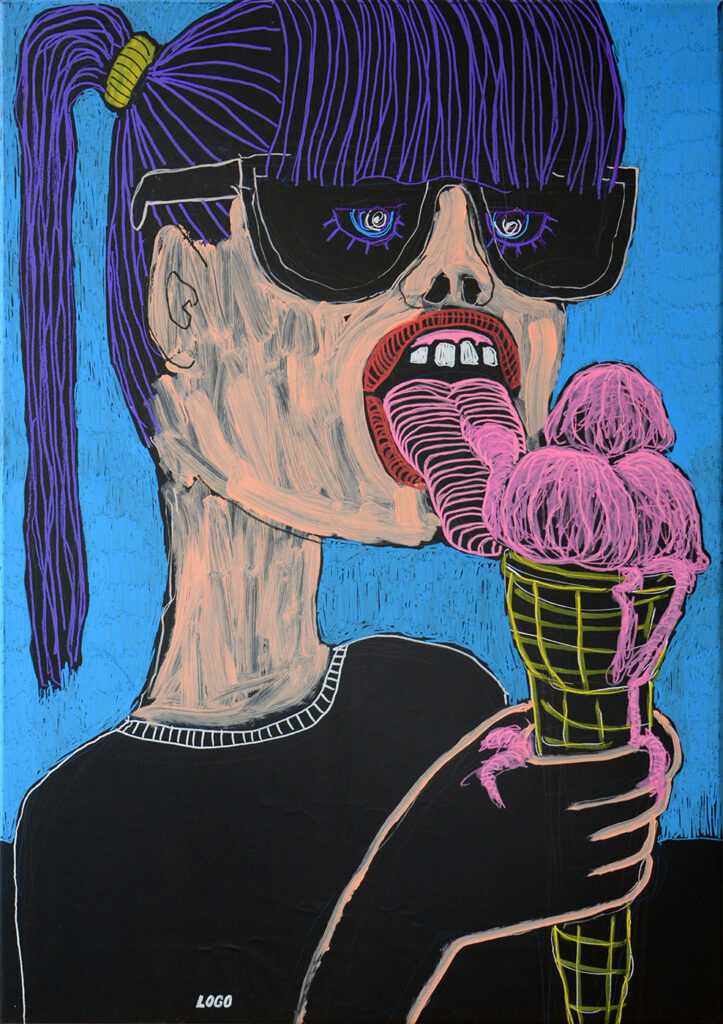 How would you like to be seen as an artist years from now?
I have the image in my mind of having a huge show, maybe in a museum, and there will be paintings shown together that's never been shown together before. And that I or visitors see this show and get a feeling for a certain decade. I mean that my paintings somehow captured a specific "Zeitgeist ." That would be great.
What does being original or unique in the arts mean?
It is a highly valued thing nowadays in the art world. It was sometimes different from this. But it suits our modern idea of being individual and special. It is like Branding, being a recognizable brand as an artist. I get this point, but it disables your artistic development if you want to try something new.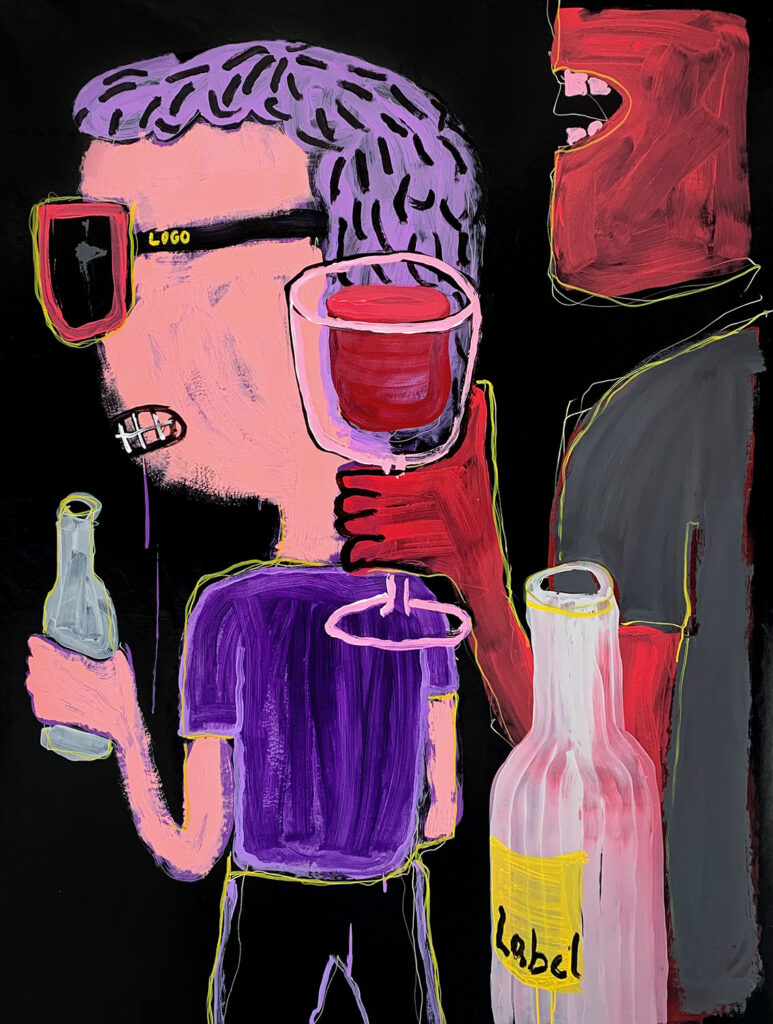 What do you dream about?
Becoming a better painter. Be happy, try to share this. And I want a house by the sea with a huge ground floor studio and a cat.
Name a book or film which grabbed your attention recently and why?
"Unterwerfung" by Michel Houellebecq, brilliant author. And I took a sentence from the book to name my upcoming show in NY called "while waiting for Death."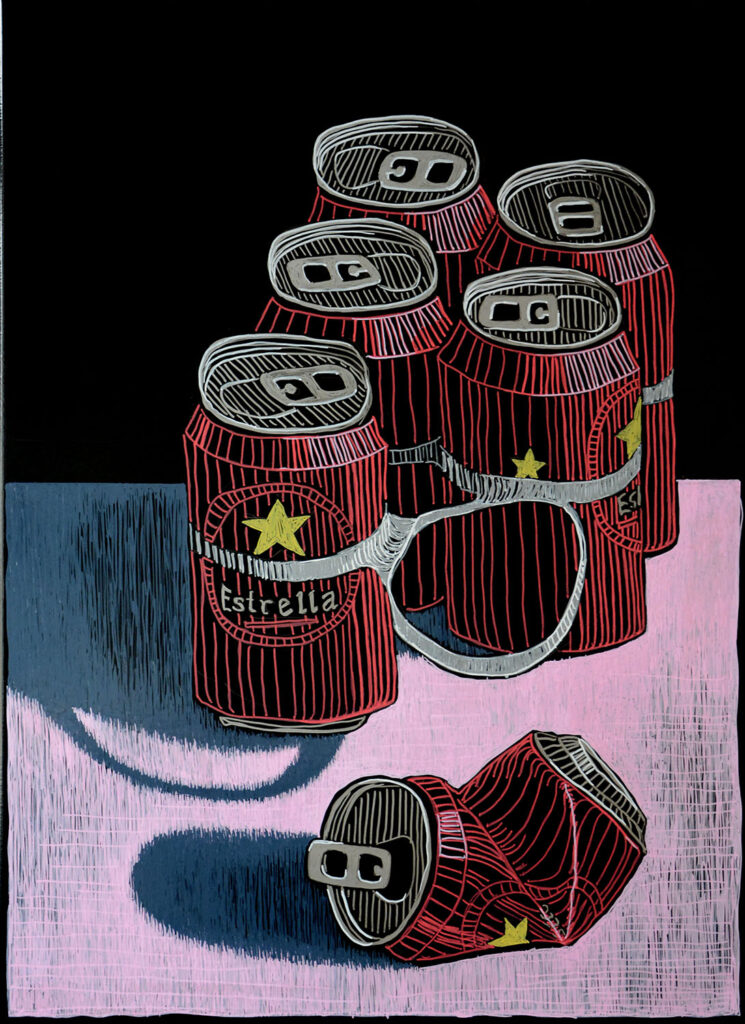 What is the first thing that comes to mind when you hear:
POLITICS
RELIGION
SEX
Politics & Religion; abuse and conservative bastards.
Sex; intense freedom.
What's next for Katharina Arndt?
I am writing this text during my flight to NY. Next week my first solo show opens in the US at Mott Projects. In August, I have a solo show at RedD Gallery in Crete titled "Hot guys, hot chicks, hot pants." A hot summertime show. And afterward, I have my first solo show in Vietnam in October at Vin Gallery.
Finally, is there anything else you would like to share?
Thank you for reading!