The 'HIGH-STAKES' group exhibition, curated by Lisa Boudet, in Paris during Art Basel, showcased 19 of the most promising artists. It perfectly reflected the dynamic energy of this years edition of the art fair, with bright and talented individuals coming together for this occasion.
Lisa Boudet is leading partnerships at Google for major International Cultural Institutions such as Louvre Museum, Centre Pompidou, Opéra de Paris and Versailles Palace. In 2020, she launched her own YouTube channel where she interviews artists and influential people in the art world, delving deep into their untold stories. Sharing artists' unique personal journey into the art-world, uncovering the story of Szabolcs Bozo, who went from busking for money in the streets of Rome, to opening a Solo Show at the prestigious gallery Almine Rech; or going back to the challenging moments in Javier Calleja's journey, who went from almost losing everything after being made redundant as a teacher, to becoming one of the most esteemed contemporary artist in Spain.
Recently this October, Boudet presented her fourth curation in Paris called 'HIGH-STAKES.' We had the opportunity to sit down with her and delve into this exciting new project.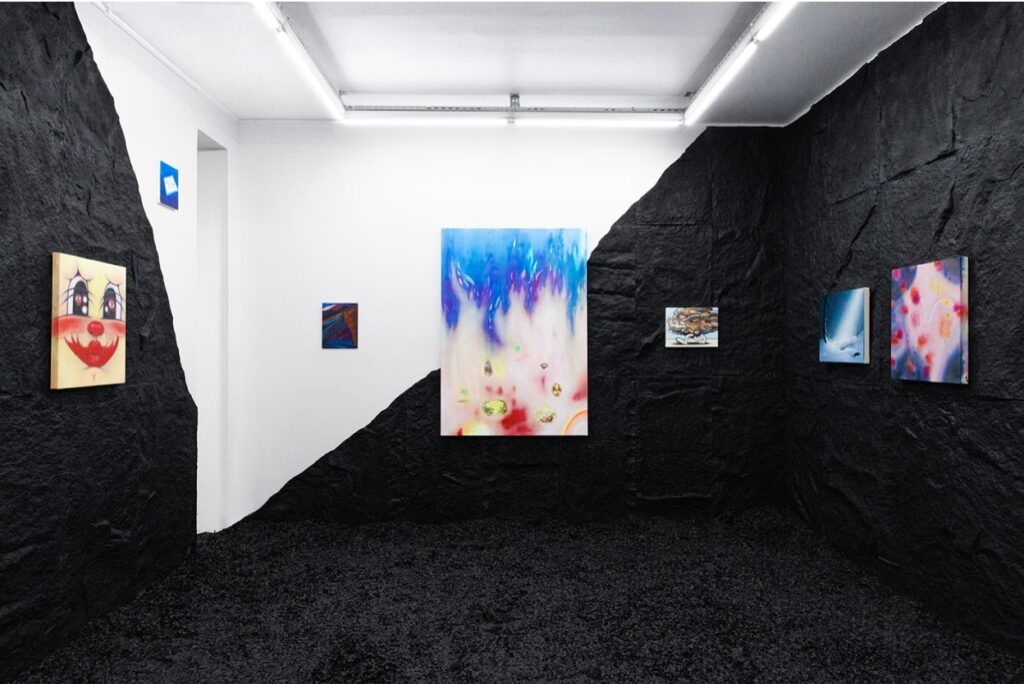 Can you tell us a bit more about your latest curation in Paris?
This exhibition shines a spotlight on some of the most promising emerging artists that I think are currently out there, all you have to do is take a quick look at the work of some of these artists in the show such as Sarah Lee, Loren Erdrich, Jin Jeong, Olivia Drusin as they are so instantly impactful.
It was really important to me to bring some of these artists to Paris to showcase their work for the first time in this exciting and evolving scene. It also gave me the opportunity to connect and present their work to prominent people and local galleries, opening new doors and opportunities for these artists.
Along with bringing new artists, it was important for me to create a Cultural moment and support talents from different creative industries beyond art. We often see collaborations driven by Fashion and Music but it's rare to see this powered by galleries. In this exhibition, these creatives engage in an open and vibrant conversation centered around the exhibition's theme and artworks.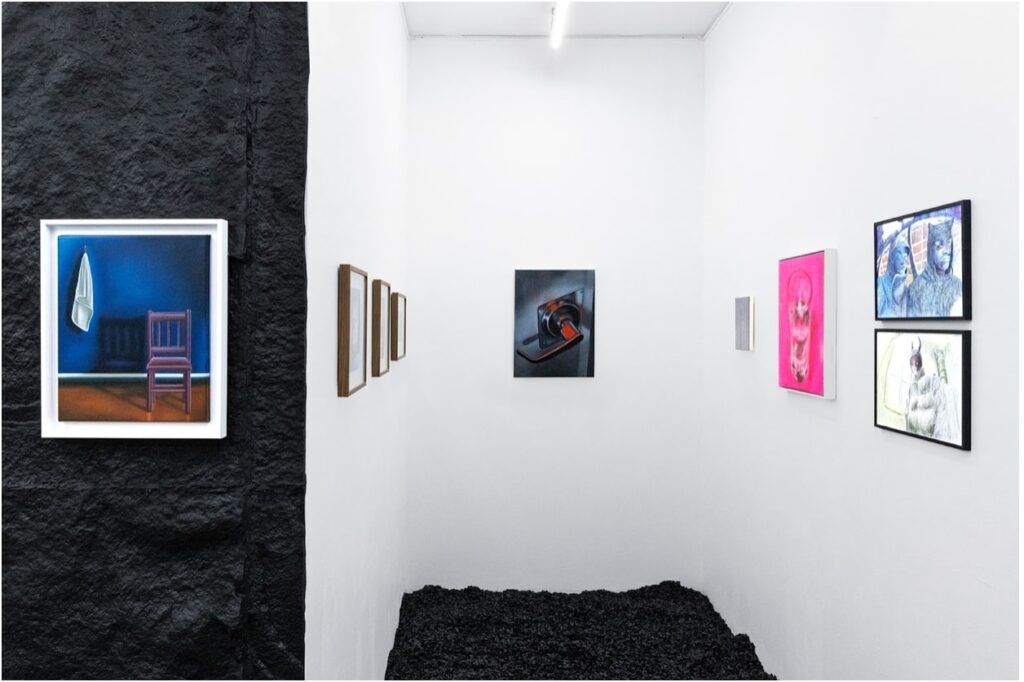 What inspired this exhibition?
I wanted this exhibition to connect on a human level, 'HIGH-STAKES' explores those pivotal moments when life takes a turn, whether for the better or worse. Yet, from every twist and turn emerges a journey of transformation and growth. These ideas can be seen through Luke O'Halloran's work which aims to capture the thrilling moments of uncertainty and the possibility of both success and failure. Taking a phone call, which can lead to so many different outcomes is what Sujin Lee's piece talks about, her work reinvents anxious scenes from movies and presents them in a different light, inviting the viewers to reflect on and take a different perspective towards these negative feelings.
It also mirrors the societal changes we are experiencing on a greater scale, and reflects the collective call for transformation.
Transforming the gallery space brings the viewers to another dimension and gives more in-depth meaning to the works as well as help connect visitors to this narrative almost instantly when they enter the exhibition. The inspiration for the gallery set design was of planets colliding and forming.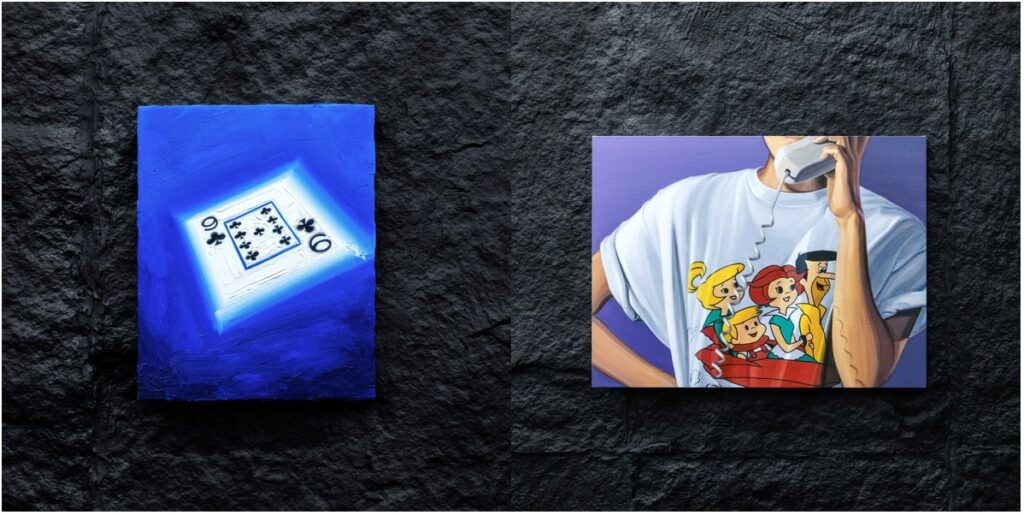 Why is it always important for you to transform the space of the exhibition?
It's a way to immerse people and have them experience something new. It's about taking visitors on a journey to a different world, sparking their creativity and creating a deeper connection with the artworks, encouraging them to explore diverse perspectives and provoking more thoughtful discussions about the art.
It's also an opportunity to engage with a younger audience that would not necessarily be interested in art.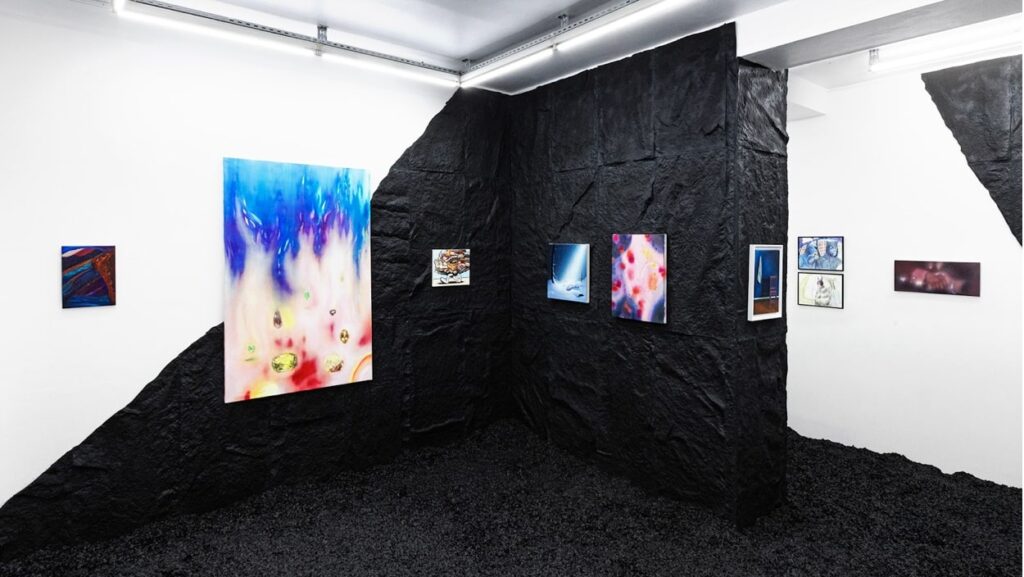 What made this exhibition so unique during Paris+?
This exhibition was truly one of a kind, there was nothing quite like it during the Paris+ by Art Basel Week. It served as a magnetic force, bringing together a diverse array of talent and creatives.
In collaboration with the stylist Mattias Debras, known for dressing celebrities at the Cannes Festival and affiliation with Louis Vuitton, we orchestrated a distinctive fashion photoshoot with photographer Lansy Siessie. We pushed the boundaries beyond just visual arts, as we curated a dynamic experience that included a live concert by the up-and-coming French band Renard Tortue, followed by ICYKOF— having already headlined for Swedish House Mafia, he is also prominent fashion YouTuber, and owner of a fashion brand respected by many including Drake. Vugzy closed the event. He is a rising star in France who has shared the stage with Busy P (Pedro Winter), the former manager of Daft Punk. The diverse blend of creativity and talent truly made this exhibition a standout moment in the Paris+ cultural landscape.
What showed us that we stood apart from the crowd was the attendance of influential figures and tastemakers in the art world, including founders of Cadet Capela, Plan X Gallery, Case Studyo, Long Story Short Gallery along with Directors/Managers from Almine Rech, Perrotin and Anton Kern Gallery, all eager to discover emerging talents. Notably, global trendsetter Sarah Andelman, the founder of Colette and Just An Idea, known for her keen eye and always being on the pulse of the creative world, and even Saša Bogojev, former contributing editor/European correspondent at Juxtapoz magazine, and curator stopping by.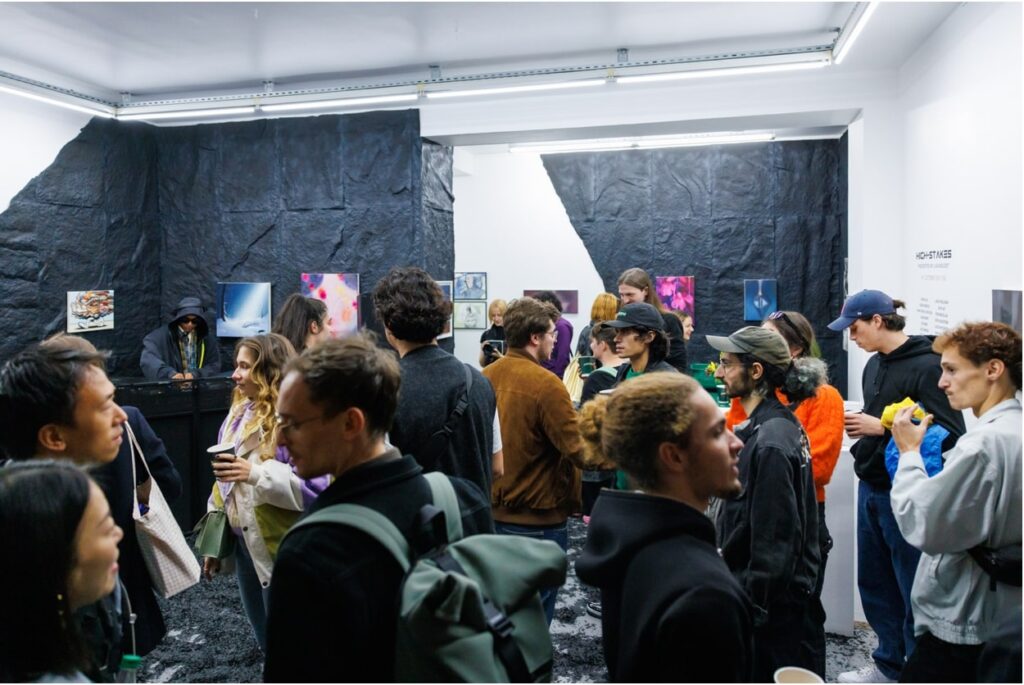 Can you tell me more about how your collaboration with the stylist played a part in this exhibition?
Collaborating with a stylist for an exhibition was a brand-new experience, driven by the idea of using fashion to complement the artist's personality and their artworks.
Matthias Debras did an amazing job selecting the brands that matched perfecting not only the theme of the exhibition but also each artist. The fashion brands were very excited to be a part of this project. Prestigious brands like Fendi, Martin Margiela, Courrèges, Ambush, Y/Project, Ludovic de Saint Serninas, as well as historical fine jewelry brand Mellerio once worn by Marie-Antoinette with jewelry pieces on set worth up to $54,000.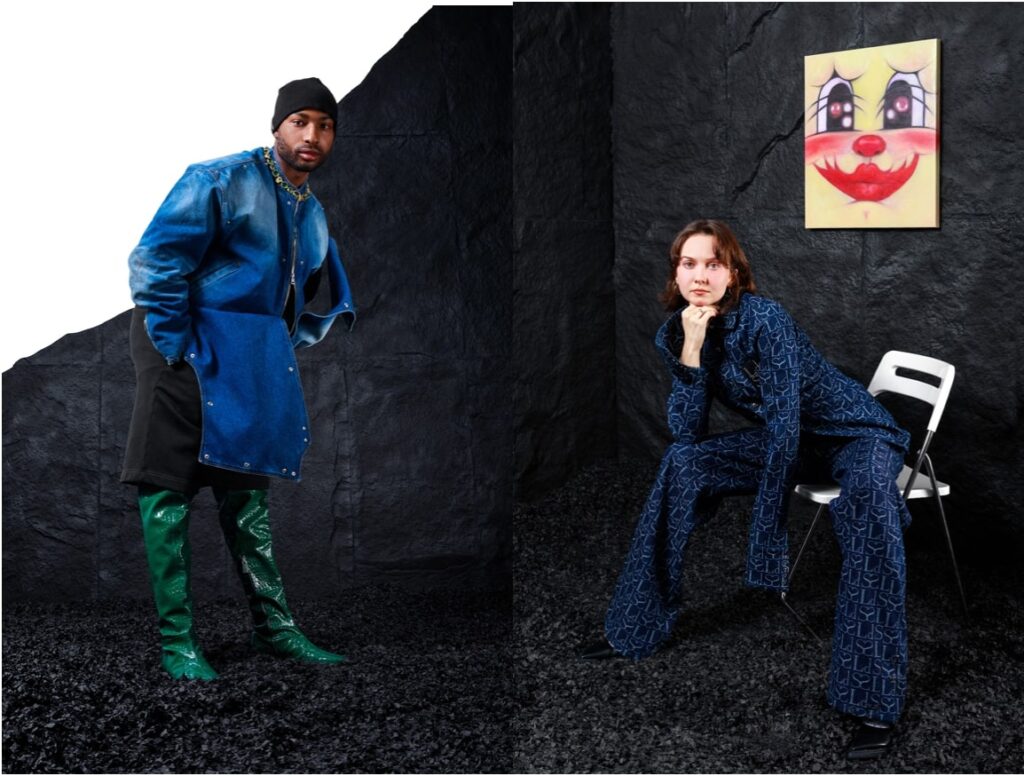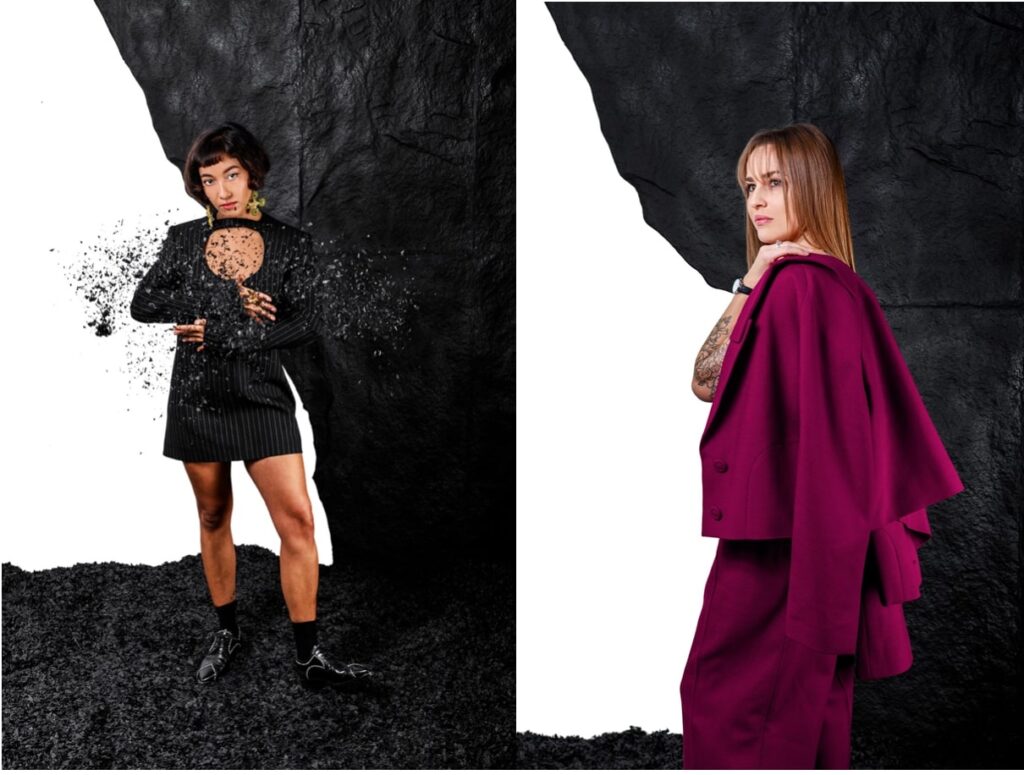 How did the music performances amplify the overall experience of this exhibition?
Bringing together this eclectic lineup of music performances was like curating a mini music festival within the exhibition itself!
The French music band Renard Tortue did a live concert where they played in exclusivity their new song 'Bombe'. The song's theme talks about overcoming adversity and poetically resonated with the exhibition's overarching concept. Renard Tortue are a young band that played at one of the major music festivals in France 'Rock en Seine' in Paris alongside artists like Stromae and Arctic Monkeys.
ICYKOF injected the show with a gritty London underground vibe, introducing a unique energy to the exhibition. It brought a fresh dynamic to the event similar to the exciting atmosphere you feel during Fashion Week where ICYKOF is usually involved.
Finally, DJ Vugzy, well-connected in the French Electronic Music scene, played music that united the crowd, putting the finishing touch on an evening of outstanding performances.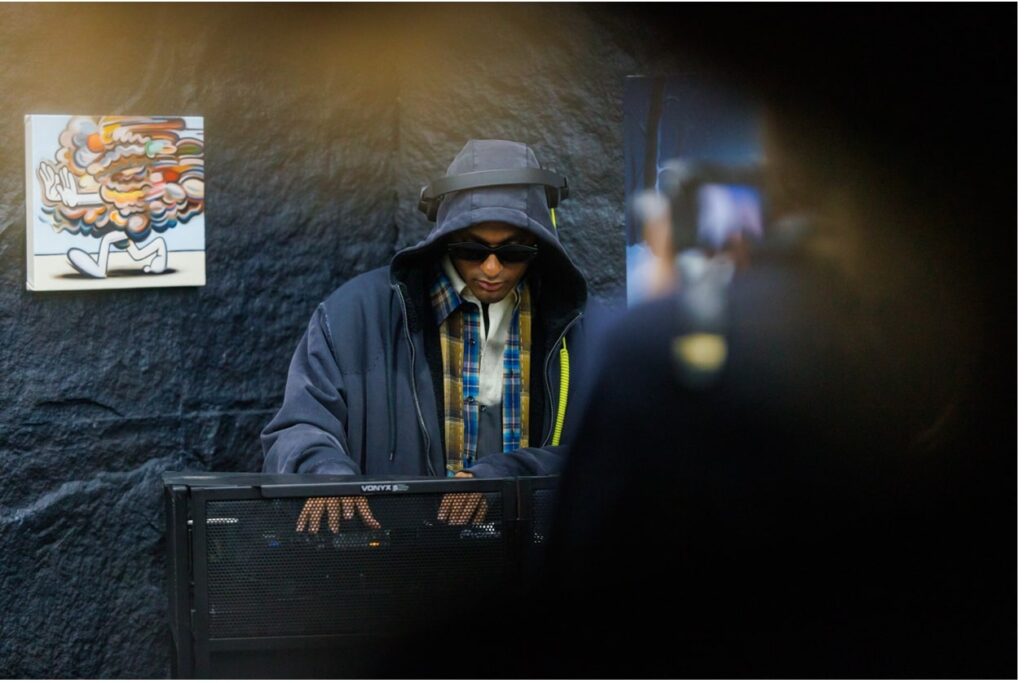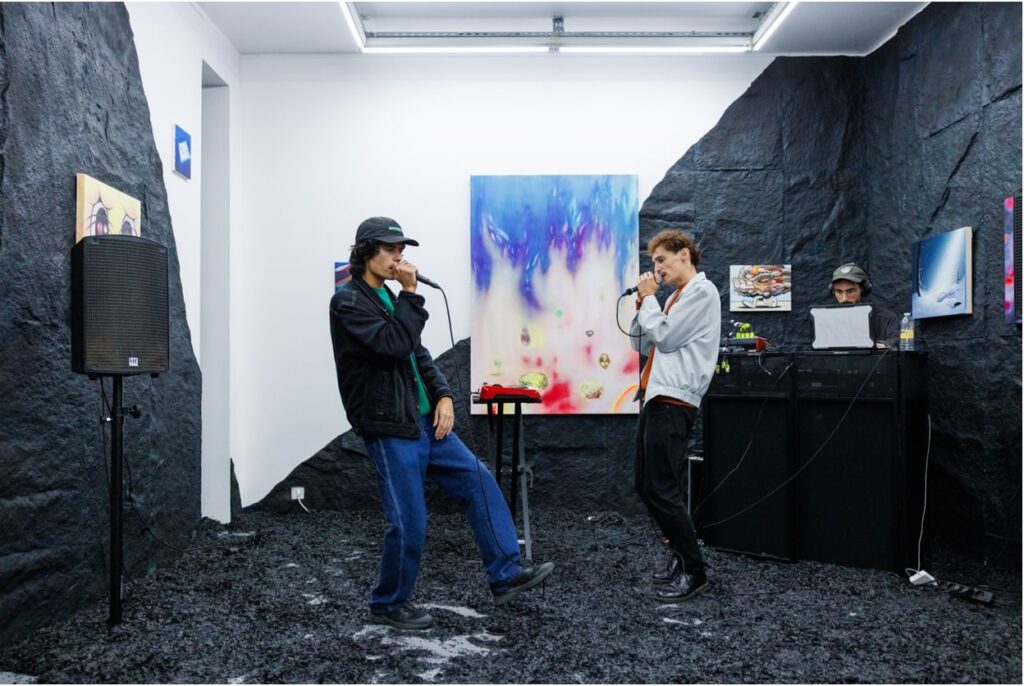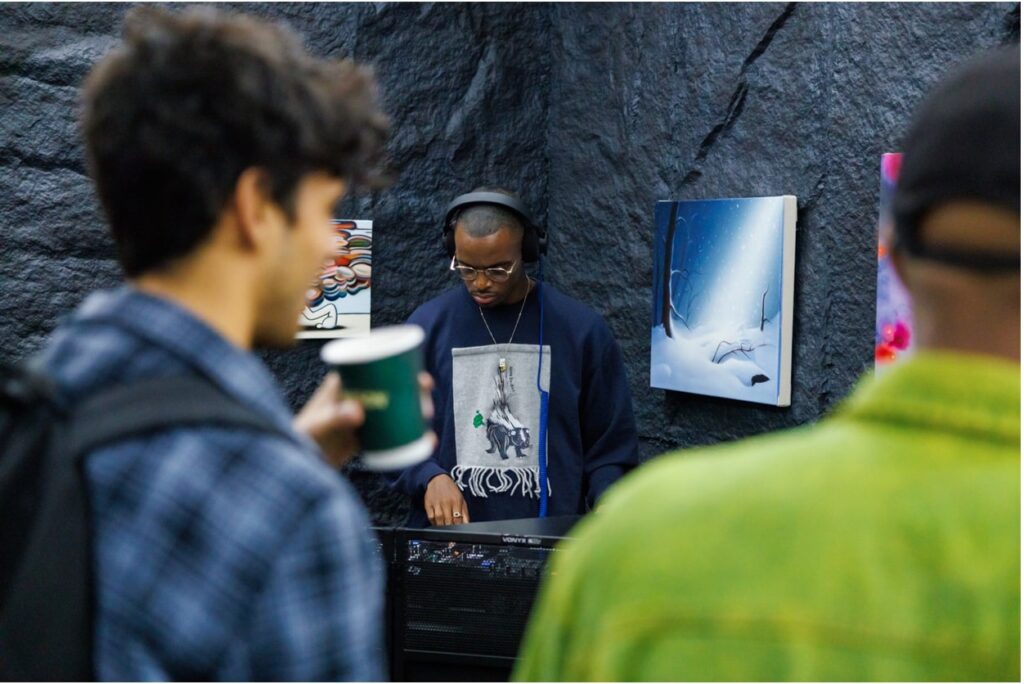 This sounds really fun! What are the next projects you're working on?
Currently, I am preparing for an upcoming group exhibition in London with Moosey Gallery known for showcasing some of the most exciting artists very early on in their career such as Adriana Oliver and Katia Lifshin. I am also currently discussing plans with galleries in Asia and I would love to do something in the US but I am waiting for the right fit.
Find more information about Lisa Boudet latest curation 'HIGH-STAKES' below:
'HIGH-STAKES'
Group Exhibition presented by Lisa Boudet @blisalisab
7, rue Saint-Claude Paris
October 18-22, 2023
List of participating Artists includes:
Sarah Lee @sarahsrlee
Loren Erdrich @okloren
Ryan Travis Christian @ryantravischristian
Laure Mary @laure.mary.couegnias
Jin Jeong @jinjeong_art
Lee Dawson @leewdawson
Steffen Kern @steffen__kern
Olivia Drusin @olivia__drusin
Uchercie @uchercie
Hannah Antalek @hannah_antalek
Luke O'Halloran @lukepatrickcamaclangohalloran
Sujin Lee @2sujiiin
Evan Mazellan @evanmazellan
Sofia Bjurström @fia.bjurstrom
Lucie Antoinette @luuciean
Mariann Metsis @mariannmetsis
Stephen Buscemi @stephenbuscemii
Kevin Ford @kevinfordpainter
Thomas Jean-Louis @thomasjlns
Image credits: @limagerie