Tea Strazicic, aka Fluff Lord, is a Croatian artist based out of Berlin. Specialized in Multimedia, they create 3D sculptures, CGI graphics and airbrush painting, while being known for their distinct character designs. They finished BA and MA in 'Animation and new media' department at ALU Zagreb, Croatia and Animation Sans Frontières – EU Development Lab diploma for Video Game and Animation production.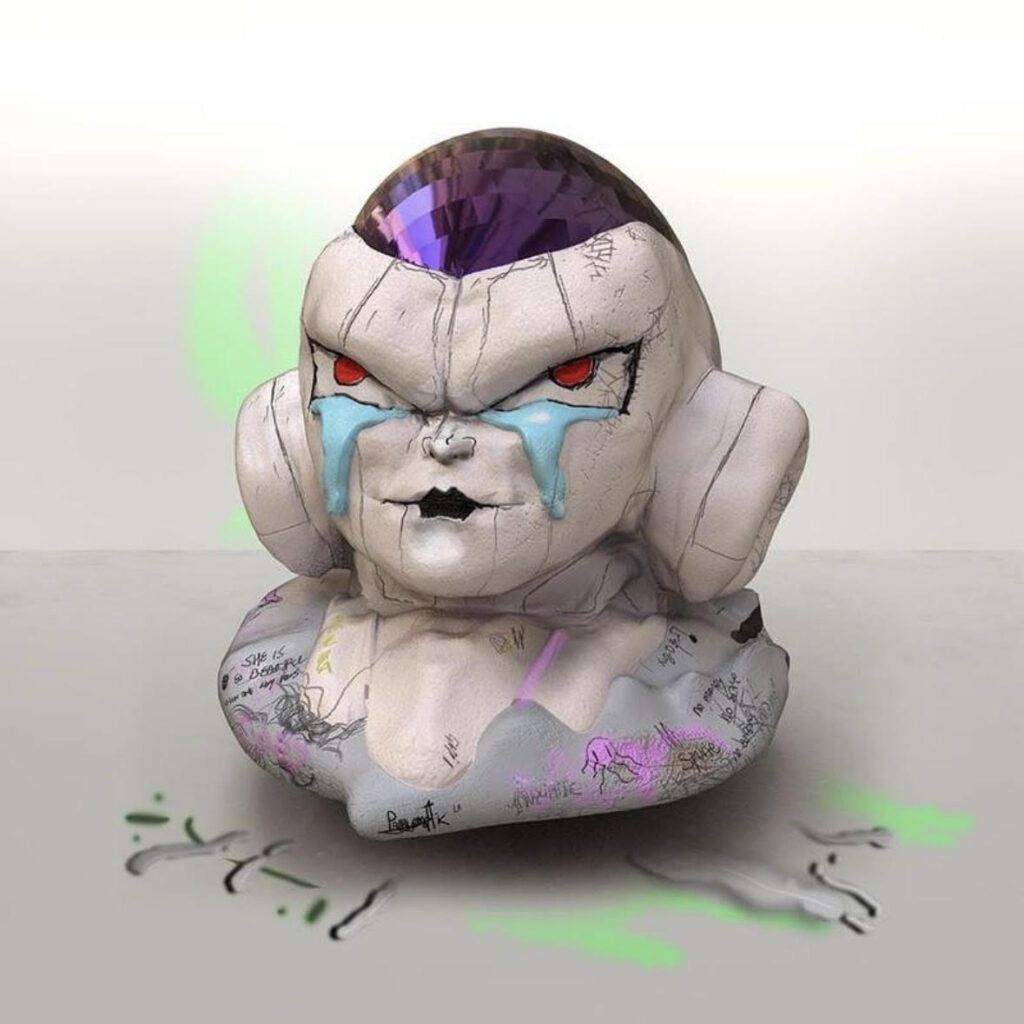 Hi Tea! Thank you for sitting down with me. First question that I always ask. How does a regular day look like for you in Berlin?
Hello! I wake up in the morning kinda dead from dreaming. I start my day with feeding the fish and cleaning the temple. Then, while doing emails and logistics, I make coffee and toast. Meanwhile, my roommate plays country guitar, and my boyfriend is either reading the Bible or learning Polish. Around noon, I jog to Rehberge Park and say hi to the ducks. If I'm suffering, I cry on a rock, I would recommend it. It works wonders. If it's too cold, I do yoga at home. I prefer to work after noon until late, my mind peaks when the sun sets.
Most regular days at Ostender mandatory include hot artists dropping by for tea. Club kids would often ring the doorbell because my roommate used to trade KMIF tank tops for packs of cigarettes. There is often a visiting hot DJ crashing. If I'm not working, I bring out the Luigi Collani teapot and treat guests according to Croatian hospitality customs.
At night, we usually all draw and work on laptops, brainstorming plans.
I reckon that in the last two years, there were way fewer regular things happening compared to 2023. This year is pretty normal.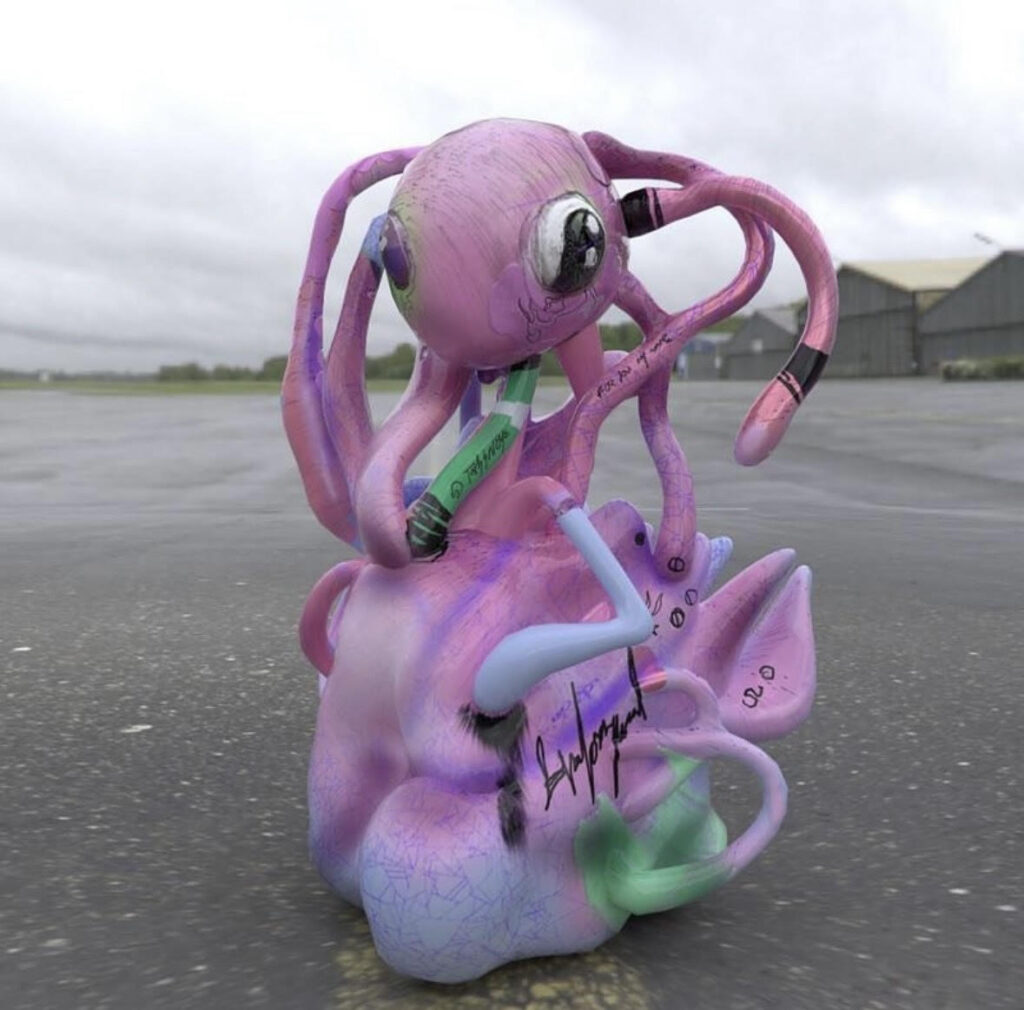 I know that you were born and raised in Dubrovnik, Croatia. How did you end up in Berlin?
I was born during wartime and was raised all along the coastline. When I turned 14, I stayed in Dubrovnik to study painting. It was like attending Hogwarts, in the Game of Thrones.
How I ended up in Berlin, that's also a long lore. If I skip to the point, moving to Berlin was almost like a self induced reality meme. I thought anything was better than staying in Zagreb, so I went abroad during the Croatian brain-drain wave, mindset Candid Voltaire, right after the trial-error faze of living in LA.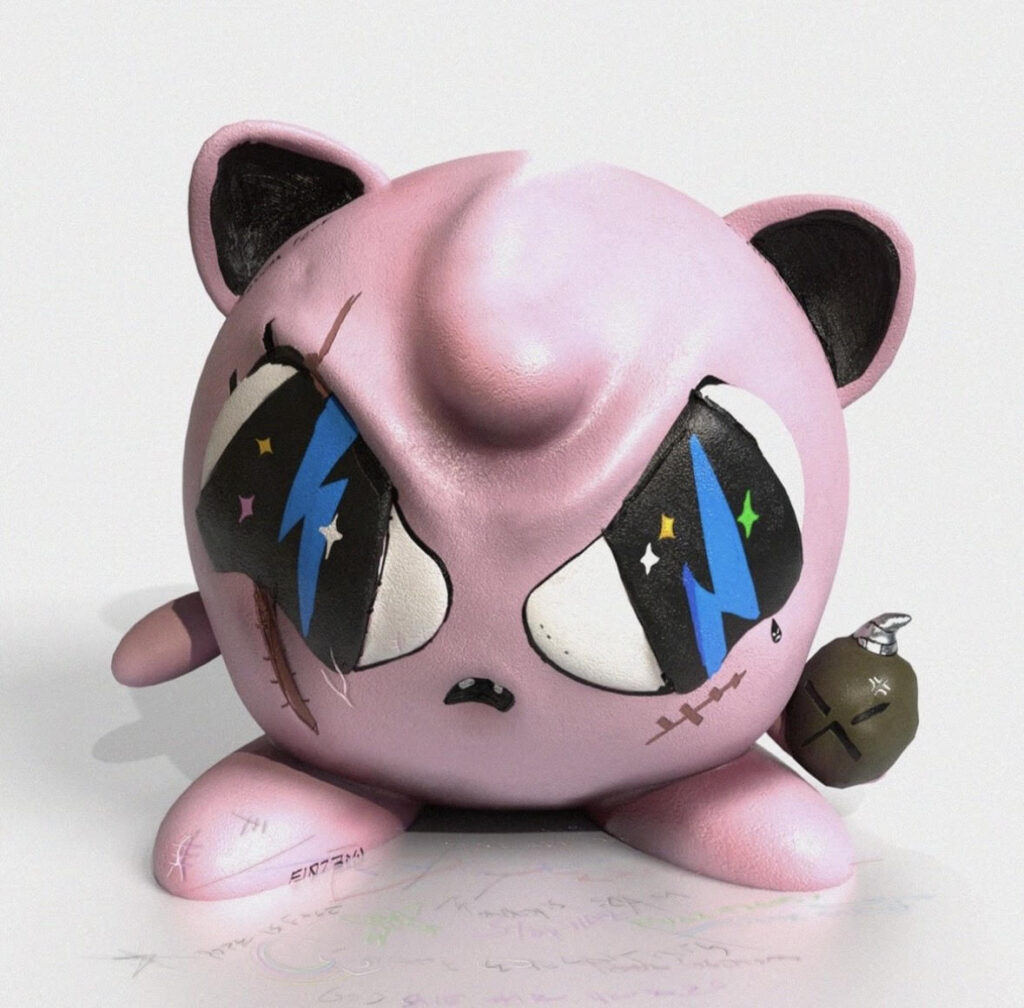 When did you first start to play around with different design programs? What programs did you start out using? and what do you use now?
My fascination with customization in gaming started with Unreal Tournament. Dad and I would game against each other, and sometimes edit character skin maps in Photoshop, to make them look silly. Later I delved into various aspects of animation production. Back then it was just Pirate_Sheep and me, with moxo.filip and a few Hacklab glitch artists, in the entire Croatia experimenting with CGI.
I went abroad mostly because I wanted to meet internet artists. And I did meet most of them. Nowadays, I primarily utilize full Adobe, Substance Painter, ZBrush, Keyshot and MS Paint.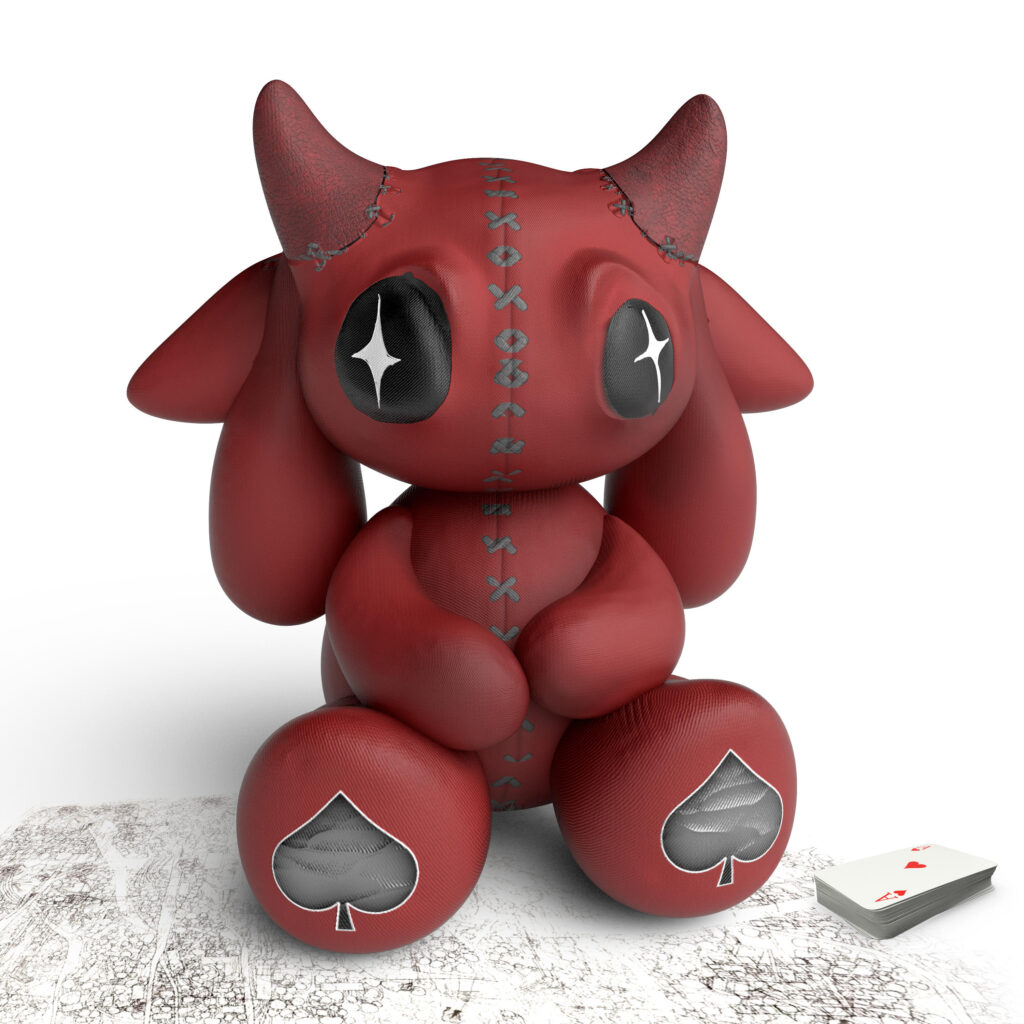 Gotya! This I have to ask you about, seeing that it's in my Country of Denmark. So you actually spent some time at a residency, at "Open Workshop" in the small town of Viborg. I gotta know. How did that come about? And what was that experience like?
After finishing the Animation Sans Frontieres program I applied to Viborgs "Open Workshop" encouraged by Morten Thorning, Drasko Ivezic and Tim Leborgne. Stayed there for about five months with my ASF colleague Aisha Madu. I was working on 'Beefycake Gastronaut', a project I still haven't published, it's a super epic story for kids.
In Viborg I got the alias Fluff Lord, based on the side character from my story. Crazy thing is all my sisters studied / are preparing to study in Viborg.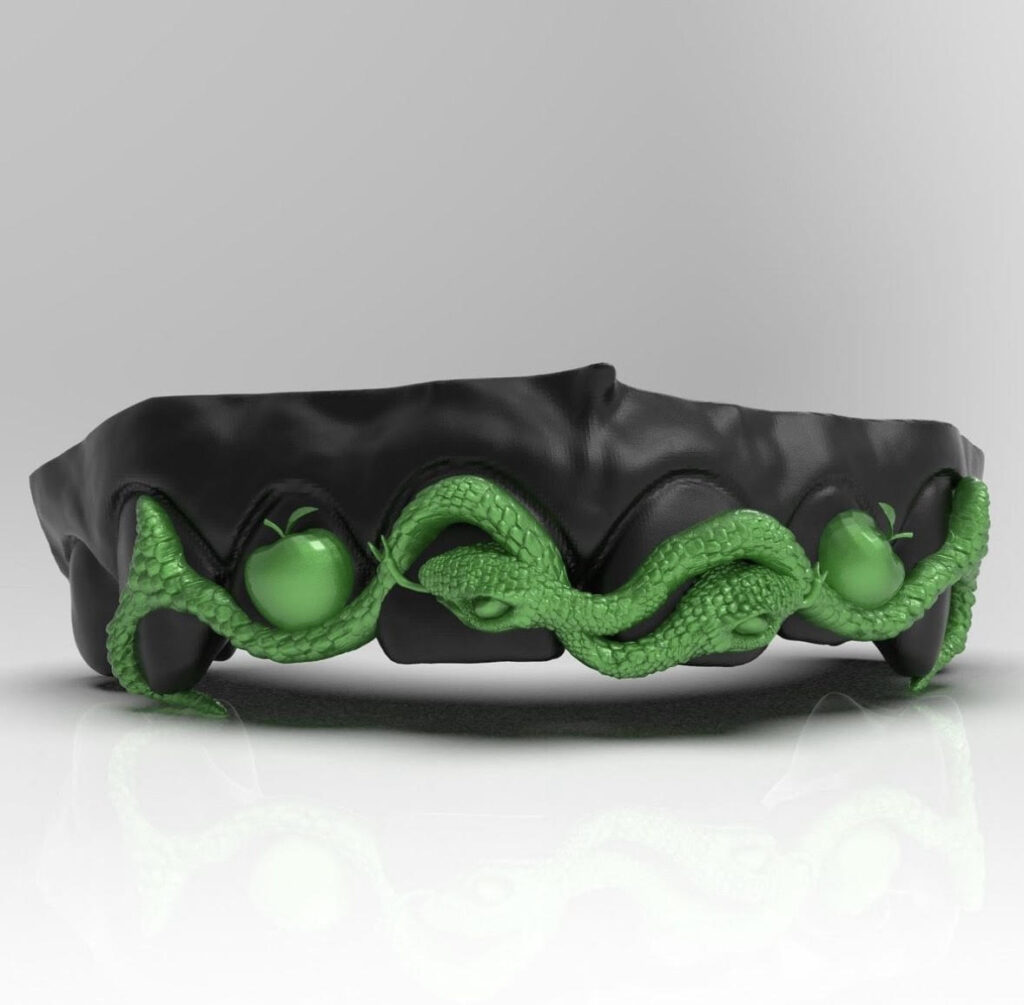 Let's talk about the "Skull Slippers" for a bit. They've gained a lot of attention, and I'm curious. What's the story behind them? Like How did you come up with making them, and what's the current production status?
It was in January 2019. I got an email from Ka representing SHCR (Shanghai Community Radio). They wanted me to design a community merchandise, a piece that would be manufactured by ITCC (fka Interconnect cloud). The Shanghai crew insisted on a slipper merch, since it's a custom to wear slippers indoors, when you visit someone's home.
I loved that idea as well, since it is the same deal in Dalmatia.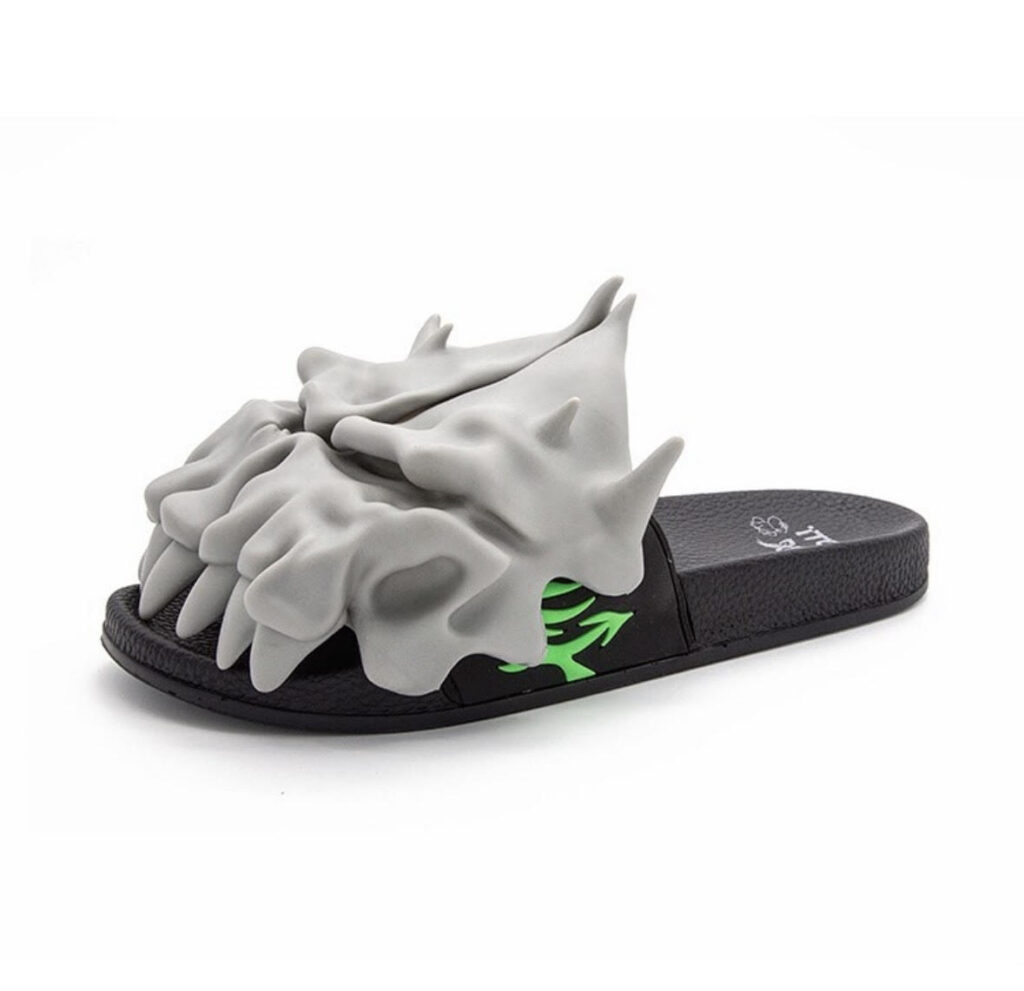 At the time I was moving around Europe with Baojiaxiang. Based on their logo I 3D designed a gargoyle-like head. SHCR was testing 3d printed molds in friends' homes, ITCC juggling with two factories, and the fact that none of the participants in this quest ever met each other in real life was the true power of trust we had on the web back then. It was a no-budget DIY operation that finally came out in May 2019. We never really made any promotions or PR for them but somehow they got carried by the underground's feet. Then in 2022 I got a call from ITCC that they separated ways, due to pandemic issues. So basically we can't sell them until we figure out the situation.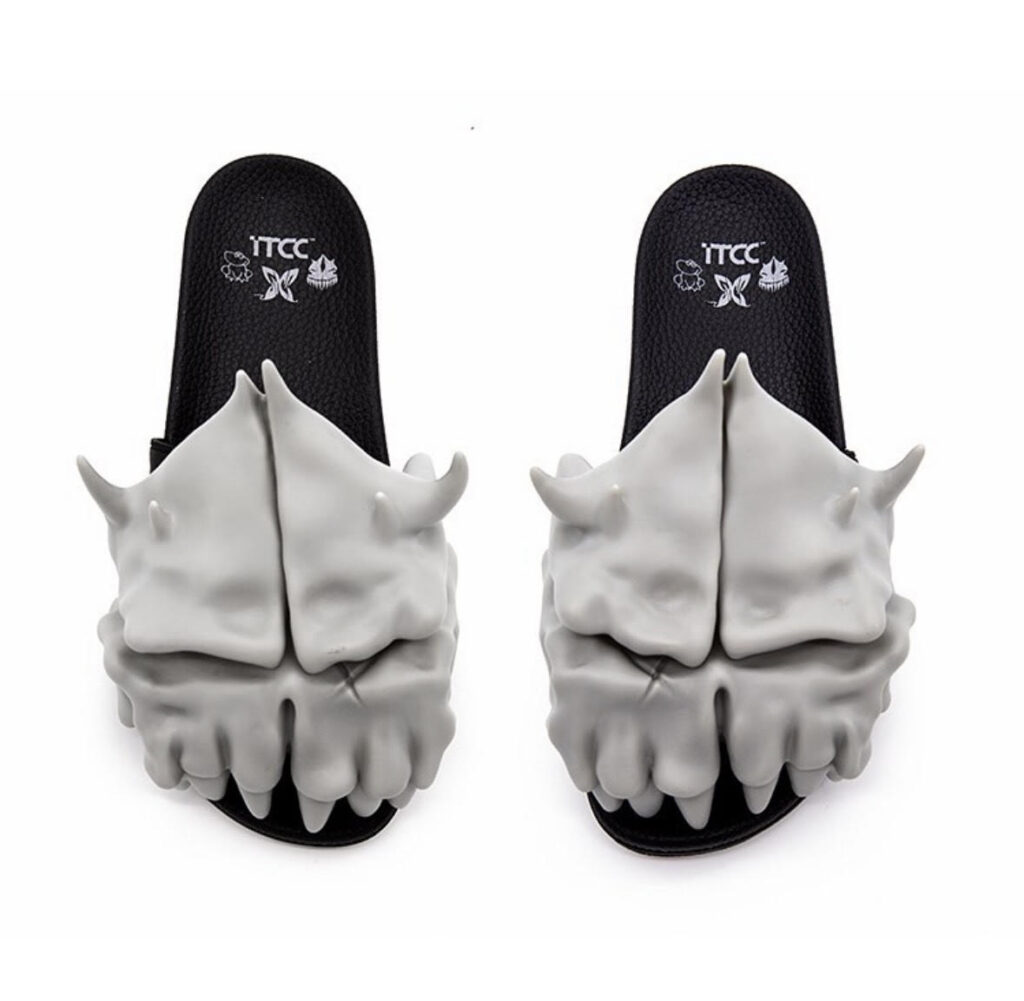 It was sad, they are such great quality slippers. I still constantly get DMs from people trying to get the last pairs. Even Jared Leto and Skrillex wanted them. I brought Skrillex the last pair on the 100 Gec show. But we got too distracted screaming, and then we got lost in the crowd, so the mission failed. I'm still stubbornly holding those for him.
Right now I am designing new products, launching some very soon.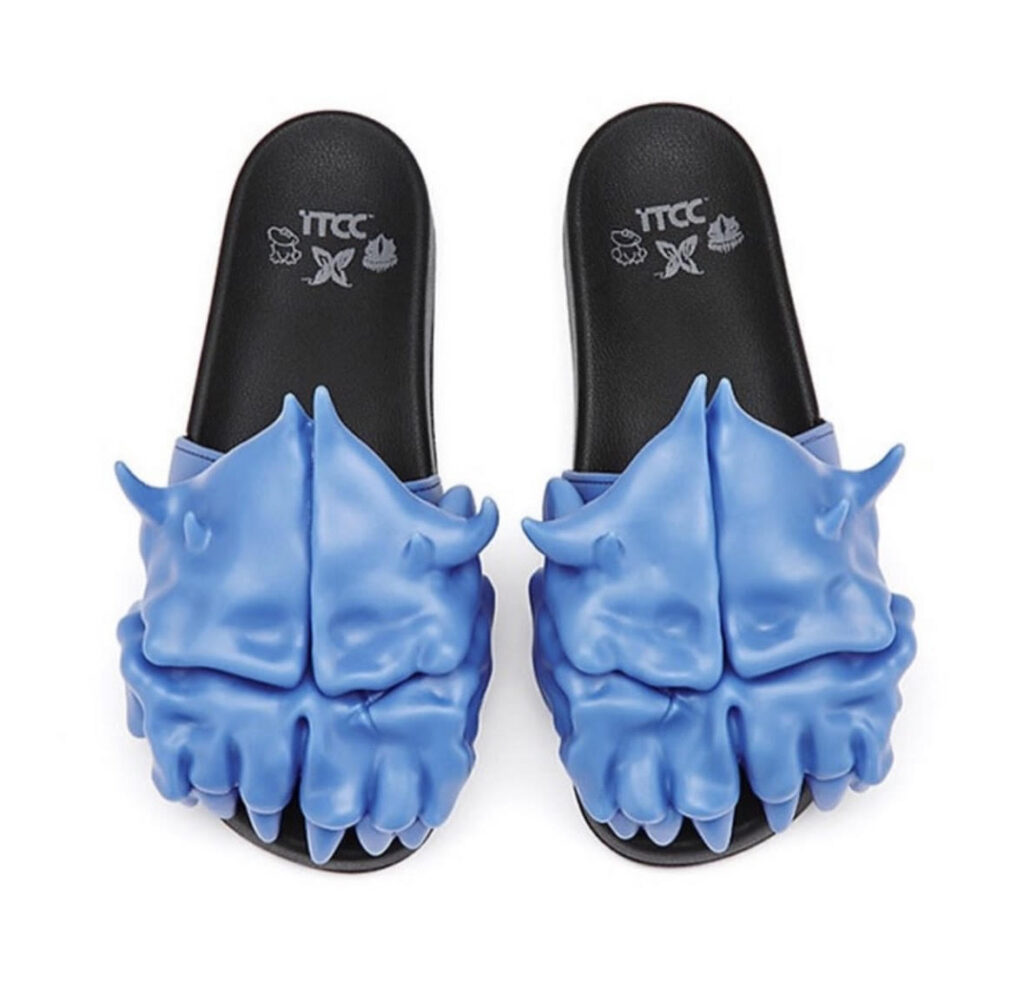 You're also a metal vocalist, and perform under the alias Scylla. What is it about metal music and singing that you like?
So far I only perform when destiny allows it. I let myself be a vessel for Scylla. First time I played live was during Skinman Soft at No 1 Mainroad with my bandmates. During Mazury club DJ Lumpex of Czarnagora had me chant as a surprise act. Personal favorite Scyilla moment was the show 'Life is a Massacre' by the KMIF organization in some god awful cursed German castle. I got myself bondaged in cloth, raw screaming (no one gave me a microphone) over Lumpexes set, splashing inside a blood filled bathtub with a mermaid tail. Rest of the story can be viewed from Evanoras perspective.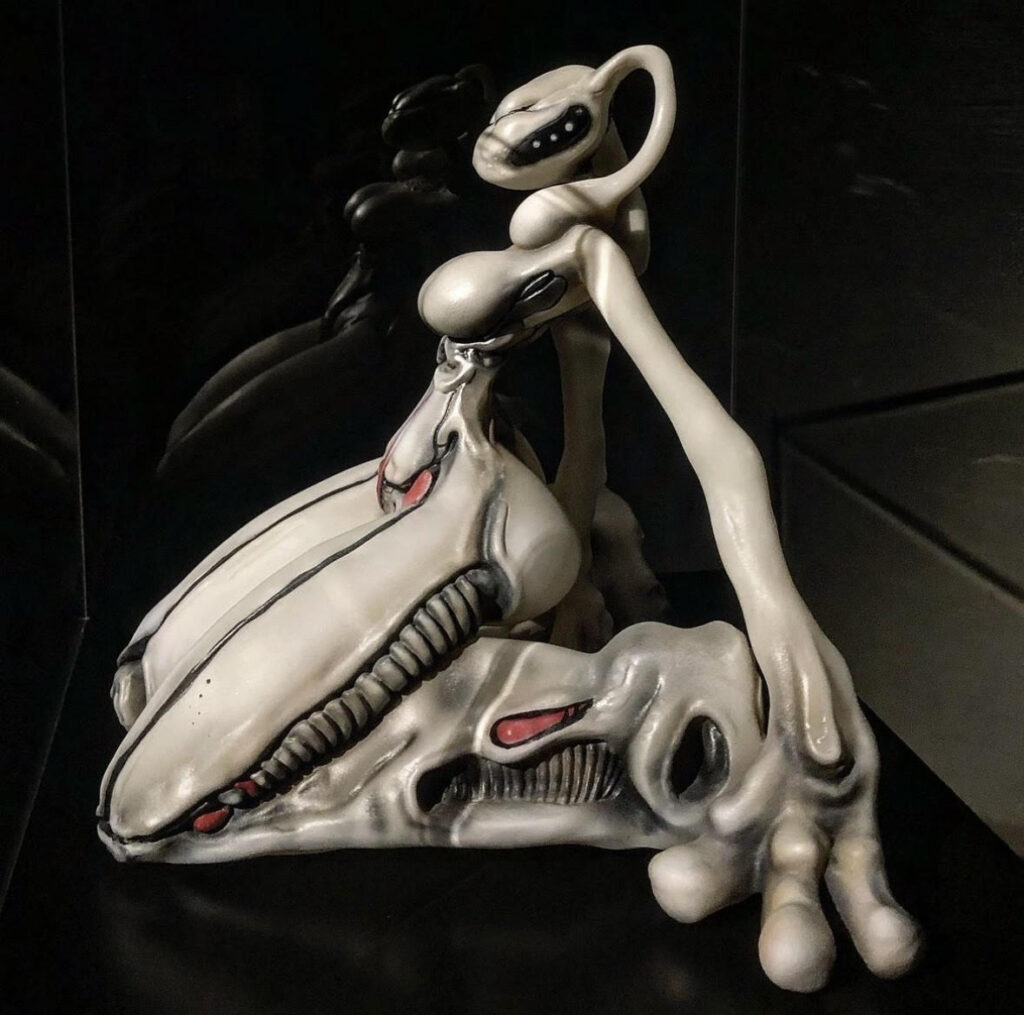 Returning to the topic of metal music; I was instinctively drawn to it when I first started exploring music of my own preference, albeit relatively late in life (around 11 years old).
Heretic would intuitively seek knowledge elsewhere, and that elsewhere was somehow familiar. One can understand black metal if they are able to detach from the crude identity of the genre and in general, detach from art as a trend. Metal is dedication.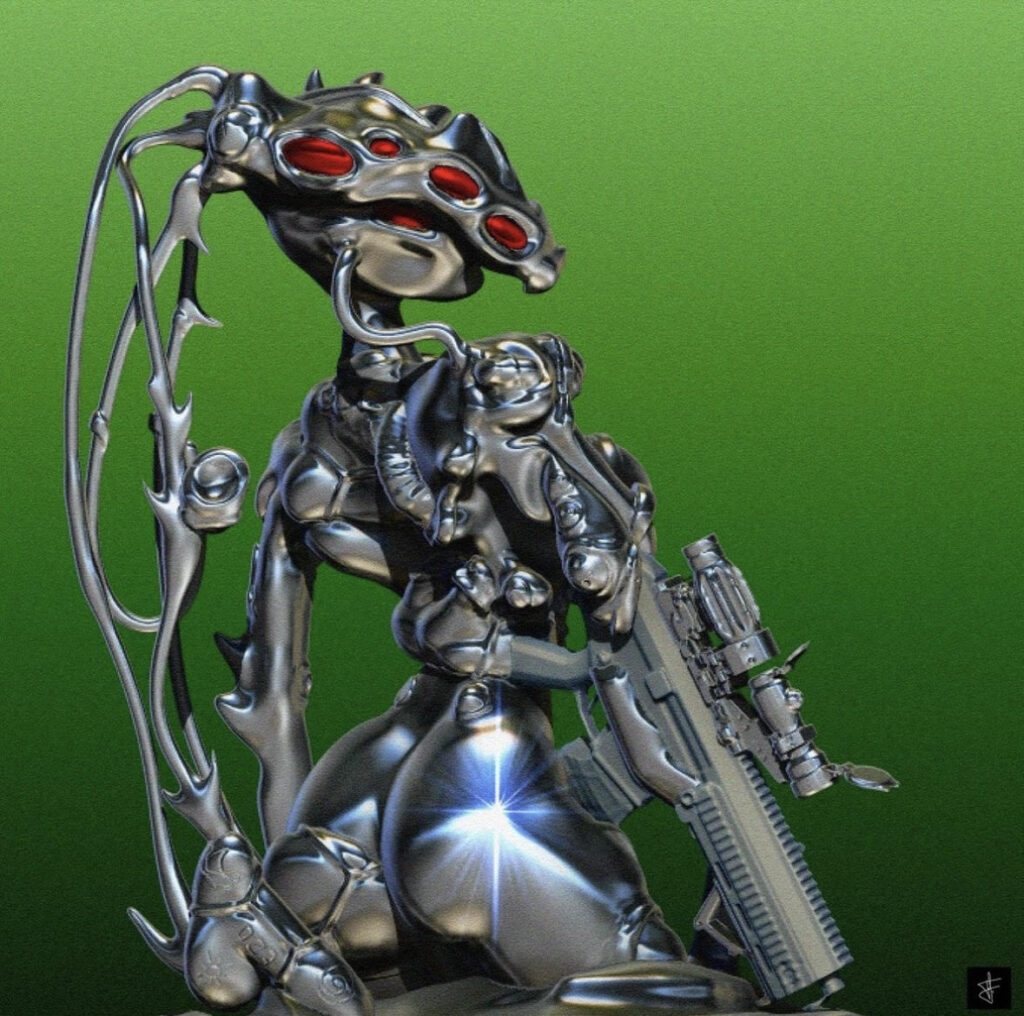 I do not seek affiliation or approval, as I defy the rules of metal; therefore, I identify myself as a black metal artist in the same way as I identify as a Christian – no one necessarily wants me there and I am not part of the community. My pursuit is to be a sovereign heretic, gnostic, and believe in what my grandma taught me. Sort of like your Danish guy Kierkegard would trip about, or if Gandalf read One Piece.
Luckily I always find more black metal artists that are like this, of all religions, genders and races. The only rule is the shared impetus for inhabiting nature and a claiming genderless corpse mask, posing as a host that keeps inviting everyone to join for a (shadow) walk.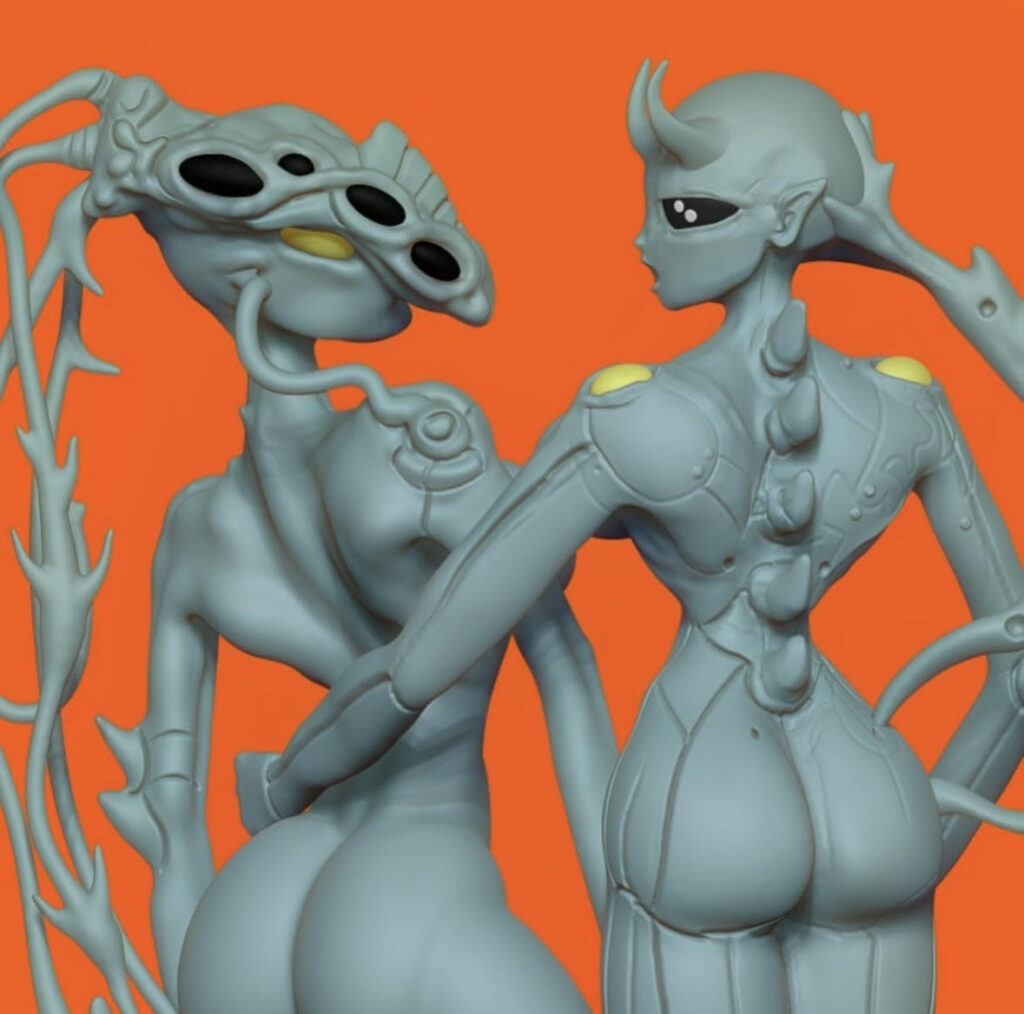 While we're on the topic of some of your passions. Let's talk about the novel you're currently writing. Can you also tell me about that? What's it about? And when did you initially start writing?
Schwestern Sisters started as a comic book me and my sisters Marta and Ana bizarrely put together for fun. It resembles Beavis and Butt-Head or Adventure time, very Adult Swim. I'm not sure how good or bad it is but I have kept writing it since 2012. And since then it has changed so much.
There are few chapters published on my website and Substack, under alias Carrot the Shadowman, which you can watch here and here. My plan is to publish it in print as a graphic novel.
Alright let's talk about your graphic design now. When did you first start to play around with different design programs? What programs did you start out using? and what do you use now?
I see myself more as a character artist, since I never designed any typeface. I mostly use my own handwriting, carved into the 3D mesh.
I started with posters and album art out of necessity to earn money and it came naturally to create companions for sound. It feels sacred, especially when the artists have complete trust in what I summon for them.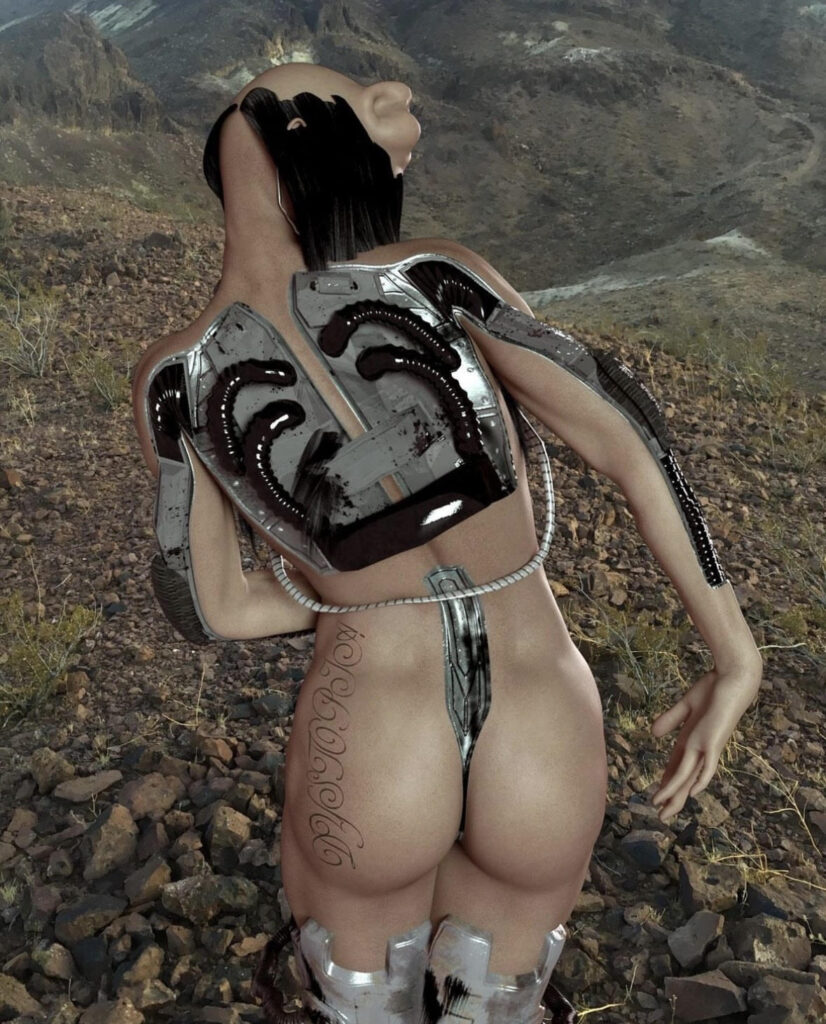 Can you walk me through your creative process? From beginning, to end result?
As a multimedia/multidisciplinary artist, it is challenging to walk anyone through the cyclone-like logic and process behind the practice, but I will try my best.
The genesis of my characters predominantly stems from interconnected realms that I persistently expand upon. I favor the medium of storytelling to articulate the presented conundrum, rather than making the medium/tool the message.
Visually, I begin with a pencil sketch and then continue in ZBrush creating from scratch. I seldom bother to seek references.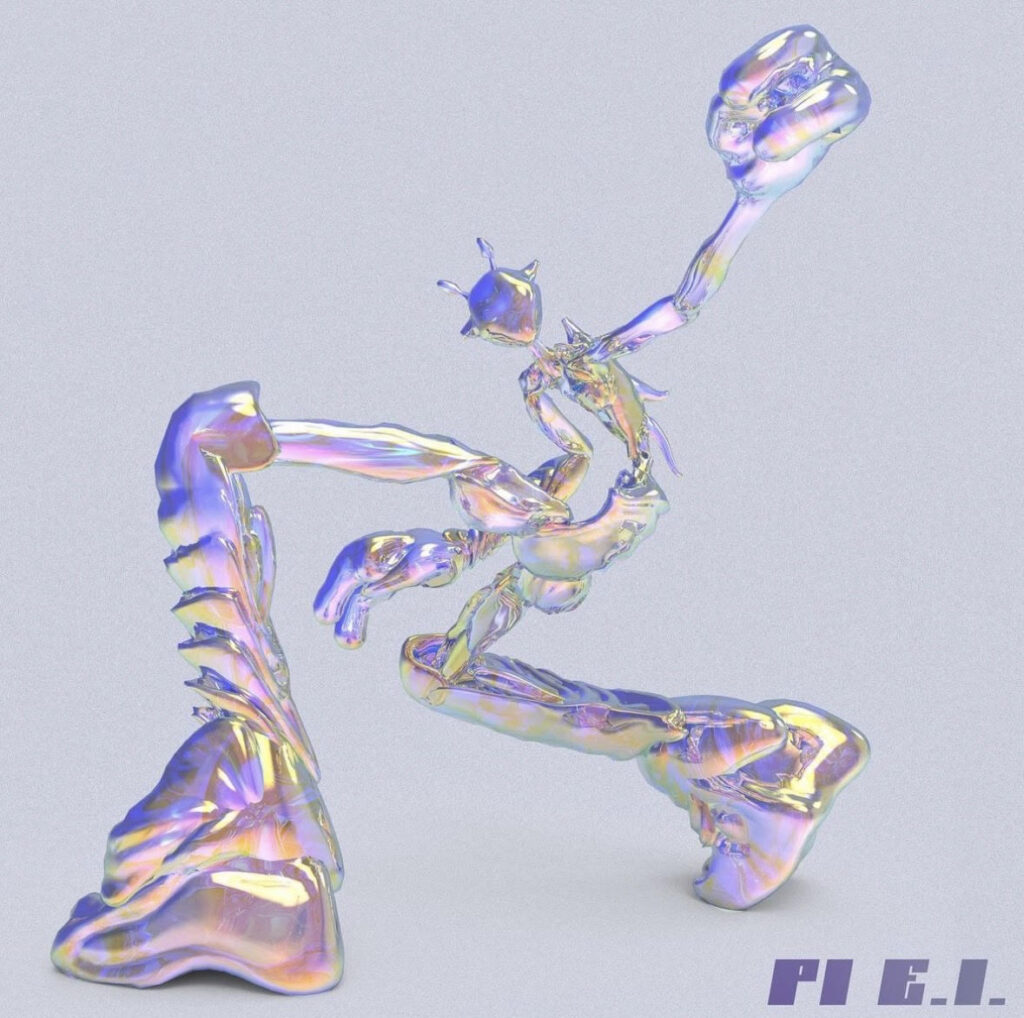 Creating physical paintings, I feel like a conductor of something I can't explain. I paint visions with intention to imbue them with a semblance of vitality, allowing works to decay organically into relics that witnessed life. Paintings are silent observers of the world, you can see that looking back at you, in the old art. However, I often harbor reservations when it comes to creating physical pieces, as I am very aware of the potential burden they impose if they lack a designated space. I try to refrain from overproduction if I can, but it is hard not to pile them up. This year I spent months just trying to organize a decade of digital archives. Once you have physical work you need to own some space, otherwise you're cursed. Art can quickly become a burden.
Right now you're in a transitional period, with no studio. How would you describe this period in your life? Or this year in general?
For the past two years I have had some health problems crawling up on me, and this winter they shut me down more than I wanted to admit. I had to prioritize my body and slow down, which was quite enlightening.
Now I see an even bigger surge in survival capitalism. Every new creative language is getting grinded into ads and fed back to us, like mad cows. Art world became a huge plot hole. Doom aside, I am happier than ever. Grateful for my family and cherishing closeness, my life is a movie, friends are the bestest and I'm in love. Right now I am being patient, disciplined, and not pushing but seeking new avenues and planning. I mostly worked digitally all year.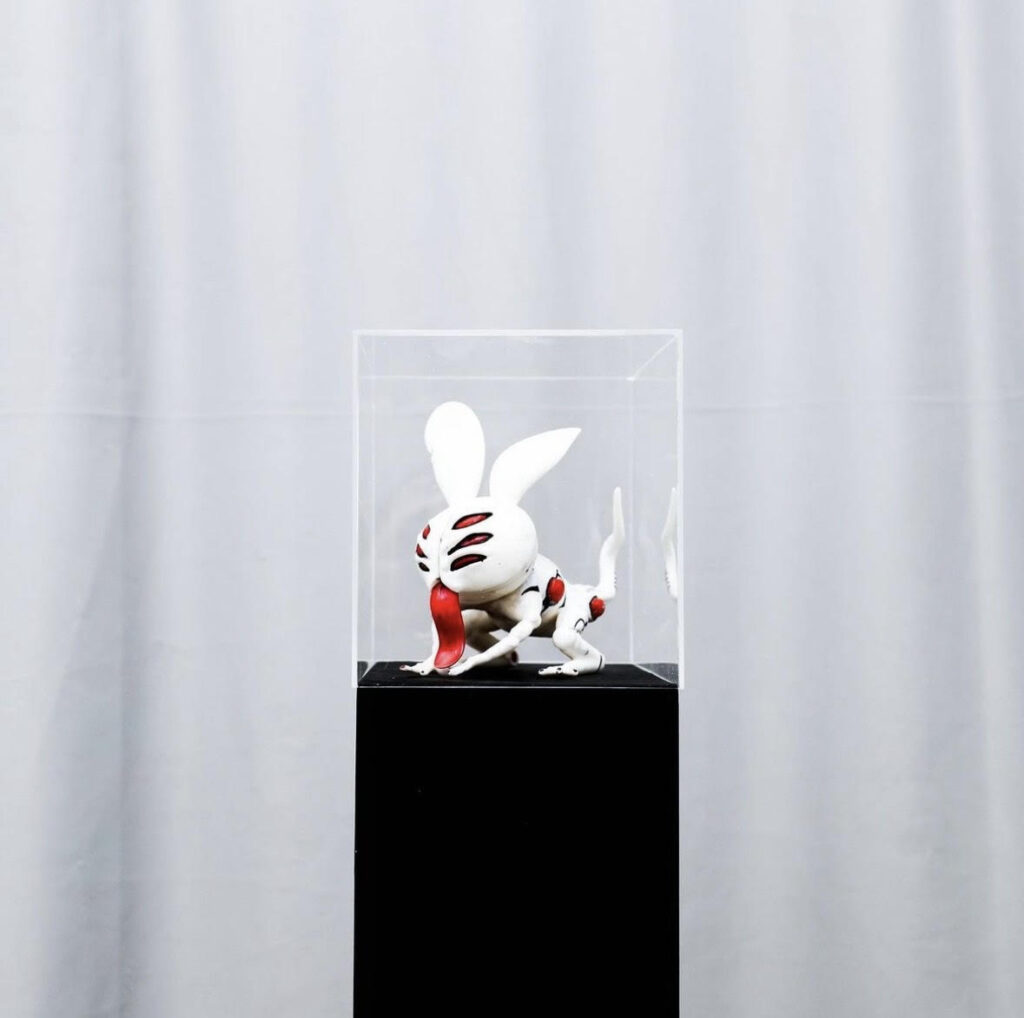 I know that you're also pretty firm with an airbrush. How did you get introduced to one? And what makes an airbrush one of your preferred ways of expressing yourself?
My bff Bliss, who is actually also Danish, is a brilliant tattoo master ( you can see his art on my back and shoulders). They had an Airbrush at home and knew how to use it. I came crying to them one day in 2020 and he gave me an airbrush gun and I loved it. Soon we shared a studio at Trauma bar und Kino, where we practiced working on big pieces. Bliss and I airbrushed an entire drum kit Luccini picked out for us, and it is still used by bands that play in the venue. I developed a strange style, taking pleasure from the interplay between surrendering to the unpredictability of the medium and asserting precise command over it. Besides Bliss I collaborated with Lord Fjorsk, who is also Berlin based (and slightly Danish). We simultaneously painted Goblin armies, for a full month, on the singular canvas.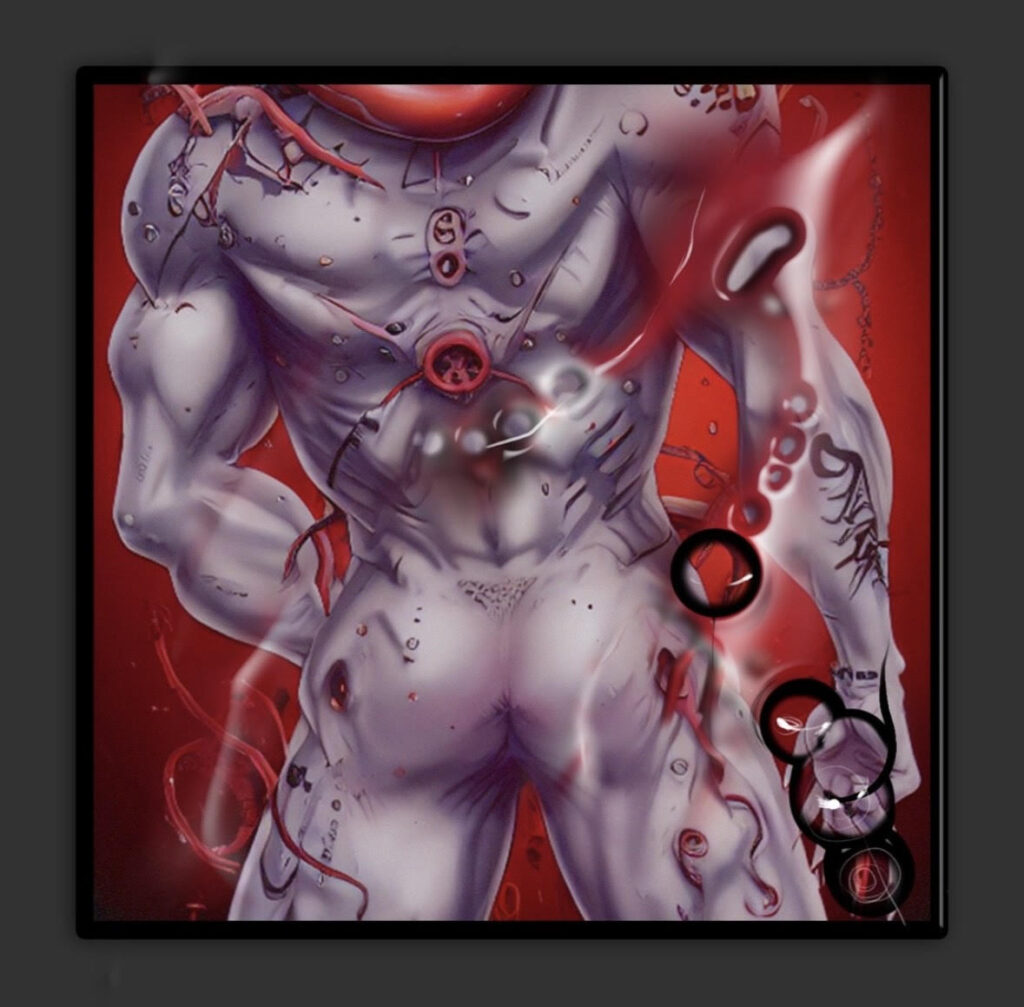 Gotya! Let's talk about NFTs now. Having your digital expertise, means that you have adapted extremely well to the rise of NFTs. And you currently sell your own, on: Marketplace, Superrare and TRZ. My question is when did you start creating them? And where do you see NFTs, in let's say 10 years?
Honestly, I don't have a particular opinion on this; I've been taking it as it unfolds. Some of my work is in the Void Collection by Frenetikvoid . I also have some pieces in the FeltZines SR collection. There is a silly (and vintage) interview SuperRare did with me and my sis.
Excitingly, Mona will be releasing some of my Metaverse adapted characters in the near future, they look so insane and I can't wait to share them.
Otherwise I like the idea of decentralization, but I don't have crypto to invest in right now and I honestly don't like making people buy stuff. I'm not on anyone's radar as far as I know, I'm in the shadows.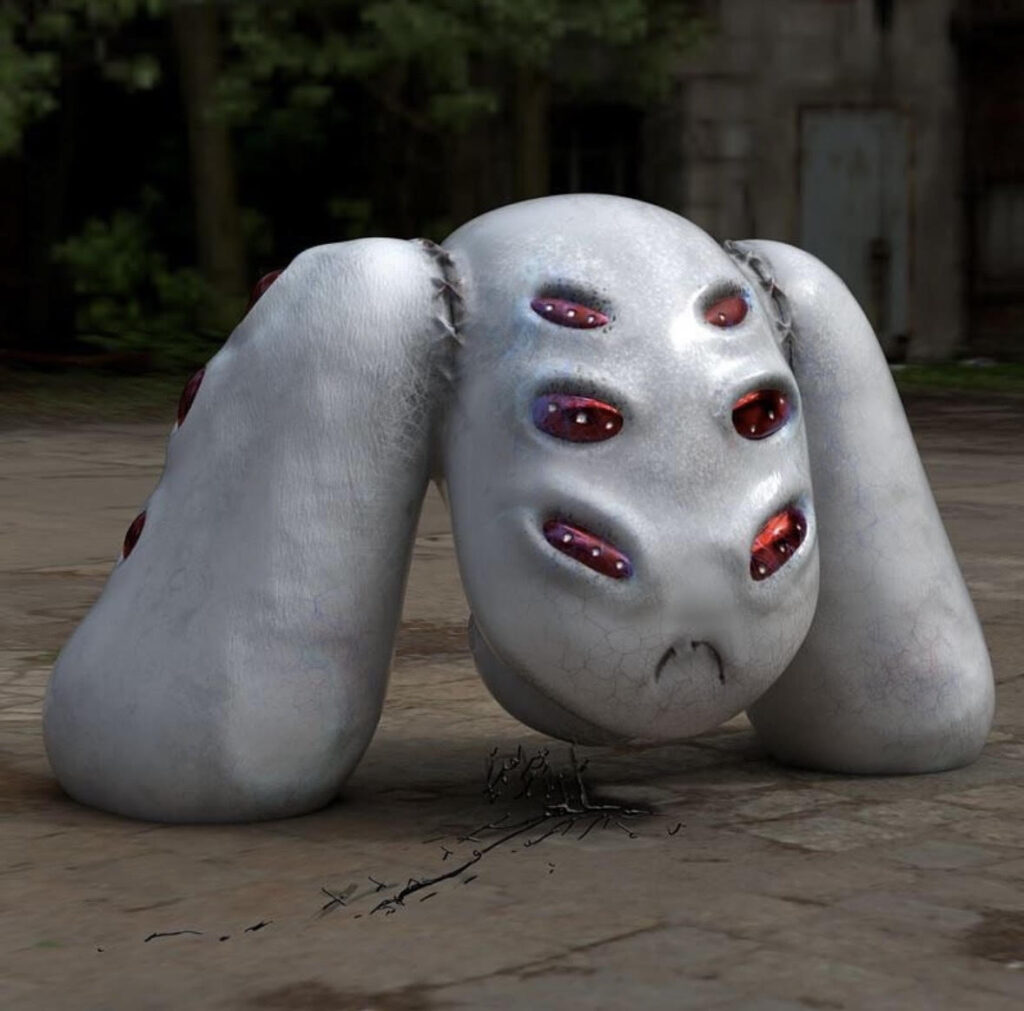 What motivates you?
One Piece.
How would you describe a perfect day?
There are endless variations to perfection.
I would say, start with breakfast on the sea cliffs. Swim, pick grapes and figs. Cook freshly caught fish. Dine with a good dialogue to the sound of crickets. Maybe dare to play a game of chess with a shot of rakija. Watch an old movie in the summer cinema with my partner and walk back home through an empty town.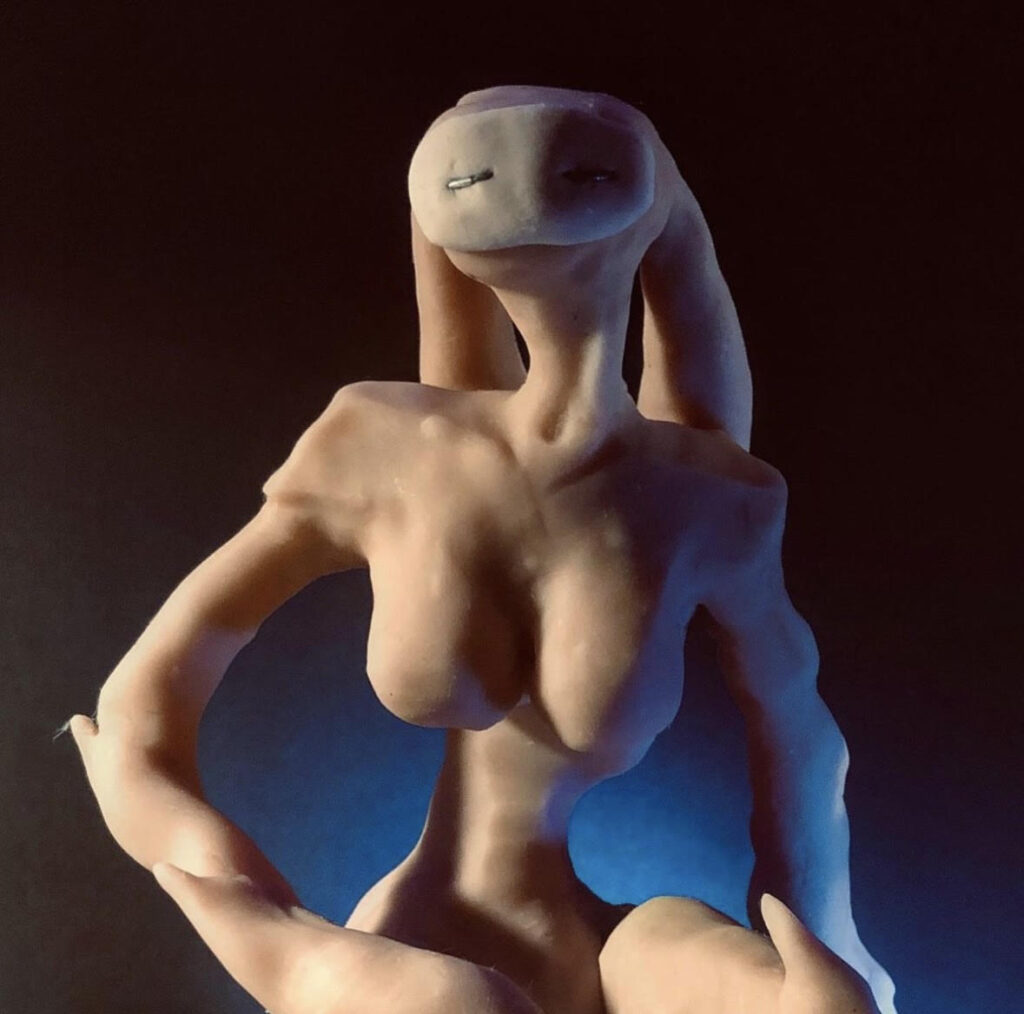 Alright Tea. I always ask these two questions at the end of an interview. The first is. What's your favorite movie(s) and why?
I usually always say Die Hard, no explanation.
But if I have to be annoying, it's actually Spirited Away, The Doom Generation by Gregg Araki. Strange Days (1995), Ghost Dog: The Way of the Samurai from Jim Jarmusch and Stalker by Tarkovsky. I really can't pick one movie, I'm a cinema fanatic.
The second is. What song(s) are you currently listening to the most right now?
Gundam by Marjorie -W.C. Sinclair, and unreleased music from the same artist.