Share this
Jean-Robert Alcindor is a renowned self taught painter who lives in Le Bouscat, France. He is a psychoanalyst by day and a compulsive painter in the evening / night. His father was a Sunday painter, and as he himself puts it "I think that was my first contact with art. For as long as I can remember I've always drew."
In 2018 he bought his first canvas, because he wanted to explore abstract painting but gradually his artworks became more and more figurative. Being self taught, he studied the greats, such as: Francis Bacon, Nicole Eisenman, David Park, Katherine Bradford, Lucian Freud, Picasso and Georg Baselitz. He finds inspiration in everything around him, the news, people in the streets, bizarre situations and funny facts. As he himself describes it: "I love bringing light to the ridiculous traits of life."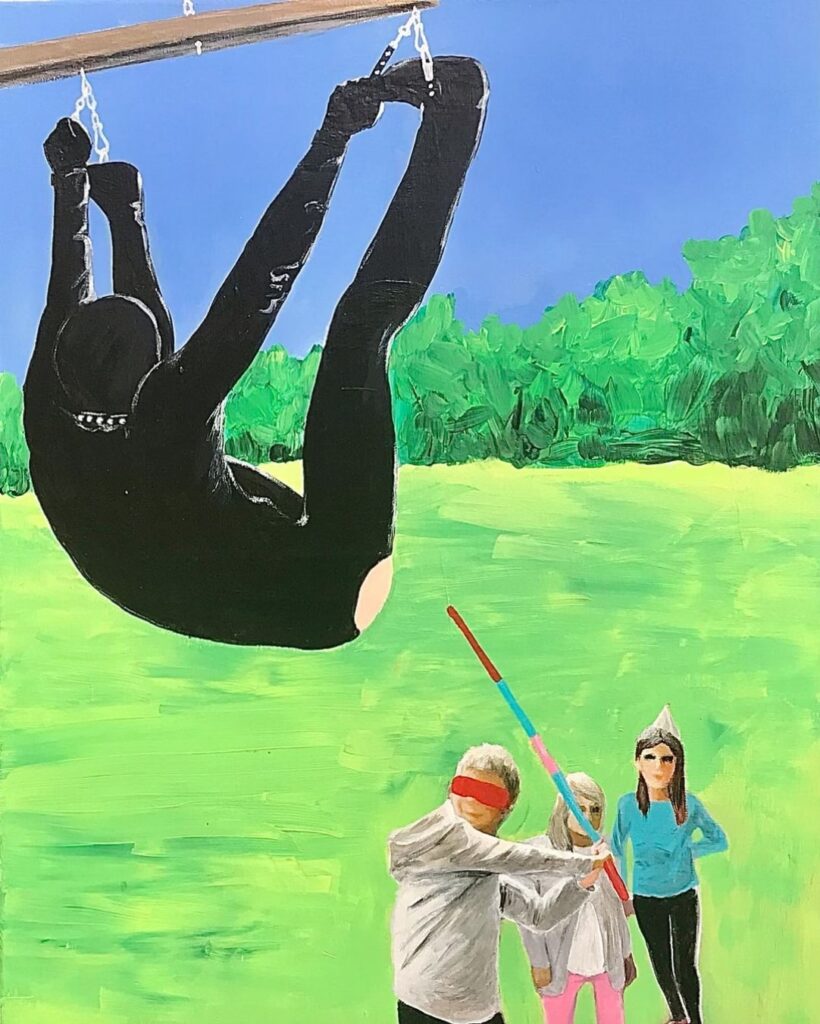 You grew up in Orange, France. What is your happiest childhood memory from there?
I was born in Orange, but the only thing I can remember is a little girl getting hit by a car. I was 4 or 5 years old and it was my first meeting with the cruel reality of life. When I was 6 y.o we moved to the south west of France and from there I can remember happier memories. And the happiest is maybe when I was playing in the garden, everything was possible with a bit of imagination, I could play outside for hours.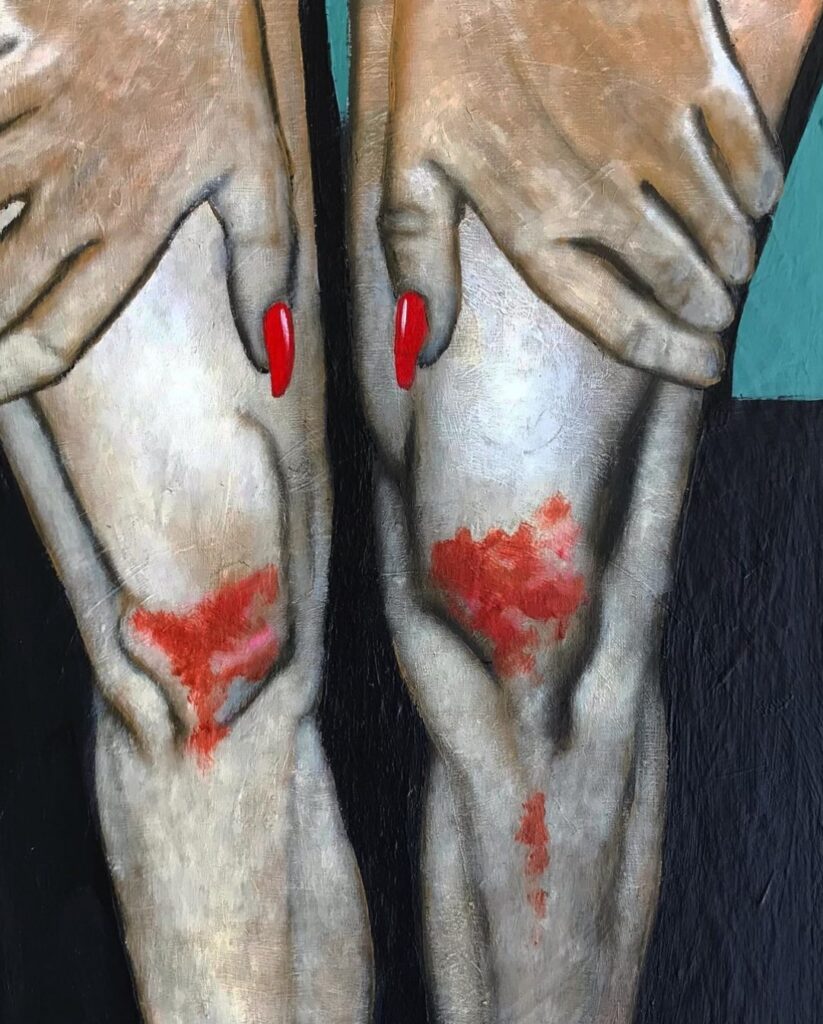 You now live in the small town of Le Bouscat. What is life like there?
Before Le Bouscat I lived in Bordeaux and for a long time I've been a big partygoer, but now in Le Bouscat life is more quiet. I have a wife and two children so the night owl life is over. The rhythm here is slower, less chaotic. The average population is older. But if you want « action » you just have to jump in your car and drive for 10 minutes to join Bordeaux…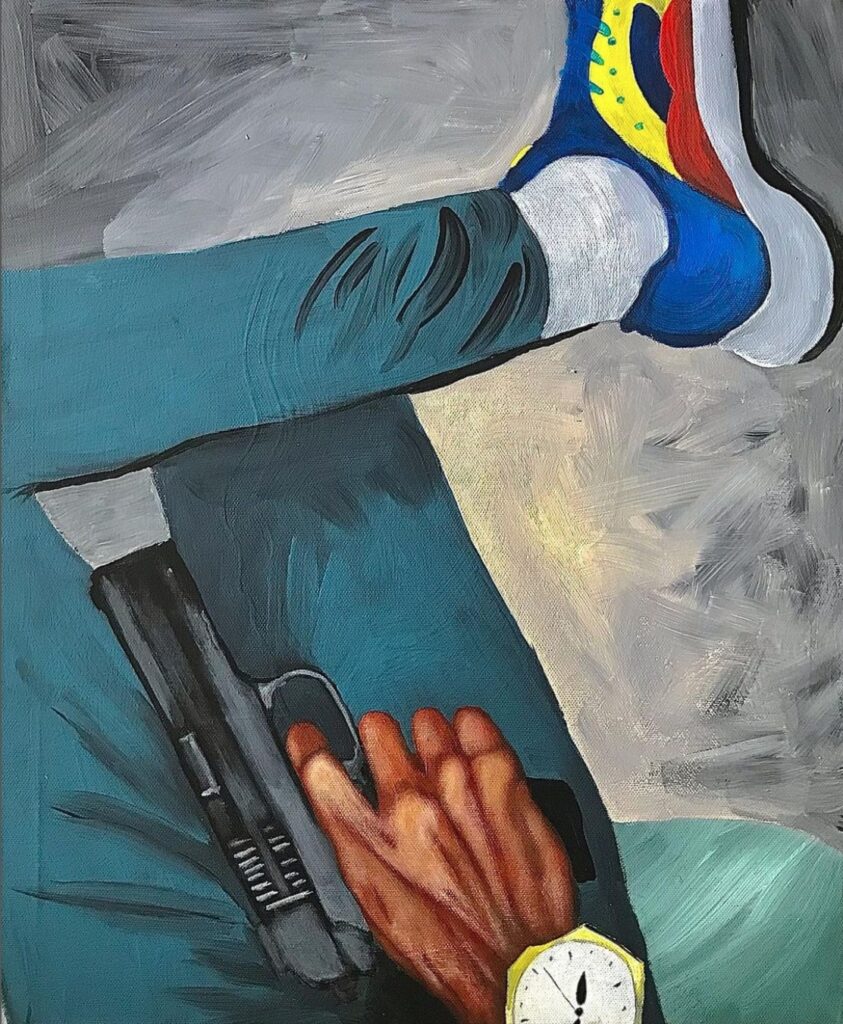 At what age did you start to draw?
I don't know, I think I was born with a pencil in the hand! As far as I can remember I've always been drawing.
You initially wanted to be a cartoonist. Instead you decided to become a psychoanalyst, which is a pretty long education – and two completely different fields. What was it about psychoanalysis that made you choose that as a careerpath?
When I was young (maybe 11-12 years old) I read one or two works by Freud (These books belonged to my elder sisters). I didn't really understand the meaning but I was intrigued by the secrets of the human soul and how you can try to reconcile with yourself. Later I had some bread and butter jobs until an unemployment spell. It was the opportunity to start a formation in psychoanalysis.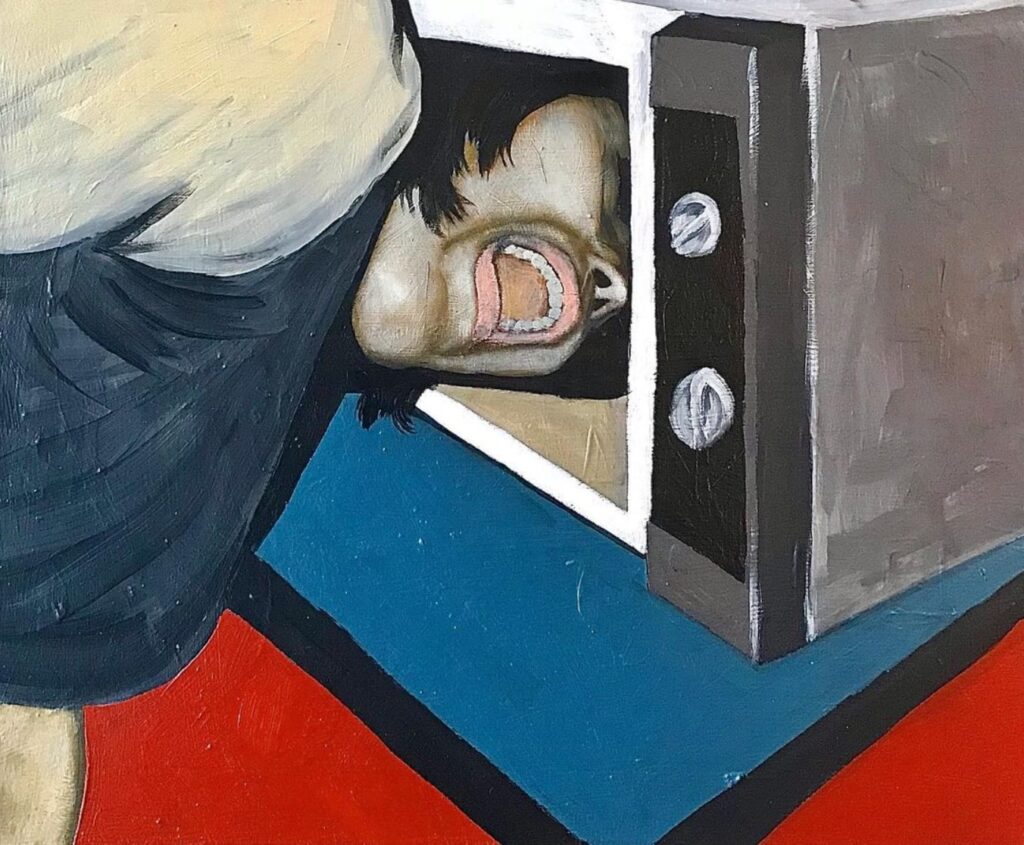 You have gained a lot of notoriety since purchasing your first canvas in 2018. Anything in particular that sparked your motivation?
In 2016, the last year of my formation I had to write a thesis, and the subject I choose was the « damned artists » as Van Gogh, Utrillo, Modigliani for example. I've never dared to paint before, but the desire to try became more and more present. So in 2018 I bought my first canvas and I haven't stopped since. I created a profile on Instagram and since the end of the last year, surprisingly I notice that my paintings seem to generate more and more interest… I think that Instagram, although I know it's not real life, is an important driving force because people are very encouraging! And the fact that some galeries I admire sometimes notice your work is very good for the motivation…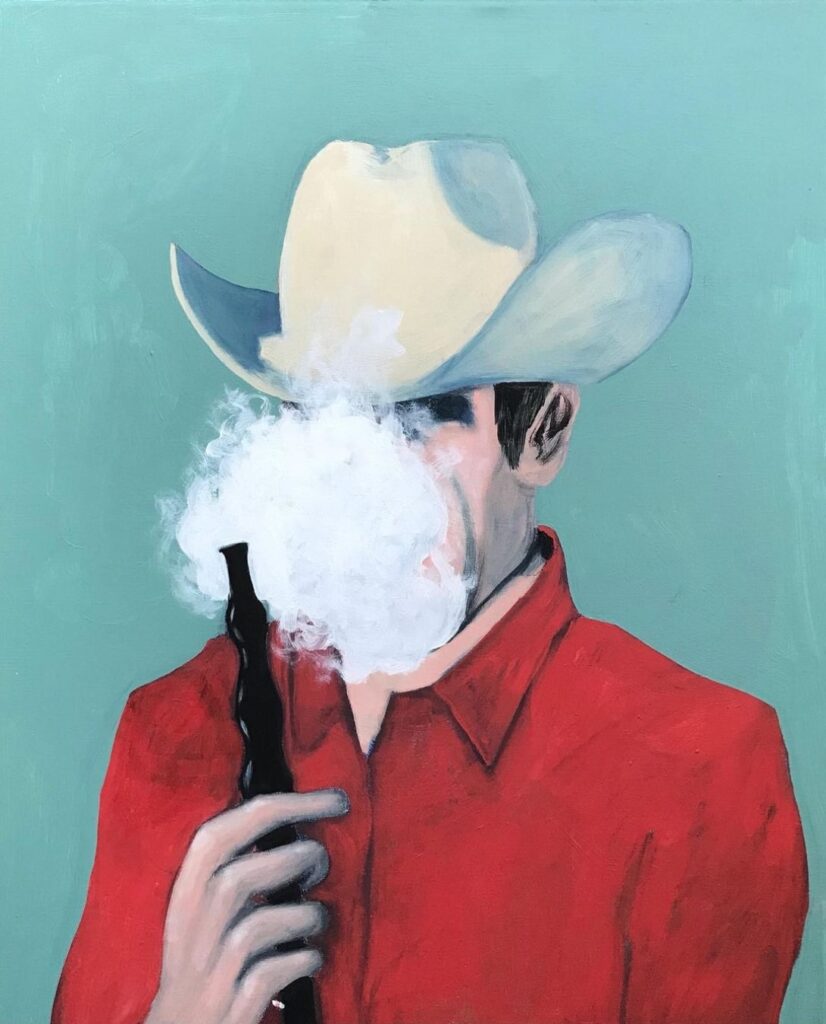 I read somewhere that you were a fairly successful guitarist. Tell me a little bit about that chapter in your life.
I don't know if I was successful but music was a great adventure… I played guitar, bass in several bands (from hardcore to punk rock and surf music). During all these years I had the chance to play in great concert halls in France, Spain, Italy. Maybe it could have gone further but I think we weren't enough serious for that. At the same time I recorded more personal songs at home with my 24 multi tracks recorder. I've been contacted by a company specialized in music production and synchronisation from New York but the company didn't last long… One day the artistic director from Mercury (a record company) contacted me because he had listened one or two songs on bandcamp or SoundCloud, I don't remember, and liked them… he wanted to listen more songs with his consultation committee. And finally the committee told me that my music didn't exactly match with the tunes they wanted to promote at this moment. It was a very strange and rich experience because I felt that my music could interest renowned records company but the timing wasn't good. Today I have a wife and two children. In my opinion music (at a professional level)is incompatible with a family life, you have to tour all year long etc…And I want to be with my family. Painting seems to be quieter and less alienating (for now!).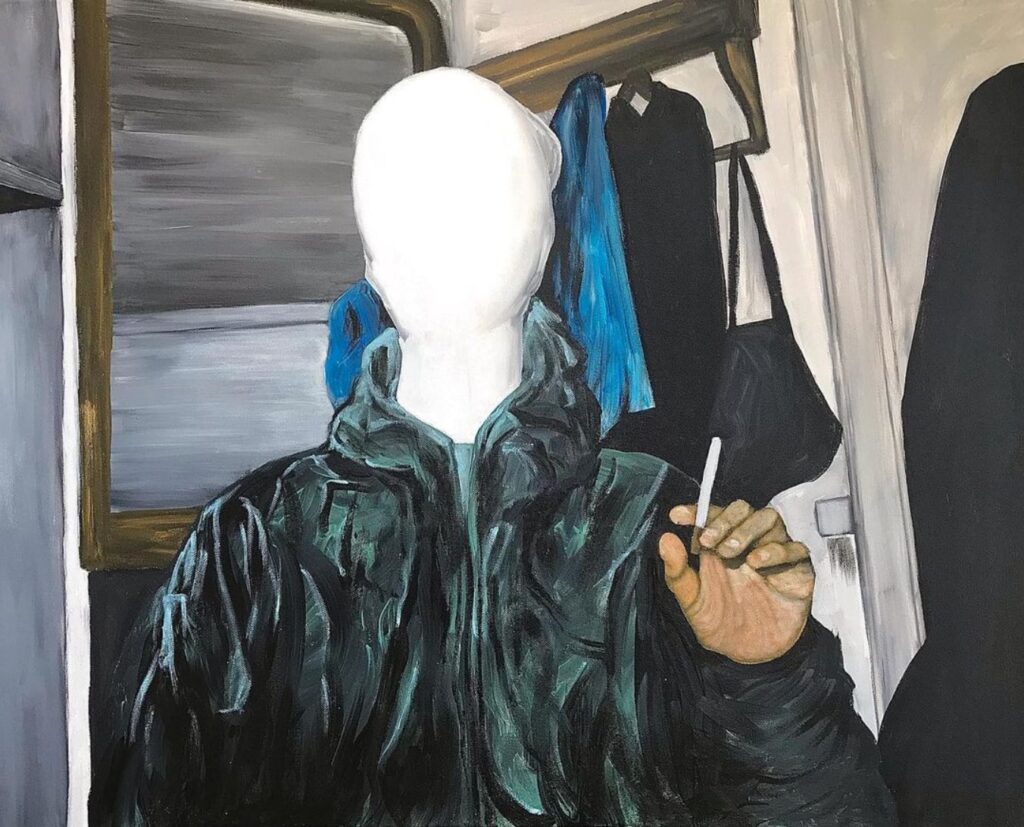 What does a normal day at work for you look like?
I'm a psychoanalyst during day, and I also work at night for a home help company, and in between I try to paint (and sleep!).
Is there a connection between your paintings and your job as a psychoanalyst?
I don't really know, maybe the fact that I want to cause an emotion (whether good or bad) with my paintings. And psychoanalysis is a question of hidden emotions. And of course emotion is life…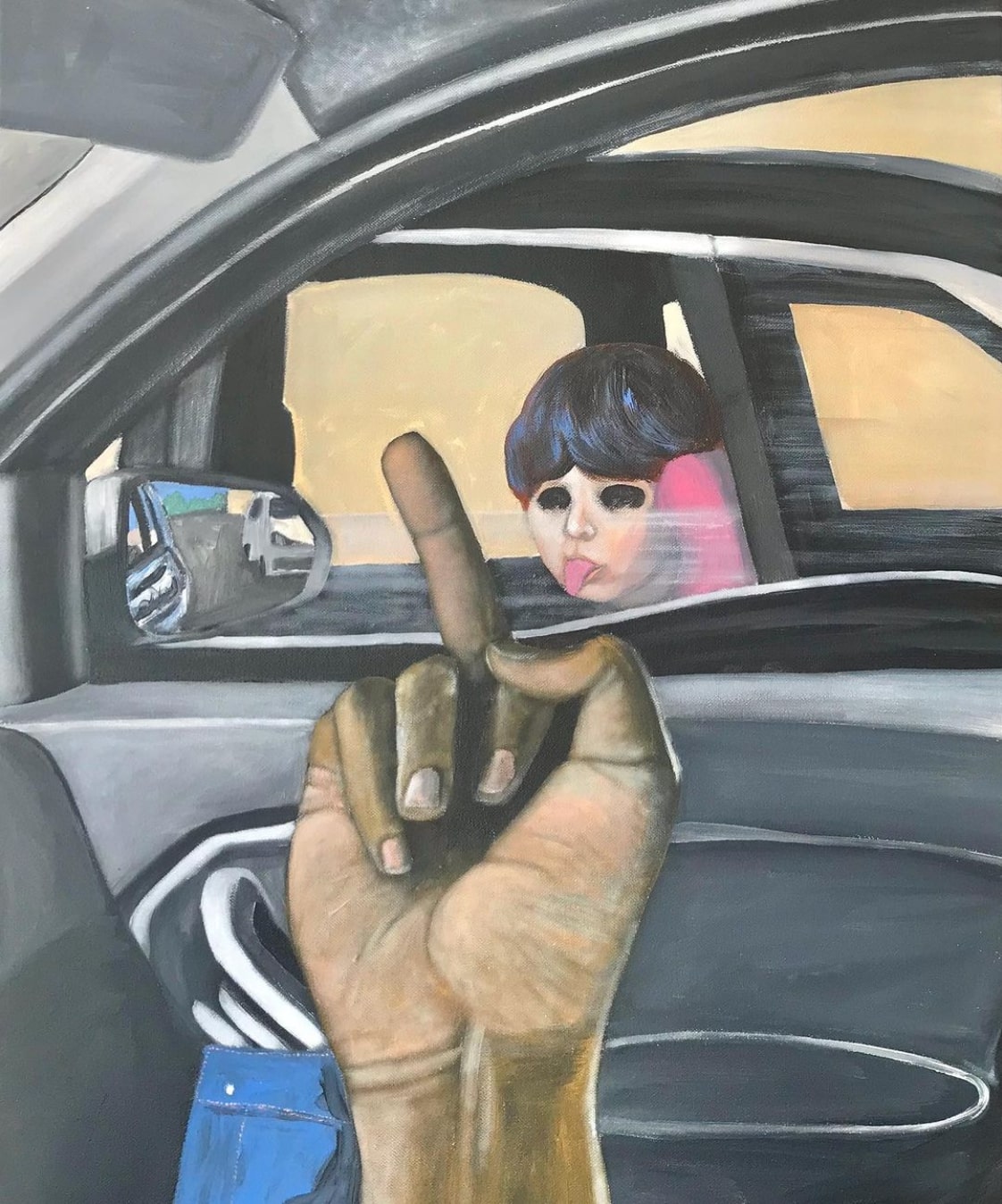 I can imagine your job being pretty demanding. How do you find time to paint?
I don't have too much time for painting but I paint quite quickly! And I need those short moments to escape a little.
Some of your paintings have a dark and gritty undertone that depicts realistic situations, that could be taken out of a book or a movie. Where do you draw inspiration for your work? And what is the process like from thought to creation?
Most of the time, the idea for a painting appears all of a sudden, the colors, the composition etc..and I just try to paint what I have in my mind. No preparatory work, I start to paint directly. Sometimes it's interesting and sometimes it's really bad! I observe a lot (people in the street), internet is a good manna, and my life as a musician inspires me a lot too. I appreciate a lot bizarre and cynical situations of the everyday life, I'm interested in what can disturb the viewer, I try to talk to the unconscious self. Whether you hate or love my paintings I'm happy with that, the reactions in between don't interest me because they're not pure emotions.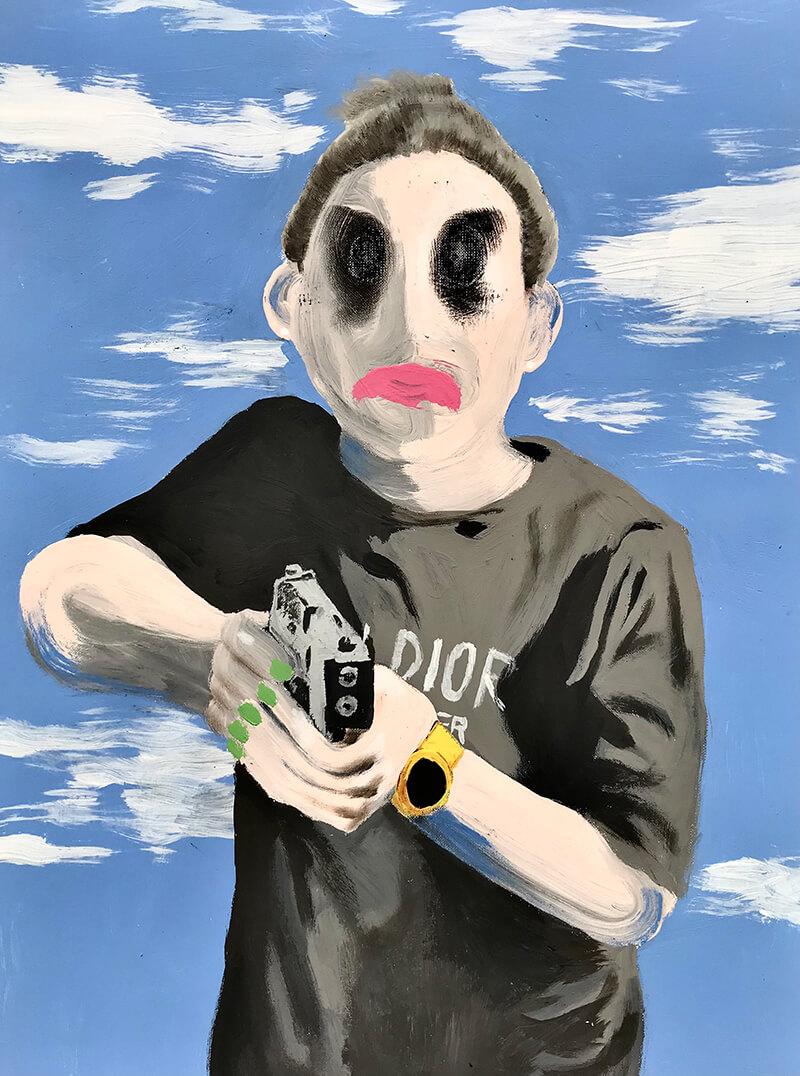 Who are your favorite artists dead or alive?
My favorite artists dead or alive? Caravage, Picasso of course, Gauguin, Nicole Eisenman, Baselitz, Kippenberger, Tracey Emin, Julius Hoffmann, and many more!
For more information about Jean-Robert, check out his Instagram.