Share this
Lindsay Gwinn Parker was born and raised in the region of New England, America. She has been refining her artistic sensibility and technique for the past 25 years. Primarily self taught, as a child she was first introduced to art by her grandfather, who was a prolific painter of realist landscapes in his spare time. This inspired her love of the creative process and a desire to evolve as an artist. At nineteen, Lindsay left her hometown of Amesbury, Massachusetts and spent the better part of a decade moving throughout different regions of the United States, drawing inspiration from her experiences and observations while experimenting with different painting styles. In recent years, her work has been displayed at galleries in New York, London and throughout the world. She currently lives and works in New Hampshire.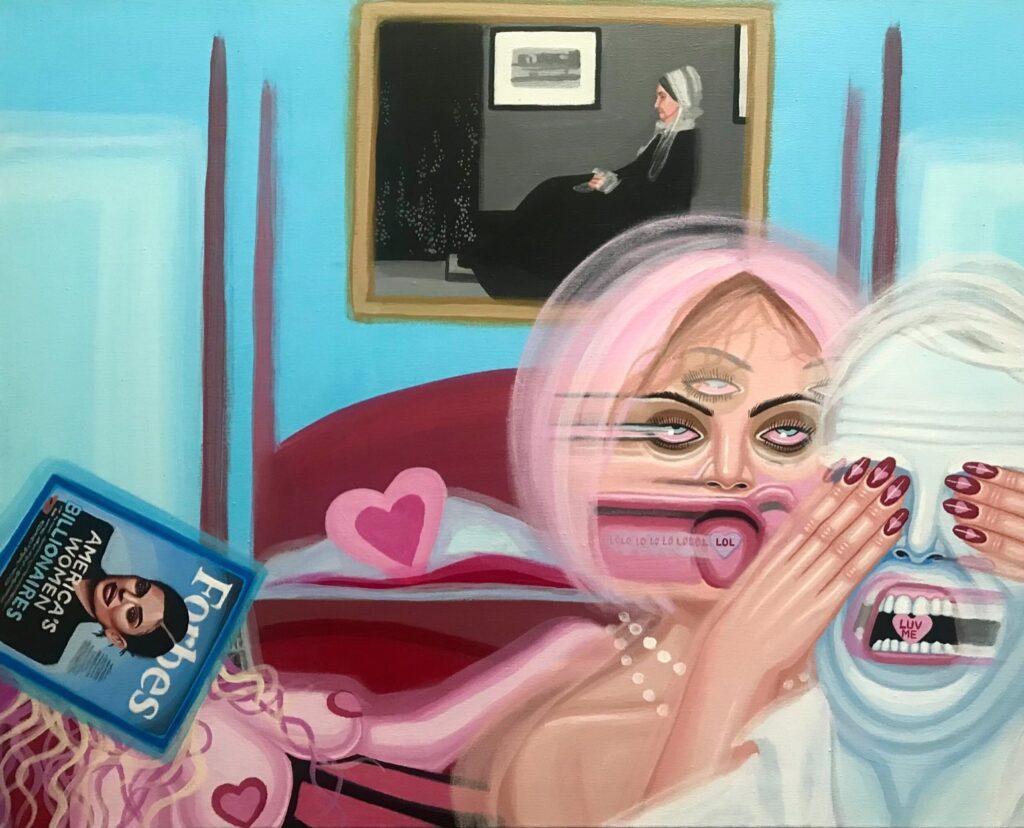 You currently reside in New Hampshire, how is life like there and how does a normal day look like for you?
My life in New Hampshire isn't very different from what my life has been like when living in other places- I'm very much a creature of routine and I tend to be a hermit. A normal day for me involves going to my part-time day job and then spending a large amount of my spare time painting in my studio. In the evenings, I watch movies or television programs with my boyfriend. If the weather's nice, we'll go for a walk. I'm a very boring person. I think that my paintings are probably more interesting than I am.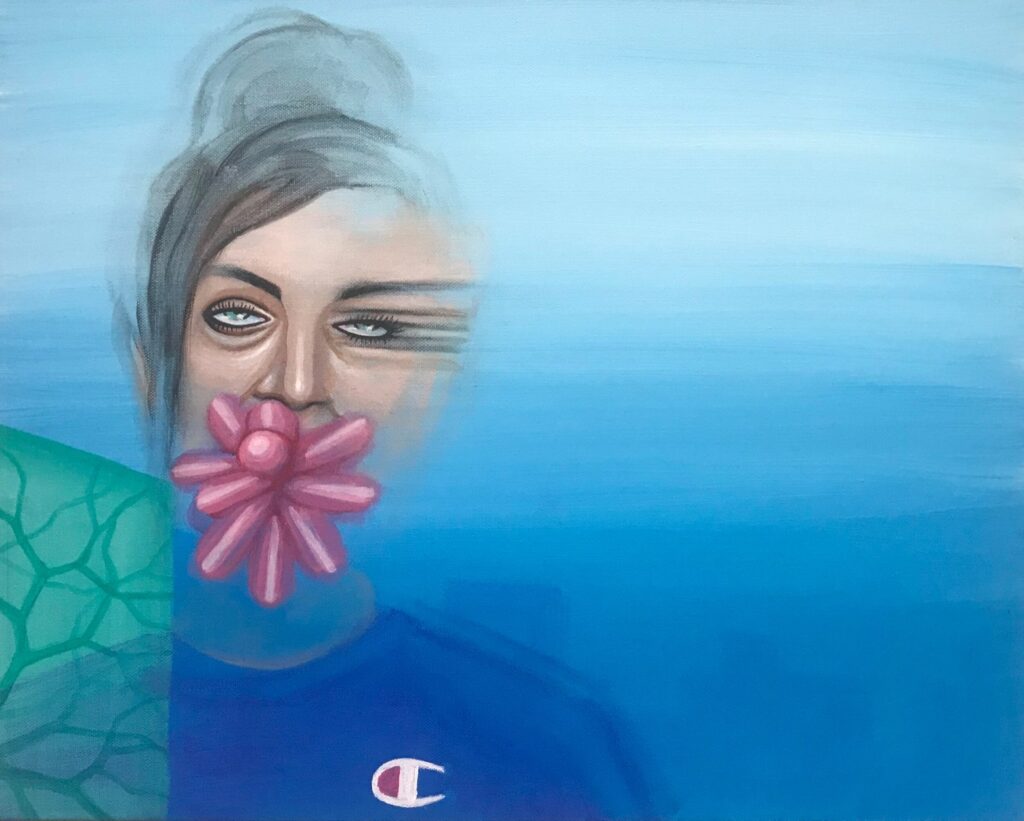 Your grandfather was a gifted painter as well, who painted realistic landscapes – why do you think you decided to paint something totally different?
I think that landscape paintings are sometimes very compelling, but I've always been much more interested in human faces and figures. I like to examine how people exist in relation to each other and the tension that is created when people have disparate experiences.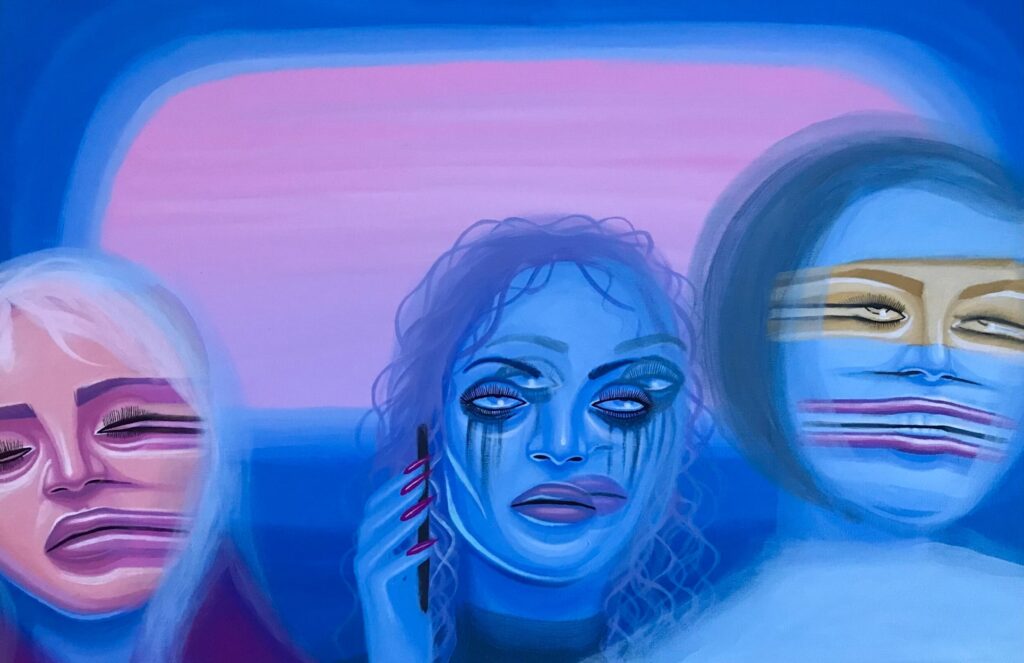 You have been perfecting and refining your unique and recognizable technique for the past 25 years. How did you know that this was the look and style that you wanted to go with?
When I was younger, I began visualizing the sort of paintings that I create now. I began to see each present moment as being in a state of constant change- everything was simultaneously dissolving into the past and emerging from the future. It made me feel kind of sad and insignificant. There seemed to be an overwhelming absurdity to life that was only exacerbated by the desperate vanity of human nature. I wanted to somehow convey all of that.
Does the blurred technique and 3D effect in your paintings symbolize anything?
The transparency and blurring effect has several layers of meaning for me. It represents flux- growing, decaying and always moving from one moment to the next or from one stage of life to the next. Constantly transitioning from chaos to order and then back again. It also symbolizes the conflict between a person's interior world and the idealized version of themselves that they've curated to impress other people.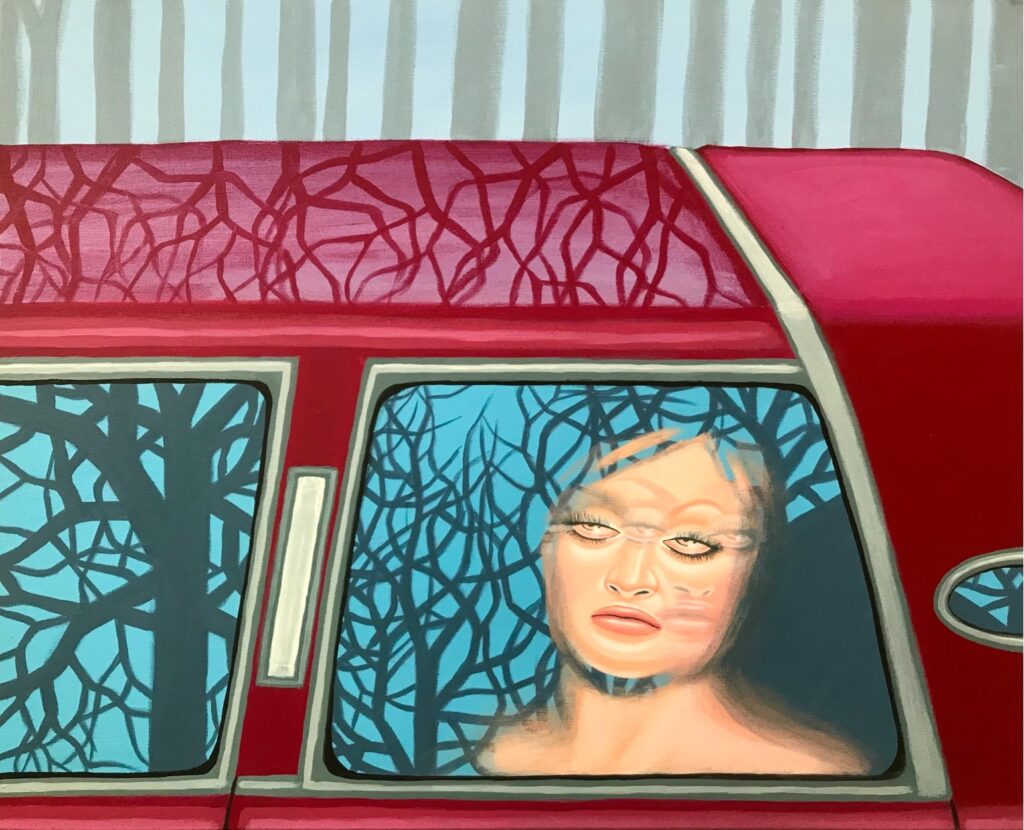 Who are the women / characters in your paintings?
The women/characters in my paintings are not based on specific people. I don't use reference photos for them. I let their facial features gradually develop from my imagination. I see them all as being avatars of human experience. I project my own emotions and memories onto them. I feel like they could be anyone because I feel like I could be anyone. It seems like a technicality that I happen to be the specific person that I am. We're all just variations on a theme.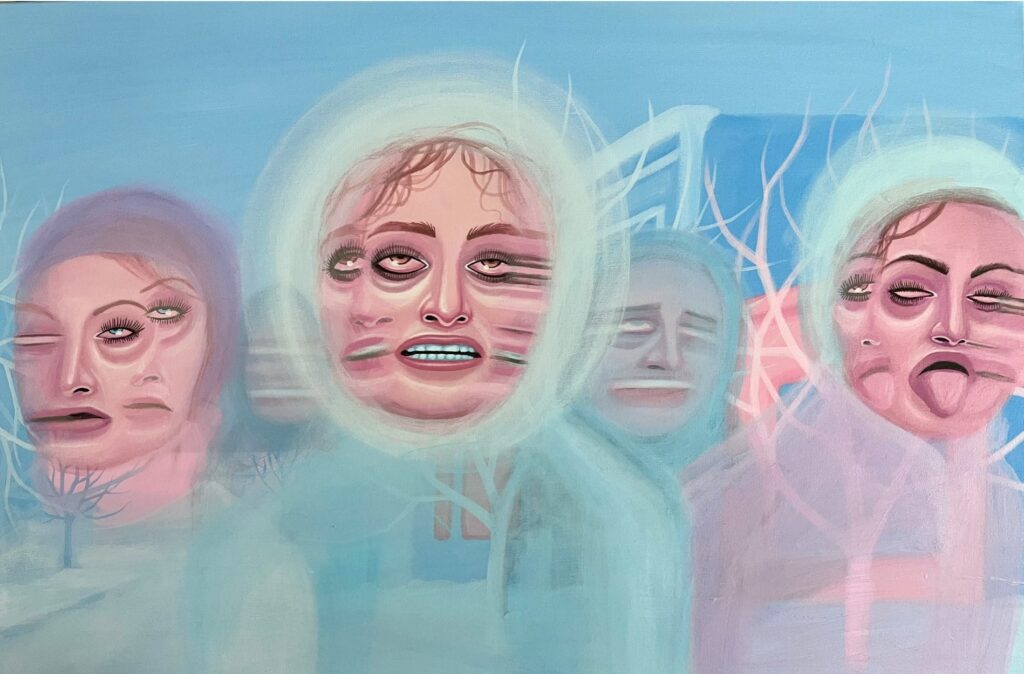 When looking at your paintings I see sarcasm with a twist of seriousness. How do you feel about that statement?
I think that's accurate. I do tend to satirize social/cultural trends and traditions in my paintings, but I try not to trivialize the emotional experiences of people. I think the people in my paintings are all searching for meaning in life, but they're struggling to find it.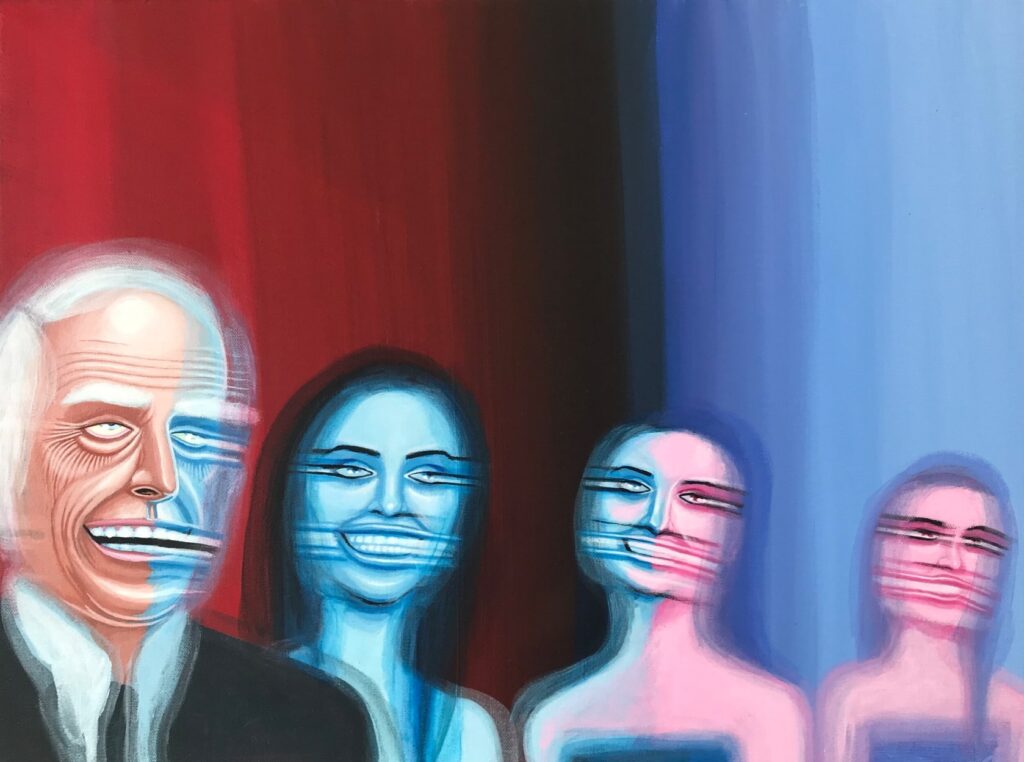 Your paintings often describe some kind of scene, where something is happening. Do you have that scene already thought out, when starting on a new canvas?
Yes. I usually write down brief descriptions of my paintings before I get around to starting them. My studio is cluttered with little notes describing paintings that I haven't had time to begin. The scenes are sometimes inspired by a vague memory or by something that I happen to see when I'm out in public. Occasionally, I'll develop ideas from seeing people in old photographs.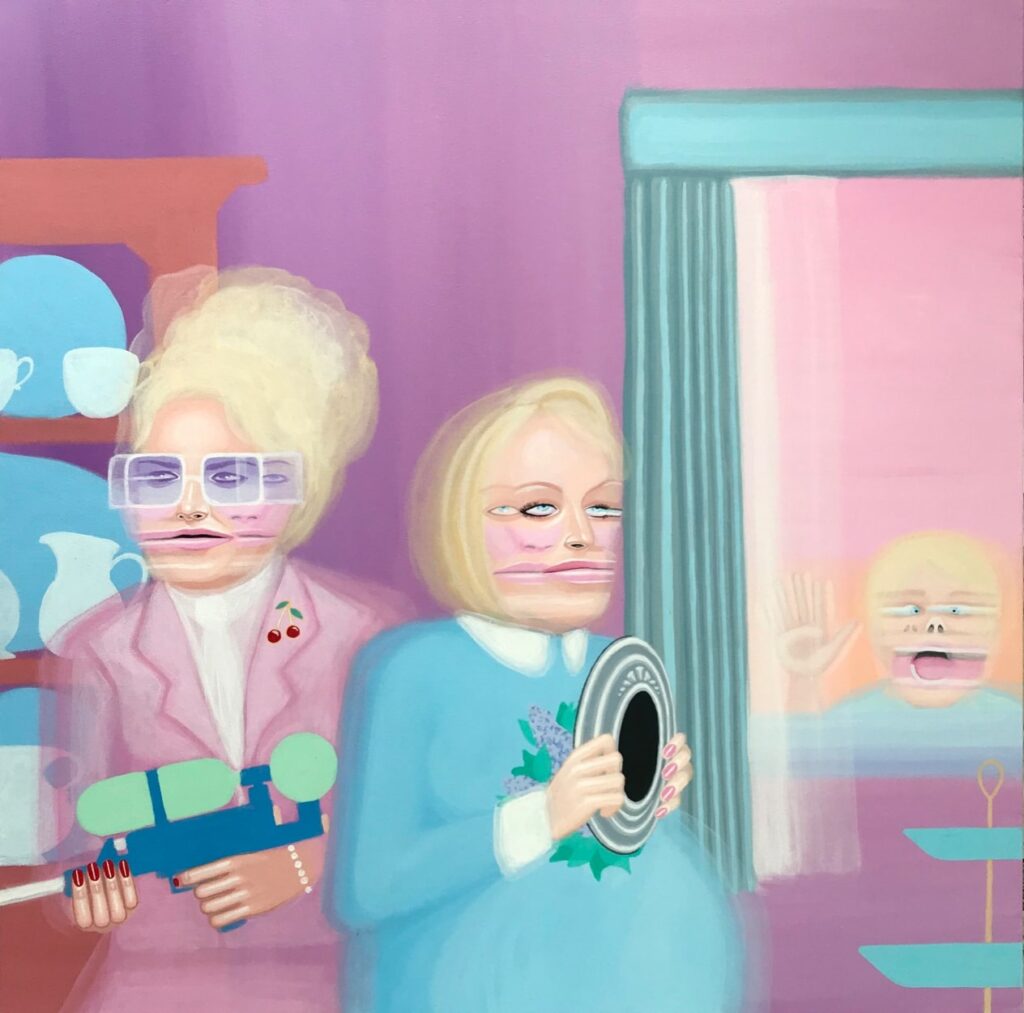 What's your favorite movie and why?
I have too many favorite movies to list, so I'll just say 'Badlands' by Terrence Malick. The scenery in this movie is beautifully desolate. The narration follows the thoughts and feelings of a character who doesn't actually say very much throughout most of the movie, but passively yields to the more dominant personalities of the other characters. She has a highly developed interior, but mostly refrains from sharing her thoughts with those around her. Very few movies succeed at conveying introspection in a way that is both realistic and compelling. I love it.
For more information about Lindsay, check out her website and Instagram.