Share this
Martin Bigum is an iconic Danish painter whose works have been exhibited and collected all over the world, in places such as: ARKEN, ARoS, SMK/The National Gallery of Denmark, Malmö Konstmuseum, SE, Bibliotheque Nationale, Paris, FR, Musee d´Art Moderne de la Haute-Viennes, FR, Marc Blondeau Collection, CH.
Bigum is also known as an excellent communicator of his own works and the wider history of art. He is a regular participant on the national TV programme DRK Kunstquiz (82 programmes, 2011-19, 8). Over the years he has written numerous essays for Danish newspapers Weekendavisen, Politiken and Berlingske.
In 2015 Martin Bigum was honored as Knight of The Order of the Danish Flag (Ridder af Dannebrogsorden) by Her Majesty Queen Margrethe the 2nd of Denmark.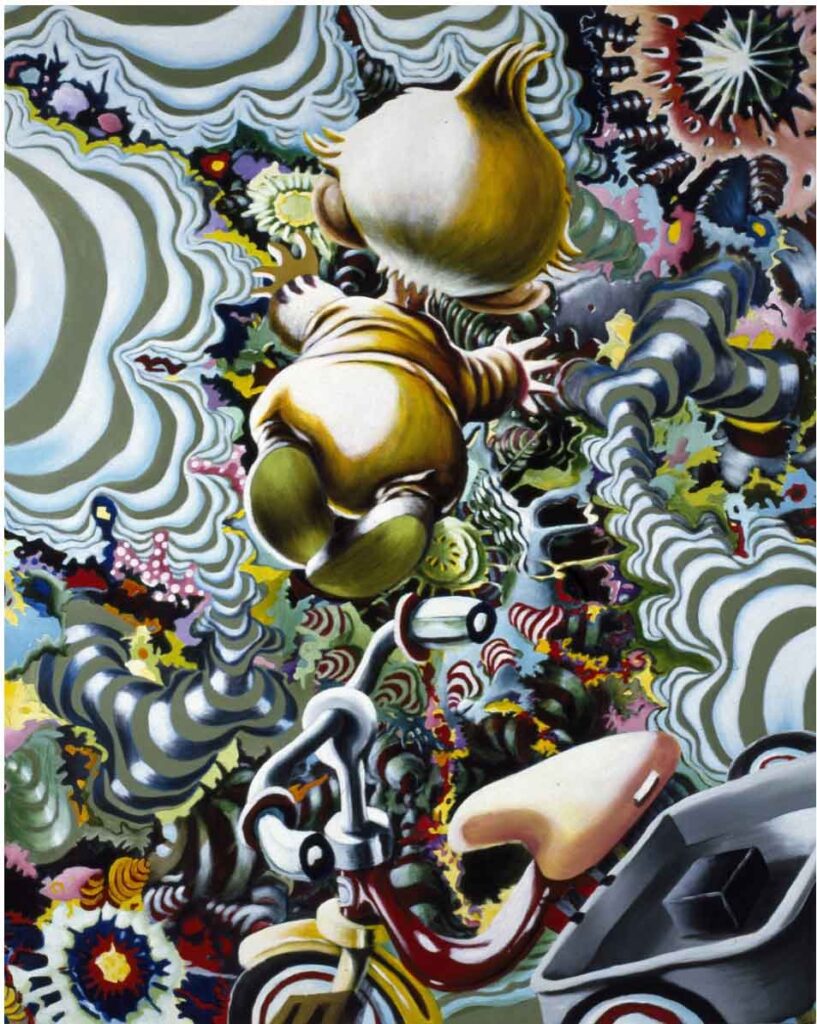 What made you start painting?
I found out that in paintings you can freeze ONE scene. You can't do that in comics in the same way, as it is narrative. In a painting you can make a visual extract of what is on your mind. From I was 15 to 22 years I was an artist for the Danish version of the satirical American MAD Magazine, so I was in close contact with jokes, plots and nailing subjects in a satirical manner. But I needed depth, something to dive into that could "stop time", just for a brief moment. Make an insight to the overwhelming thing that life and reality is. And with painting I felt I could do exactly that. This object that a painting is, is sort of a resistance movement against time just wandering ahead.
Any particular comic or cartoonist that have been an inspiration to your painting style?
Many! But all of them are MAD Magazine artists! Jack Davis, Mort Drucker, Paul Coker JR., Don Martin, Sergio Aragones, but above all: Wallace Wood. I could mention another massive list of influential drawing artists- from Turner to Lundbye to Willumsen and Munch and so on- but these are my inspirations from the world of comics.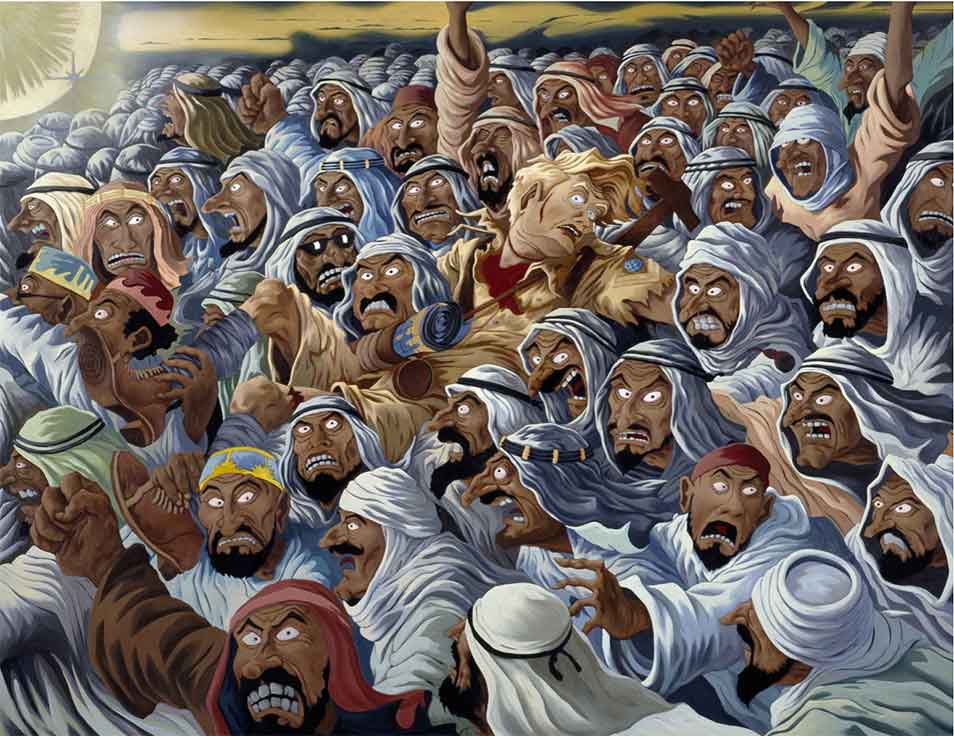 What is your happiest childhood memory?
In this context I would say being home from school, lying in bed with the flu and reading a brand new Tintin album. I tried that a couple of times – when the new one came out just as I was sick and my mother brought it home to me. When reading it and seing the well-composed drawings I thought: It's all worth it, creating things like this.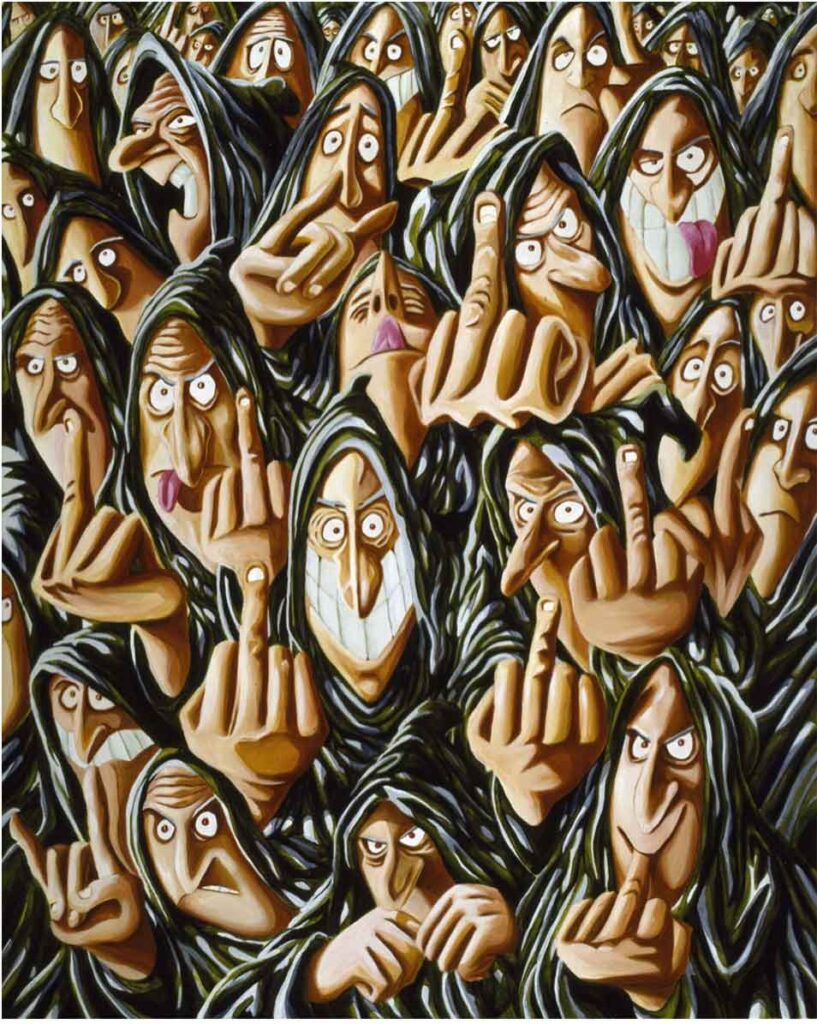 Your "First Sight II" (1992) and "ADVICE FROM THE YOUNG AT HEART" (1992) are iconic pieces. When you see them, you know that you've seen them somewhere before. What have they meant to you and your career?
An art historian recently told me that he and another art historian had had a quarrel over those two painting when they came out in 1992. The other art historian considered me to be too light-footed and pop-like, while my defender knew that what he saw was two motifs that couldn't age. That they "had come to stay". That of course is the biggest thing for me to hear, because that was exactly my ambition, not only with those two paintings but all paintings I make and have made since then. To create two versions that your eyes can wander in, without ever coming to a conclusion. It is very important to understand that all the great masters in painting were ALL considered "too fast" when they came out. And that is because their art consisted of an energy that had the future built into it.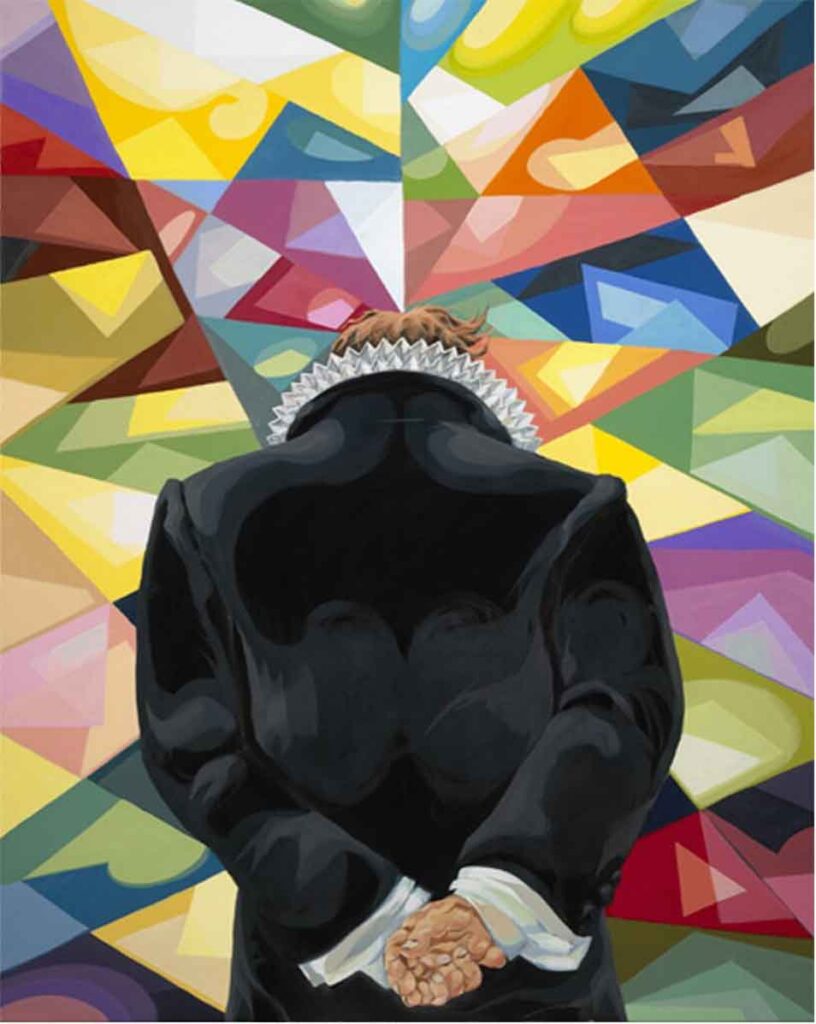 Most of your paintings gives off happy and innocent vibes, but underneath the surface there is a sense of a deeper meaning. How do you feel about that statement?
Then it is exactly as it should be. I want to play with life because I take it very, very seriously. Only by playing with the constitutions of how we must live and perceive things can I open the doors to the reality that is always behind all the human needs for borders, regulations and dogmas. All my art is a salute to that big flow of freedom- a salute to constantly remember the free spirit of the human imagination.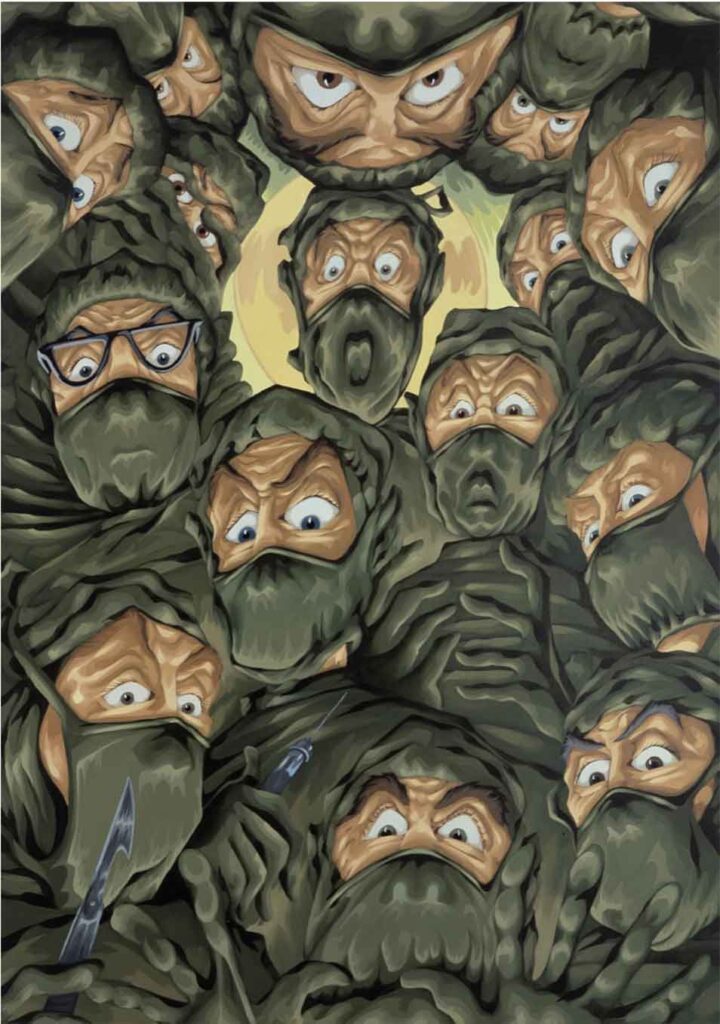 Being a (what the young people call) an OG in the art world, what do you think about the new generation of up-and-coming artist, and the art-scene in general?
I had to google what OG means, hahaha, so I AM really an OG! This Post-Corona situation is not bad for art and the art world. We can see the contemporary art much clearer now over a wider horizon. It is always like that after those big unforeseen events in the history of mankind: After the world wars and after the fall of the Berlin wall, after 9.11. Why? Because -so far- a lot of the catastrophic power and market structures that dictated the international art scene the last 15-17 years, have been brought to their knees. The big galleries in NYC, Berlin, London does no longer have the power to dictate what is The New, or the next big thing. They have been overhauled by the zeitgeist of metoo, blacklivesmatter, gender, enviromental issues and so on. The big biennales and art fairs are also bleeding because no one wants to constantly pollute the world, taking jets from one place to another anymore. We are in a paradigm shift, that is what we are, and the vulgar way art has been treated the last 15 years, has left a trail of an art form that you can now consider as a kind of "modern salon art". As I see it. The future is bright and open because a lot of old shitty power structures have vanished.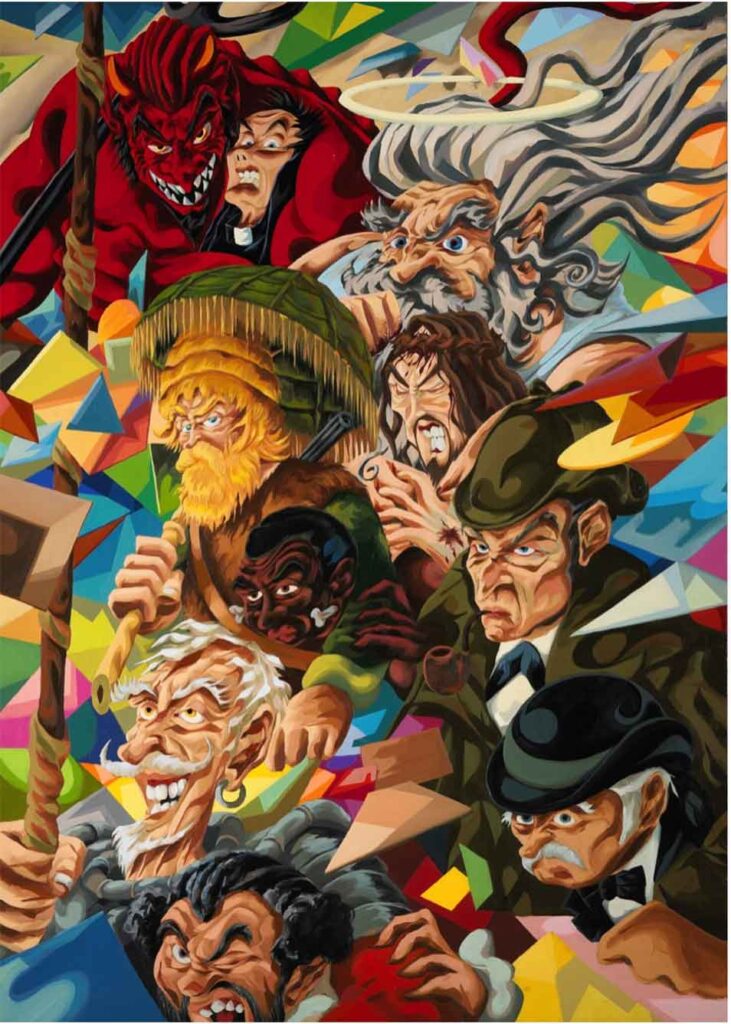 Any future projects coming up?
Charlotte Fogh Gallery in Aarhus is exhibiting me and Julie Nord in a mutual presentation at Art Volta Basel. I say to myself: NOW the international art world is ready for my art! All we needed was Corona…!!!!
Where does your drive come from when engaging the Danish public in art, on national Danish television?
When I was a teenager in the 80´s the first Kunstquiz-programmes were broadcast with the artist Per Arnoldi as host. I saw that some participants had the talent to communicate what art is about and others didn´t. I saw that it's almost an artform to reach out through the screen and give the viewer knowledge. So subconsciously I guess I already started from an early age to absorb knowledge of what the history of art is. It's really weird that so many years later I was asked by Danish Televison DR if I would like to participate in the new version of Kunstquiz anno 2009. What are the odds? I was in all 82 programmes until it ended May 2019, and I have enjoyed every moment when I was able to deliver some bonus info to the viewers. Another very important thing is that I grew up south of Copenhagen in an area that many look down upon. But what I saw out there was curiosity and a very open attitude towards the unknown. So I always remember that there are as many people as there are worlds out there.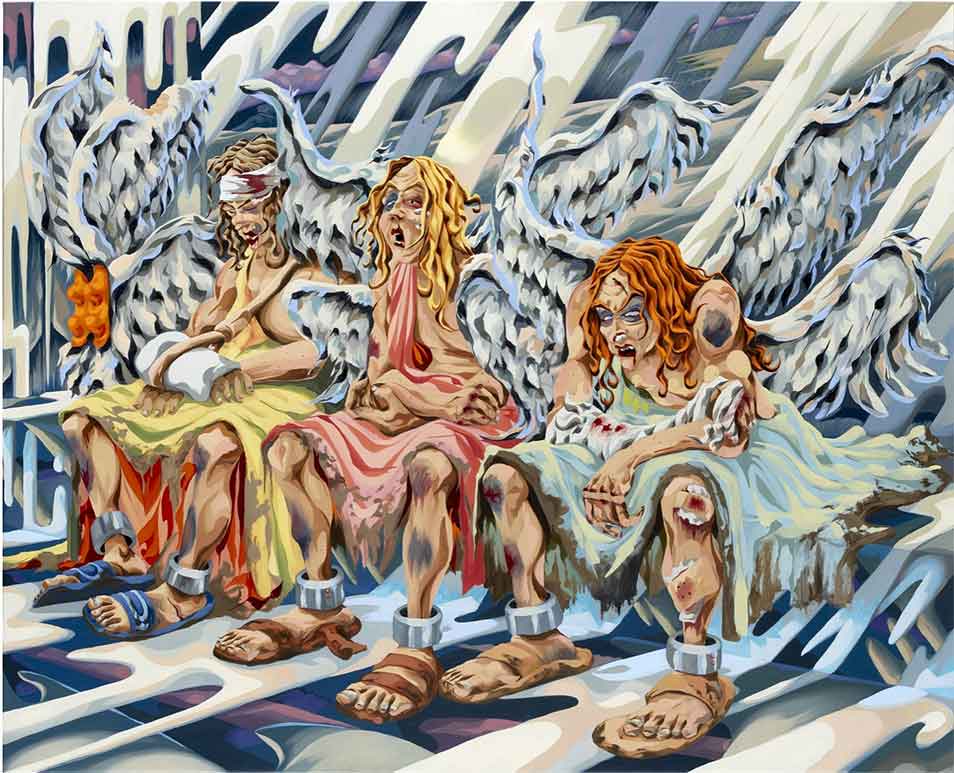 Are you ever concerned that being a public figure in the art world will take attention away from your message in your own art?
No one has ever asked me that question before, but you do. And that must be because you have noticed that somehow that could be a risk. Thanks for warning me. But personally I have only experienced the exact opposite, that a lot more people gets engaged with my art and experience it and talk to me about it. Also my museum exhibitions speak their own clear language in how many that have visited them. It wouldn't have happened if I had not been a public figure? So I would say that as long as I only engage in things that have depth and knowledge to it, and are aligned with my own experiences as an artist, then I think people will still want to hear and see more of me. I have declined participation in 9 other tv concepts that were so stupid that…well.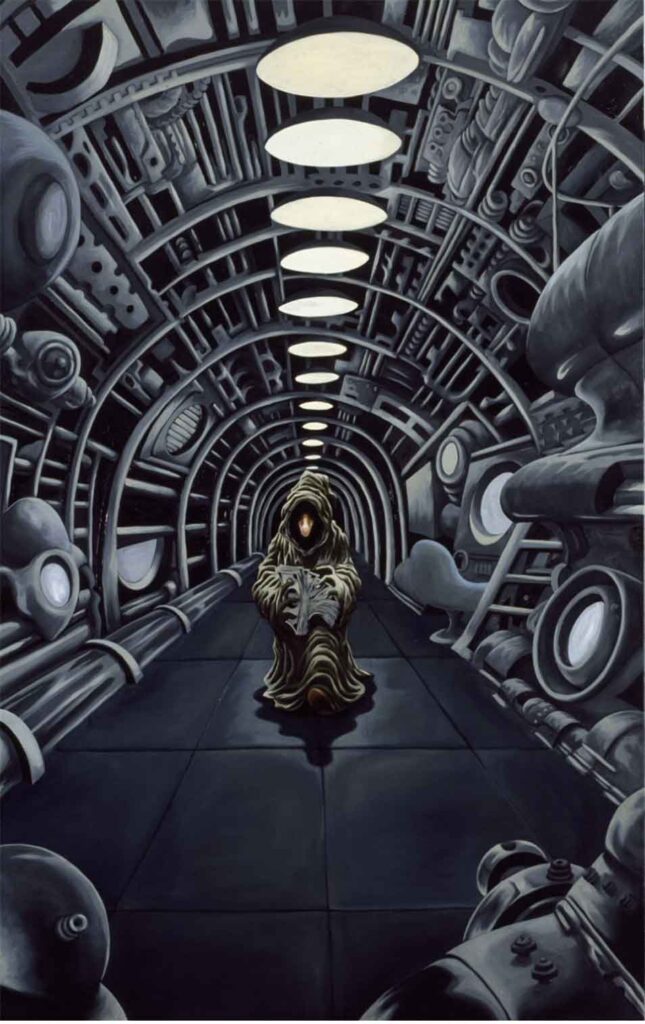 I have met musicians that say, I would have loved to compose this or that piece of music and writers who would have loved writing a book they consider a masterpiece… and so on. Is there any painting, famous or not, that you would have loved to create yourself?
Yes, when asked this genius question I promptly reply:  Francis Picabias "I See Again In My Dreams Dear Udnie", from 1914. Google it. It is my aim in this life to make paintings that are even better than this. On his transatlantic journey to New York, Picabia saw this beautiful young dancer rehearse in a dance salon and he had just recently read the texts by Udine, the french composer and theorist who linked music and dance with artistic movement. You can never decode this painting, it is wonderful in its eternal spaciousness and energetic integrity. He never painted that well again.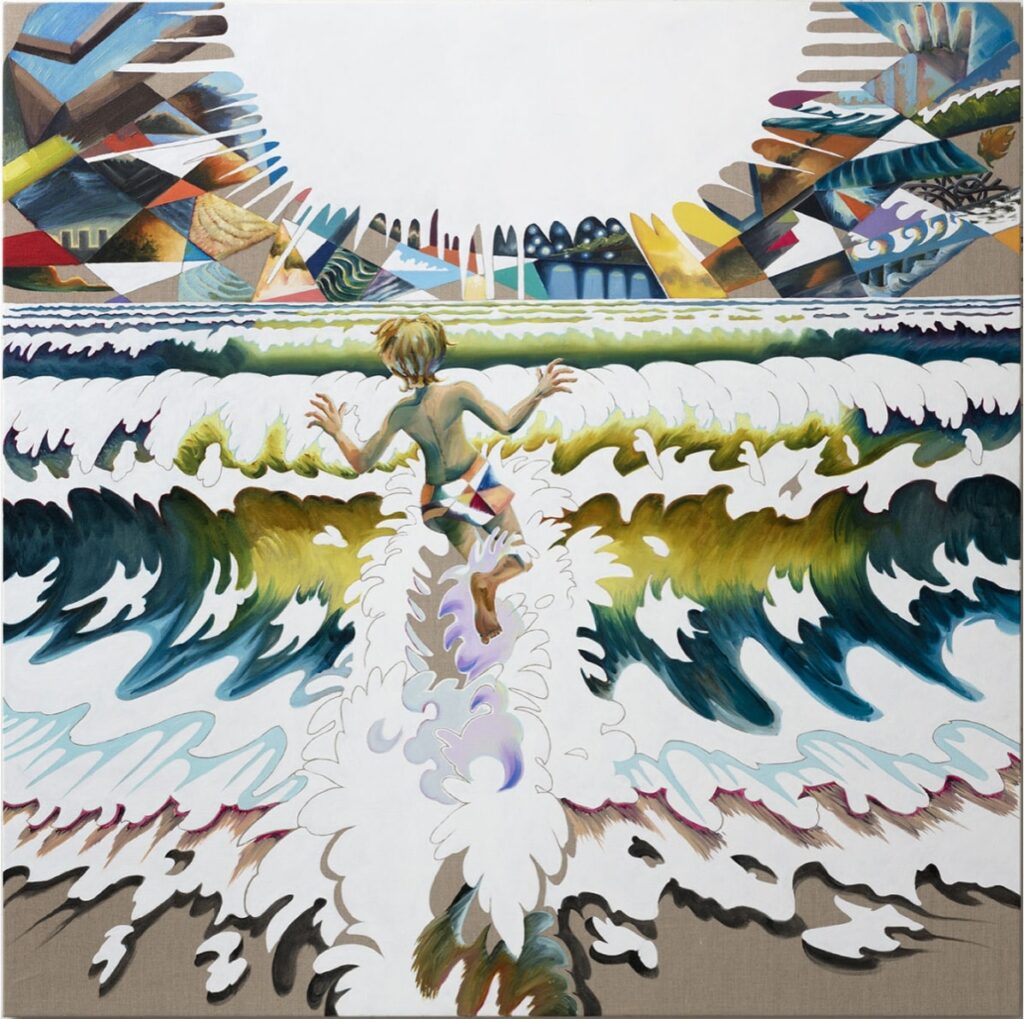 First time I saw "The Vision", I immediately came to think on the upper part of Hieronymus Bosch´s "Ascent of the Blessed", which has become a kind of icon in the context of mystical experiences. There are obvious differences between the two works. But… as an observer, I saw a strong mystical experience in "The Vision". Was there at any point a mystical or religious feeling transferred to that painting?
What a blessed thing, to be compared with Bosch, one of my heroes. I know it it said that my art is packed with references to art history, BUT the thing is, that everything I do has its base in personal experiences. If not, no more painting or other artworks from me. I have to have seen things myself, I am not a postmodern copycat. So for "The Vision", the base is this: Do you know the feeling, when at the first day of the year, you go for the first swim in the water and you shiver and go:- Uhhh, because it's cold and then suddenly that specific wave comes: A see-through big green swell that just hits you like when you are hit by a perfect piece of art. That was my inspiration. Also this: That when you experience something very overwhelming and abrupt and sensuous, it's like an explosion of inner visions inside your head… you see a lot, like huge puzzles that fly by your inner view.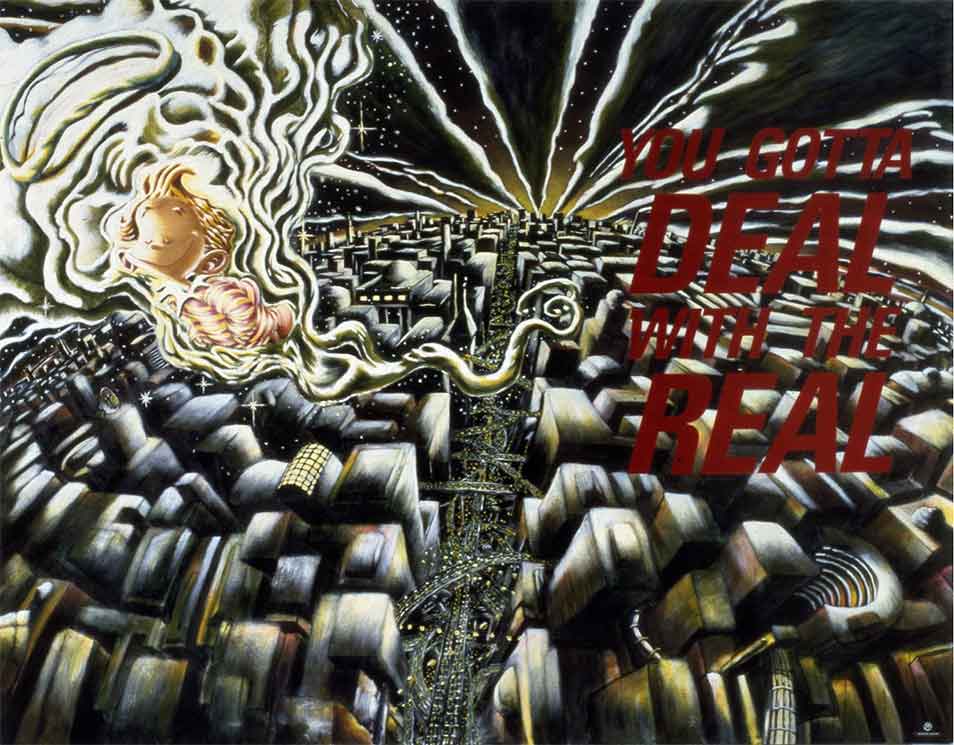 Thinking about your work, "You gotta deal with the real" (where I also see some kind of mystical experience). I believe that painting art is the materialization of images happening in the ethereal dimension of our imagination – but, they do have a real impact in our minds and actions. What is your take on the process through which art ends dealing with the real?
I consider my paintings as timemachines. The motifs came from a place where I experienced something. It is a visual synthesis of experience and recognition. When I see a motif with my inner eye, I see a vision and as I am the only one who can see it, I think "I better paint that". That is my whole driving force, again and again. If I do not do it, no one will, and there must be a reason why I saw it so clearly. Almost as a gift. So I pick out this motif from the time tunnel that life is and try to get near it by sketching it over and over, until I think I am as close to what I saw with the inner eye, as possible. When diving into it via the very harsh material oil paint, everything can go wrong, but as long as I stay true to my basic way of drawing and painting, so far, every painting that I have done have reached its goal. Where I can say this painting is 100% mine. From there you send it out into the world again, into the time tunnel and if my painting is well done and thought-through, it can stay in flight for many many years, bringing unknown people inspiration and maybe a handful of ever vibrating afterthoughts.
For more information about Martin Bigum, you can visit his website HERE, and watch his TV-show on DR1 by clicking HERE.
Martin Bigum's instagram.
Profile Picture by: Søren Solkær