Share this
Yves Decamps (b.1976, Antwerp), has a Master in Visual arts (photography), from Sint-Lukas hogeschool in Brussels. He has lived and worked in Peru for 15 years, and now reside in Spain.
Decamps considers himself as a recycler of internet trash. Digitally combining a variety of images, he seeks to communicate his ideas through the classic medium of portraiture. His paintings are not merely paintings, they are carefully edited constructions where painting functions as a tool and not as a medium on its own. He gets his inspiration from everyday reality which he prefers to digest through humor and absurdity. Although he hasn't been living in Belgium for many years, he regards himself as a typical Belgian painter because of the clear presence of sureality in his work, a tradition which at least has been going on since the Flemish primitives.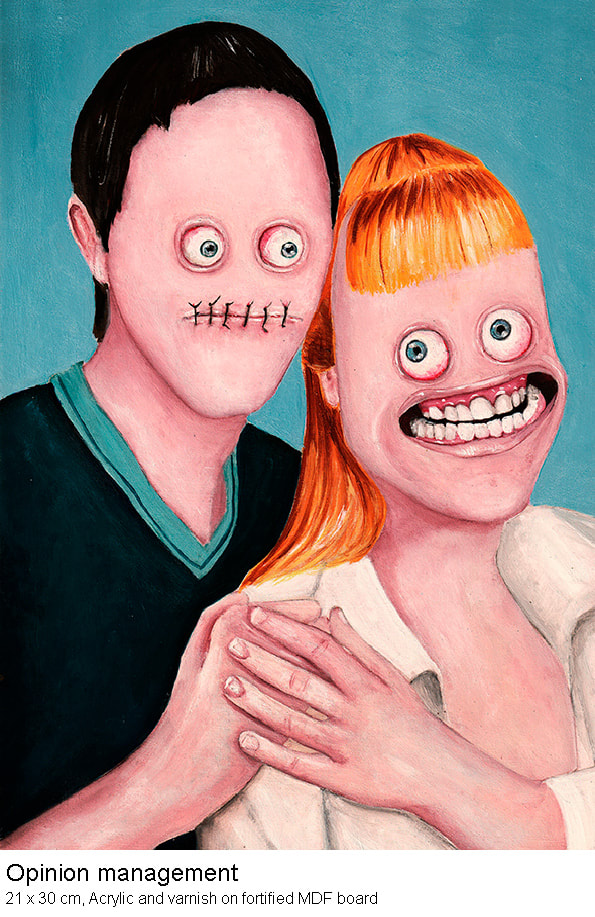 Hi Yves, thank you for sitting down with me. First question: You moved from Belgium to Peru, and lived there for 15 years. What was the reason for that?
At the end of the 90ties I started studying documentary photography, so I started to travel. I really loved Latin America at that time. After I finished university I continued to travel in South-America. In 2004 I met my wife in Arequipa, southern Peru. We got married, had two kids so we decided to stay in Peru. Now, more than fifteen years later we have two daughters which are teenagers now so we decided to come back to Europe to give them a better opportunity to study.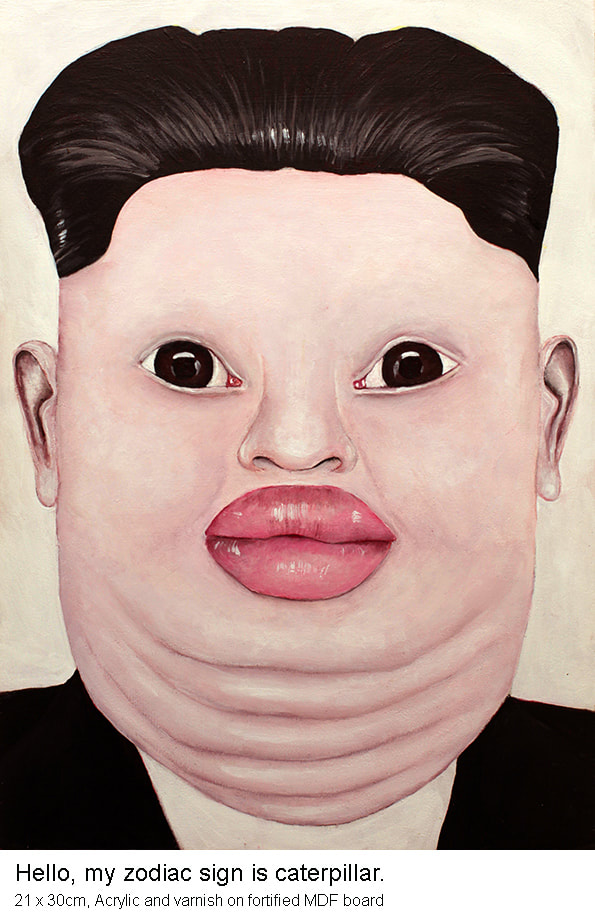 You now reside in Spain. What is life like there? How does a regular day look like for you?
To be honest, I don't like to live in Europe. Too much rules, too much social system, … . When you have lived 15 years in South America, live is really dull and tasteless here. The good thing is than my kids can have a proper education and that it is easier to build an art career. But my heart will always be South America. A regular day for me consists mainly in painting, painting and more painting from 6.30 in the morning to 10.00 in the evening.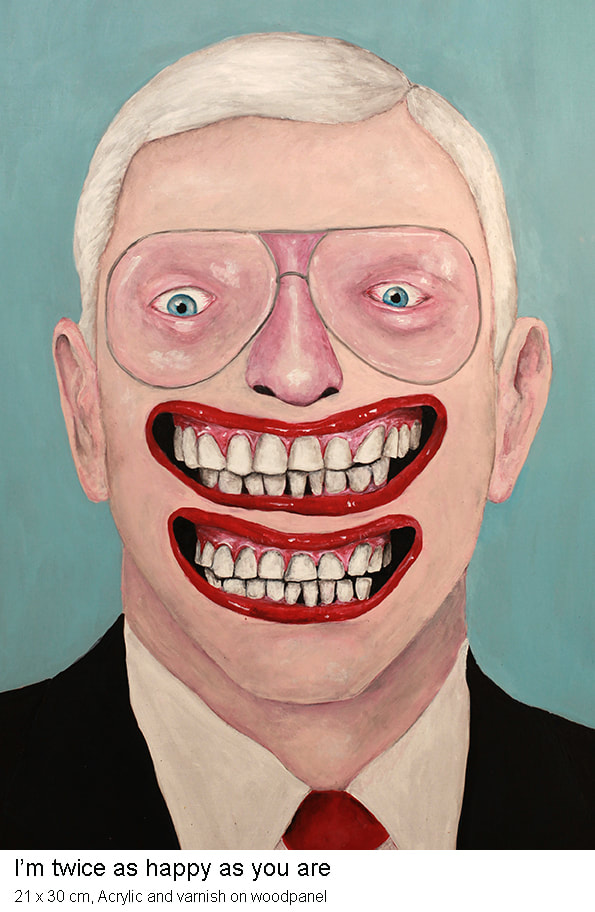 You have become known for painting portraits of grotesque and ugly looking people, with a satiric twist. Talk to me a little bit about how and why you started painting them.
I studied photography but about 10 years ago I began to feel rather limited by the medium so I started to learn myself how to draw and eventually also how to paint. I've always been interested in photocollage so I used to experiment with digital photomontage. I managed to make some interesting images but I wasn't happy with the image quality because I used pictures that I took from the internet. So I started painting them. My love for grotesque faces and heads probably comes from my adoration for precolombian art and and Andean folclorics.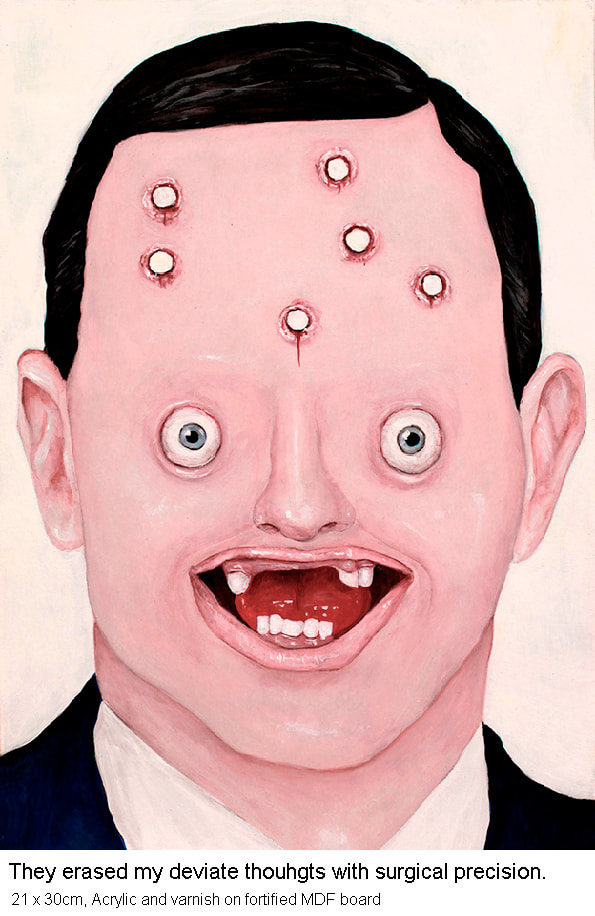 What is it about portraits that intrigues you? And not landscapes or buildings etc..
Landscapes and buildings also intrigue me but I can only concentrate in one thing at a time. When I was a photographer I made almost only landscapes and still lifes. At the end I was telling the same thing as with my portraits.
Does the ugliness and grotesque look represent anything?
I don' t see the ugliness in my work. The subjects of my paintings might be a bit grotesque but I wouldn't call them ugly. I think they're just trying to do their best to be happy.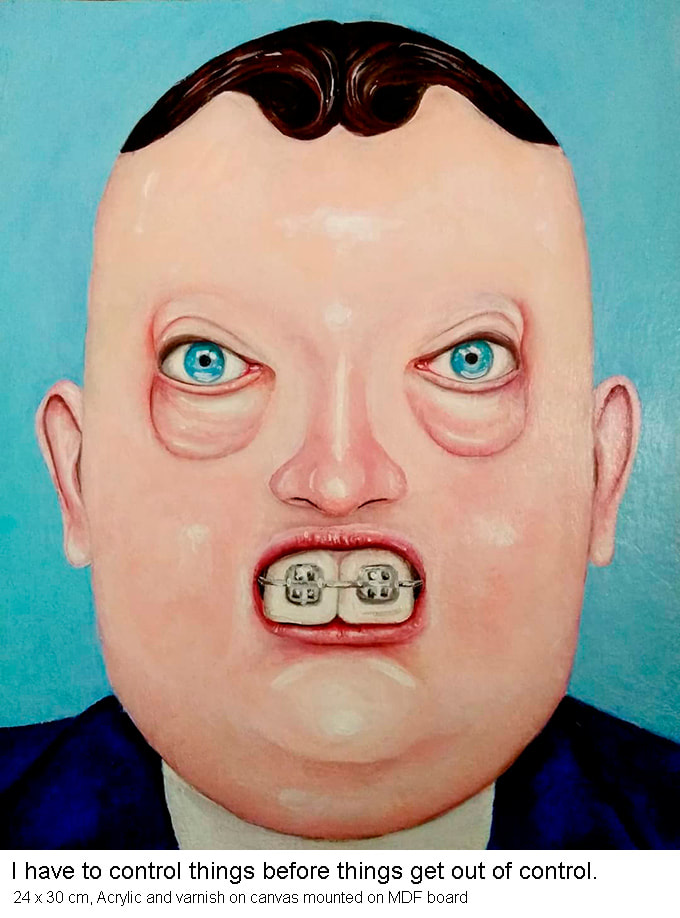 You describe yourself as a recycler of internet trash. Explain that to me.
By that I just mean that I pick up images from the vast Visual dump of the internet and I give them a new use, an opportunity to be part af a new meaning.
When you first start on a new portrait, do you already have the face in your head that you want to paint, or do you go with the flow?
It depends, for me the title of the painting is also very important and complementary to the image. Sometimes I start from a phrase in my head and I construct a mental image that goes with it. At other occasions I start doodling with images in photoshop and I invent the title afterwards.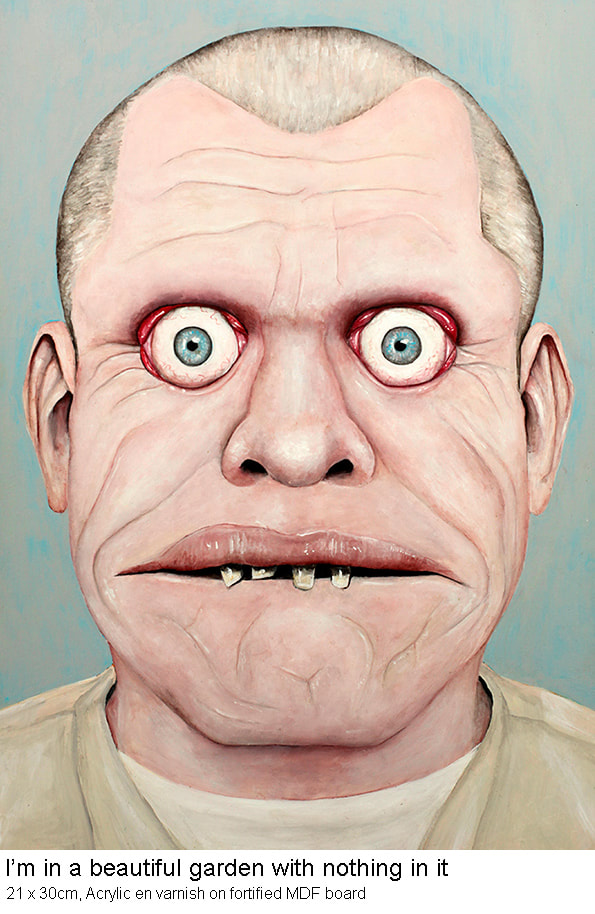 What do you hope the observer gets out of your paintings?
A laugh
Your drawings are also on the satirical side. Would you consider yourself a humoristic person?
Yes, I do. I don't really feel that comfortable in the spotlight otherwise I would consider to be a stand-up comedian.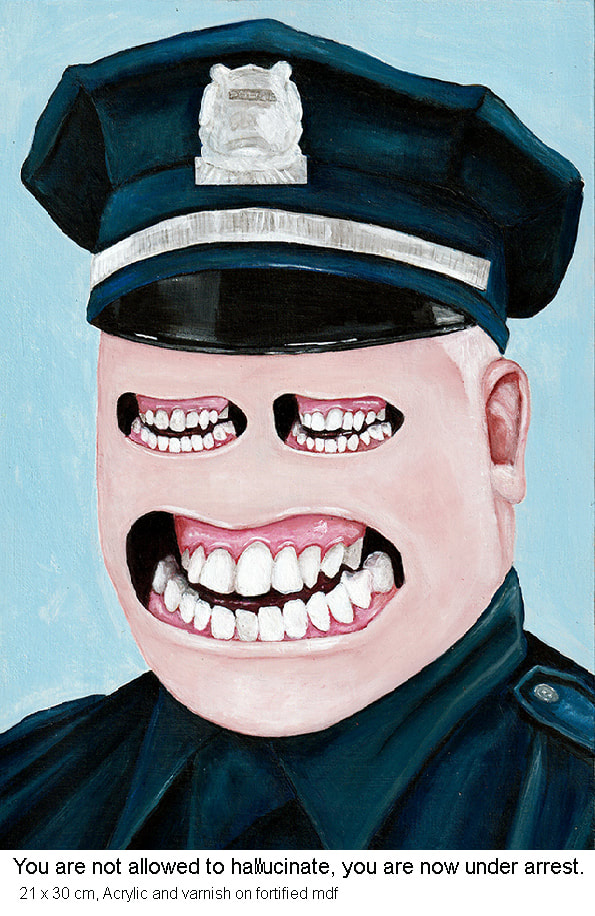 What do you like doing when you're not painting?
Go for a beer a swim, a walk, wathever… . I 'm married with children so had to leave the drugs and the rock'n'roll a bit more behind.
Who are your favorite painter(s) and why?
I'll give you five names, I can't tell you why, simply because they're so fucking good I suppose:
-Philip Guston
-Hieronymus Bosch
-James Ensor
-The flemish primitives
-David shrigley (although he's not explicitly a painter)
For more information about Yves, check out his Instagram and website.