Share this
Deborah Druick was born in Montreal and studied at the Montreal Museum of Fine Art. Druick's paintings use stylized figuration, formal patterns and saturated color to emphasize stereotypes of precision and perfectionism female beauty. Druick began focusing exclusively on her studio practice in 2016 and has shown her work both nationally and internationally. She resides in New York City.
Stylized lush hair, perfectly manicured red fingernails and expensive looking richly patterned turtlenecks adorn the worldof Deborah Druick. Reminiscent of 1950's and 60's housewives. Druick's faceless female characters both embody and toy with the notions of perfection and beauty traditionally associated with femininity.
In control and fully self-aware, her figures seem to tease the viewers expectations, repressing any form of expression, except for their Medusa-like hair, which takes on a life of its own. Stiff and composed, these characters appear ready to be captured in a selfie, yet also offer a nod to classic portraiture and topos of the female muse. Instead of defying our expectations or confronting us, Druick's faceless females remain elusive and mysterious, leaving us begging for more.
For more information about Deborah, check out her Instagram and website.
Without further ado, here are Deborah Druick's favorite things.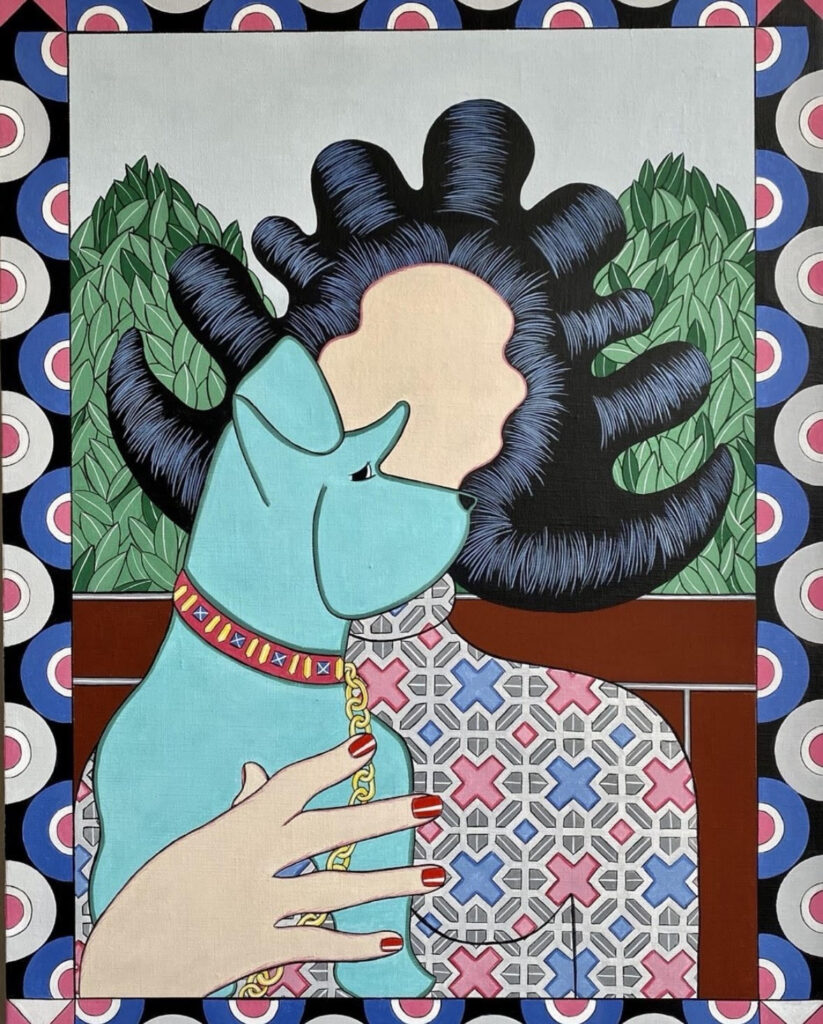 Favorite piece of advice?
For any artists starting out, perserverance in the studio with a regular routine and a dedicated effort will pay off. Being impassioned with what you do and how you do it is a must.
Favorite type of weather?
My favorite weather days would have to be the spring time awakening of all that is green and budding.
Favorite artist?
My favorite artist would be Jim Nutt, a Chicago Imagist, who is one of the most creative and talented artist's today.
Favorite food?
Sashimi and anything Japanese is my favorite food.
Favorite memory?
Sleeping out on an enclosed screen porch as a child, with my siblings, in the summer, as a hot weather rain storm pellets the surrounding gardens.
Favorite street in New York City and why?
My favorite New York Street would be Bond Street on the Lower East Side, with its cobblestones and my favorite art store.
Favorite signature scent?
Favorite signature scent is Le Parfum de Therese by Frederic Malle. Created by a perfumer in the 1950's, worn only by his wife initially.
Favorite movie and why?
Favorite film would be The Conversation, a mystery by Francis Ford Coppola. This film is about a surveillance expert who becomes obsessed with a partially recorded conversation between two lovers and the misreading of what their conversation is actually about. What better than a little obsession and paranoia in a mystery?
Favorite genre of music?
Favorite genre of music is jazz.
Favorite museum?
The Guggenheim is my favorite museum. The Frank Lloyd Wright designed museum is a jewel.
Favorite era of art history?
I love Surrealism with it's fantastic and incongruous imagery, juxtapositions that are unexpected and cerebral.
Favorite motif/pattern and why?
I love patterning with hexagons and octagons and the huge amount of varients produced when they are overlayed upon themselves, great three- dimensional stacked boxes.
Favorite color?
Green, all shades.
Favorite author
Favorite book: Women Artists and the Surrealist Movement by Whitney Chadwick
Favorite age?
Favorite age: 30
Favorite hairstyle?
Favorite hairstyle: Classic bob
Favorite item/object you own and why?
My favorite object is my collection of Chinese antique ceramic fruit: lemons, pomegranates,melons etc. that I collected when I lived in Asia. They are beautifully detailed with articulated seeds , patterns and designs. They most remind me of my decade in Hong Kong and how inspiring those experiences of living in a different culture can be.
Favorite drink?
Favorite drink: Vodka martini
Favorite gift to receive?
I'm a huge fragrance addict so that is what I like to recieve. I love all Aesop fragrances and enjoy reading about ingredients, top, middle and base notes.
Favorite accessory?
I would have to say that my phone is presently my favorite accessory.
Favorite type of animal/pet?
Favorite pet is my dog Mochi, a shnauzer/poodle mix. He's super alpha in all of his 12 pound weight.
Favorite instrument to listen to?
I love the sound of a cello, the rich resonance makes it my favorite instrument.