Share this
Julian Adon Alexander (b. 1998, New York, NY) is a Queens-based visual artist that seeks to make relatable images that evoke a response of comfort and familiarity. With a practice primarily fueled by observing the unremarkable, Alexander's works candidly depict places and people that one might walk by on the way to a destination and otherwise not pay attention to. Alexander has received a BFA in Illustration from the School of Visual Arts, and has exhibited in numerous venues such as The School of Visual Arts (2020), Swivel Gallery (2021, 2022), and Ross + Kramer (2021).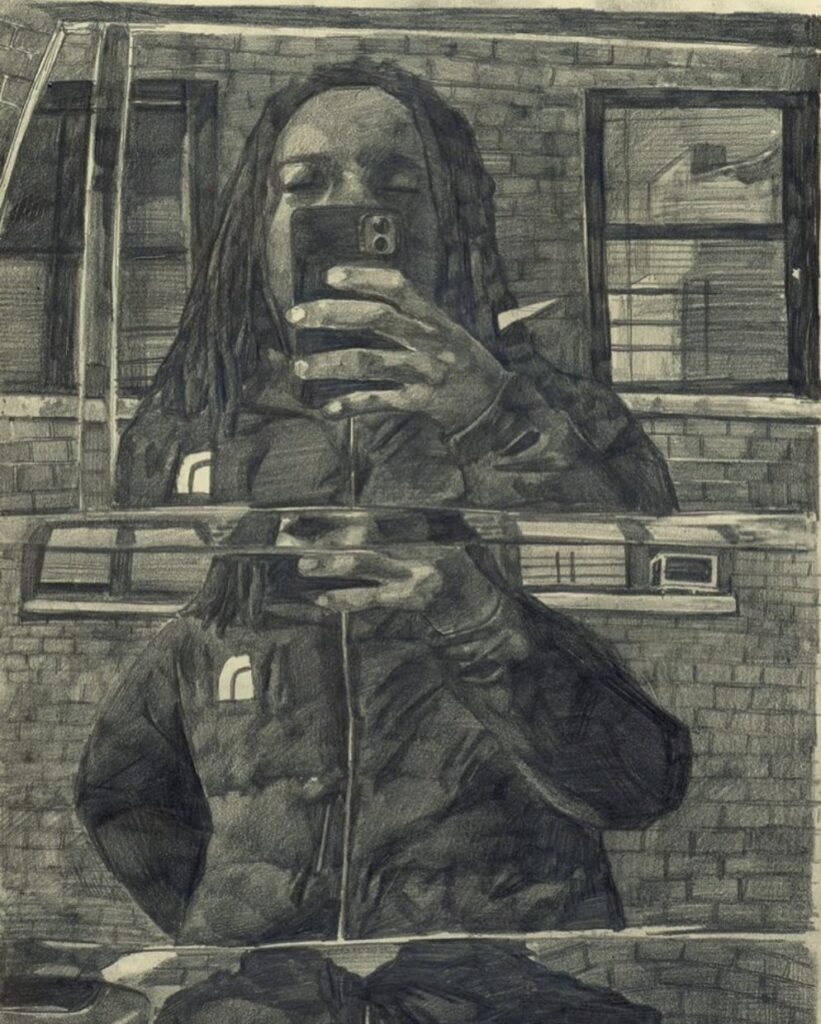 Hi Julian, thank you for sitting down with me. First question. You reside in the legendary borough of Queens in New York. What does a regular day look like for you?
My days are pretty routine. When I'm not working my part time job, I'll get up and draw or paint for a few hours, answer some emails, then I'll ride my bike a few miles or go to the park and practice some basketball. Then I come home and watch anime, go to sleep, and repeat. My partner and I will go on a date sometime in between all that. There's some great spots in both Brooklyn and Queens that are real quiet and Lowkey that I like to frequent. Green-Wood Cemetery is great for just being in quiet nature. Really helps me keep my peace of mind.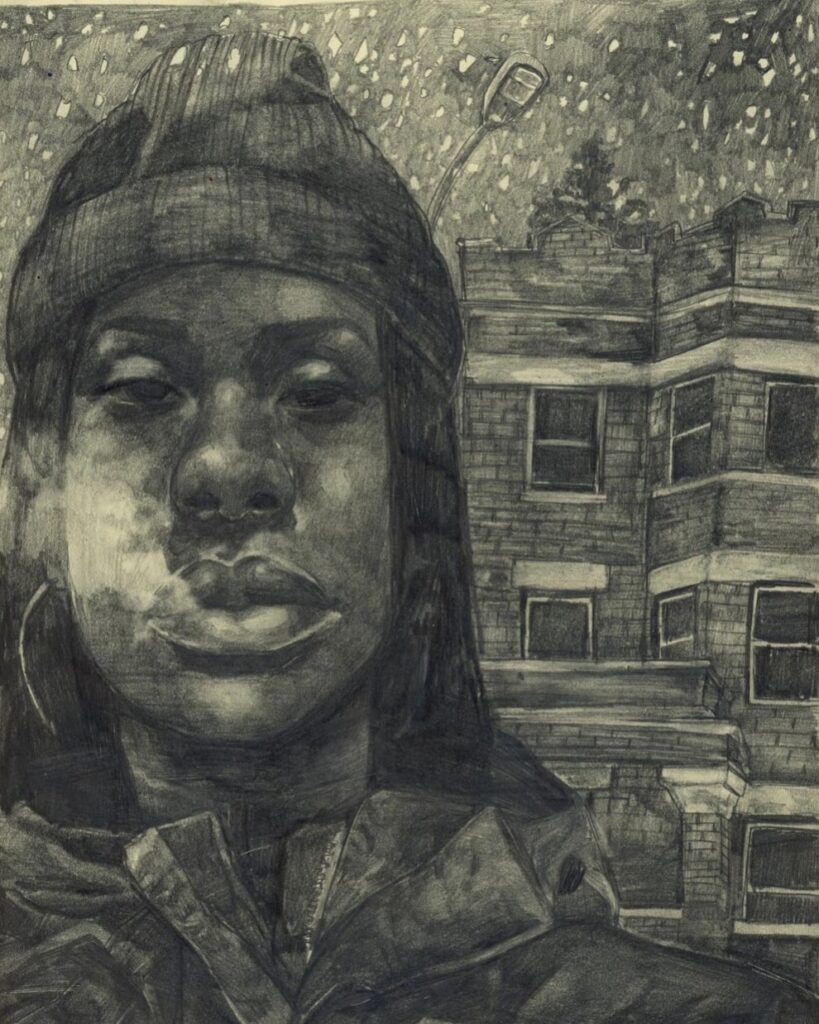 Im curious. Being that you live in Queens and you were raised in Brooklyn, both of which have produced some of the most well known and iconic hip hop artists of our time. Has that influenced you in any kind of way?
Yeah, my dad's (@slanginc) an art director and worked with a whole lot of rappers' album artwork. One of his most recognizable works is 50 Cent's "Get Rich or Die Tryin" album cover. So I've been around rappers before, and always respected the art form because I grew up in it. I appreciate how candid it is. Hip hop in it's purest form is just people being themselves and I try to adopt that mindset in my art.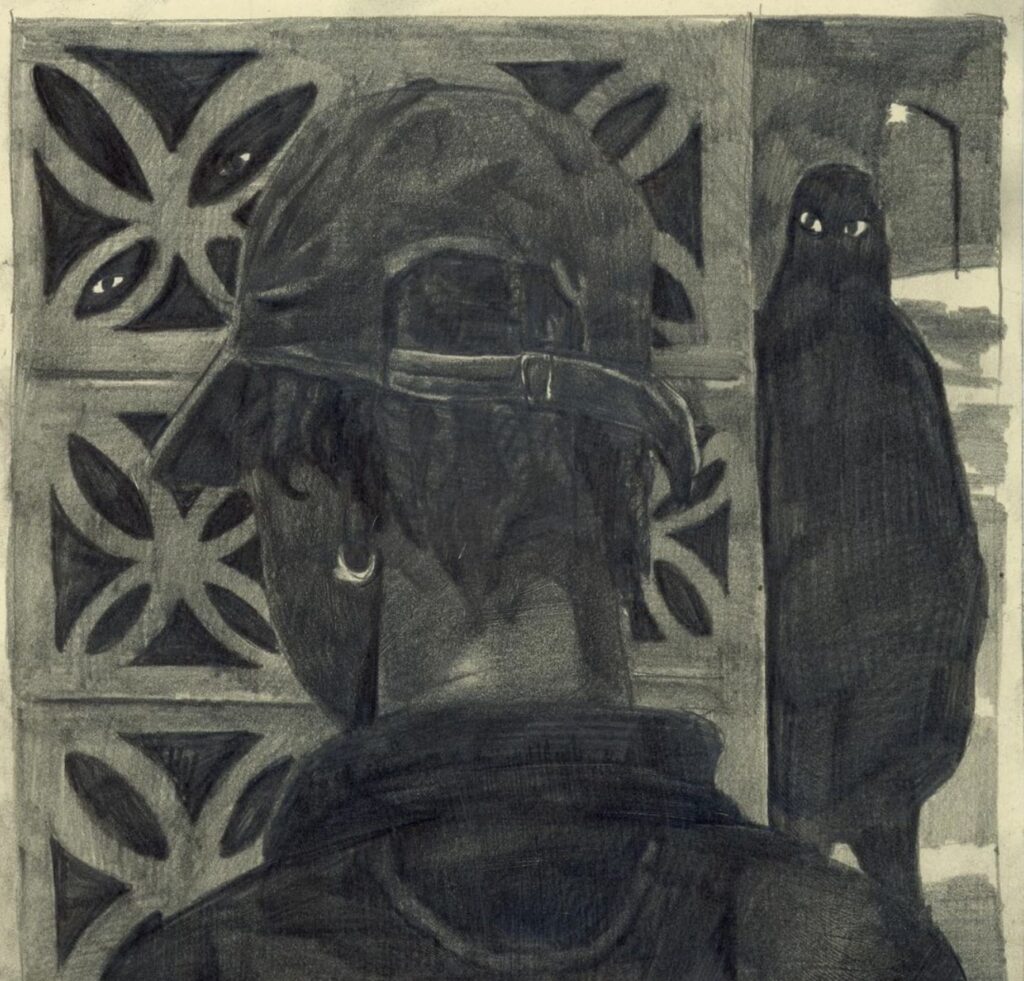 When did you start to draw? And do you remember when you realized that you wanted to become an artist?
I used to trace Naruto characters and take them to school and tell kids I drew them. Then I realized that was corny and started trying to draw on my own and I was pretty decent. I used to want to be a writer, so then I started writing my own comic books and drawing the characters. I'm also from Bloomfield, Connecticut. Out there, kids were going to the school in their area for the most part. When I moved to Brooklyn in 6th grade, I had an art teacher that told me that I could go to school for drawing, so I started building my portfolio and I've been pursuing art since then.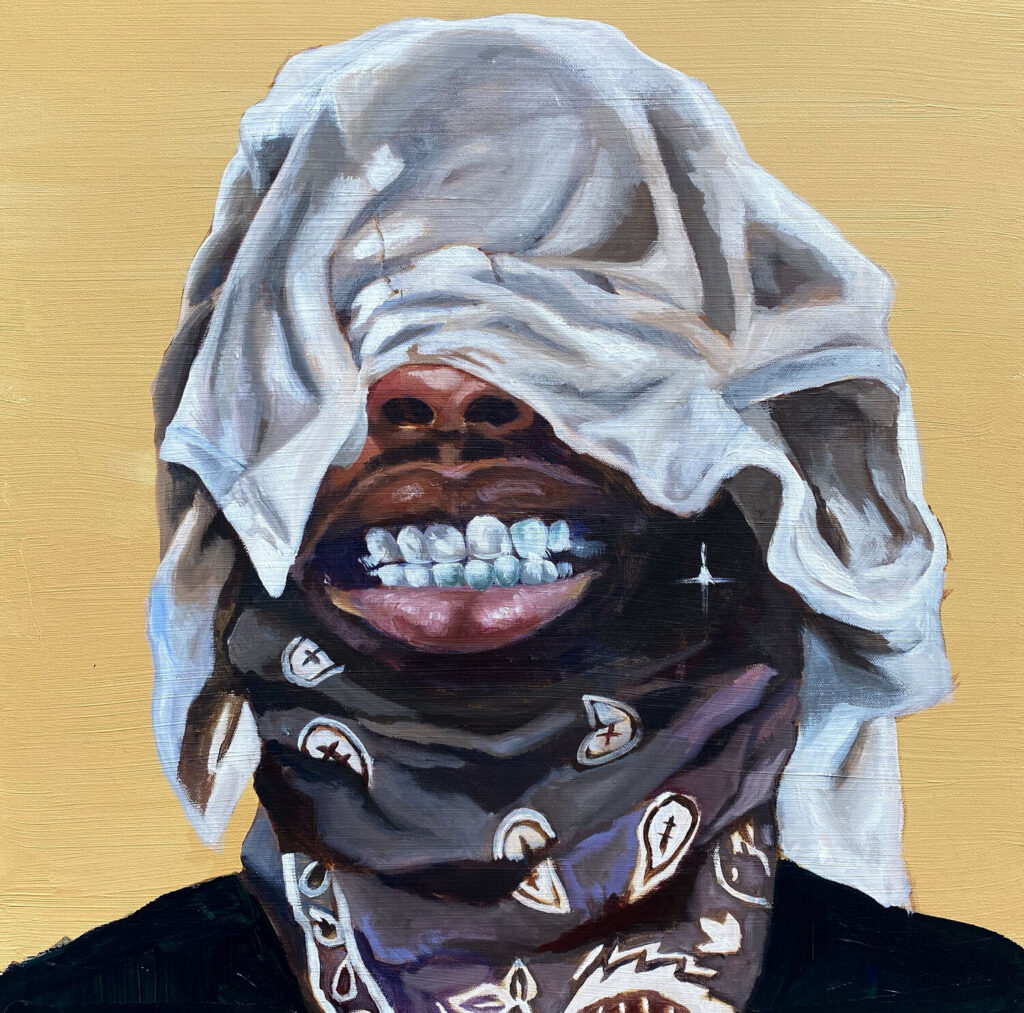 Besides drawing you also paint, but most of your pieces are created by graphite. What made you gravitate towards that?
I like the small lines mechanical pencils make. I just like small artwork, it feels more personal and it takes less time to get a good idea out, so I can make a whole bunch of them and not get bored of the concept.
Your pieces often describe some kind of scene, where something is happening. Do you have that scene already thought out, when starting on a new canvas?
Yeah. All of my recent scenes are set in winter or fall. I like that feeling of cold dry air. I'm usually happier in winter because I hate being hot and I sweat a lot. But there's also this feeling of isolation that comes with that, because less people are out in the streets. So I go in with the feeling first, and the scene serves that. What feels cold? A dark sky. What feels lonely? A person standing by themselves.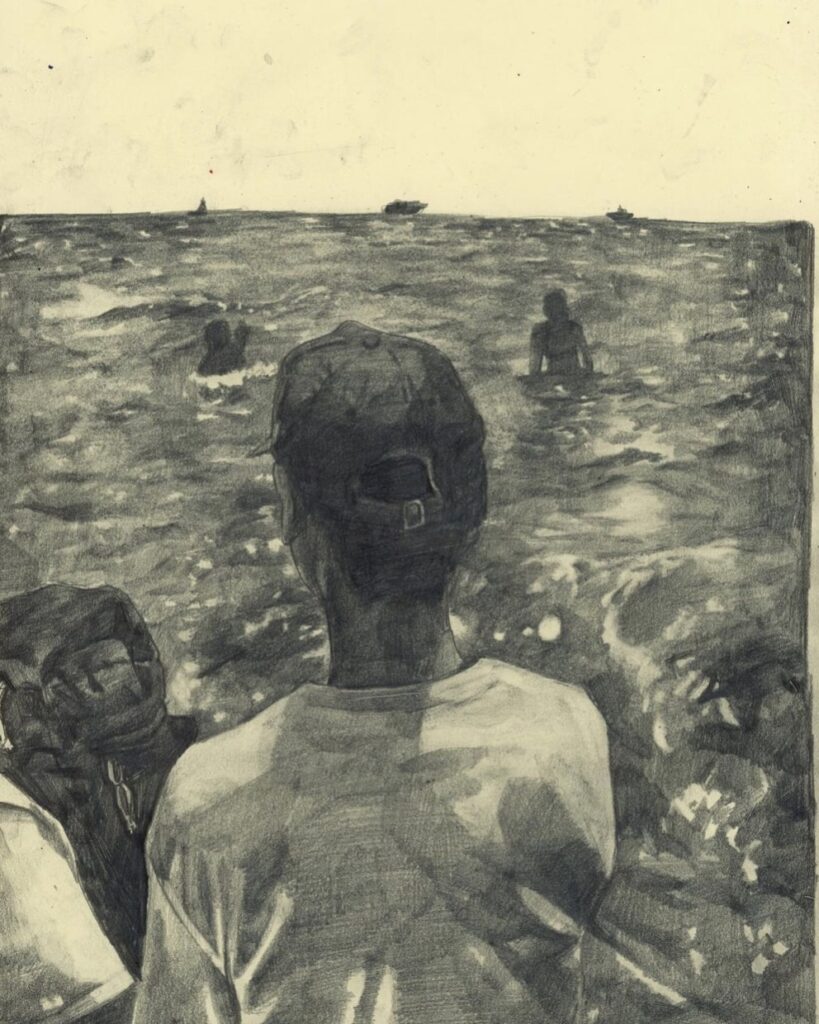 Who are the people in the portraits you create?
Some of them are friends, some of them are family. Most of them are just people I take screen captures of from random TV shows and YouTube videos. The people themselves are less important than the mood they're meant to convey.
What do you hope that we, the observers get out of your pieces?
I'm not sure. I just hope that it makes you feel something. I want it to be something that makes you get real close to it and transports you to a place and time. For me, a lot of these pieces are really nostalgic. There's familiar monuments like certain roller coasters I enjoy, or specific trees from my neighborhood that mean something to me, but I almost never purposely set them in New York or in Bloomfield. They're all set in a kind of fictional city that's just a placeholder for any urban area in America.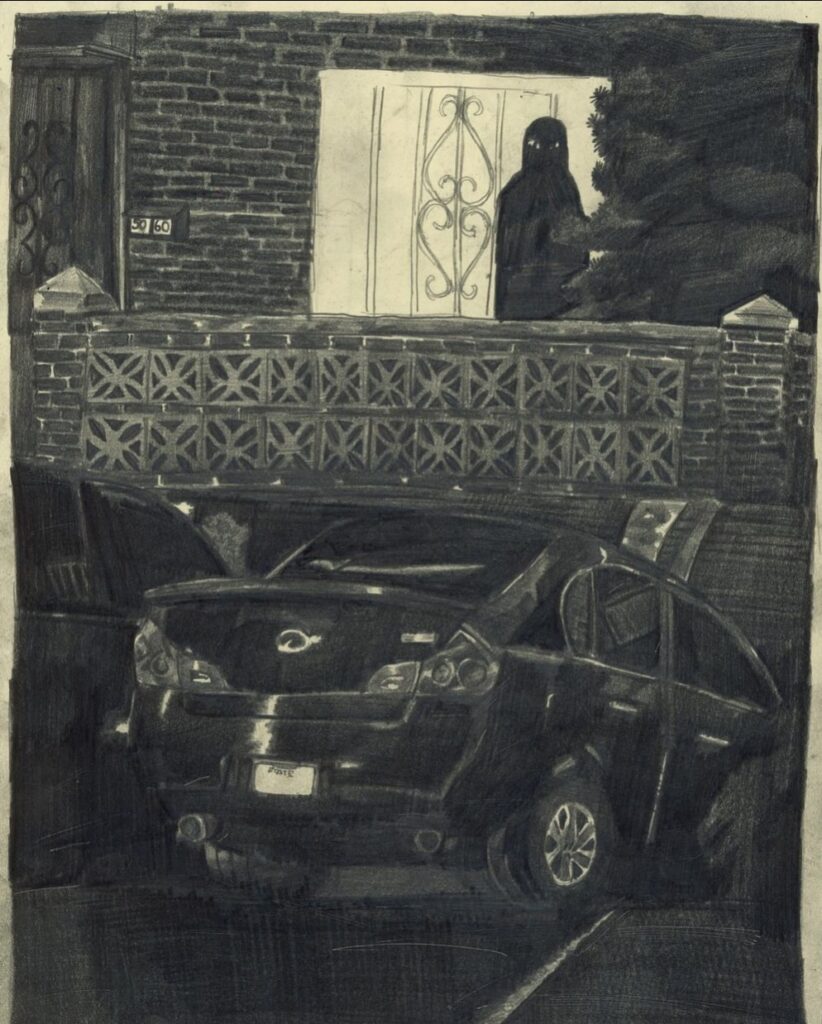 I read somewhere that you sometimes deal with anxiety, is that in any way reflected in your work?
All the time. That's most of what my work is. A lot of the figures are bundled up in coats and by themselves. They don't look approachable. When I'm really in the midst of an anxious time, I don't want to be perceived. I would imagine a lot of people can probably relate to that.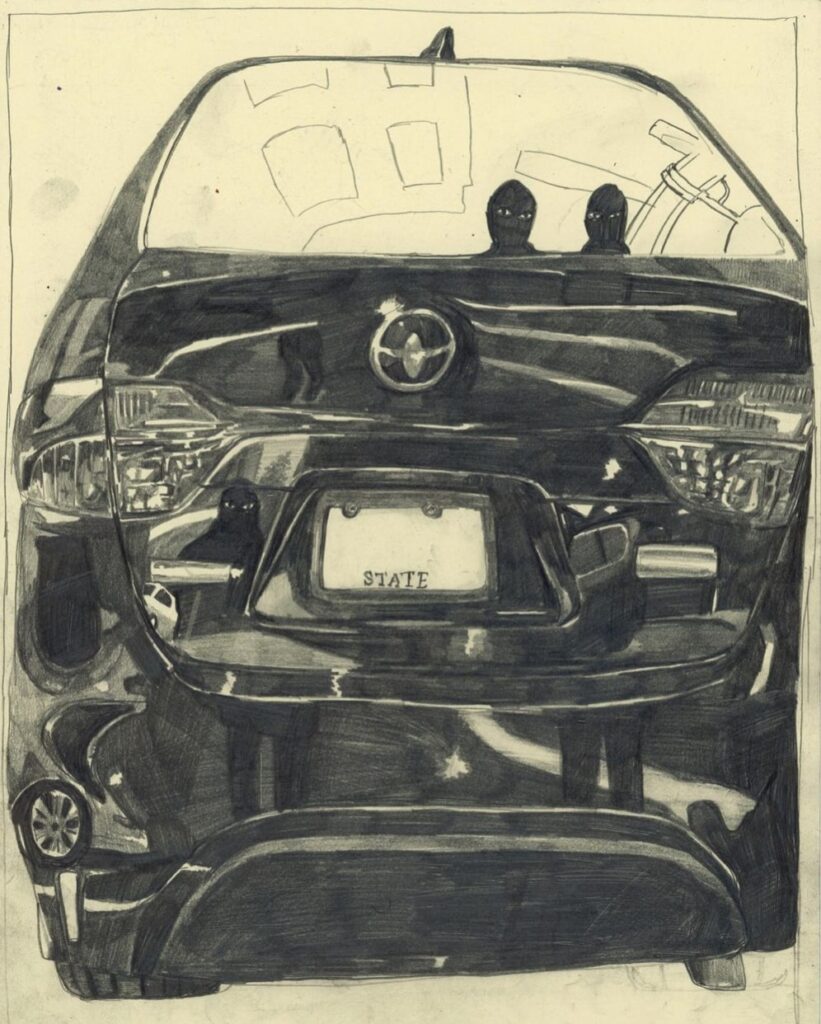 How did you get the nickname "Snakebone"?
There's this electronic music group called Snakehips. I thought the name was cool, and was fascinated by the idea of a snake, which is so flexible, having bones in it. It doesn't really represent anything about me though. I came up with it in high school and I didn't have a whole bunch of people following me at the time, but now there's enough people to where it's becoming a more recognizable name so I'm just sticking with it.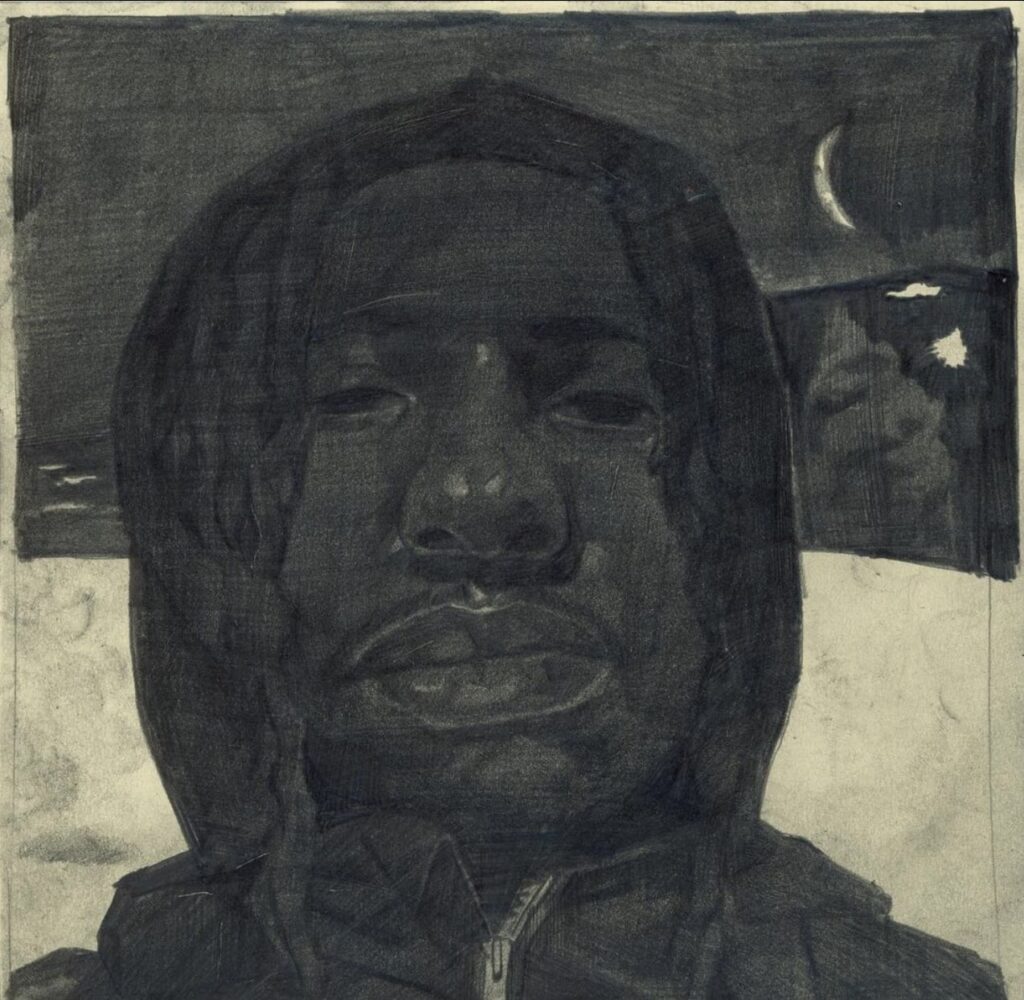 Most of your works are in black and white, do you prefer that rather than color? Does it offer a different experience?
Color just takes too much time. I like to get the idea out as quickly as possible. I have some color pieces I'm working on though, I just don't want to share them yet until I'm more confident with the direction. I also read a lot of manga, and the artwork doesn't have color. A lot of my favorite artwork ever is in black and white.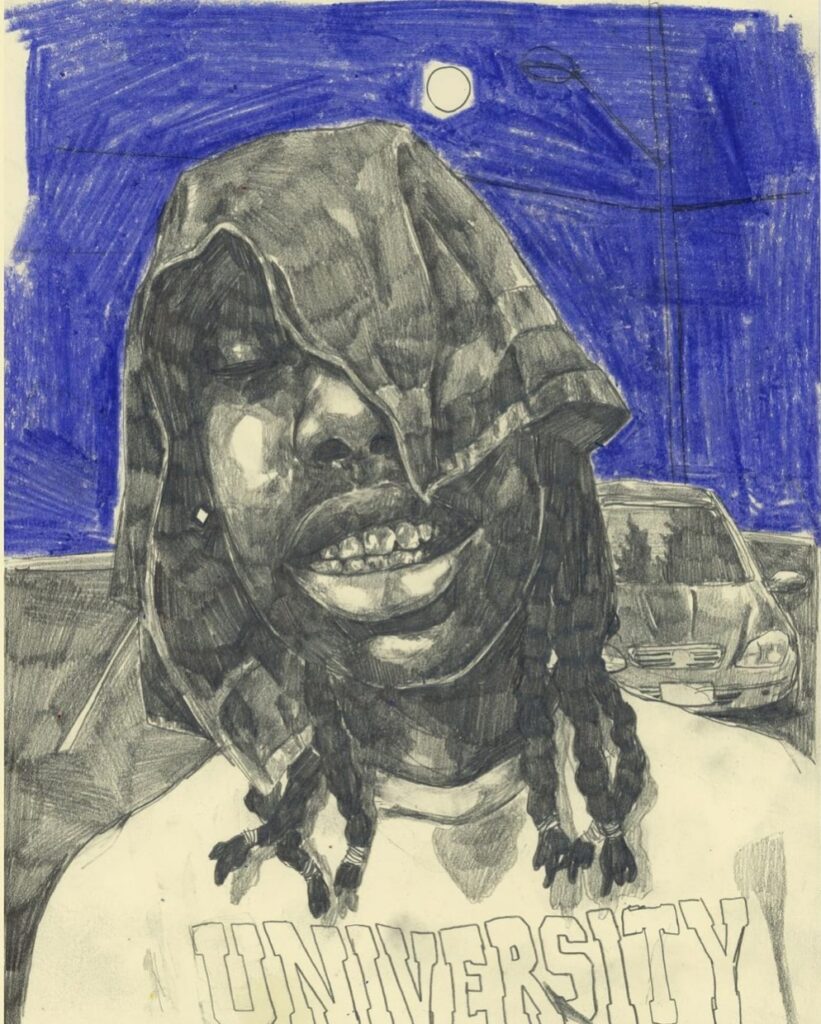 Where do you get your inspiration and motivation from?
When I'm out on my walks, I take a lot of pictures of things and areas that capture a general feeling. I guess I just like visual metaphors, like the idea of feeling sad could literally feel like being a deflated balloon. Or being in love could feel like the first time seeing snow that year. That's a drawing idea right there. As far as motivation, I really can't describe it but drawing just makes me feel truly at peace like nothing else does.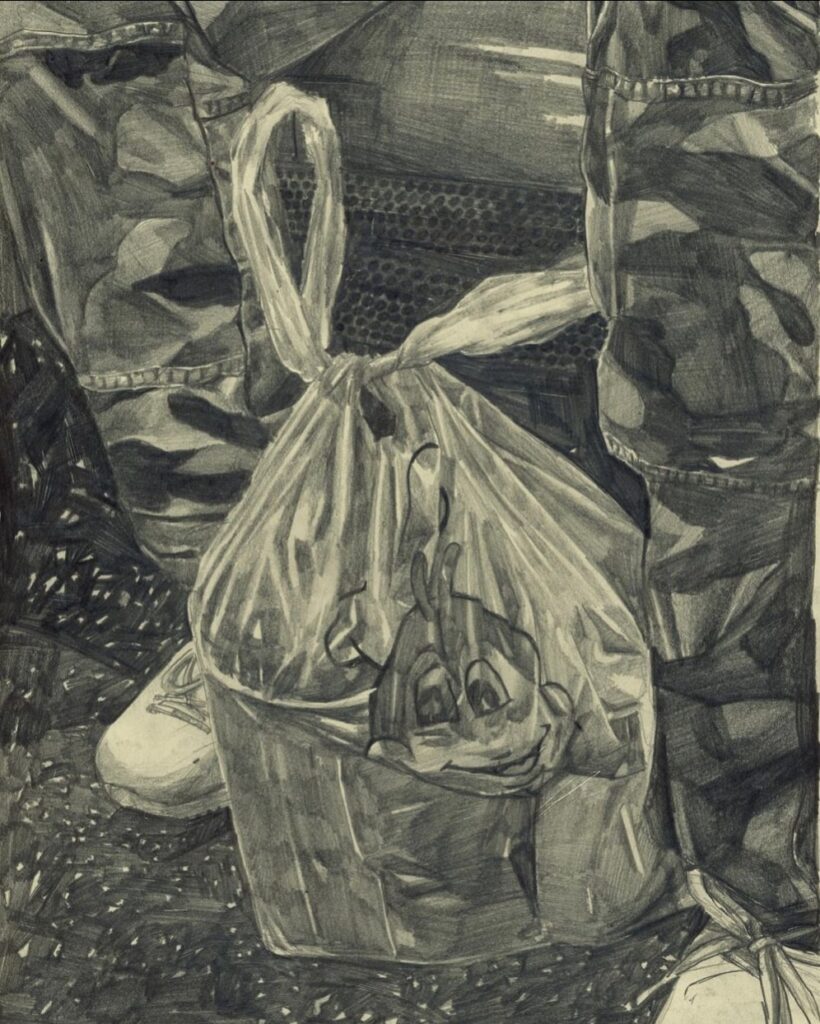 What song do you listen to the most right now?
"Come My Way" by Saba and "Pray For Me" by Che Ecru. Honorable mention to "300 Fences" by Boldy James.
What's your favorite movie and why?
"Hereditary" is probably my favorite movie. I love horror movies, and what was so dope about that one was the fact that the main characters did everything right and were cursed from the start. I like that, because in a lot of horror movies the main characters will always do something dumb or trip over a branch and get axe murdered. The relatively competent cast makes the movie. I also really like "Dope". It's a movie that I feel realistically depicted what it feels like to be a nerdy black kid.
For more information about Julian, check out his Instagram or website.