Julia Kowalska (b. 1998), is a painter based in Warsaw. She graduated from the Academy of Fine Arts in Warsaw in 2022. This year saw her first solo exhibition abroad, 'Milky Blind Eye'  curated by Elaine Tam, at Kravitz Contemporary x The Death of Man Gallery, in London. 
Julia focuses on interpersonal relationships, in which she seeks moments lined with ambiguity and explores the ambivalent nature of communing with the other.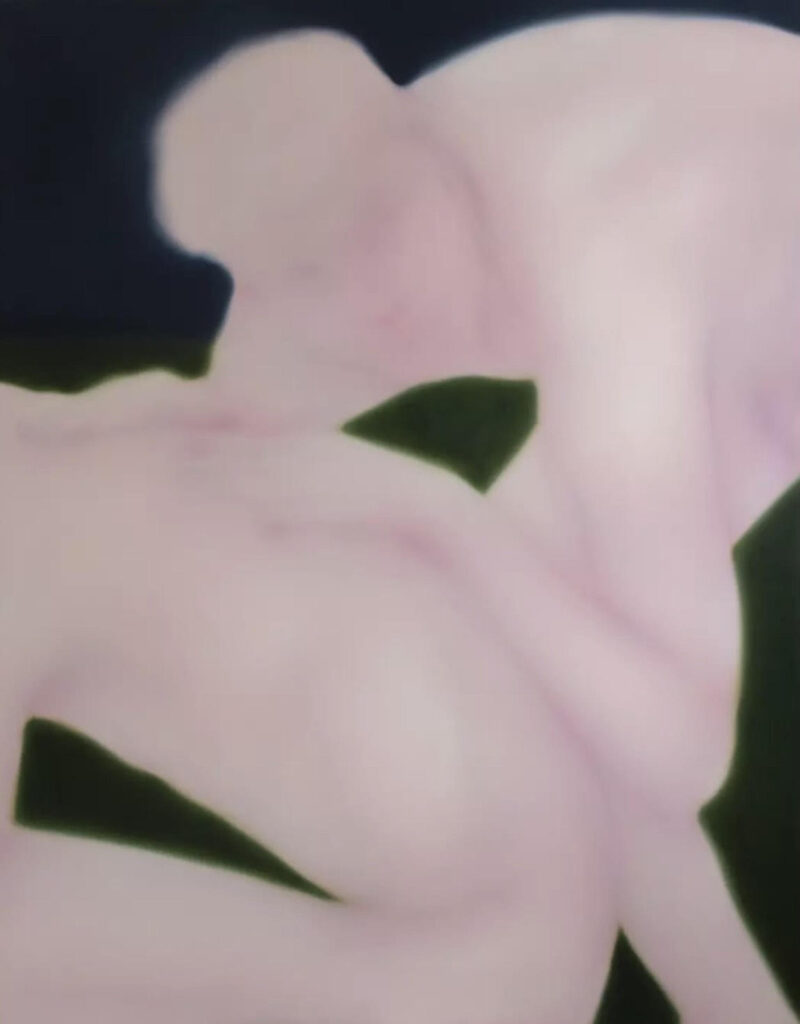 Hi Julia. Let's start from the beginning. When did you begin your painting journey and when did you start taking it serious?
I did a lot of drawing and painting growing up, the older I got the more seriously I took it. I don't know why, but I pinned my greatest hopes on painting. An important breakthrough in my practice came in the middle of my studies at the Academy of Fine Arts in Warsaw, and since then it has become more dynamic.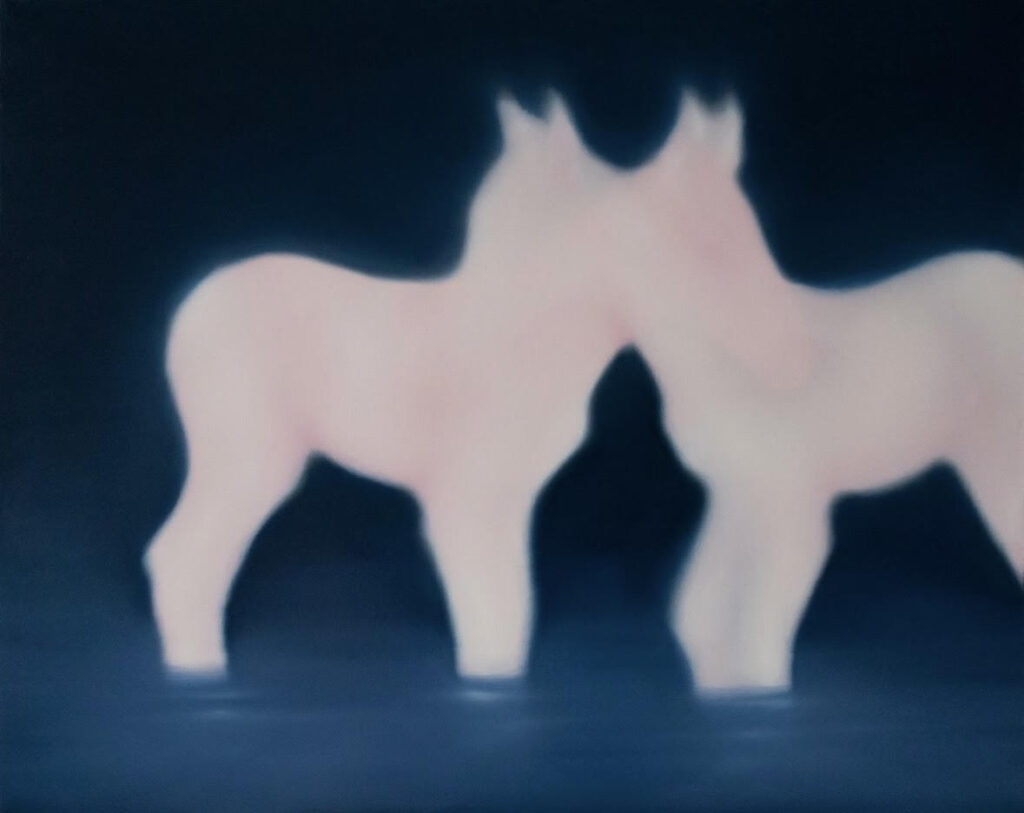 What's the art and culture scene like in Warsaw, and Poland in general?
Above all, it is growing and developing very fast. Although now, when public institutions are under the boot of the right-wing government, this applies more to private commercial galleries and the art market in Poland.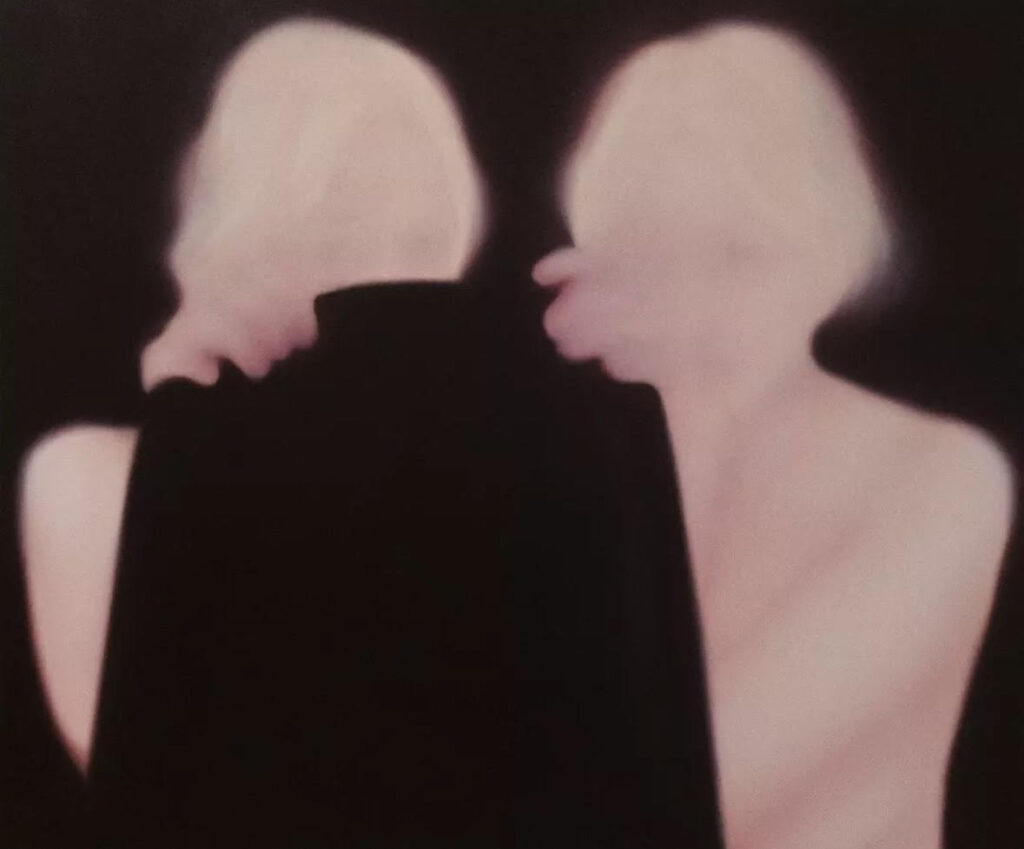 Intimacy, biology and human anatomy, are recurring themes in your works. What is it about those topics that makes you want to document them?
These themes are contained within my general interest in corporeality – being in the body, experiencing through the body. The body has been the absolute starting point for my current explorations. At one point I was focused on the bipolarity of sensual experiences in the body, which can include pleasure and pain simultaneously. However, I soon found these qualities in a broader context, thinking of the body, especially a female body, as an ambivalent place itself, an object of fascination and simultaneous rejection. Body is marked with dual values, as one's own matter and at the same time a foreign, unapprochable body, the body of the Other. The encounter with the Other is lined with excitment and curosity as well as with sense of fear and uncertainty. These body-related dichotomies remain at the core of my interests, as they allow me to access certain subcutaneous nuances and tensions.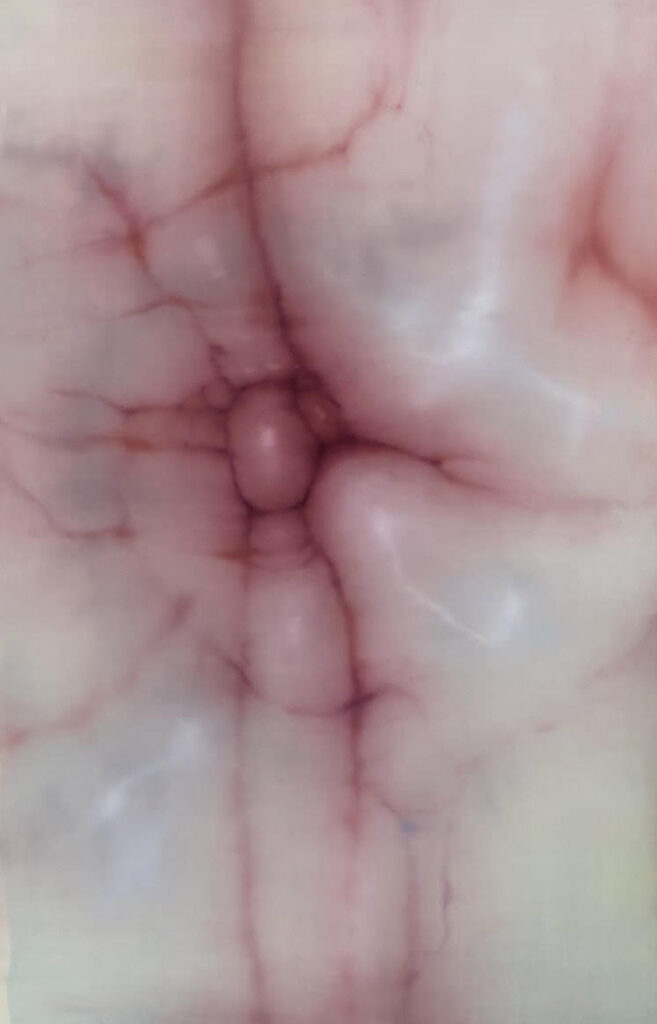 Around 2021 your paintings start having a black background and glossy white characters. Why the change? And what does the representation of light and overall look represent or symbolize?
I have been looking for enigmatic and ephemeral qualities, reminiscent of fleeting dream scapes, taking inspiration from the sense of unreal and unfamiliar occuring in dreams. Visual atmosphere of my works is meant to evoke ambigues, obscure associations and keep depicted scenes within the poetic of uncanny dream.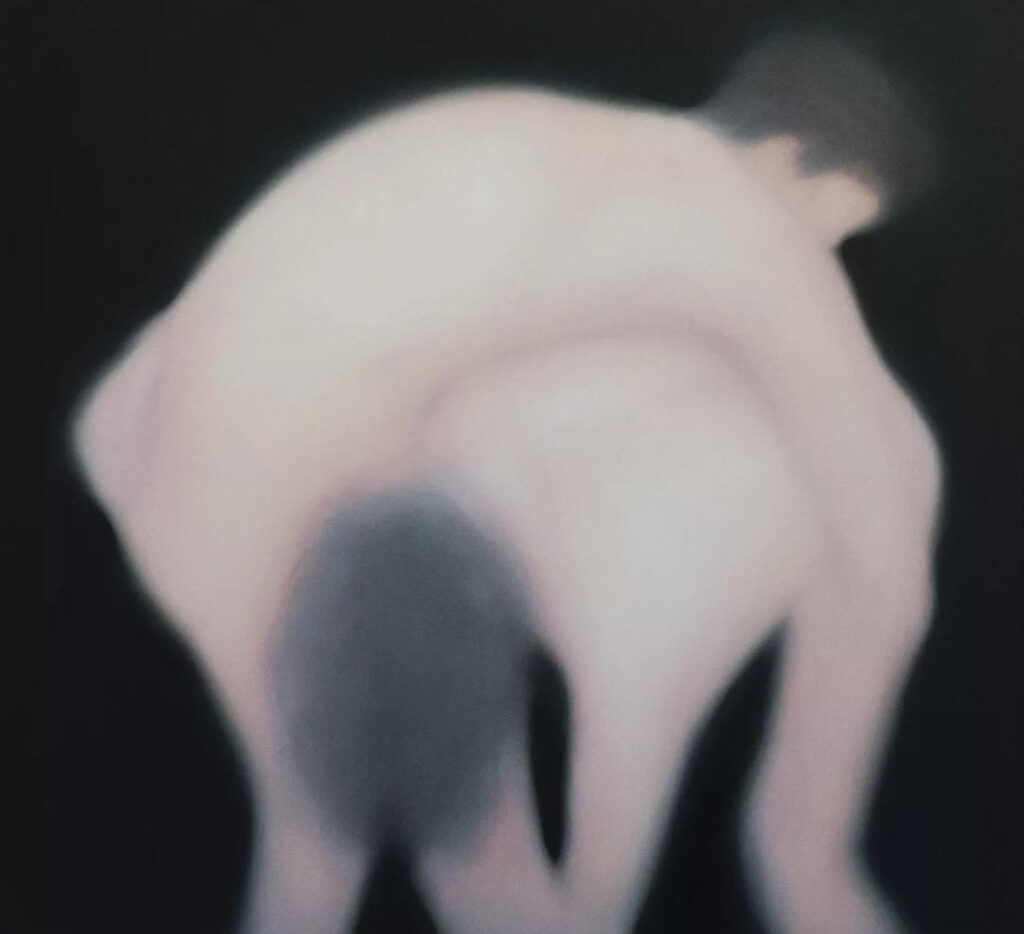 While we're on the topic, how long has it taken you to develop and practice your current style. Im thinking before you actually showcased your works.
It's hard to say, I think that it is always made up of all the previous attempts at painting. But the end of my studies – working on diploma show was significant, the more I worked the easier it became to make good painting decisions.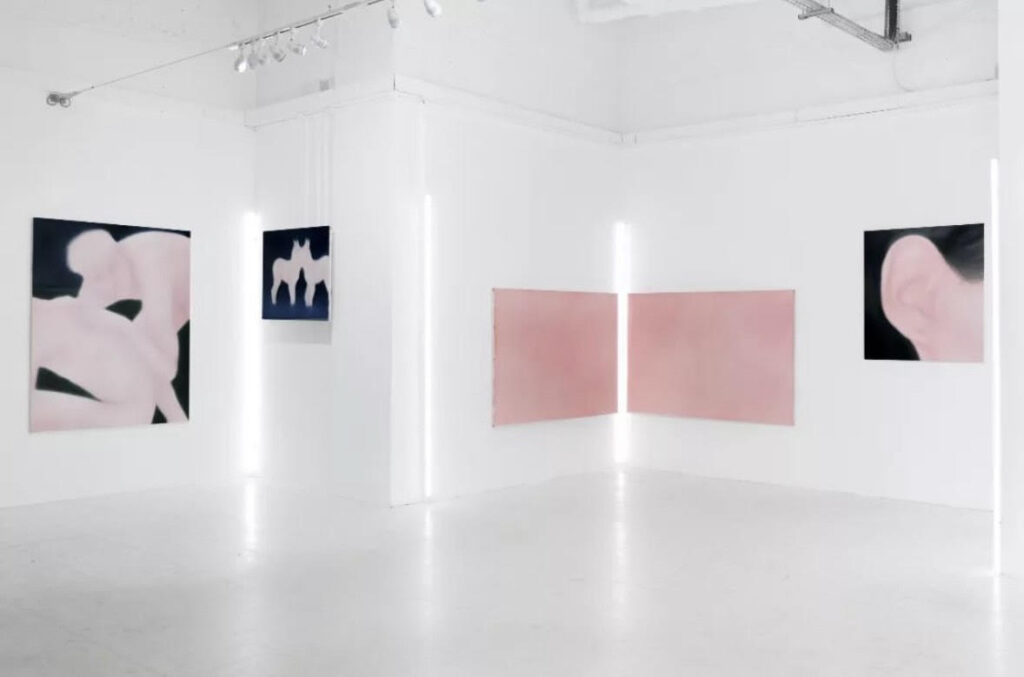 So besides painting you also create objects and video art. Which one of those mediums do you prefer and why?
I really like to juxtapose painting with wax objects or video. Creating a complete narrative comes more easily to me when using all these media. However, the process of creating wax sculptures itself is more methodical, less impulsive than painting, which is why I reach for it less often. Also, it's best to create an object with a specific exhibition in mind, and so far, such proposals rarely come to me, because I happen to be a declared painter.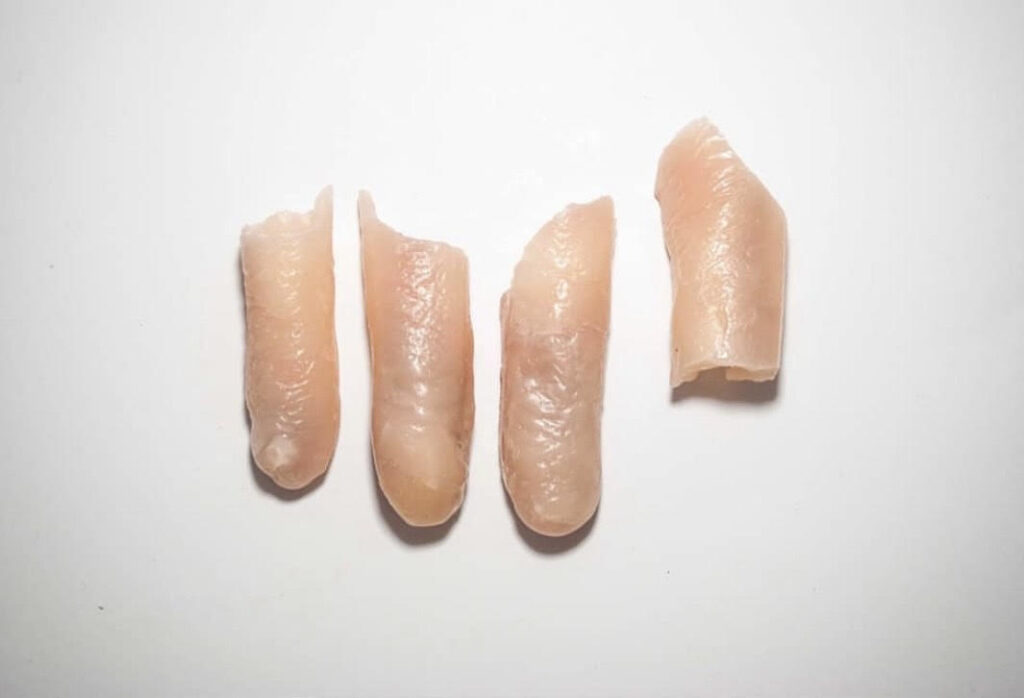 Could you talk to me a little bit about your creative process. From idea to end result.
I do a bit of reading, watching, collecting and surrounding myself with materials that currently occupy or stimulate me most strongly. Sometimes I sketch a lot, but certainly not systematically. I start paintings quickly and then take a long time to finish them. I love to confine myself to a routine and small rituals. Such a process is enjoyable for me, but I doubt it is interesting for people.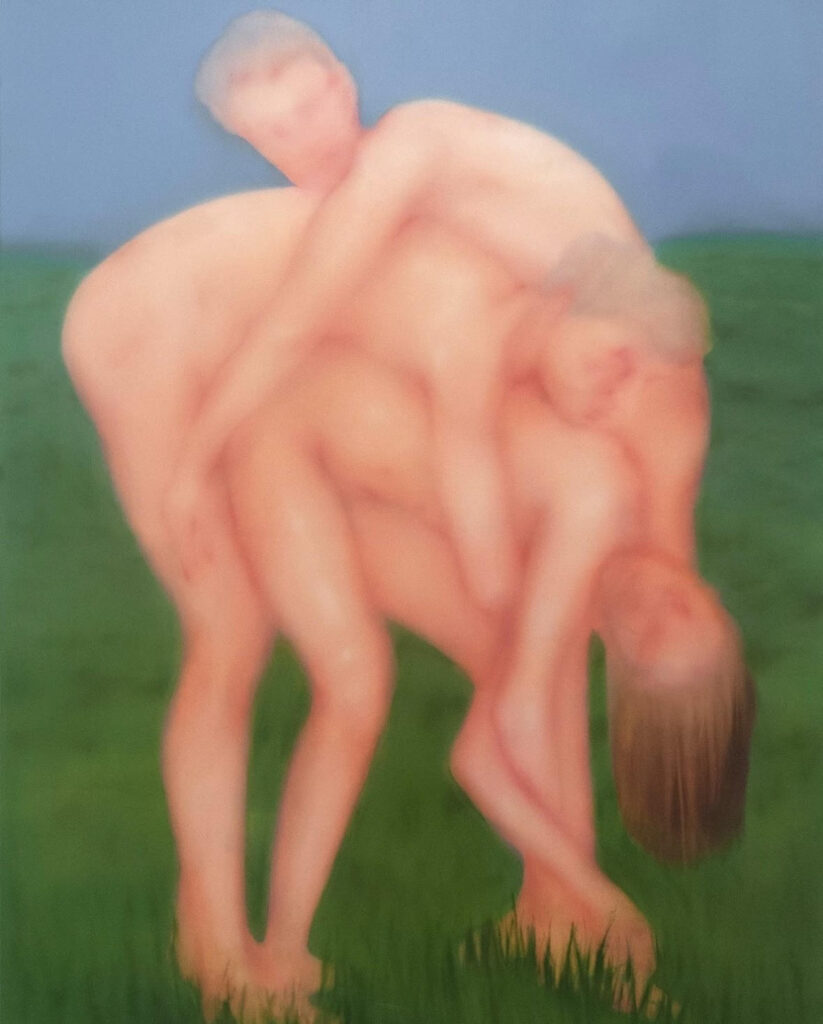 Which artists do you look up to and why?
When asked, I always mention my fascination with Miriam Cahn's work. My first live contact with her art was in the middle of my studies. I constantly go through smaller or bigger fascinations with different artworks or artists, it's very important.
Any future plans or projects coming up?
Yes! I am super excited about working on future exhibitions in Stockholm, Vienna and LA.
Profile pic by Mark Bage