Misha Hunter is a painter based in Hamilton, Canada. His current practice questions our relationship with the material world, the absurdities within this world, and its connection to the spiritual realm. Capturing innate mundane objects and scenes of absurd depictions stems from Hunter's own experiences and anxieties about mental health, past trauma, and addiction. Searching for parallels and connections amidst our human experience, spiritual existence, and the material world, Hunter is able to explore concepts of epigenetic's (nature vs nurture), the human impact on our surroundings, and whether or not our environments become a product of us or vice versa.
Hunter's work finds connections and explores past memories that always will be associated with a time and environment that has highly symbolic and nostalgic material elements linked to it. The only constant and certainty in life that we know of is that morality comes to an end at some point. Even with this knowledge widely accepted among us, Hunter examines how humans still search for an irrelevant satisfaction and purpose through the material world more so than ever before. The importance of material success becomes existential validation.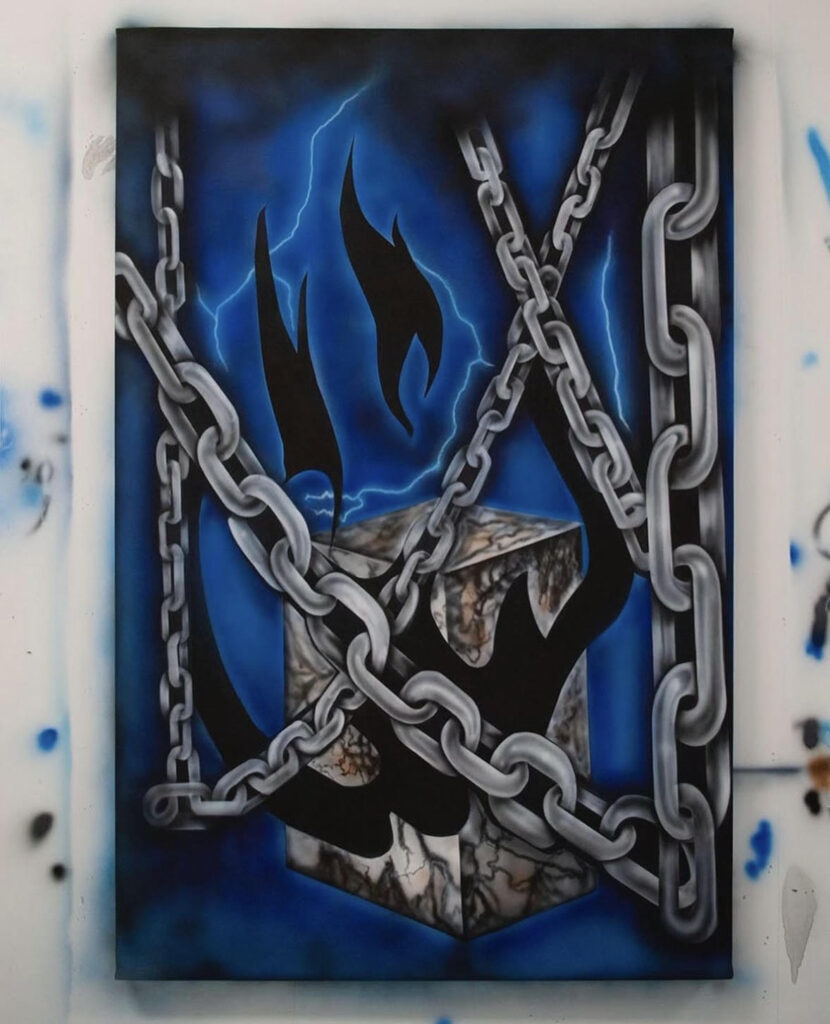 Hi Misha. It's a pleasure to sit down with you. First question that I always ask. How does a regular day look like for you in Hamilton?
An average day for me starts with waking up. If its Tuesday I'm usually taking the garbage out. Coffee of course, then I drive to my studio. Typically, I'm there for about 10 hours a day, depending on other projects I have going on or home renos I'm doing. The last few months has basically been that exact routine.
While where on the topic, how has life in Hamilton influenced your art? I'm thinking in terms of surroundings, the people, stuff like that.
Hamilton is an interesting city. It's just a 45 min drive from Toronto where I grew up. I moved there three years ago after buying my first home, because I couldn't afford to in the city I'm from. It's basically a Canadian version of a cross between new jersey and Detroit. It's an industrial steel milling city that saw a lot of its factories close causing massive generational problems. Addiction is an epidemic here, and therefore so is crime. I see human suffering on a daily basis; a lot of it, it saddens me, however in some twisted way it gives me inspiration and purpose to keep pushing forward in life and in my art. Most of the scenery is bleak, vacant, industrial, and often humorous in a morbid way. I find then when you are in active addiction time stands still, nothing else matters but your drug of choice, so in a city like this I feel as if I'm in some bizarre time capsule that's stuck in a chaotic cycle, which I like.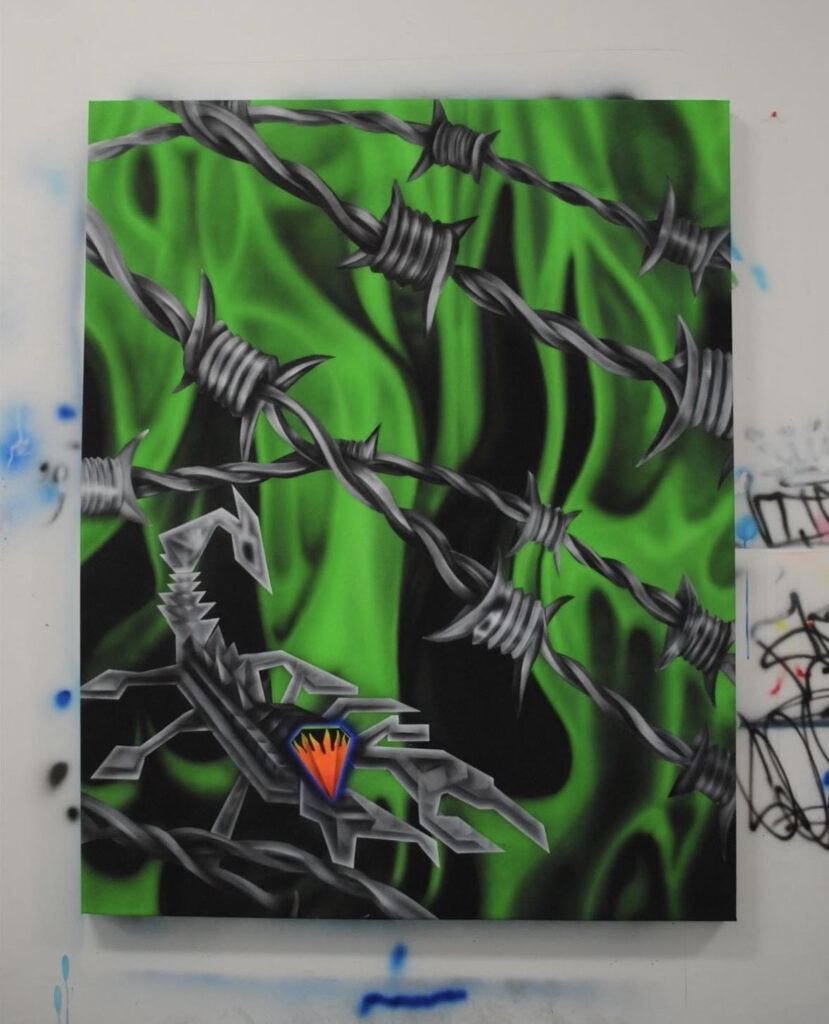 So when did you start taking painting seriously? And what makes you prefer the airbrush over a regular paintbrush?
I guess the last few years I've been working harder and taking my work more seriously, I've been making money from my art since my early 20s which was 15 years ago, yet it wasn't until about 3 years ago that I've been making stuff I liked and feel confident in showing. I have been painting since I was old enough to hold a brush, it's always just been something I did. In my teens and early 20s I was pretty into graffiti, using spray paint for a long time probably propelled me into using an air brush. I bought my first one about 5 years ago, messed around a bit, but I had no idea what I was doing. I learned to paint with oils, so I feel that there are many similarities with glazing, and blending with an airbrush, however once you understand how to use an airbrush and how to clean it properly, you can achieve great effects much quicker. That's probably the only reason I prefer it now (I'm impatient). I get bored easily, so I will probably go back to painting with brushes soon or a mix of both.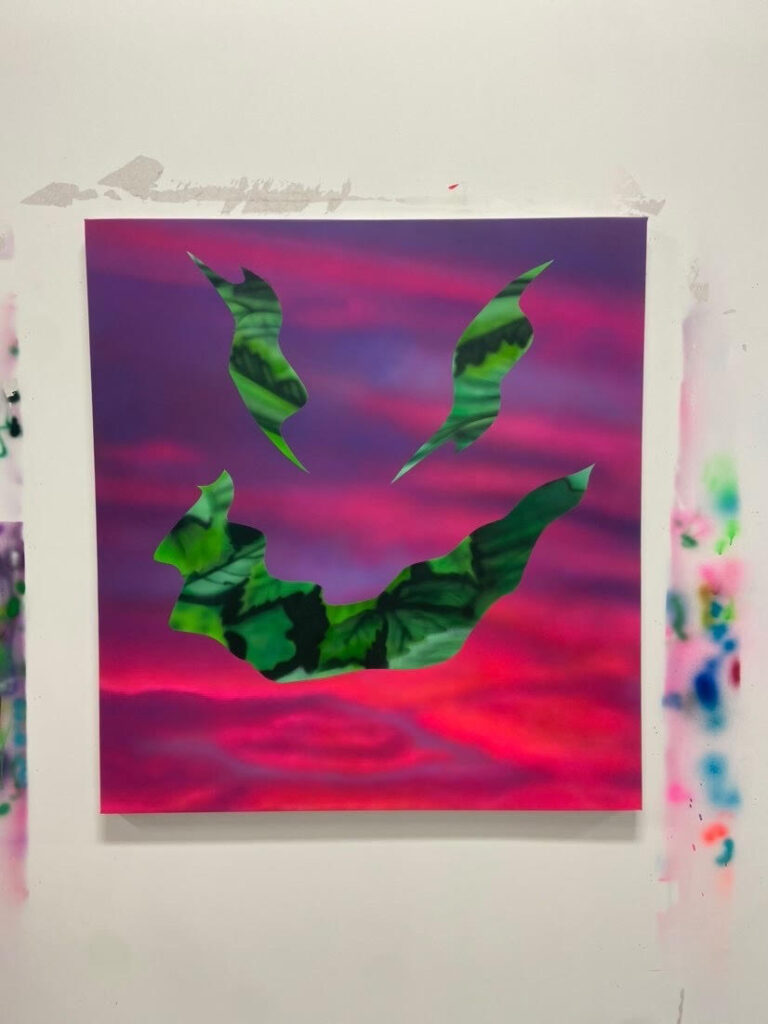 Before this interview, you and I talked about you wanting to start a business where you print your own motifs on shirts. How far are you in the process of that?
I have always been into making shirts, It's the reason I started using an airbrush in the first place, I make shirts on occasion if people commission me specifically for something. I'm still in the early stages of creating an actual brand identity, but low brow fashion/streetwear is something I've always been into.
You've been pretty open about your own experiences and anxieties about mental health, past trauma, and addiction. Talk to me a little bout those various fazes and experiences, and how it has influenced your work.
Its definitely something that is prominent in my life. I had a pretty unstable upbringing, and those traumas most likely lead to my own struggle with mental health and addiction. I'm not sure how much my past influences my present work, however being in recovery now has instilled many anxieties of existentialism, which was something I never cared about before in active addiction. I can confront those anxieties and fears now through the current work I have been making. My previous work explores concepts of nature vs nurture through the observation of innate and mundane objects and their connection to the human experience and condition. In my recent work I am trying to create different realms or worlds, which is influenced by my own anxieties of existentialism that I now face. Creating art has always been an escape or a way of coping with the chaos in my life and mind.
So you can say that art is a form of meditation for you?
Art or creating anything really has always been a form of meditation for me, it's a chance to shut of the outside world and get completely lost, it's incredibly cathartic to me. I need it, just like some people need exercise, I need to make art daily or become irritable and restless.
Some of your paintings are regular stills of different objects in various places. What makes something like keys, razor blades, lemon water on a table or the inside of a kiosk, worthy of gracing one of your canvases?
The paintings of stills I had previously done were done for various reasons. Most of all I thought a lot of them were humorous, I have a lot of interest in the mundane and trying to find the sublime within them. The material world we live in is full of absurdities that I've always been fascinated with. I wanted to explore our connection to this world, and its influence on the human condition.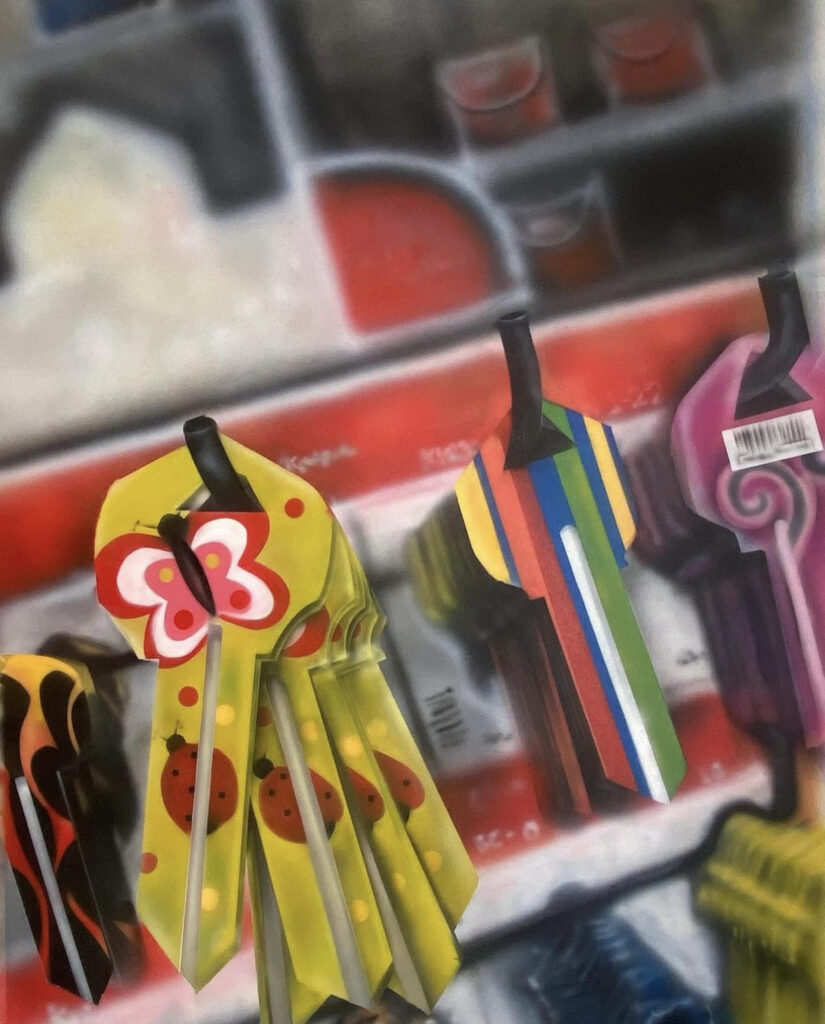 While we're on the subject. Some of your other paintings are trippy, with iconic characters and symbols, in various scenes, from what appears to be unknown realms or something. How do you come up with that? And could you talk to me a little bit about your creative process?
Currently the work I am making explores ideas of other dimensions or realms. I'm very interested in quantum theory, alien life, human existence, and how they may be connected to some sort of spirit realm or dimension. The idea that everything and everyone is connected in some way that we still cannot understand interests me greatly. The universe as we know it consists of time, space, energy, and matter. I want to explore these ideas through my current work by creating different motifs of spirits and energies depicted with other imagery wrapped into a world of chaos, that becomes something like a fever dream. The process with this work usually starts with quick drawings, finding references, and altering them digitally. Once I am happy with something I paint it.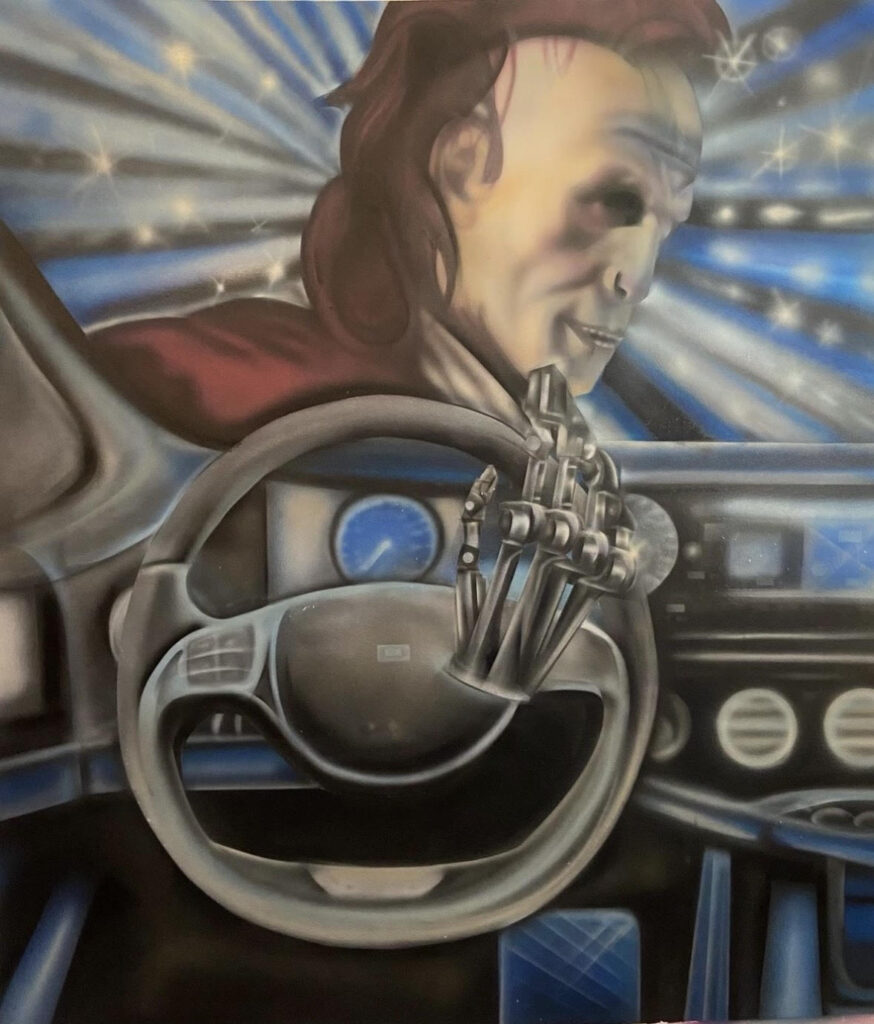 Ok so, relationship with the material world, the absurdities within this world, and its connection to the spiritual realm. Why is it important for you to document those topics through your paintings?
I feel those these topics are important to me to document because I've always been fascinated, and drawn to human made creations, the spirit world, and there connection to humanity. creating work is my way of searching for parallels or questioning these topics, and possibly drawing my own conclusions.
What do you hope that we the observers, take with us after viewing some of your paintings?
I generally hope people like it, or at least find it visually interesting, and if they hate it that's cool too. From a conceptual perspective I don't really want my work to be exactly black and white, or have answers. I find when work is too obvious it takes away from the viewers experience. I am content when people draw their own conclusions of what it means to them. As an artist I find it's not our job to answer questions, but rather to ask them, leaving the audience to have their own experience of what they take from it.
What motivates and inspires you?
I am always motivated by other artists especially when it comes to technique. There are so many incredible artists past and present. However my inspiration is definitely drawn from my surroundings, and also the unknown.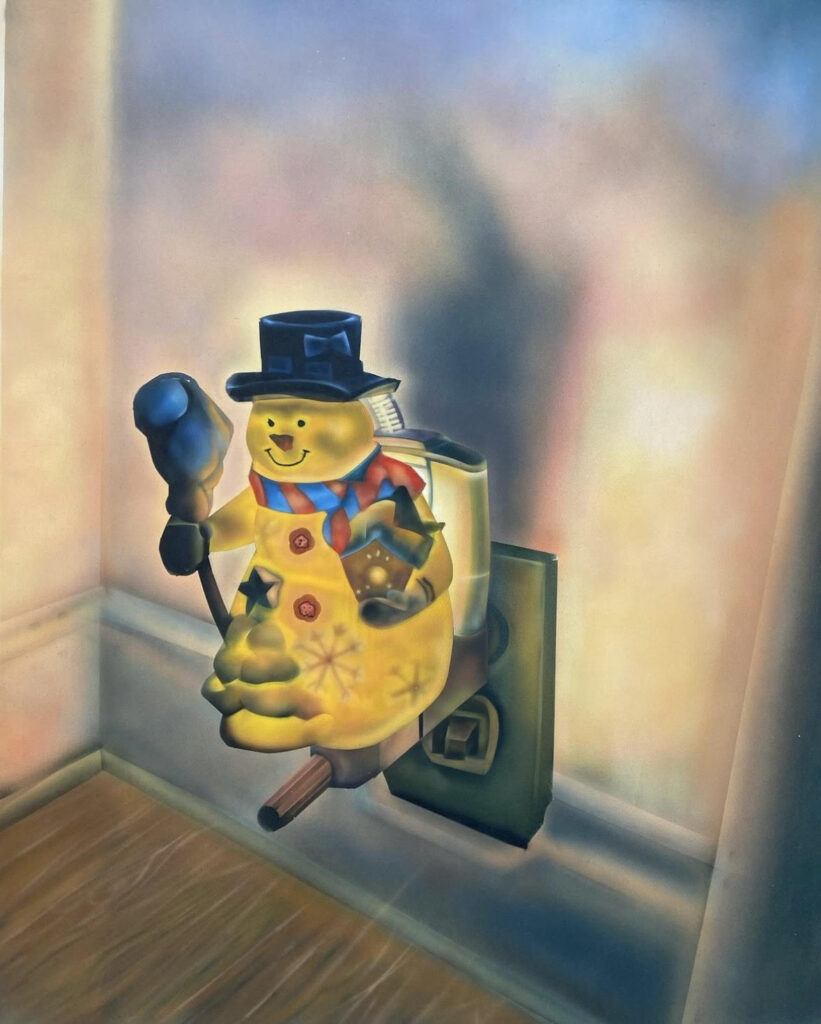 What's your favorite movie(s) and why?
Belly- because its got great rappers in it, I love the lighting, story, and art direction in it.
Strozeck- it's a very dark and sad movie yet funny in a bizarre way.
Heat- best heist movie of all time in my opinion and a great cast.
Escape from New York- incredible sets, costumes, and art direction. Isaac Hayes' character is amazing, and john carpenter always kills it with the soundtrack.
Leaving Las Vegas- I love nick cage, and I think this is one of his best roles, incredibly tragic yet a humorous look at someone who is plagued by alcoholism.
What song are you listening to the most right now?
Music is always a tough one, generally I'm just listening to NTS radio. However in terms of bands I'm usually listening to these days (or always), Soundgarden, Purling hiss, Sponge, Afghan wings, Max B, Tommy Wright the 3rd, Chief keef.