Zachary Ochoa (born 1998, Aurora, Illinois), earned a BFA from the Milwaukee Institute of Art and Design (2020). They had a solo exhibition with Steve Turner, Los Angeles (2021) and have had works included in group exhibitions at Spring Break, New York (2021) and Woaw, Hong Kong (2022). Ochoa creates paintings to explore their trans femme and Afro Latino identity.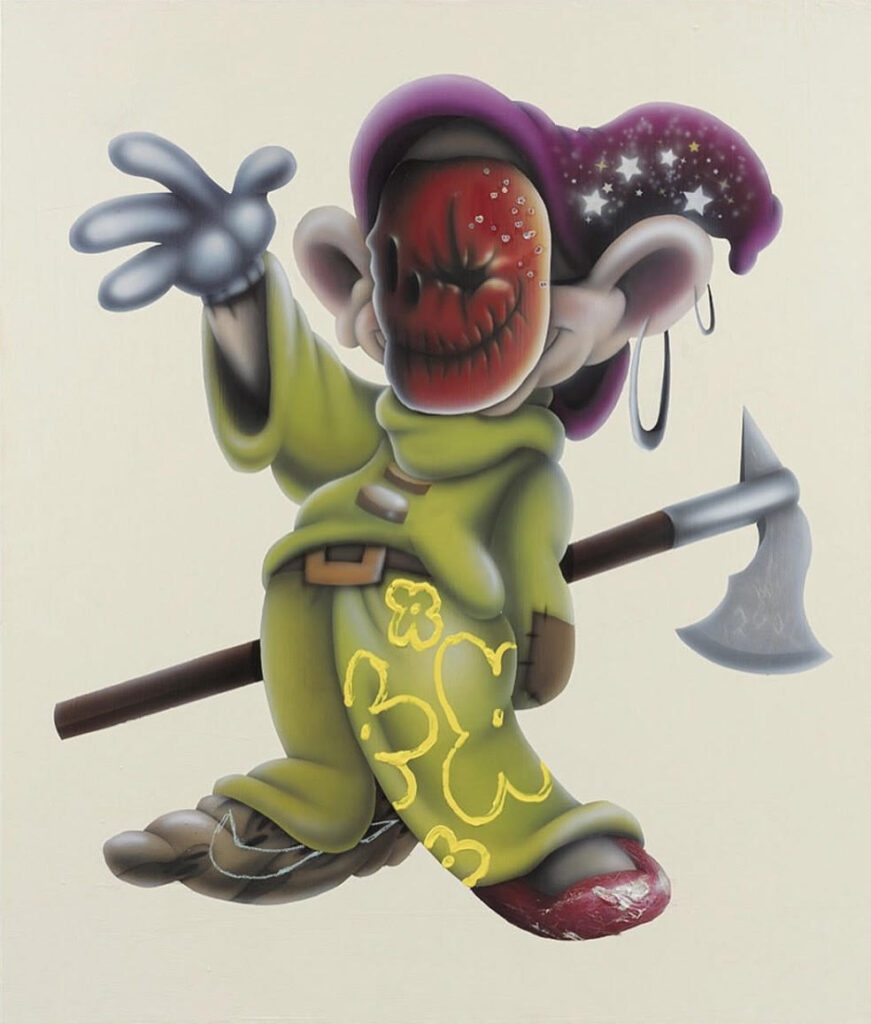 Hi Zachary, it's a pleasure to sit down with you! First question, that I always ask. How does a regular day look like for you in Milwaukee ?
Regular day for me in Milwaukee, I wake up around 7 or 8am and head to the corner store, grab a couple Yerba mates and smoke a cigarette on my porch. I like the ritual of going and getting tea since I don't have any where specific to be other than the studio in my house. I listen to music and prep whatever I'm going to be working on while periodically indulging in spliffs throughout the day. I usually work until about 4pm and have lunch/dinner. I take some time everyday for about an hour of playing video games or working music for a band I'm in. After some fun,I will sketch on my iPad watching anime or reality tv until I fall asleep. Kind of boring but it's nice.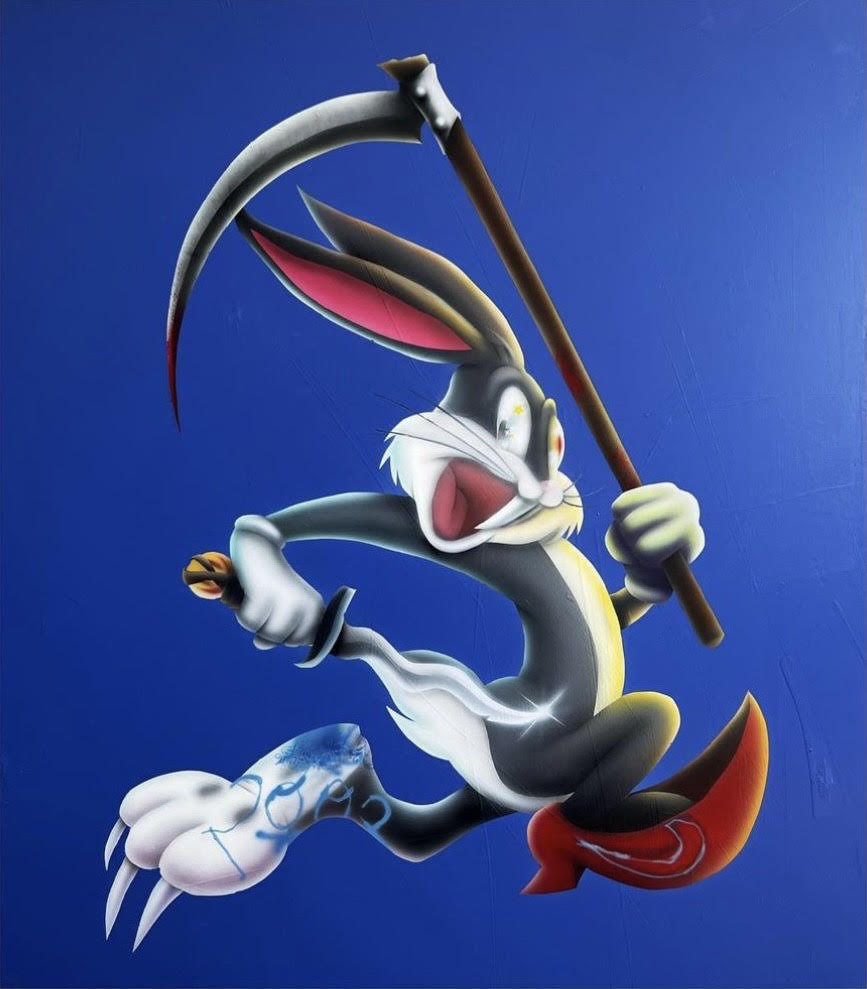 I'm curious. Growing up, what kind of kid were you? What did you enjoy doing and how did you spend your time?
I was a curious kid often getting into many different hobbies. I liked to make friendship bracelets and play baseball. I spent a lot of time on the internet probably on there a bit too early but I loved the idea of social media and customizing your digital life. I had a lot of friends and was usually crashing on friends couches all weekend. I didn't like being home and was very independent as a young kid. I was fairly good in school so my parents were pretty lenient with me being out all the time.
I always had a love of fashion and any other form of creative expression. I was in musicals and did choir as well. I had a very rich and multifaceted childhood.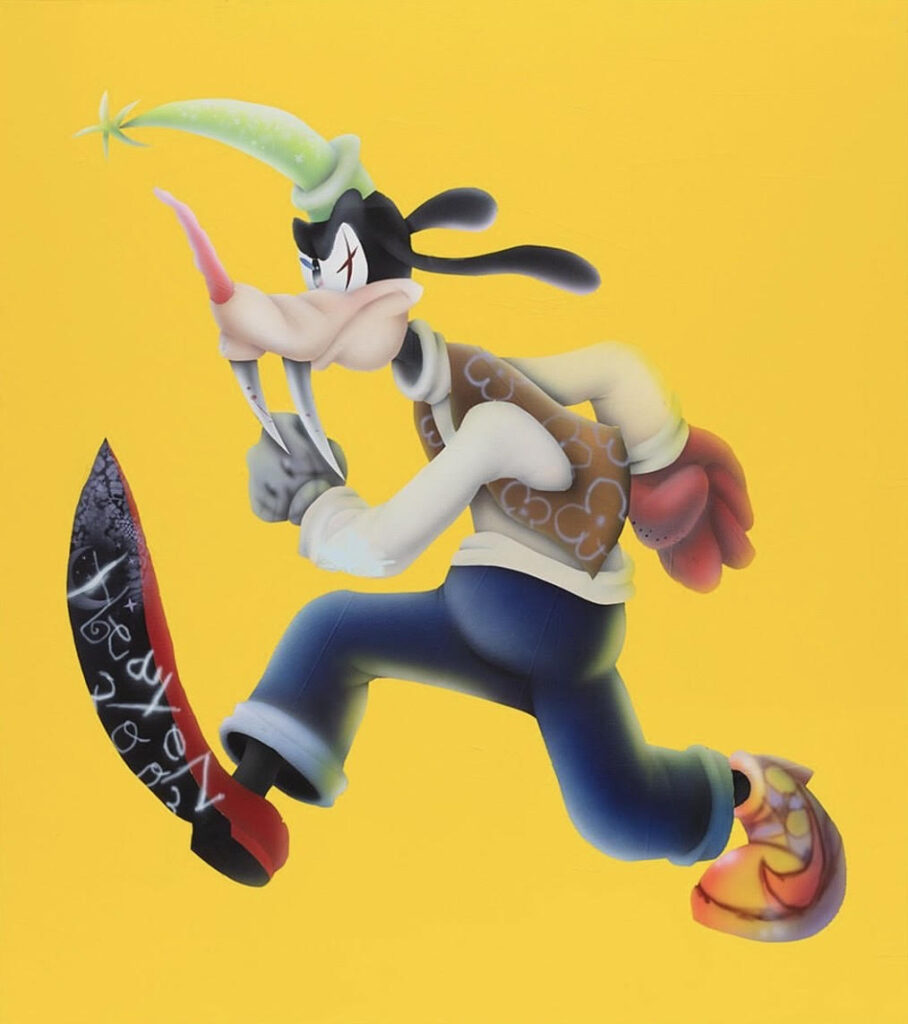 Back in 2020 you graduated from the Milwaukee institute of art and design. Can you talk to me a little bit about how life has been like post school. Is it everything you had imagined?
My life post grad has been such a dream. I had a lot of trauma going into school and was a very confused on how I would fit into the world. I feel very grateful for my platform and my career so far. I get to celebrate my own insecurities and people get to find community in my work. I think that making art everyday can be excruciating work. I have had to make a lot of sacrifices in my social life and there is a lot of personal work that goes behind the scenes of being an artist and maintains that execution. I think my expectations of the art world were naive but in that same breath I also have had such a quick journey into the art world so it's hard to get perspective on how things are supposed to be going for me. Either way I'm just happy to be here.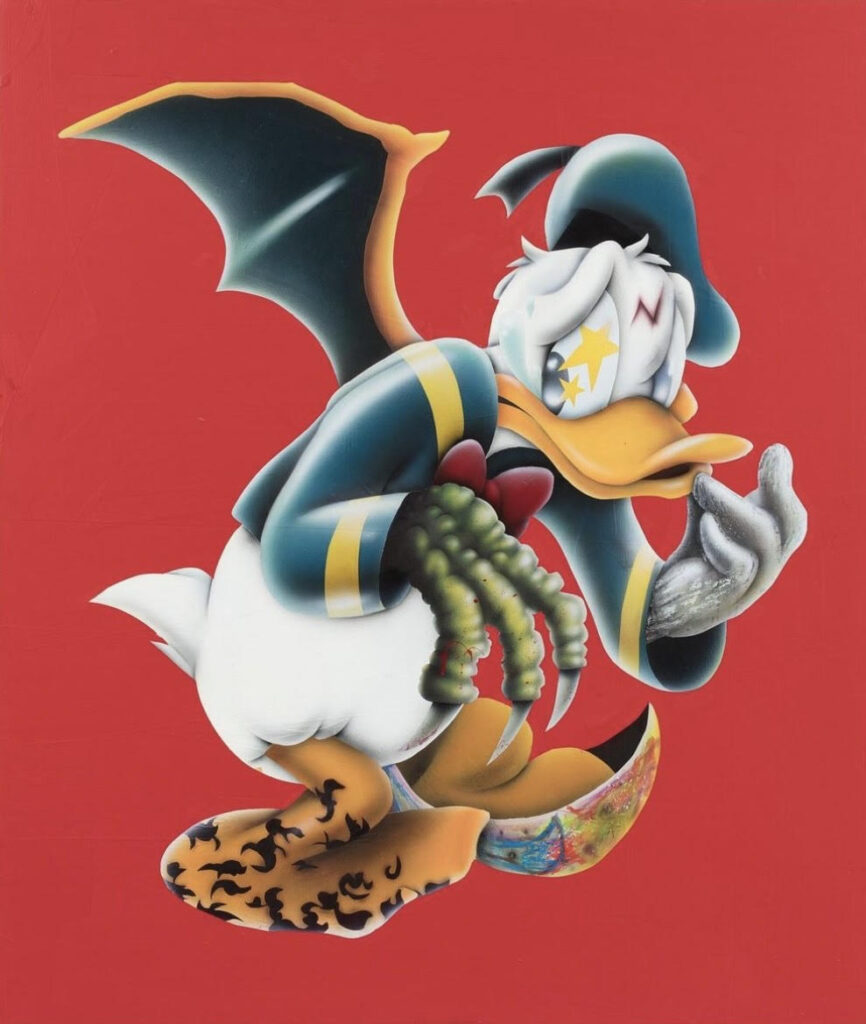 With that in mind. What's your take on art and the art-world in general?
I feel pretty disconnected from the art world, I don't know if it's my own insecurities or a genuine feeling of detachment. It might be because I live in Wisconsin and don't get out much. I find myself feeling like my work looks so funky comparatively and not in a way where I see my work as bad but there is something about it that just feels a bit out of place. I think the art world is much more rigid than I thought, I think my biggest gripe is that things feel always so safe and beautiful. I think things could get uglier more ignorant and more accessible.
So, when did you start taking being an artist seriously?
I started taking art seriously about my junior year of undergrad. I stopped seeing my professors as teachers and more so as mentors and peers. I was kind of an asshole in school, I started working in the hallways and hanging my work up In The alumni collections without asking. I demanded a lot of space physically with my work and started to really Neglect the academic side of school and saw myself as a consistent maker. I think a big part of taking myself seriously was also learning to love myself and beginning to find value in myself as a person.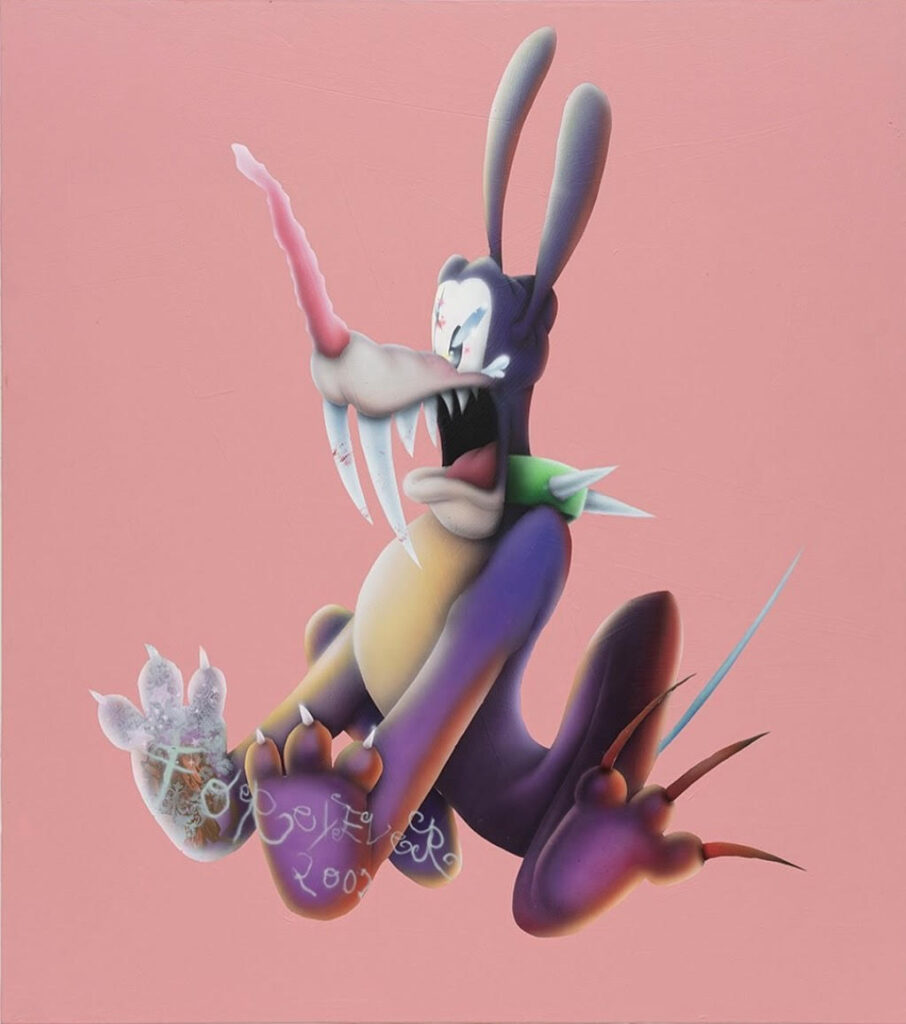 The style you have now. How long has it taken you to develop it, to how it looks now? And what is it about cartoons that resonates so well with you?
I have only been painting for about 5 years now so I think my style as a painter is still in its early form. I'm often asked about style and how to develop a personal relationship with approach but I think it's a tricky thing to pin down. If I had to say how long it has taken me to develop the style I have now I would say about 3 years but my idea of what my style is will be vastly different than what the general public sees as "my style" persay. I'm really interested in drawing and my approach is always through line and composition. That's where the connection of cartoons and animation come into my work. I've always had a fascination with how line can inform so much whether it's a figure or landscape. You can render a lot of information with a quality line. My relationship with cartoons goes beyond just technical approaches. There is a lot of internalizing as a young kid with cartoons. Some of our earliest ideas of masculinity, gendered roles in society and violence are formed in those pieces of media. I like to re explore and force new narratives within some of those early introductions of entertainment.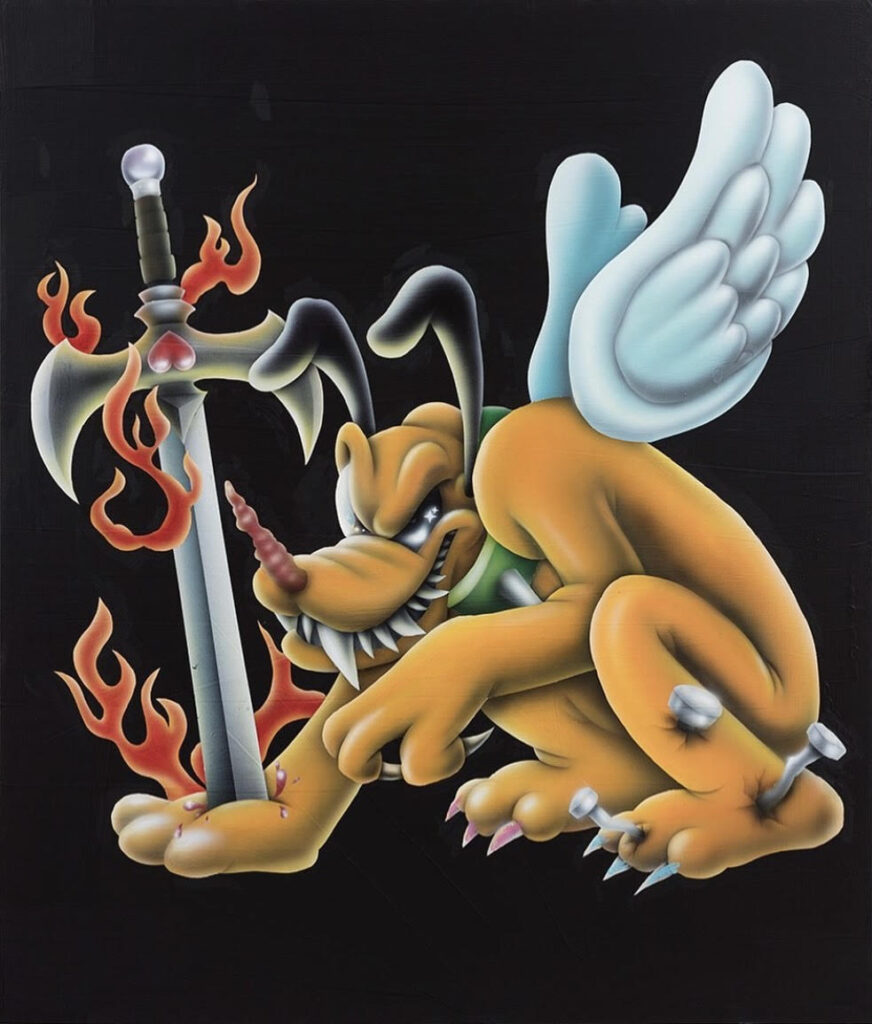 Looking at your work, there's a lot of emotion in the characters. Whether it be, sadness, fear, happiness or mischievous expressions. Are they connected to personal experiences?
I'm really over the top and dramatic. I cry alot and am often trying to cope with feeling things very intensely. I also have a Scorpio moon so emotions are tricky for me on top of having a slew of mental disorders and trauma. I like the complexities of emotions. The ways we mask ourselves as people and the further exploration of how queer and marganilized identities have hyper specific ways of expressing themselves. In my work you'll see a character being stabbed but having a kind of sweet smile on their face while crying. I think we all feel that way sometimes, trying to cope with feeling hurt or abandoned while simultaneously being forced to feel like we have things all together for the sake of society? I don't know I'm just a crybaby and need to vent.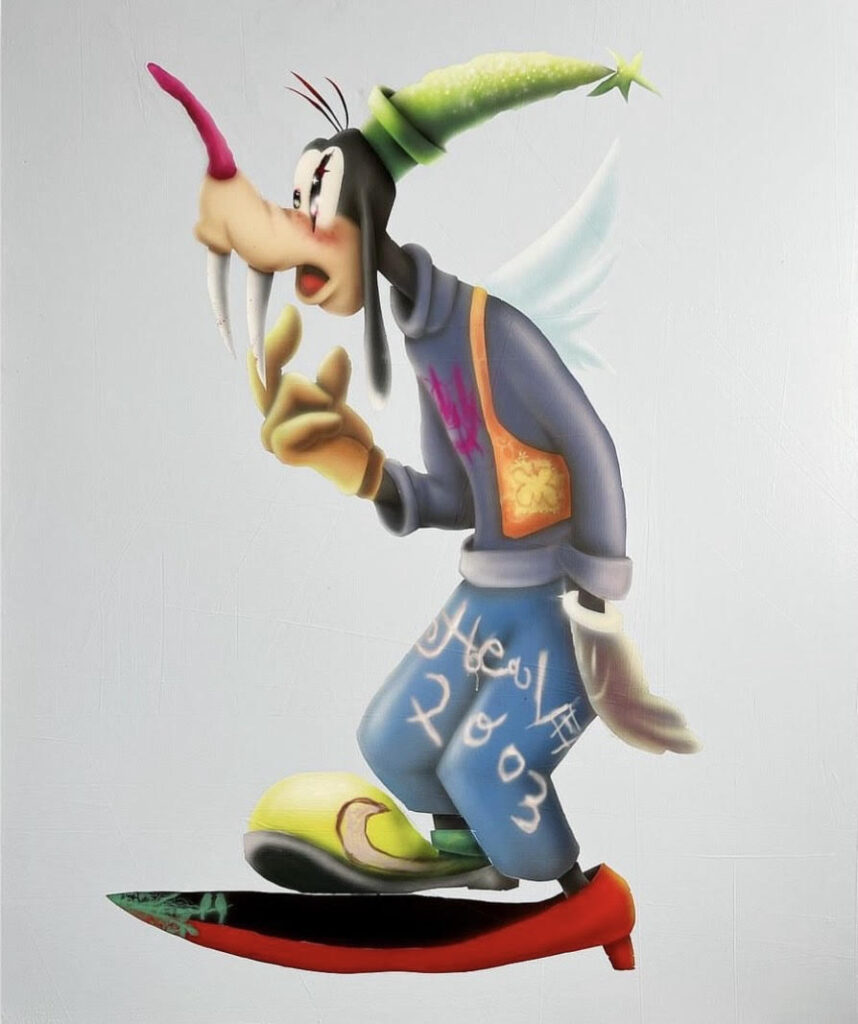 With that in mind. Can you tell me about GIRL HERO, who is that?
Girl hero is an arguably fictional transgender earth God character that I created. She represents my wildest dreams, my most insipid and destructive thinking. She's also a figure I created to make myself feel more accepted in this world. She has formed into my own form of spirituality. thinking about the ways trans people and marginalized people have been excluded from modern forms of religion. our representation of gods has also neglected us, and so Girl Hero is this character for me and for everyone else who yearns for that protection. I love storytelling and the traditional hero's story archetype and I wanted to insert a new narrative within that story and so girl hero is that. She is the modern Hercules but with awful disdain for patriarchy. I will be introducing more of her lore in both my studio practice and other forms of media. She also time travels!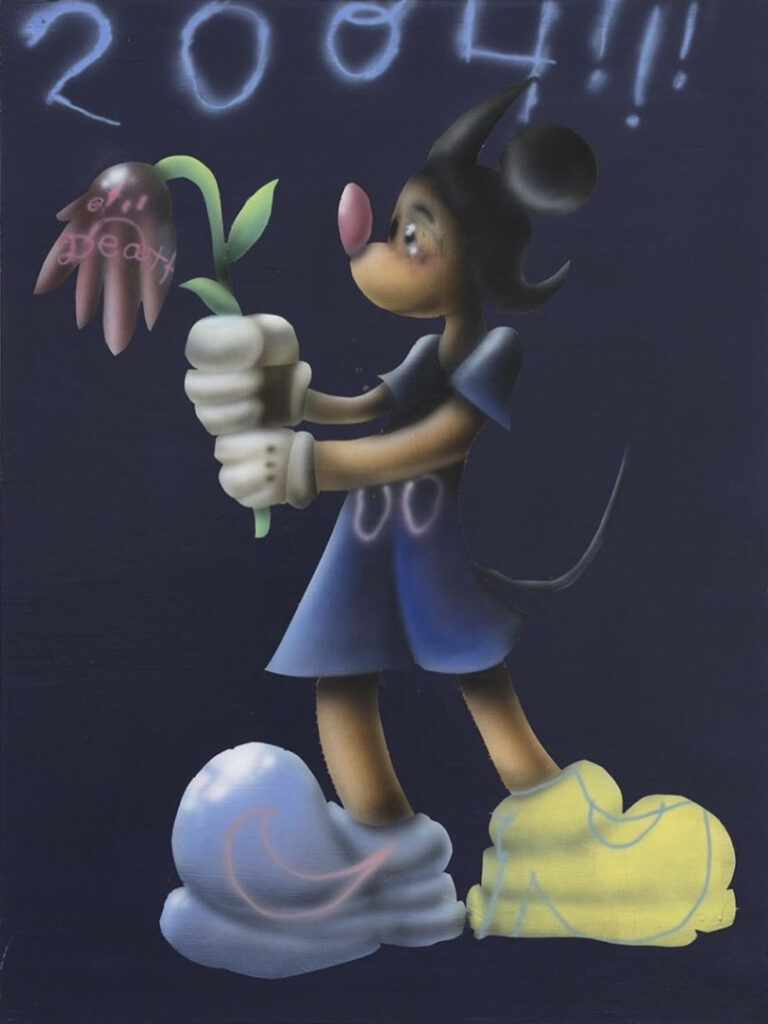 Objects like urns, swords, and other magical weapons, are recurring things in your works. Can you talk to me a little bit about your use of symbolism and metaphors?
I think I'm naturally attracted to these symbols In both a historical context and aesthetically. I see most of the objects and things I put into my work as cultural fads. I like to see what young people gravitate too and include in their mood boards and art. I think my work is very "Gen z" so I try to signal that generational iconography within my work. I think there is also a connection to the past, things like vases and medieval weaponry are polarized in the art zeitgeist. They seem really important and fragile and so including them in my work I get to recontextualize them through a modern queerified lens.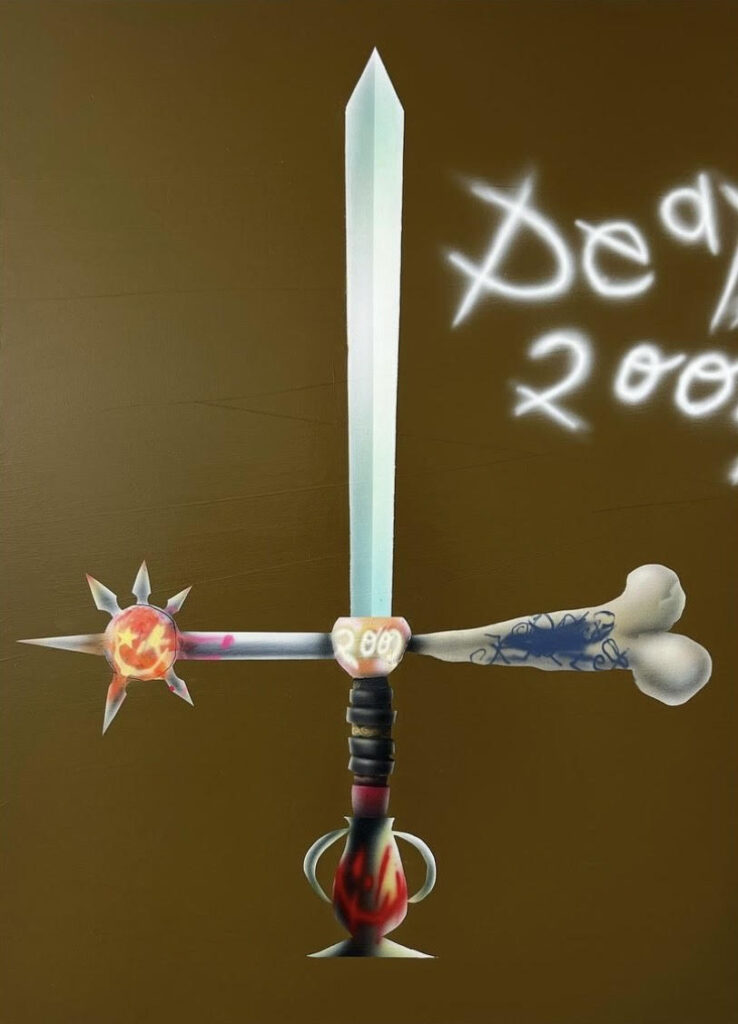 What's the relationship between your work, and themes like queerness and identity?
My identity has always haunted me since I was a kid. I have always experienced life in polarities to varying degrees. I wanted to reject my own experiences for so long as an artist and talk about institutions or something really smart but I just don't think that is where I'm at right now. I think after a while it felt disengenious not to engage with my identity as a queer person of color and to reflect my immediate feelings as a person in the world than some grand gesture of social critic. Im still young in my transness and I think there is a real beauty to my naitivity and I want people to feel represent by my work in that ignorance.i want my work to feel very angsty and overly passionate the way a teenager would be. I want to explore the sides of queerness and marginalization that are messy and uncomfortable. You see in my work characters having cursed marks or masculinized features and it's to reflect my own relationship with how I accept my body and see myself as a women.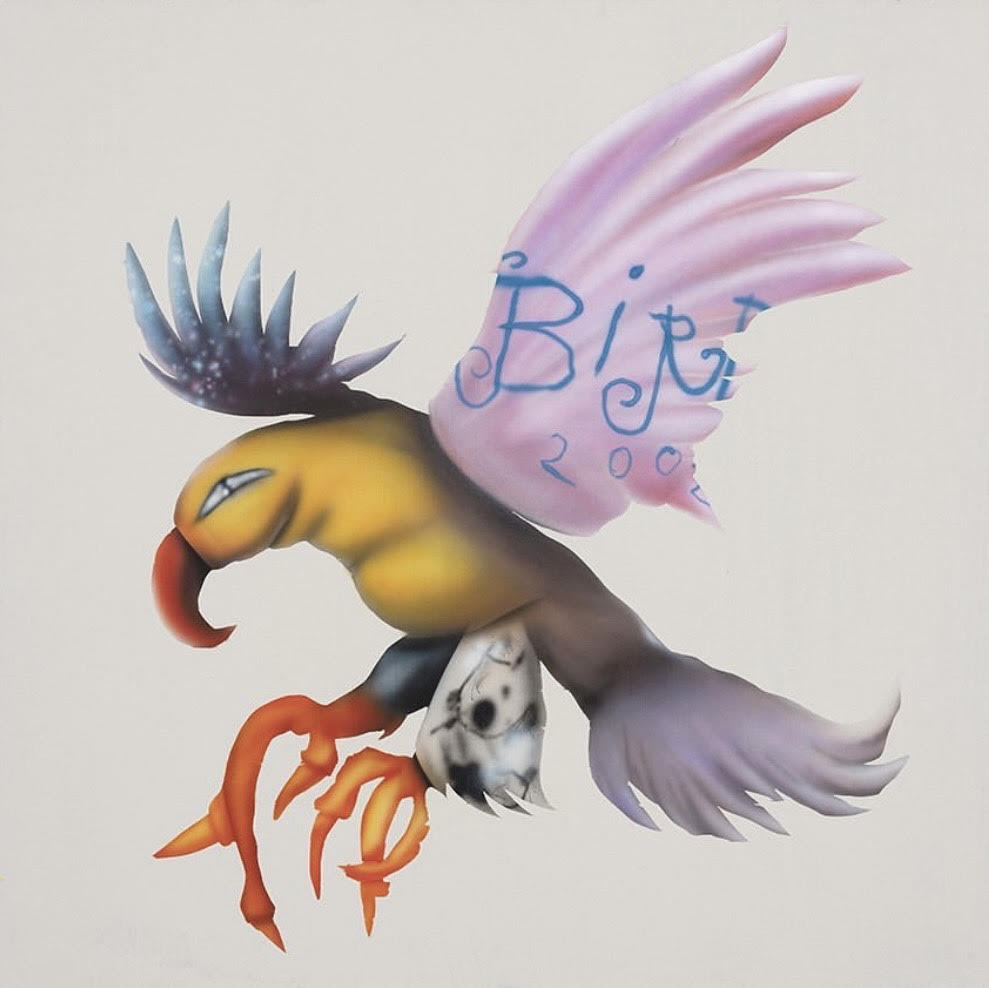 I'm going to split this question up, into two questions, so it's more managable. The first is. Pop culture and media. What's your take on their impact on culture in general?
Pop culture and modern media are so influential to me as a person and my practice. Celebrity culture, Stan twitter, fandoms etc are all intriguing to me. I love the intersections of fine art and popular media. I think when it comes to art I am always considering how art can be more accessible and so things like social media and cultural fads are so important for me. I just recently saw the little mermaid movie in theaters and I'm so entranced by the whole spectacle of the movie itself and the intersection of going to a theater to consume media. It's a part of our culture that still exist on the axis of the abstract. I don't consider the history of art when thinking about what I want my work to be like I am more considerate of what society wants to consume. I don't think we should blame the general public's taste in media as much as we do, I think it's a starting place in its most simplest forms of things we yearn for in our specific time and place as a consumer and community member.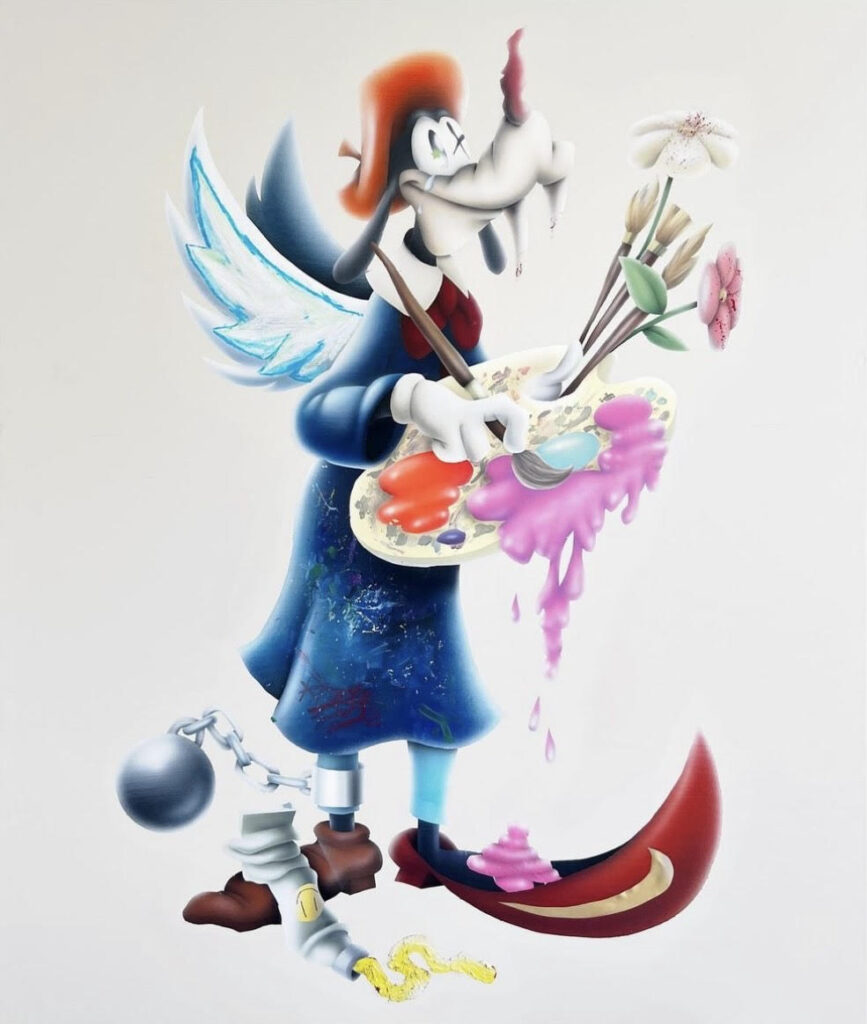 Same thing with, fantasies/futurism and astrology. What's your take on it?
We live in a funny time, it feels like our entire world is on the cusp of changing through rapid changes in technology while still holding on tight to some antiquated systems. The future seems to be at the tip of our tongues. Not that this idea hasnt always existed of course but when we think about all of these structures in our life that have existed for a long time starting to crumble we have to be honest about the future. I love Tik tok tarot readings- the merging of the digital and spiritual. I wonder how they will converge in the future and how us as a society will adapt to singularity.
Can you walk me through your creative process. From beginning, to end result?
My process is boring. I spend a lot of time researching vintage coloring book images and old Disney war propaganda to use as reference images. I'm working most of the time in my bed on my iPad sketching out and arranging images. Once I get a sketch I like I'll transfer that drawing on to a painted background on canvas. The canvas being full covered in masking tape, I slowly work through the image cutting out each section of the painting and masking over finished parts. Towards the end of my painting I will make some moves that didn't exist in the sketch just to feel like I have some agency over the work. If things look to much like the sketch I'll feel bored with the process. Things always need to feel fun in the studio that is really important to my practice. After I have the finished masked section I remove all of the excess tapes and the work is finished after making some touch ups to the background color.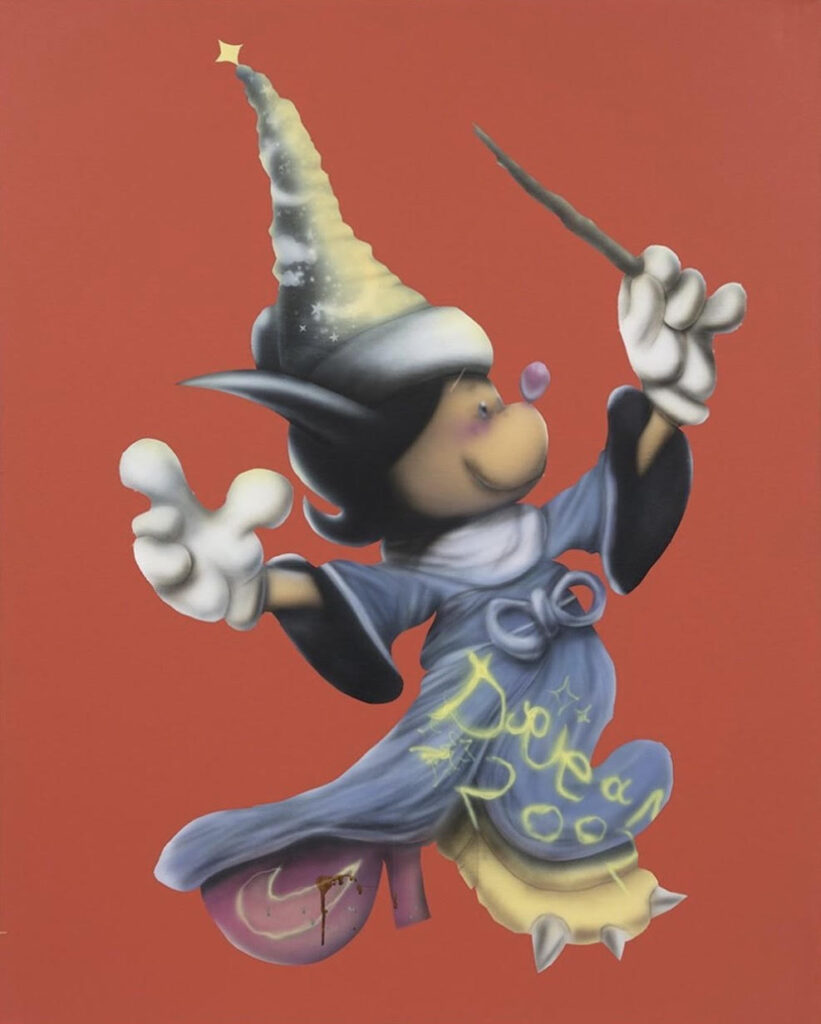 Can you also tell me about your approach to color?
My approach to color is like anyone else's I think. I am just making intuitive moves that feel good and trying to create new conversations amongst color. I don't really remember learning color theory in school and if we did I don't think I really cared to internalize it. I like to approach color the way children do with limited stock colors that come in a pack of markers. I want my use of color to be beautiful at times and also distasteful. I hate when I make a painting and things look too good together. I want the moments of victory within paintings to be pushed by having an extremity of ugly shit going on. It feels good to not always be right and it feels honest, I want my approach to color to be raw.
How do you deal with creative blocks?
I don't necessarily really have too many creative blocks I guess. I mean there's times where the stuff that I'm making doesn't feel exciting or I'm not flooding my studio with work but to me that just indicates that I need a new tool or I need to research or experiment or to be weirder in my studio. I try not to acknowledge times where I'm not pumping out works as blocks and more so moments of fertilization. I think the idea of a creative block is linked to a capitalistic expectation of constantly being able to turn water into wine. The universe is real as fuck though and you learn that things take time and you cannot force your way into something great. Art is just a tool for expression and anytime you start to politicize the use of a tool you lose sight of the gesture itself.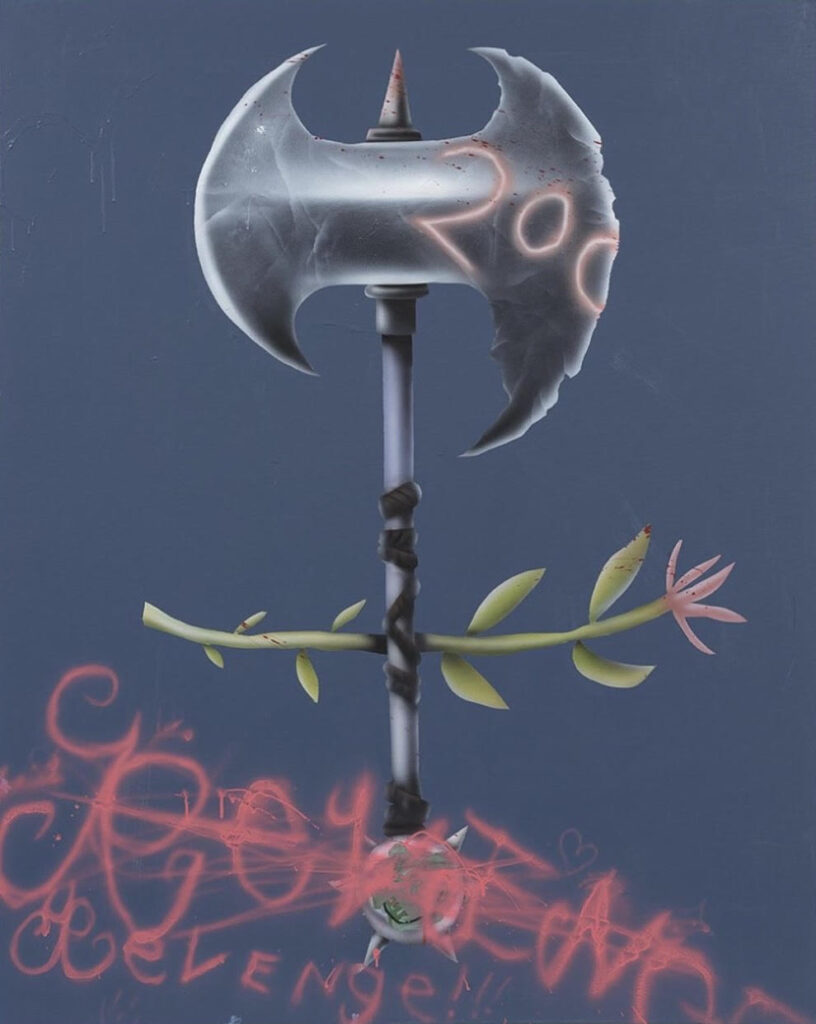 How would you describe a perfect day?
A perfect day for me…hmmmm… Wake up pretty early and have a hearty smoothie and a mcgriddle. Preferably I would love to swim in a pool on a hot day. I really love to make music and art so something creative for a few hours would be nice, nothing too high of stakes. After lunch play video games for a bit while enjoying some quality spliffs. Go to the beach with my partner just to catch some sun before heading to a movie at a theater. Enjoy a night out filled with dancing with friends and get home to a drunken pizza.
The perfect day truly.
Any future projects you would like to plug?
I have a graphic novel coming out sometime this year and I won't give all the details about that, but it will be centered around Girl Hero which I talked about earlier. I have a solo show with Omni Gallery, and I will also have a solo show at Steve Turner's gallery, later this year.
Alright Zachary. I always ask these two questions at the end of an interview. The first is. What's your favorite movie(s) and why?
I've said this before somewhere but I would say one of my favorite movies that is very near to my heart is kung fu panda. I grew up without cable or internet at home so our family was always watching dvds. I remember watching kung fu panda almost every night before bed in middle school. I think I resonated a lot with the unlikely hero and jack black will always be an inspiration to me.
The second is. What song(s) are you currently listening to the most right now?
I've been listening to:
Gangster shit by Young Thug.
"Why can't I touch it" by the Buzzcocks.
"Nothing even matters" by Lauryn Hill.
"Myself" by yeat
"Ojos del sol y la Bamba"