Share this
Polish-born, New York-based artist Alexandra Pacula (b. 1979) paints large-scale works that explore the dynamic energy of cities at night. With virtuosic brushwork, vibrant color, and fluid gesture, Pacula captures the motion and chaos as well as the sublime beauty of urban space. Her streets are filled with light that travels almost of its own accord within the compositions, and she has developed a nontraditional style of painting that combines impressionism, expressionism, and photorealism. The resulting paintings ensnare the eye and transport the viewer to another dimension, reminiscent of the fleeting yet mesmerizing moments that take place only in the big city.
Pacula's work has been exhibited throughout the US as well as Russia, Spain, London, and Paris. In 2010, she was the recipient of a Fellowship in Painting from the New York Foundation for the Arts as well as a one-year residency at the Marie Walsh Sharpe Art Foundation, sponsored by the Robert Sterling Clark Foundation. Pacula was also the 2008 winner of the Saatchi Showdown Competition.
Pacula received her MFA at Montclair State University in 2006 and her BFA from Rutgers in 2002. She works and lives in Brooklyn.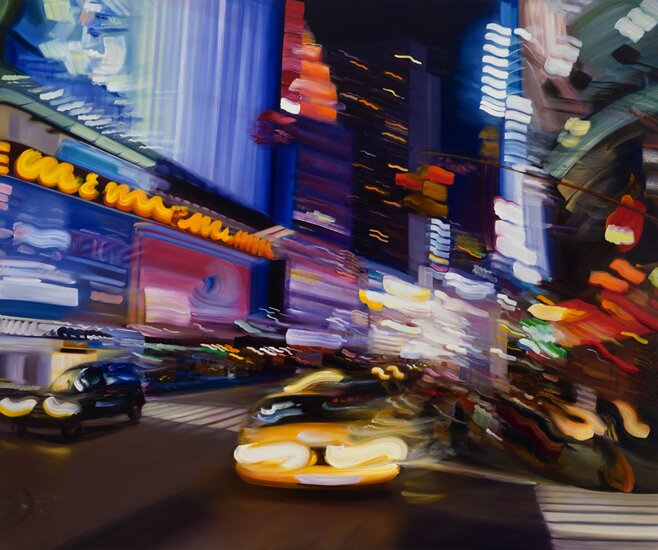 You were born in Poland. At what age did you arrive in America? And what was the reason behind that?
My parents decided to move to the US in order to give me and my two sisters a better future. I was 14 years old.
At what age did you start to draw and paint?
I started painting when I was 12 years old and got so into it that I decided to become an artist.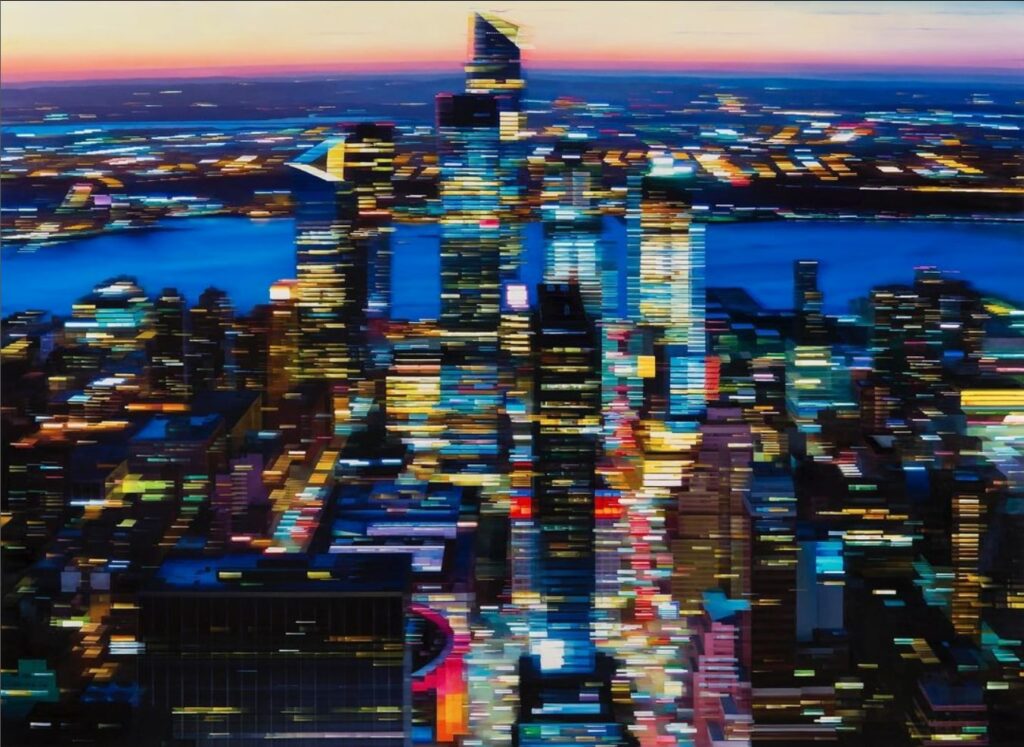 Your paintings look like photographies, and at first glance it's hard to see that it's actually a painting. Tell me a little bit about how this came to be your signature painting style.
I have been developing my particular painting technique for the past 17 years. When I was in Graduate school (2005) I got my first digital camera and discovered that it was a great tool for getting ideas and inspiration for my paintings. I would go out to bars and restaurants and take pictures of reflections created by glasses and bar tops, then take them to my studio and transcribe the light effects in paint. My early paintings were mostly interior scenes in which I wanted to show the inviting atmospheres of different bars and clubs and how they drew people in. I wanted my paintings to be as intoxicating as the night after a few drinks can be.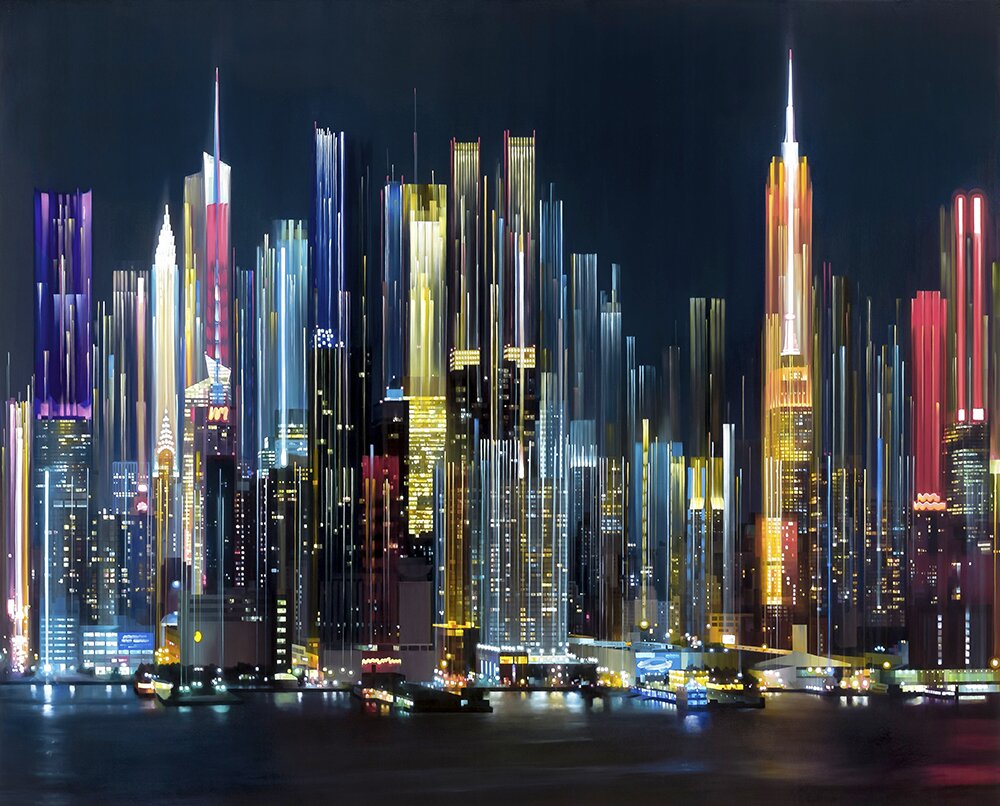 I have always loved oil paint and how it behaves on the canvas, so my paintings have always been very bold and thickly painted. One has to see them in person to get a sense of the texture and the glazes I apply. Yes, on pictures my work looks photo-realistic but in person it is a totally different animal. As the art critic Donald Kuspit put it, "Pacula is a great painter, at once a sharp-eyed realist and an intense abstract expressionist" I've had a lot of people glance at my paintings and assume they are photos only to be surprised when stepping closer to the painting. I like that about my work . There is a lot to discover in it.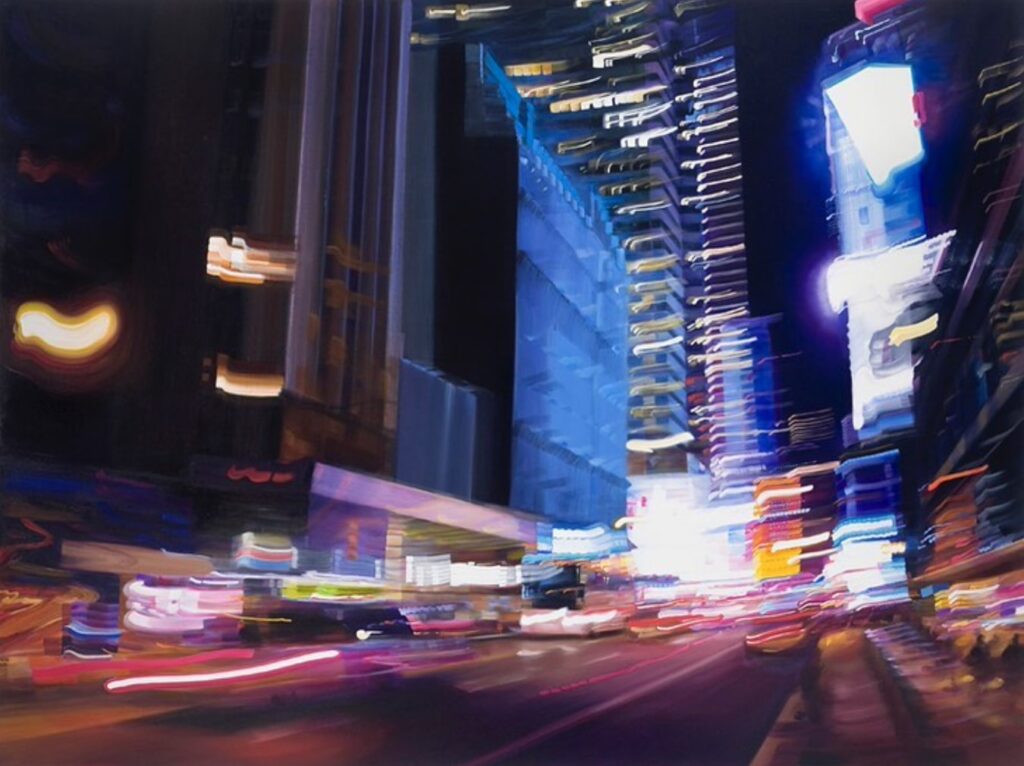 When I moved to Bushwick, Brooklyn in 2006 I continued my exploration of interesting interiors and discovered that the city itself was even more captivating. The streets filled with the lights of billboards, shop windows, street lamps as well as the passing vehicles created a mesmerizing scene that wanted to be painted. As I developed my skills and confidence with painting I begun choosing more challenging scenes to paint, and so the work progressed. I started using big brushes, one even 24 inches wide, and capture movements of speeding vehicles with one stroke. My paintings kept getting bigger and bigger 7×9 feet and 5×10 feet. I wanted the viewer to feel like they are in the scene and be one with the painting. The idea was to capture the scene in one go working wet into wet so that the paint looked fresh and flowing and the painting had a spontaneous feel like an actual nightly excursion.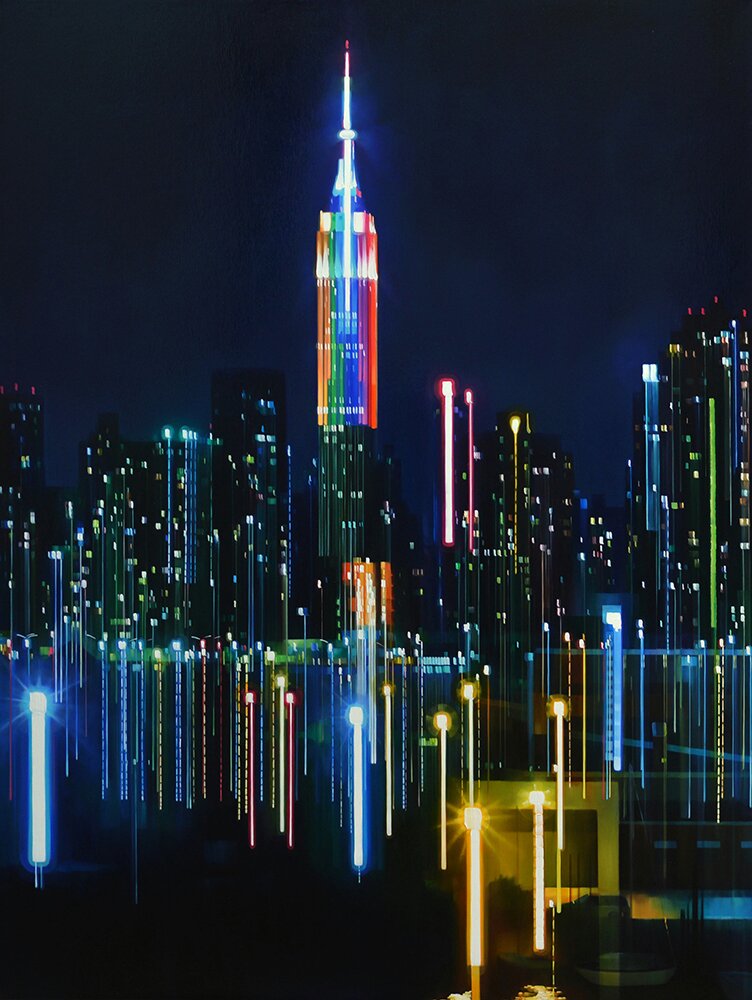 At some point I looked up at the Empire State building and decided I wanted to go up there and explore the city from above. I have always been fascinated by the views from a high vantage point. The way the buildings become like doll houses and cars like little toys moving around through mazes of lit up streets. The trick was combining the precision of architecture with the painterly effects I wanted to keep in my work, so I decided to use the light almost as a free agent that can move and become whatever it needs to be. I interpret the light with different types of brush strokes. Each painting has it's specific gesture of stroke dictated by the brush and the movement of my hand. The light is the abstract element in my work. It suggests movement and gives my paintings their energy. The energy which is necessary in order to capture the chaos and vibrancy of a city at night.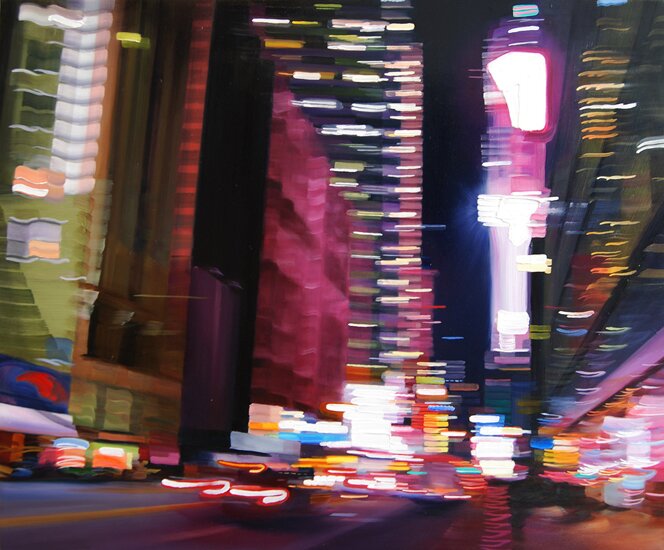 What is your favorite city/cities and why?
New York City, mostly because I grew up near it, in New Jersey, and it was full of mystery and wonderful opportunities I wanted to discover. Nights out in the city were always exciting and memorable.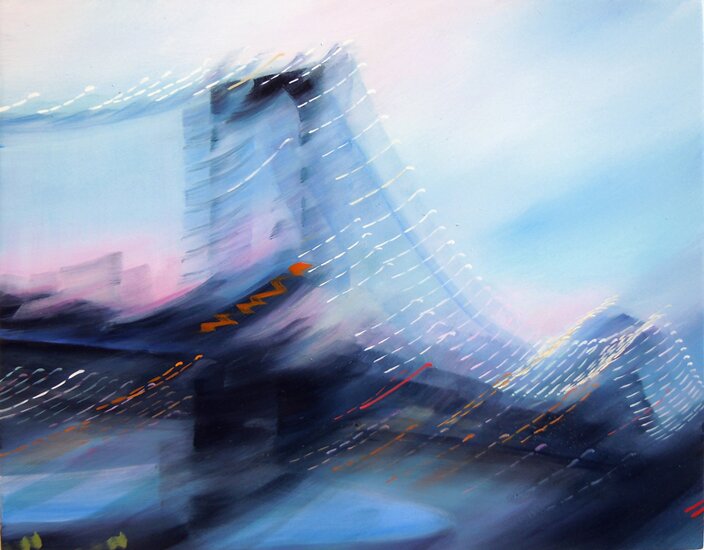 Who is your favorite artist/s and why?
Gerhard Richter was an inspiration for me.  When I saw his retrospective at the MOMA (Museum of Modern Art) in 2002 I realized that photos could be a great tool for making masterful paintings.  
For more information about Alexandra, check out her website and Instagram.