The enfant terrible of contemporary Czech art, Tomáš JETELA, presented around thirty unpublished and explosive works for his first solo exhibition in Paris.
After a real "tour de force" last summer at the prestigious gallery Nova Sin in Prague,  'Magic Monsters', Tomáš invites us to discover who is hiding behind the mask of the Superhero.
The superhero reveals himself in a new intimacy… a complex and paradoxical personality… as a true Doppelgänger between myth and reality…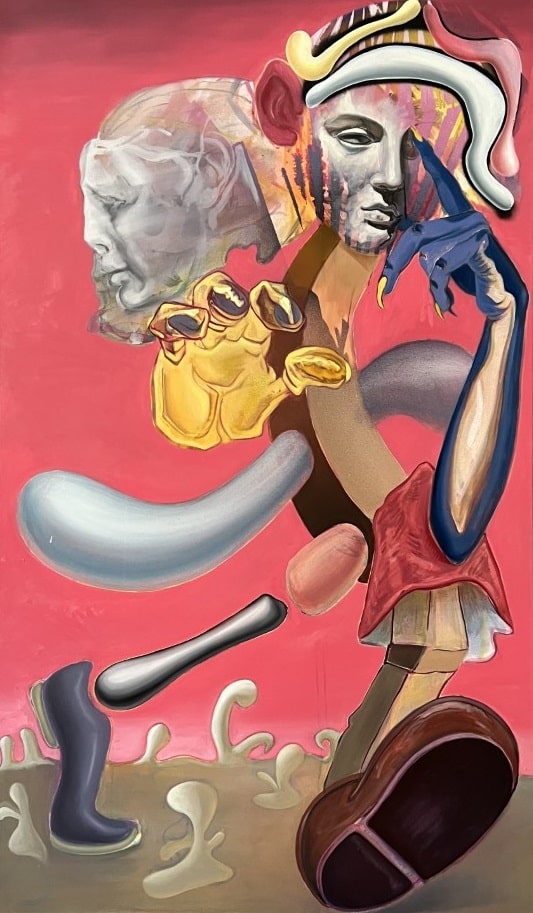 The myth:
From ancient hero like Hercules to the costumed comic book vigilante, the superhero has evolved through history and left his mark on the collective imagination and the arts. Mythological, legendary or pop, he fascinates with his positive aura and his extraordinary abilities… his superpowers. He stands out as a superlative fictional figure, part human, part dream. It seems within everyone's reach (young and old)… the ambition of a solitary being coming to the rescue of the world.
Wanderers and travelers… Tomáš's superheroes transcend time and space… inhabitants of a parallel universe… science fiction.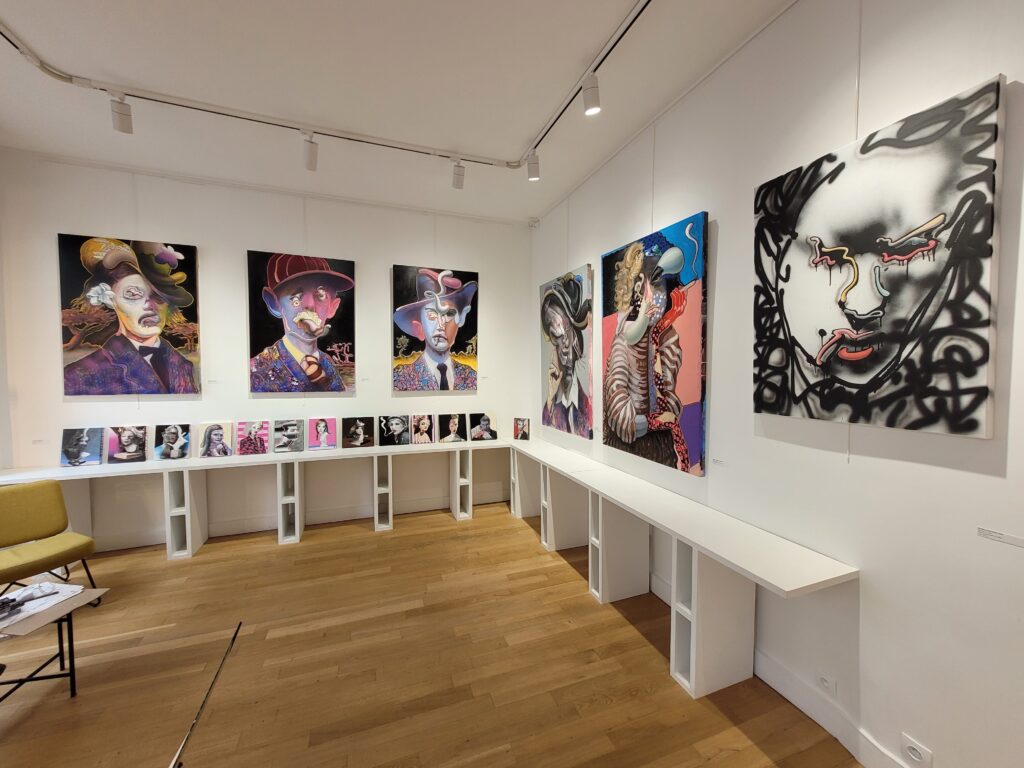 Literal or metaphorical collage, faces and physical form, fragmented… algorithmic… the formation of a dream where everything becomes believable and larger than life. We abandon ourselves to this sleep of wonders… to this world of possibilities.
The figuration is mixed with abstract forms which underline in an original way this other dimension and the hybrid nature of the characters… evoking at times a form of mutation or a feeling of weightlessness… like liquid floating in space. As for the vibrant colors, they stand for supernatural energy and extraordinary power… an inner aura that spreads outwards… cosmic radiation.
These superheroes are therefore subject to metamorphoses… causes or consequences of their superpowers… extra-terrestrial.
Each portrait thus embodies its own story and the viewer is free to tell it because the exhibition can be seen as much as it can be read as a narrative… an (expressionist) poem… each title revealing an identity… a myth and reality.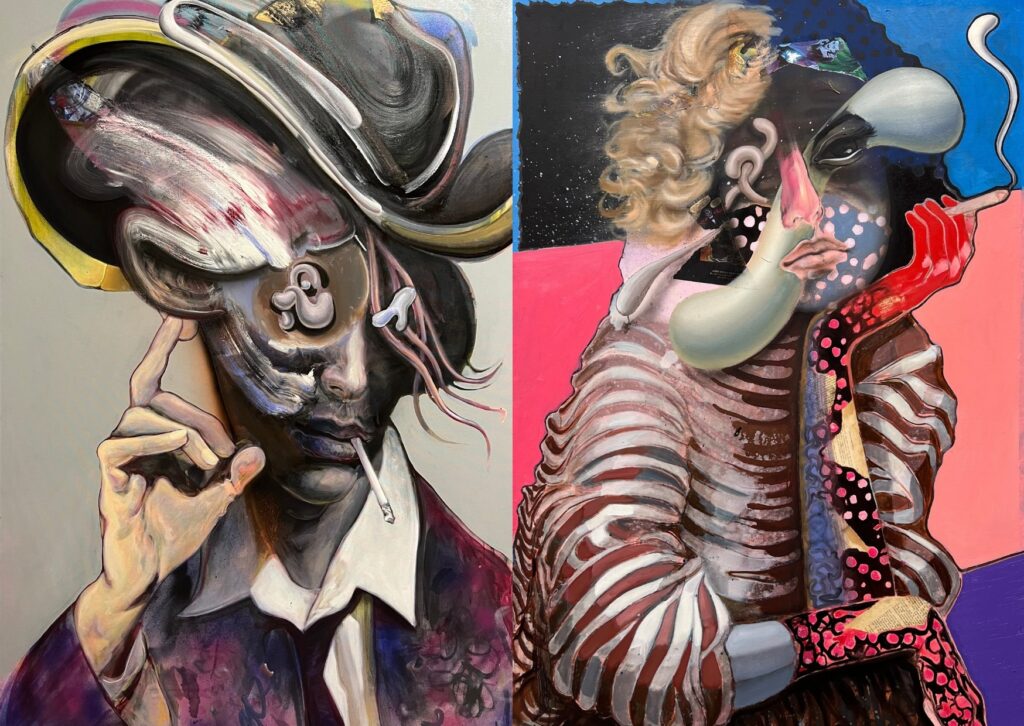 Reality:
The work of Tomáš also stands out because it is not limited to the representation of the superhero archetype or a literal interpretation of the myth. He approaches the theme with the ambiguity and subtlety that characterizes his work to ultimately highlight the human condition… its beauty and its absurdity… a poetic and philosophical vision of society.
He masks and more importantly unmasks his characters. The scraps of paper, the abstract shapes mingle with the portrait to underline this double identity, both ordinary and extraordinary, natural and supernatural… metamorphosed. He is as much seemingly ordinary person and inner hero. All these individualities represented, man or woman (without distinction), ambiguous; as if these superpowers were not fictional but hidden in each of us, very real, provided we know how to recognize and use them…. provided we are aware and make the choice of action.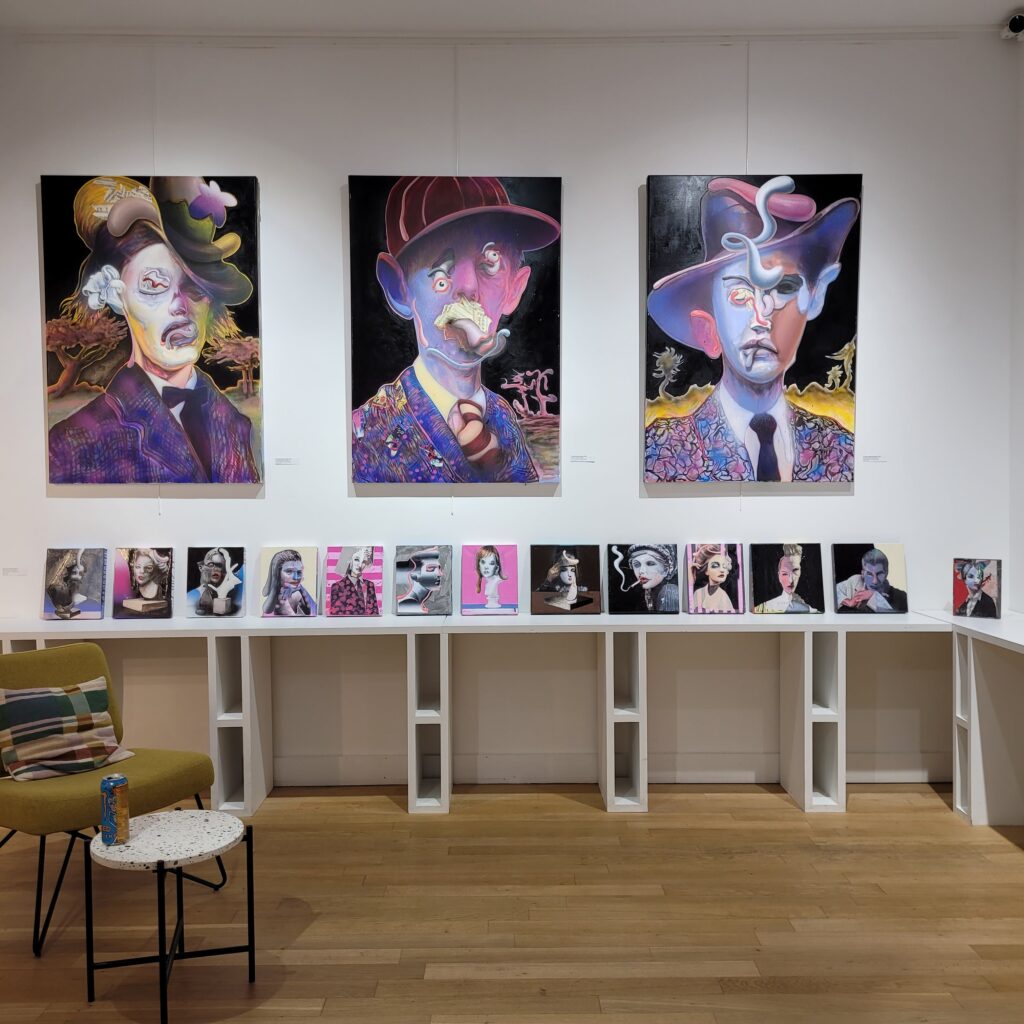 He thus shows that everyone has the intimate potential to be special in the eyes of the world and he invites the spectator to probe his characters as much as themselves in search of this gift.
The work of Tomáš thus affirms a real seizure of power… a revealed and powerful inner force… a personal evolution. The vulnerable and mysterious loner that is the superhero then becomes an indispensable and invincible legend.
As with any superhero, it doesn't matter if others know his true identity as long as he himself knows who he really is and what he is capable of… doing good. Finally, there is this intrinsic loneliness, this secret identity of the superhero… which characterizes him. Perhaps this is where his heroism and his superpower come from since he makes his loneliness a force in service of humanity… just like an artist.
This superhero image then naturally invokes that of the genius because if the former is regularly accompanied by the monster, the latter is often accompanied by madness. This ambivalence proves to be illusory as they are both simply out of the ordinary… and only finality determines the way society sees one and the same individual.
Tomas' work highlights this singularity, this super-humanity in all of us… and invites us to take action!