Share this
Today the legendary Danish auction house Bruun Rasmusen auctioned off a Chinese Ming porcelain Dragon Dish From the 15th Century for € 4.8 Million ( 35.500.000 DKK ), thereby setting a new record for the highest auction price in Denmark. The previous record was also held by Bruun Rasmusen, and was for the "Interiør fra Strandgade 30" by Vilhelm Hammershøi, which was sold for 31,5 million DKK.
The original valuation for the rare dish was 200.000–300.000 DKK ( € 26.892– € 40.339 ), but a bidding war pursued, making some lucky collector in China extremely happy in the end.
The dish originates from the famous Ming Dynasty, and has been in a private collection owned by the Swedish architect Salomon Sörensen, who was a passionate collector of Chinese and Japanese art.
"We were well aware that the dish would fetch a good price and that there would be a great deal of interest in it. We were also aware that it would appeal to collectors around the world, not least in China. We had therefore also done our best to market the dish in different media. Yet, I also have to admit that our estimate was a bit off the mark, but the result itself can certainly be described as having hit the bullseye."

– Ralph Lexner, Head of the Department of Asian Art and Antiques at Bruun Rasmussen Auctioneers
In Asia the dragon has been a symbol of happines for centuries, and the mythological creature is often depicted as a mixture of different animal species with, for example, a snake's body and a lion's head, reads a press release from Bruun Rasmussen.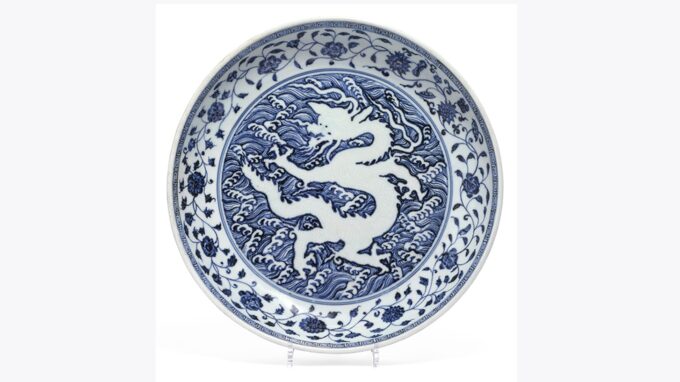 Photos: Bruun Rasmusen