Share this
Saint Ki is a super talented 23 year old painter based out of Chicago, Illinois. These last couple of years he has made a buzz for himself through his paintings, which he posts regularly on social media. His unique cartoonish style and approach to the canvas documents his own experiences and depicts societal problems and iconic movie scenes, that everybody can relate to, in one way or the other, no matter what social class you come from.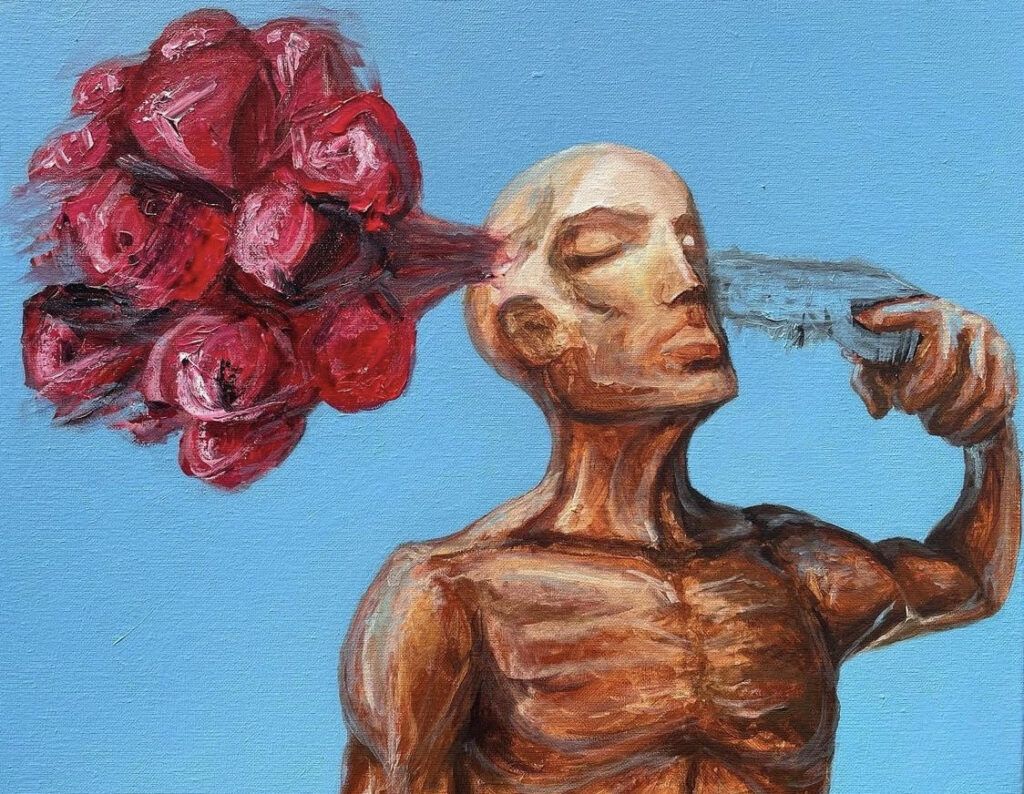 Hi Saint, it's a pleasure to sit down with you. Let's get right into it. Do you remember at what age you started to draw and why you gravitated towards painting?
I remember when I was about 5 or 6 in my first grade where I made my first drawing, well at least the first drawing I can remember. It was my own rendition of a Dragon Ball Z character which I thought was pretty good at the time and I've been drawing ever since. I knew I wanted to be artist when I was about 8 or 9 in my fourth grade art class, my teacher kept telling me that I was talented and encouraged me a lot.
Some of your paintings feature scenes from iconic movies. Talk to me a little bit about what made you grace your canvas with those scenes?
I treat my art as my own version of a therapy session. Some movies inspire me to be vulnerable with my my thoughts so I paint those scenes because of the emotional connection I've made with them. All of my art is just me reflecting on myself and past experiences. Almost like my pieces are all apart of this manifesto that documents my life, hopefully with do time people can see that from my work. I know how some of my pieces can come across as random when compared to another I've made.
Staying on the subject. The struggle of living in the ghetto, mental health, as well as drug addiction are recurring subjects in your paintings. Talk to me a little bit about What made you document those subjects and what they mean to you.
To be honest I was blessed with a privileged childhood, like I never had to go with out much as a kid but shit wasn't always perfect. I grew up in the south suburbs of Chicago but still dealt with a lot of the shit that comes with living in the city. So not necessarily the ghetto but 10 blocks away from it. It was easy to get involved in whatever was happening, you know. I just feel like it's important to document my experiences and I try to do so with my paintings, I want to tell my story with them.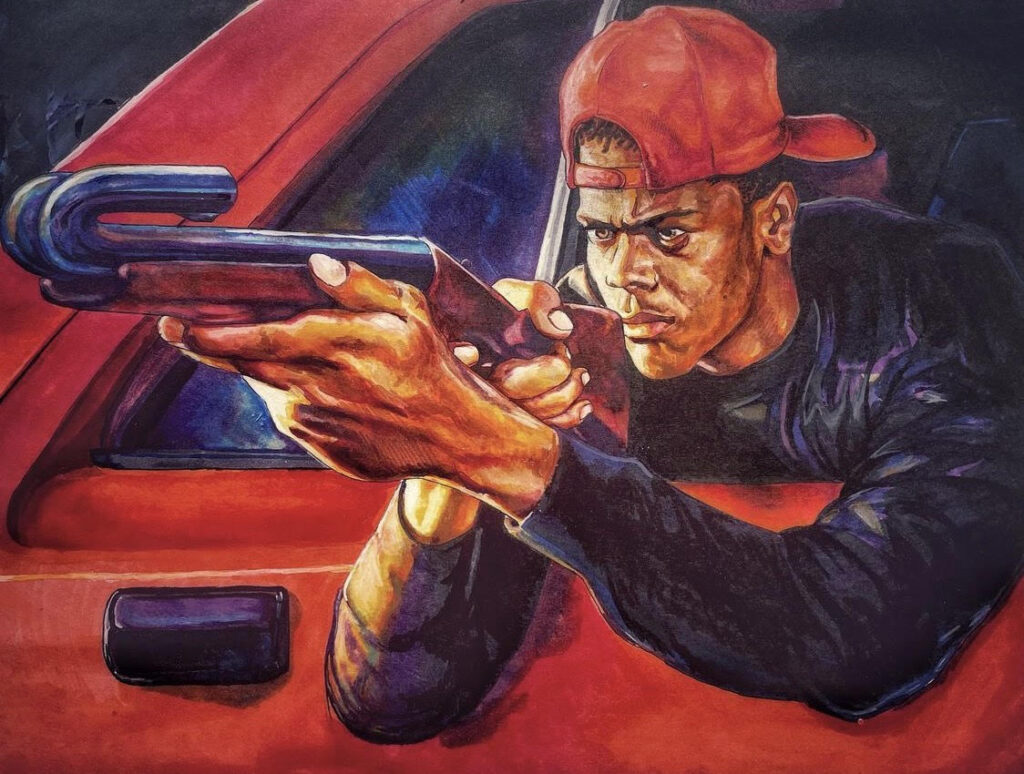 What do you hope that we, the observers get out of your paintings?
That at the end of the day I'm just a guy. Sometimes I feel like I'm a god but I'm not. I'm just like you and you're just like me. Im a human having human experiences and I don't know what the fuck is going on with this thing called life but I'm figuring it out as I go just like you.
The scenes in your pieces. Do you have them already thought out, when starting on a new canvas?
I never know what I'm going to paint, I just go off of what I think is dope then I end up adding variations to it as I go. I always developed a meaning and a name for my paintings only after I've finished them because I feel that I'm always telling myself something with my paintings, like how your subconscious is subliminally telling you how you really feel in your dreams.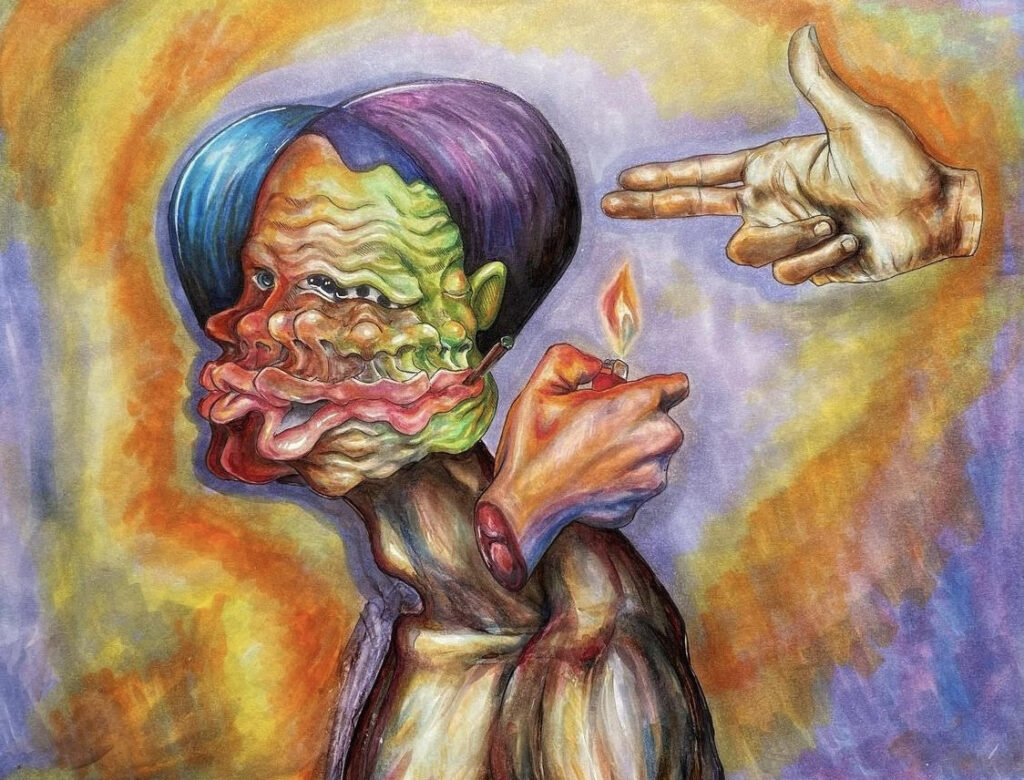 How did you get your nickname "Saint DaVinci"?
I wanted to be as great as Leonardo DaVinci as a kid, I've seen his paintings in history books but only learned of his name when I turned 13. At that time I was introduced to Caravaggio's work as well but I didn't know his name either until later in life. "Saint" came from noticing that historians would refer to the figures in their paintings as "Saints". I felt a connection to "saint" because I feel I am one, in almost a biblical sense, i feel that im genuinely a good person with good intentions but again im not perfect. I feel like my talent for art is a gift to the world that they must be seen, which sometimes leads me to be narcissistic a bit and feel as if I'm above everyone else. However, life always found a way to humble me quickly whenever I get too big headed. Which leads me to believe that "Saint" is perfect for me. "Saint daVinci"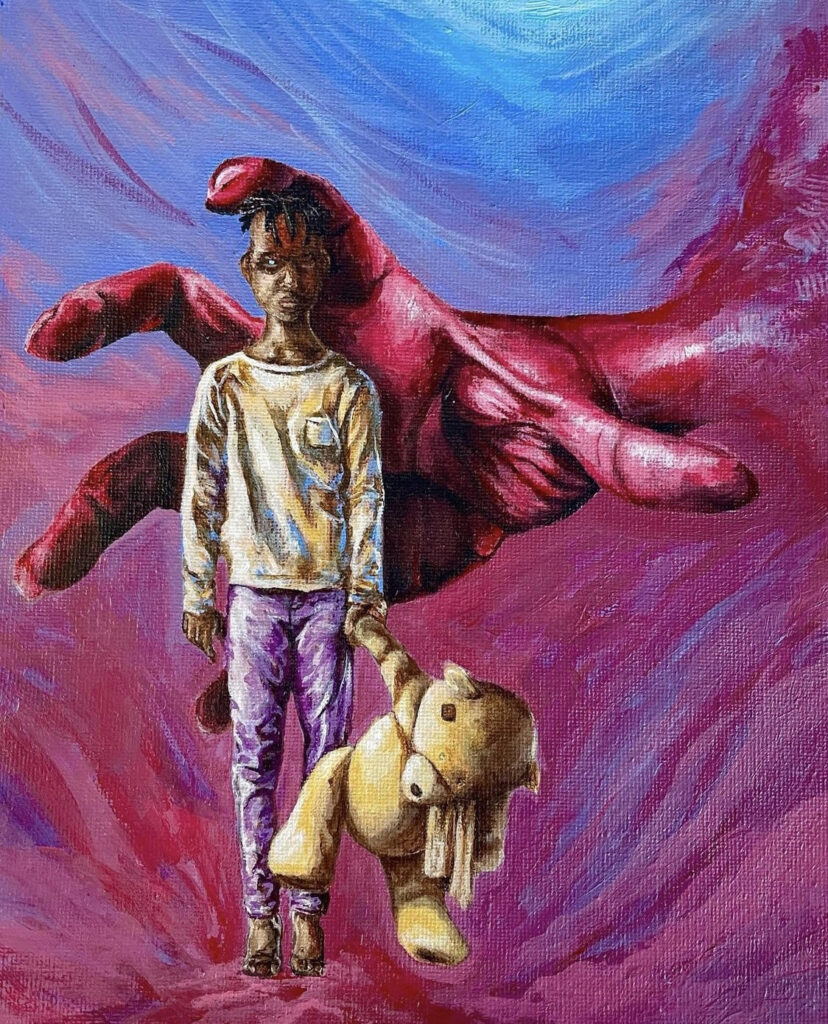 Which of your peers do you admire the most?
Poor Teffy. His authenticity and honesty is admirable to me. His work inspires me to be more fearless with what I want to say with mine.
Where do you go physically or mentally when you need to chill out and unwind?
I smoke and/or draw. I don't even smoke to get high anymore, It really just helps me calm down. But when I'm really anxious I draw in my sketch book.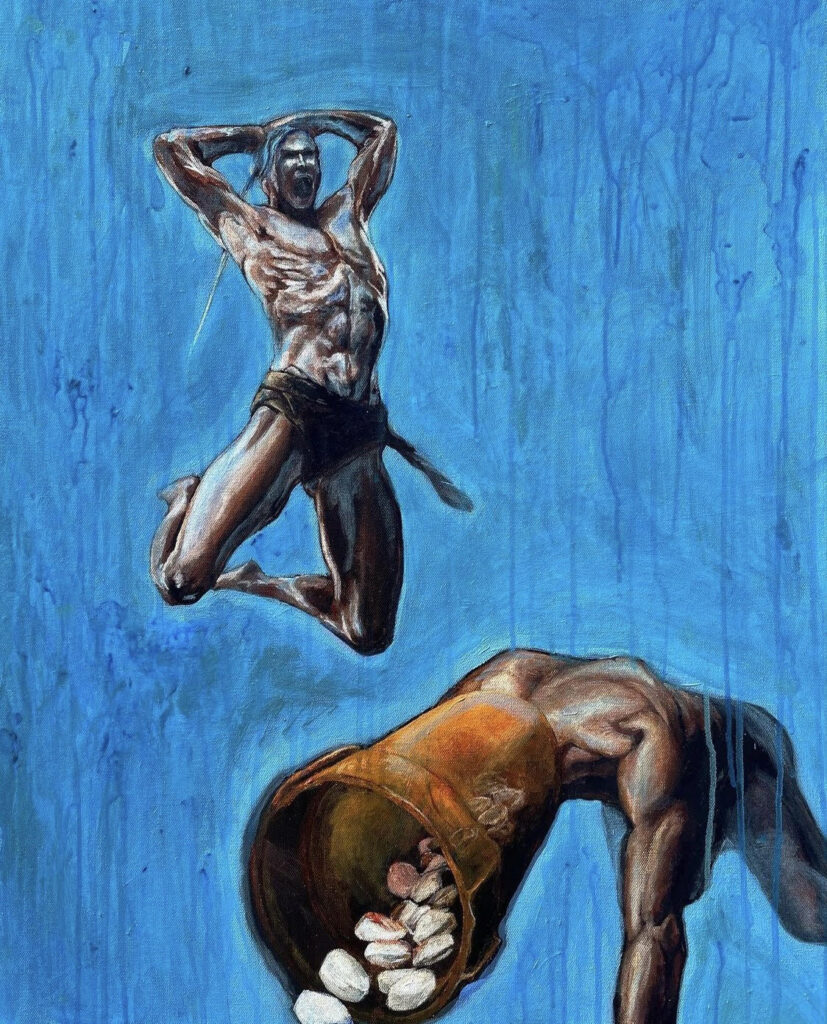 You got the whole day off. You're free to do whatever you want. What are you doing?
I'm going to the skatepark downtown. I love skating for the exercise but mainly because it teaches me resilience. Failing down and getting back up is a valuable lesson I take from a skate session.
Where do you get your inspiration and motivation from?
Inspiration comes from any and everything I see but it's too unreliable. What keeps me going is my desire for improvement on my craft. I love it so much that I practice it religiously. I only care to be a master at what I do.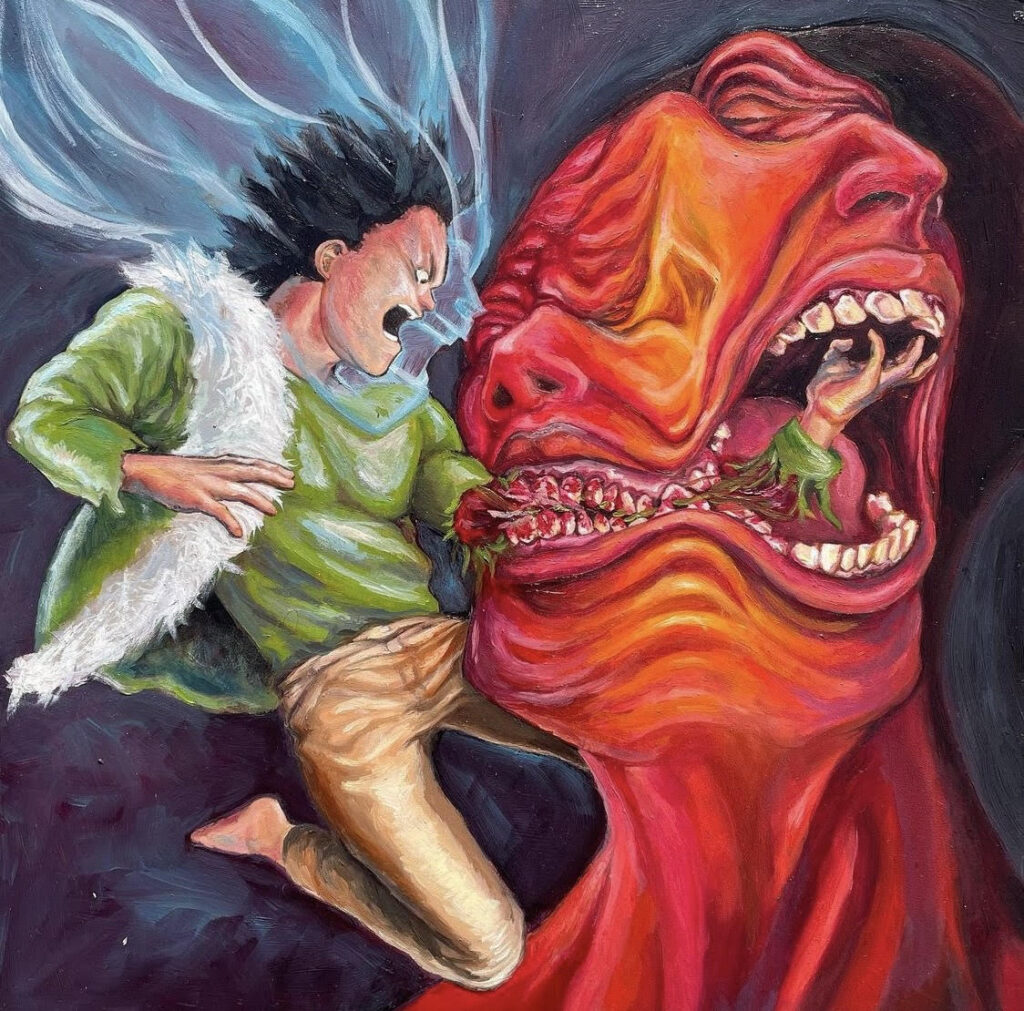 Which rapper(s) has meant the most to you growing up?
Chief Keef
What's your most played song on Spotify right now?
"Recognize Real" by Young Thug & Gunna
For more information about Saint, check out his Instagram and website.