Share this
Anders Lindseth (b.1990, Cleveland, Ohio) makes paintings, drawings and sculptures. By demonstrating the omnipresent lingering of the 'end of the world', his works reference Tibetan Buddhism as well as fauvism and expressionism, while subverting the traditional labels of painting or drawing.
His pieces demonstrate how life extends beyond its own subjective limits and often tells a story about the nature of death. It challenges the binaries we continually reconstruct between existence and the absence thereof. By exploring the concept of landscape and object-portraiture in a destructive way, he investigates their dynamics, including the manipulation of the works effects and the limits of spectacle based on our assumptions of what these types of images mean to us. By presenting forests, houses and cars which are in the process of being destroyed, he proposes the idea that by removing the primary function from an object, we are left with an artwork, a sort of reincarnation.
By referencing romanticism, Buddhist death meditations, and the American West, he creates works which serve as a tool for coming to terms with the unpredictability and inevitable loss of our future. They are inspired by an early twentieth-century tradition, and the Hudson River School in which the landscape was seen as the pinnacle. These works focus on concrete questions that determine our existence. Anders Lindseth currently lives and works in Los Angeles. Anders will be exhibiting at Blue Door Gallery in January of 2023, 4th Ward Project Space in April of 2023 and sometime later next year he will be exhibiting in Stockholm, Sweeden, at a new gallery that's opening.
For more information about Anders, check out his instagram and website. For available works, contact AMANITA Gallery.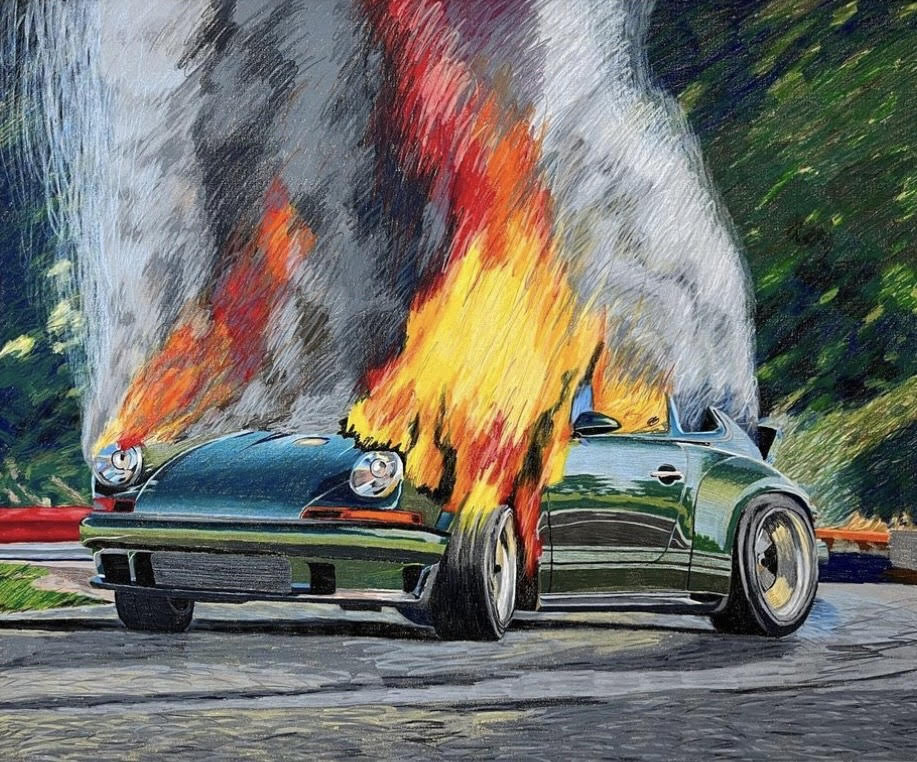 Hi Anders, thank you for sitting down with me. First question. What does a regular day in LA look like for you?
Sometimes I start to feel crazy because every day is the same weather here. Sometimes I miss the rain and snow. I take my dog to the park in the morning for 30 minutes to an hour, then go to the studio til 4 or 5 pm. Then back to the park with my dog and home for dinner. A few nights a week I'll go meet friends for some drinks in my neighborhood. Pretty chill lifestyle.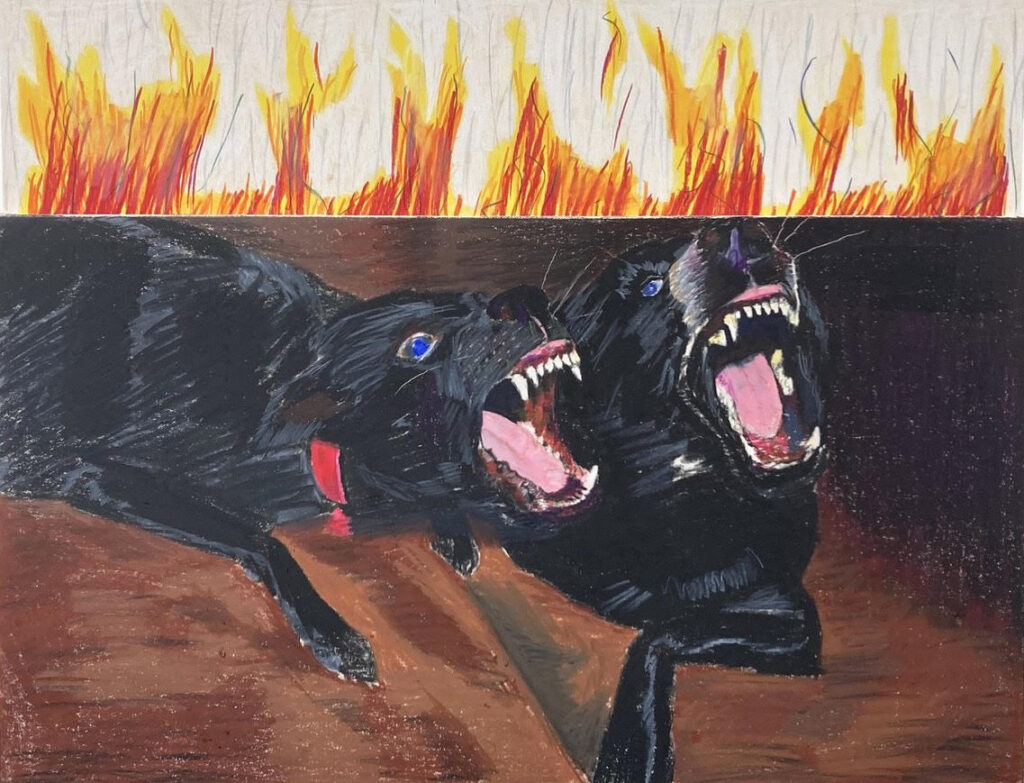 You're able to live off your Art?
Im kind of on the edge of being able to. But I left my job about 6 months ago and I have a few shows next year that I'm really excited about. Im seeing how long I can go just living like this. Hopefully I can keep the momentum going and keep doing this.
That would be crazy! I'm crossing my fingers for you. So You're about 32 now right? At What age did you start to paint and when did you start taking it seriously?
I first went to college in Montana as a business major, quickly switched to graphic design and was completely miserable. I was trying to figure out what to do next and my dad asked if I had ever thought about art school. So I applied to a few and loved The School of the Art Institute of Chicago. I had never painted before that. I started school there when I was 19 and took my first painting class that year. I always had a studio after college but never really found the materials and subject matter that worked for me until I was maybe 26 or 27. Moving to LA gave me the space to focus and the support I've gotten from Spazio Amanita and other galleries in the last few years has really allowed me to keep experimenting.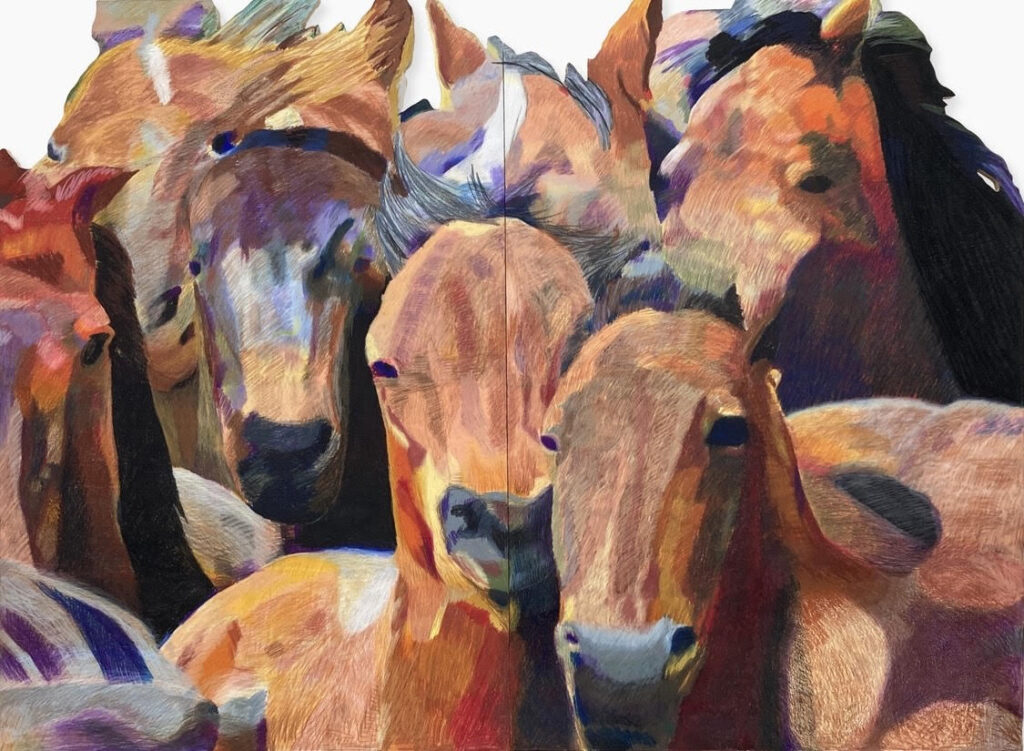 So basically so started painting forreal at around 26-27?
Yeah I would say so.
What's that feeling like? Having taking your art serious for only 5 years and have already been exhibited, and now you're at the verge of being able to live off it?
Well it feels really great to be able to be working in my studio full time and at the same time it just feels normal to me. This is how I prefer to spend my time for the most part so i couldn't ask for much more than that.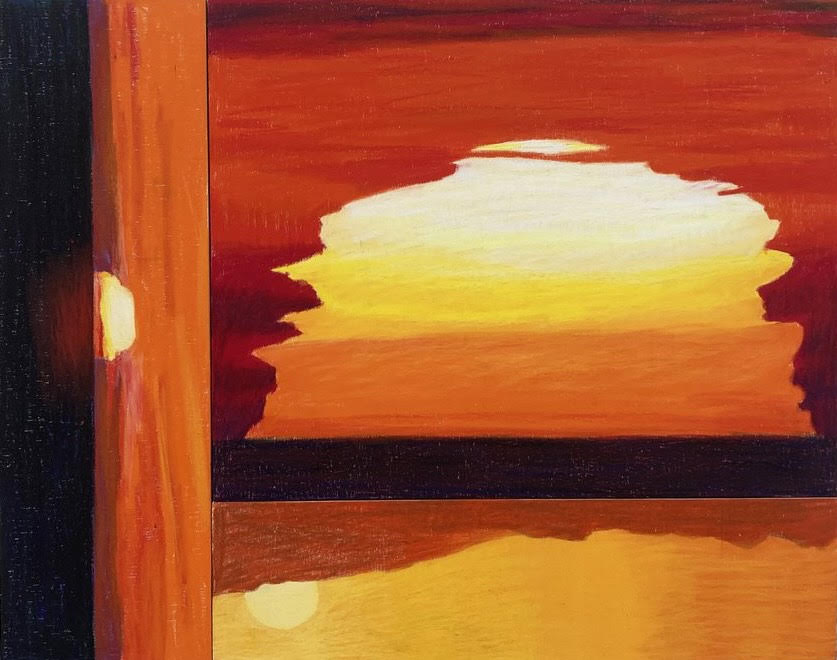 You mentioned that LA gives you the space to focus. Explain that to me please.
I get too stressed out in really crowded places. My dream would be to have a big property with a barn I could convert into a studio.
What is it about Buddhism that resonates with you?
I've had a lot of anxiety in the last 10 years or so, and while I was living in New York, I started taking these day trips upstate, or into Long Island where I would find a place to walk or hike. Pretty quickly I realized that these trips helped to reset me and allowed me to endure more time in these concrete spaces. I am not really a buddhist but one of the principals of that philosophy suggests that we are not meant to compete with nature but to live in harmony with it. And, that is something I truly believe would make everyones lives better if only we could put it into practice.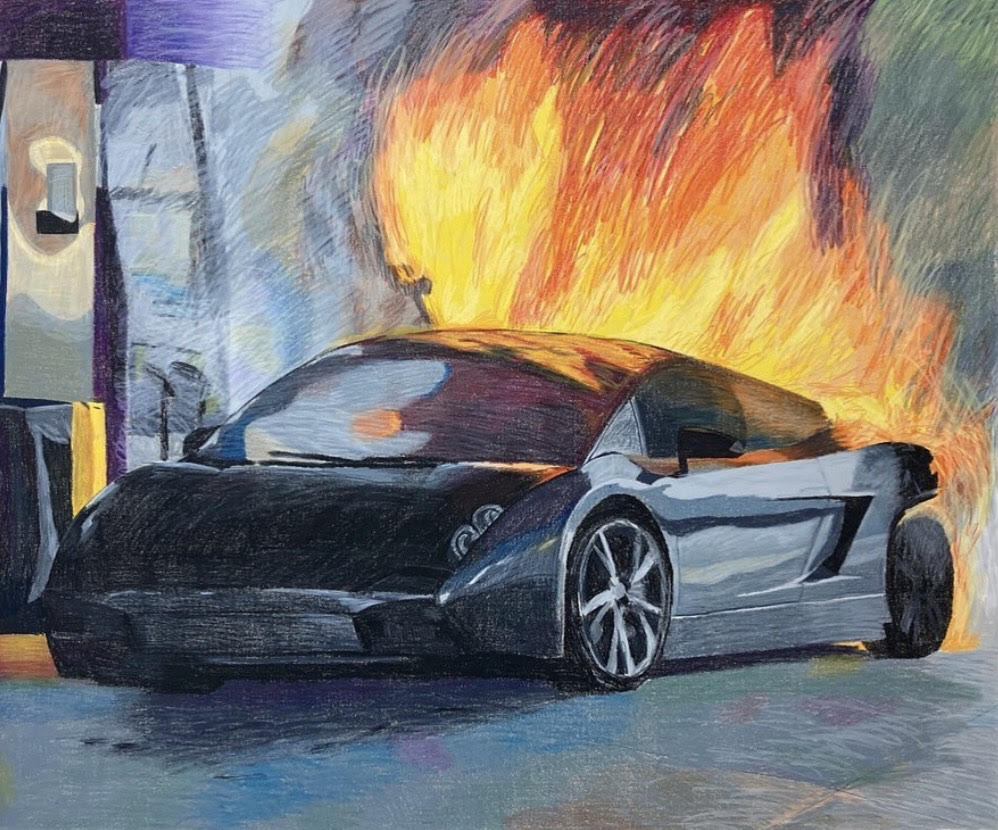 Dealing with anxiety. Is that in any way reflected in your work? And has it changed the way you approach or view things?
It is definitely a big part of my work. It didn't really happen exactly because of my own anxiety but through conversations with my cousin, Ben, who was getting really interested in neuroscience in 2015 and is now in a PHD program at Berkeley. He introduced me to a few concepts and one that really caught my attention was Neuroplasticity. Basically, the brains ability to modify, change and adapt, and you can do this just by changing the way you think.
I thought this was basically what art was meant to do and it became something I wanted to use in my work. It helped my anxiety drastically in conjunction with different types of therapy and seeing how powerful it is, I continue to think about in my work because I know it can be something used by everyone.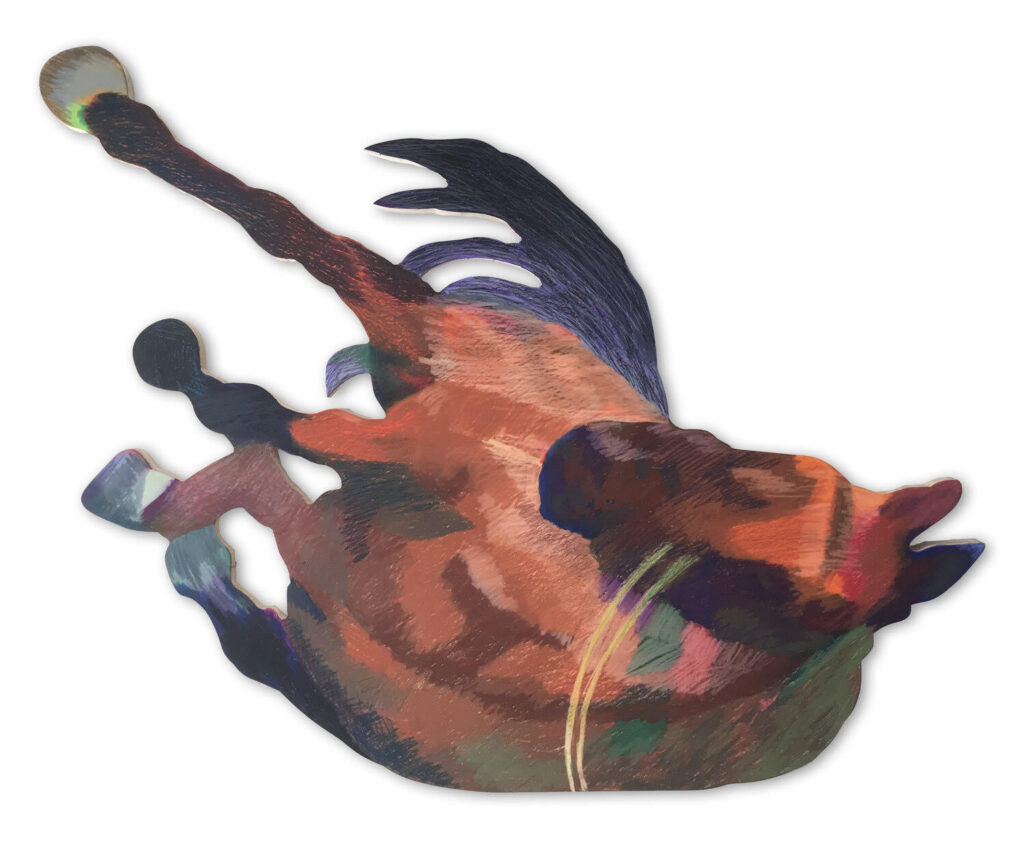 The realistic scenes in your pieces. How do you come up with those? Is it something you have experienced or seen somewhere or do you simply start to paint whatever comes to mind when starring at the canvas?
It's important to me that I use images of real things that actually happen. I always start by just thinking about what it is I am trying to discuss, and from there I decide on types of images that convey that message. The works are always based on sources I find online, inviting you to take a closer look at something saying "hey, maybe this is really important and you should care about it." I take images from recent wildfires in California, or floods in Europe, etc. Then, some work done in photoshop to change the composition, color, size etc of certain aspects so that I can control how the image is read. I use these photoshop images as a guideline to get the initial drawing down and then I close the computer and go from there.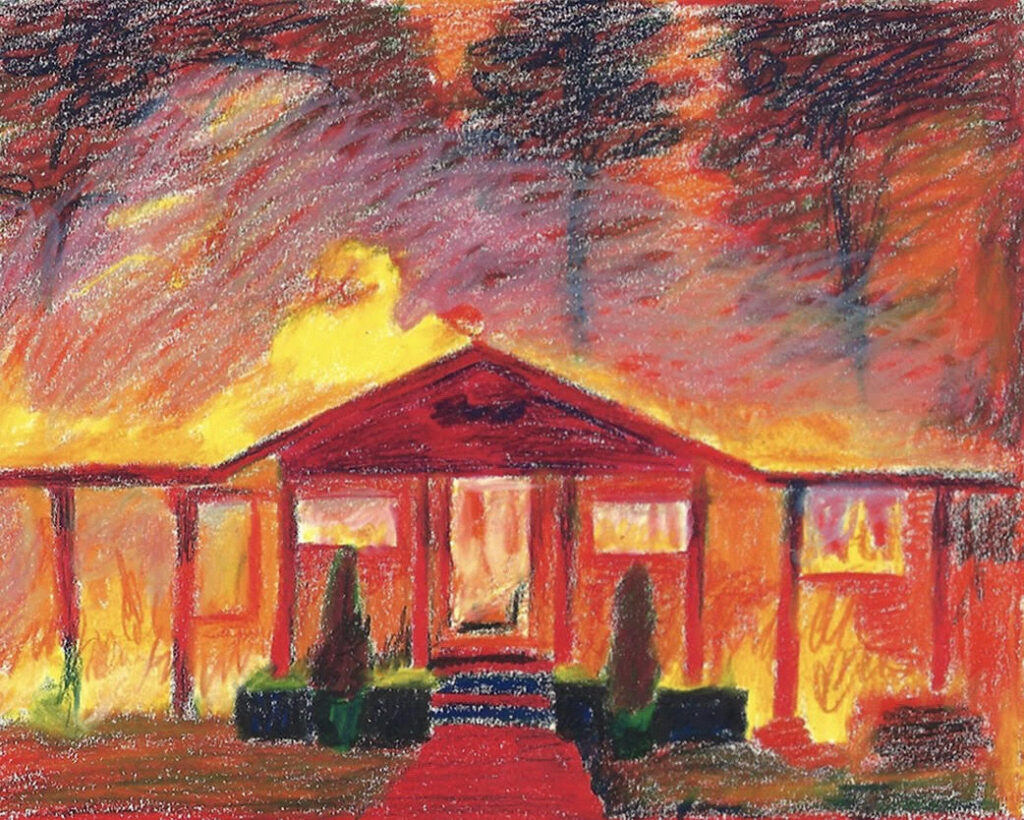 The theme in your artworks are often the destruction of something beautiful. I know that you touched on it in the bio, but talk to me a little bit about how this came to be your preferred recognized theme.
I grew up in a house surrounded by a forest in northeast Ohio, on about 20 acres, overlooking a valley with a short walk down to the river. When I recall back to being a kid, most of my memories are of being outside. Understanding how beautiful nature is, and how important it is in your life to spend time with it were very important lessons I had to learn. It came as a surprise to me that not everybody felt so strongly about the outdoors. Living in Chicago, New York, and now Los Angeles, it became apparent that people in general have separated themselves from nature almost entirely. They find it gross, uncomfortable or frightening. With my work in the last few years, I've focused on forces of nature like fire, flood, sometimes even just gravity. The intention is to remind that we can't really avoid the impact nature can have on us, and more importantly the impact we have on it.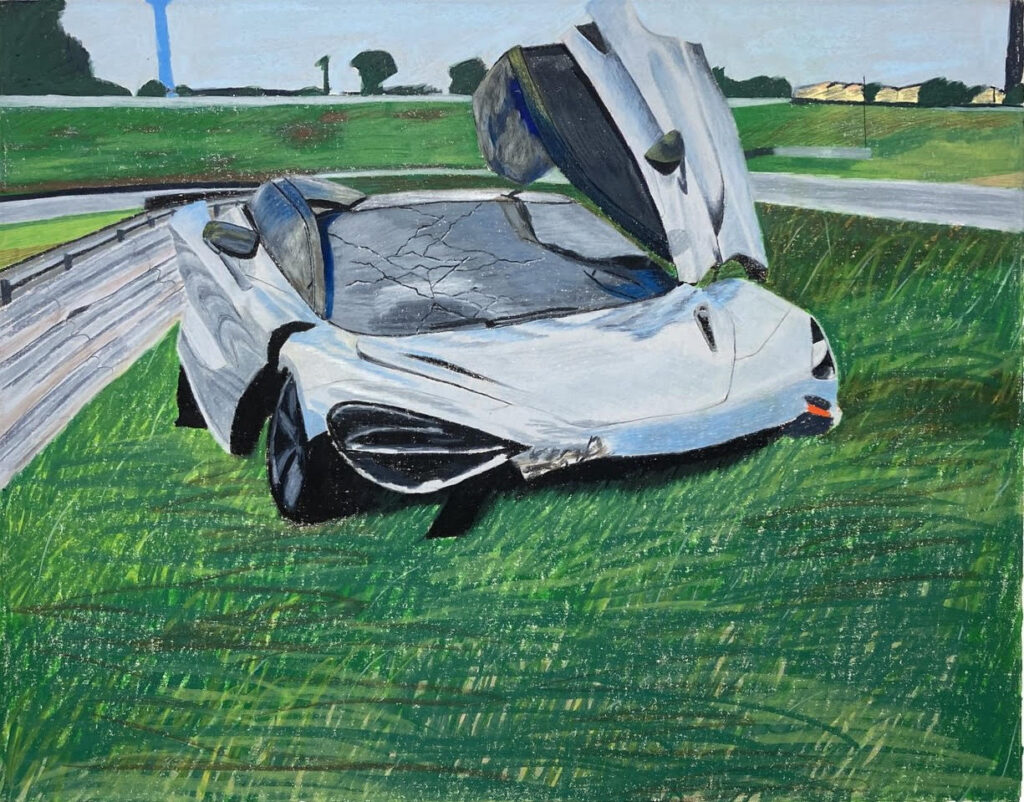 Most of your pieces are created with crayons. What made you gravitate towards that instead of painting for example?
I mostly painted in college and for a few years after, but I always felt like I was better at drawing. An old studio mate left behind a box of crayons when he moved out and I drew on a painting that I had been working on for a year or so. The crayon looked so good that I drew on a few more little canvasses. I love them because it allows me to work like I'm drawing but the pieces still read like paintings. I am starting to use paint again in some new projects. But I think these crayons will be my favored material for a long time.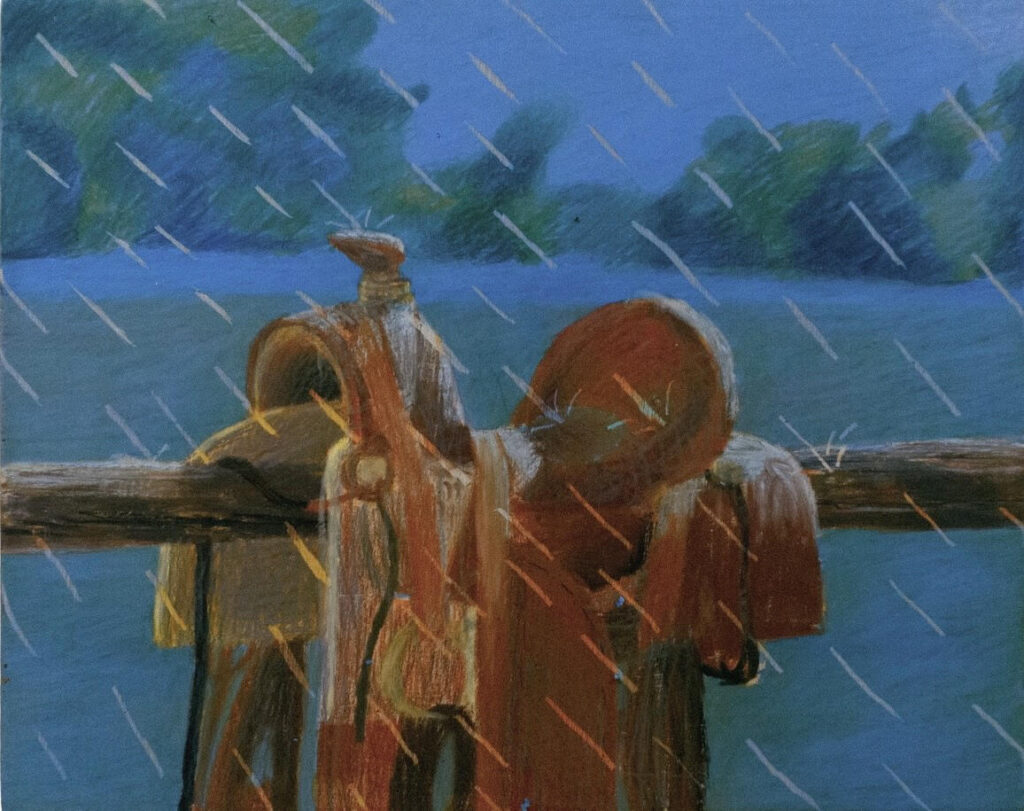 What do you hope that we, the observers take with us after viewing some of your pieces?
The main influence behind the fire pieces is a meditation mostly practiced in Bhutan and Thailand. In practice, you are meant to remind yourself 5 times a day that you are going to die someday. After a while, you become a happier person. There's a lot more nuance to it but that's basically the elevator pitch. With these pieces I expect the viewer to gain the most from the work after seeing it in repetition. Somebody who owns the piece would benefit from it more than somebody who just sees it once. So the change happens over time. You go from seeing the piece as a spectacle of action and chaos, to being something which can make you feel more at peace.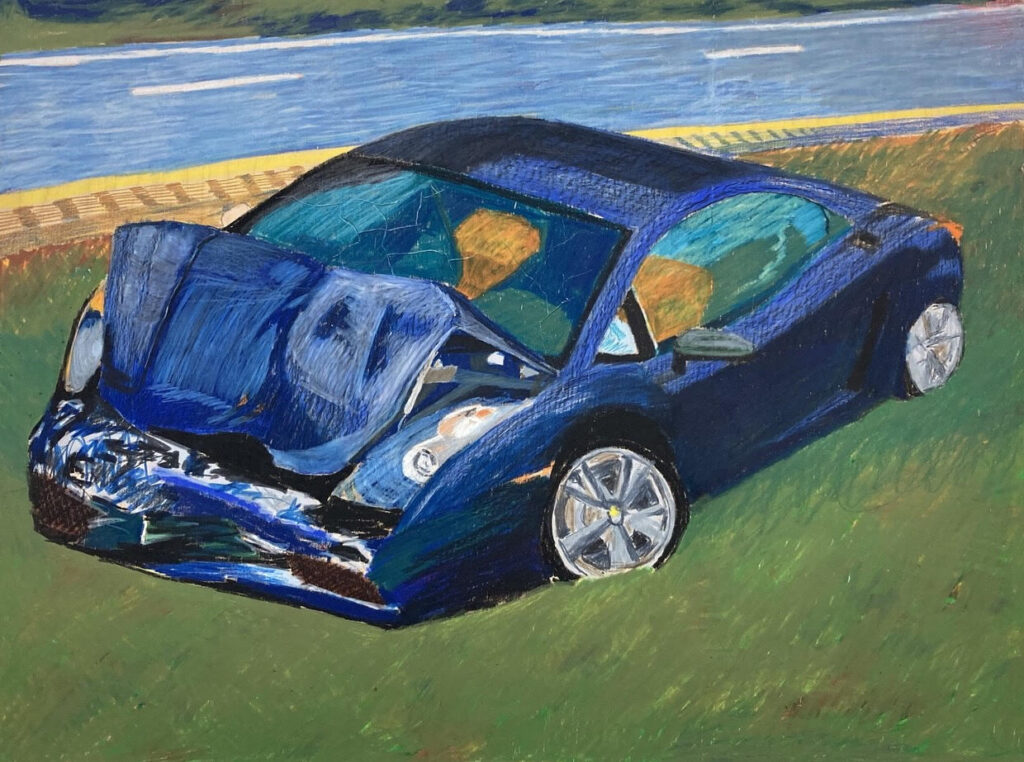 What song do you listen to the most right now?
I usually play whole albums and right now I keep turning on "From Left to Right" by Bill Evans. It great in the studio, driving or wherever.
What are your favorite movie(s) and why?
I have never been great at questions about favorites, but I think the movie I've watched the most has to be Dead Man, by Jim Jarmusch. It's about the poems of William Blake and asking the viewer to confront their own mortality so they can live in the present.