Share this
Roskilde Festival is canceled this year, but the good folks behind the scenes have presented an alternative version of the world famous festival, called Summer Days . The event will take place over the span of two weekends ,from June 24-27 and July 1-4, with artists such as: Tessa, Branco, Suspekt, Jung and Selma Judith amongst the performers.
Due to COVID-19 restrictions, it will be possible to gather 800 people per. day, divided into four sections of 200 the first week, while the second week it's 1,000 people per. day, divided into two sections of 500. It will be optional to wear a mask, but a corona-pas is a requirement
"Summer Days is not – and should not be – Roskilde Festival. For it we can not make with all the limitations we have to navigate in. It is is new type of event, created especially for the time, both in terms of the program, the space, and the way we can gather now. But of course based on our knowledge and experiences from Roskilde Festival."

– Anders Wahrén, Program Director of Roskilde Festival
The events will start from 17.30 to 23.00 except on June 27 where it's from 12.00 to 17.00. The tickets will cost from 435-495 kr. For more info and a full lineup click HERE.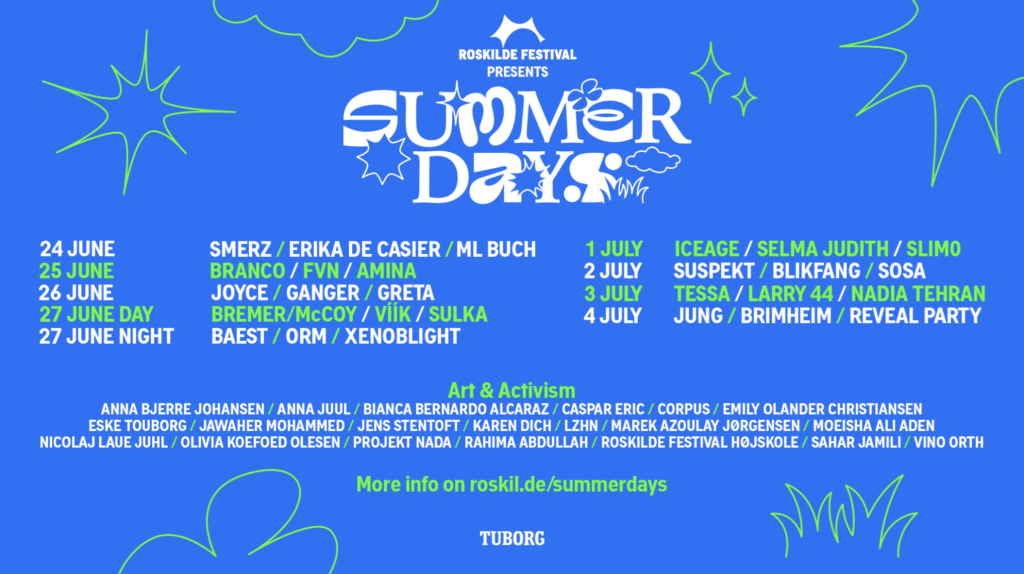 Photo: Roskilde Festival